Abstract—Limonium plants have commonly used as antibacterial, styptical, anti-swelling agent, digestive system regulator, anticarcinogenic, and antiviral in alternative medicine. Beside this, different extracts of Limonium plants have mutagenic, cytotoxic and genotoxic effects. Different parts of Limonium effusum (Boiss.) Kuntze ethanol extracts were used to determine the mutagenic and cytotoxic effects. Ames test was carried out with Salmonella typhimurium TA98, and TA100 strains to determine the mutagenicity. Ames test results showed that root 1000 μg/plate of plant has mutagenic effect and root extracts have weak mutagenicity with TA98 strain. MTT test was carried out with MDBK (Madin-Darby Bovine Kidney) cells to determine the cytotoxicity. Cytotoxicity results showed that root 50, 25, 12.5 and 6.25 μg/mL extracts were increased the proliferation rates in 24 h treatment. All doses of root extracts decreased the rates in 96 h. All concentrations of stem decreased the proliferation rates in 96 h. Leaf extracts increased the rates in 24 h but decreased in 48, 72, and 96 h.
This is a preview of subscription content, log in to check access.
Access options
Buy single article
Instant unlimited access to the full article PDF.
US$ 39.95
Price includes VAT for USA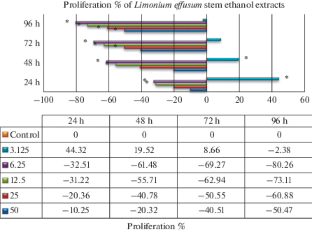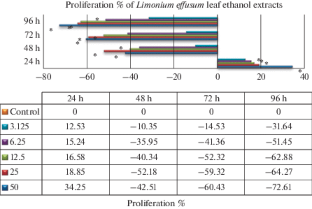 REFERENCES
1

Ali, N.A.A., Mothana, R., Ghaleb, N., and Lindequist, U., Screening of traditionally used endemic Soqotraen plants for cytotoxic activity, Afr. J. Trad. CAM., 2007, vol. 4, pp. 529–531.

2

Avaz, S., Korcan, S.E., Kargioglu, M., Serteser, A., Konuk, M., and Erol, I., Antimicrobial activities in root extracts of Limonium spp. growing in Afyonkarahisar, Turkey, J. Environ. Biol., 2013, vol. 34, pp. 561–568.

3

Barnes, W.S. and Klekowski, E.J., Testing the environment for dispersed mutagens: use of plant bioconcentrators coupled with microbial mutagen assays, Environ. Health Persp., 1978, vol. 27, pp. 61–67.

4

Başaran, A.A., Yu, T.W., Plewa, M.J., and Anderson, D., An investigation of some Turkish herbal medicines in Salmonella typhimurium and the Comet assay in human lymphocytes, Teratog. Carcinog. Mutagen., 1996, vol. 16, pp. 125–138.

5

Boldrin, P.K., Resende, F.A., Höhne, A.P.O., Camargo, M.S., Espanha, L.G., Nogueira, C.H., Melo, M.S.F., Vilegas, W., and Varanda, E.A., Estrogenic and mutagenic activities of Crotalaria pallida measured by recombinant yeast assay and Ames test, BMC Complement. Altern. Med., 2013, vol. 13, p. 216.

6

Davis, P.H., Mill, R.R., and Tan, K., Flora of Turkey and the East Aegean Islands, Edinburgh: Edinburgh Univ. Press, 1982, vol. 7, pp. 186–187.

7

Dean, B.J., Brooks, T.M., Hodson-Walker, G., and Hutson, D.H., Genetic toxicology testing of 41 industrial chemicals, Mutat. Res., 1985, vol. 153, pp. 57–77.

8

Demma, J., Engidawork, E., and Hellman, B., Potential genotoxicity of plant extracts used in Ethiopian traditional medicine, J. Ethnopharm., 2009, vol. 122, no. 1, pp. 136–142.

9

Eren, Y., Mutagenic and cytotoxic activities of Limonium globuliferum methanol extracts, Cytotechnology, 2016, vol. 68, pp. 2115–2124.

10

Eren, Y. and Özata, A., Determination of mutagenic and cytotoxic effects of Limonium globuliferum aqueous extracts by Allium, Ames, and MTT tests, Rev. Bras. Pharmacogn., 2014, vol. 24, pp. 51–59.

11

Eren, Y., Özata, A., Konuk, M., Akyil, D., and Liman, R., A Mutagenicity and cytotoxicity study on Limonium effusum aqueous extracts by Allium, Ames and MTT tests, Cytol. Genet., 2015, vol. 49, no. 2, pp. 125–133.

12

Espanha, L.G., Resende, F.A., Neto, J.S.L., Boldrin, P.K., Nogueira, C.H., Camargo, M.S., De Grandis, R.A., Santos, L.C., Vilegas, W., and Varanda, E.A., Mutagenicity and antimutagenicity of six Brazilian Byrsonima species assessed by the Ames test, BMC Complement. Altern. Med., 2014, vol. 14, p. 182.

13

De Sá Ferreira, I.C.F. and Vargas, V.M., Mutagenicity of medicinal plant extracts in Salmonella/microsome assay, Phyto.Res., 1999, vol. 13, pp. 397–400.

14

Ksouri, R., Meghdiche, W., Jalleli, I., Debez, A., Magné, C., Hiroco, I., and Abdelly, C., Medicinal halophytes: potent source of health promoting biomolecules with medical, nutriceutical and food applications, Crit. Rev. Biotechnol., 2012, pp. 1–38.

15

Maron, D.M. and Ames, B.N., Revised methods for the Salmonella mutagenicity test, Mutat. Res., 1983, vol. 113, pp. 173–215.

16

Mortelmans, K. and Zeiger, E., The Ames Salmonella/microsome mutagenicity assay, Mutat. Res., 2000, vol. 455, pp. 29–60.

17

Mosmann, T., Rapid colonmetric assay for cellular growth and survival: application to proliferation and cytotoxicity assays, J. Immunol. Methods, 1983, vol. 65, pp. 55–63.

18

Rastogi, S., Pandey, M.M., and Rawat, A.K.S., Traditional herbs: a remedy for cardiovascular disorders, Phytomedicine, 2016, vol. 23, pp. 1082–1089.

19

Romero-Jimenez, J., Campos-Sanchez, M., Allana, A., Munoz-Serrano, A., and Alonso, M., Genotoxicity and antigenotoxicity of some traditional medicinal herbs, Mutat. Res., vol. 585, pp. 147–155.

20

Seo, Y., Lee, H., Ah, KimY., Youn, H.J., and Lee, B., Effects of several salt marsh plants on mouse spleen and thymus cell proliferation using MTT assay, Ocean Sci. J., 2005, vol. 40, pp. 209–212.

21

Singh, N.P., McCoy, T.M., Tice, R.R., and Schneider, L.E., A simple technique for quantitation of low levels of DNA damage in individual cells, Exp. Cell Res., 1988, vol. 175, no. 1, pp. 184–191.

22

Sirohi, S.K., Pandey, N., Goel, N., Singh, B., Mohini, M., Pandey, P., and Chaudhry, P.P., Microbial activity and ruminal methanogenesis as affected by plant secondary metabolites in different plant extracts, Int. J. Civil.Environ. Eng., 2009, vol. 1, pp. 52–58.

23

Sohni, Y.R., Mutangadura-Mhlanga, T., and Kale, P.G., Bacterial mutagenicity of eight medicinal herbs from Zimbabwe, Mutat. Res., 1994, vol. 322, pp. 133–140.

24

Tang, X.H., Yu, F., Liu, J., Gao, J., Yan, L.F., and Dong, M.M., Isolation and identification of anti-tumor polysaccharide LSP21 from Limonium sinense (Girard) Kuntze, Int. J. Biol. Macromol., vol. 70, pp. 138–142.

25

Yang, E., Yim, E., Song, G., Kim, G., and Hyun, C., Inhibition of nitric oxide production in lipopolysaccharide-activated RAW 264.7 macrophages by Jeju plant extracts, Interdisc. Toxicol., 2009, vol. 2, pp. 245–249.

26

Zhang, T., Zhao, Q., Zhang, Y., and Ning, J., Assessment of genotoxic effects of flumorph by the comet assay in mice organs, Hum. Exp. Toxicol., 2014, vol. 33, pp. 224–229.
Ethics declarations
The authors declare that they have no conflict of interest. This article does not contain any studies involving animals or human participants performed by any of the authors.
About this article
Cite this article
Yasin Eren Effects of Limonium effusum Ethanol Extracts on Cell Proliferation and Mutagenicity. Biol Bull Russ Acad Sci 46, 577–582 (2019) doi:10.1134/S1062359019060141
Received:

Revised:

Accepted:

Published:

Issue Date:
Keywords: Limonium effusum, MTT test

Ames test

mutagenicity

cytotoxicity