Abstract
The baffled flasks were used to simulate regular wave and breaking wave at different oscillation intensities to study the effects of wave strength, reaction time, and dispersant on the submergence of oil spill. It was found that the wave strength has the greatest impact on submerging rate and submergence stability of Liaohe crude oil and Fuel 180. The characteristics of the impacts of the wave strength and dispersant content are that there are thresholds, below which the impacts are not obvious; their coupling effects are obvious only when both the wave strength and the dispersant content exceed their threshold; the impacts can accumulate over time and have the maximum value; the submerging rate reaches maximum at 30 min for Liaohe crude oil and 60 min for Fuel 180; the submerging rate will decrease after the time of the maximum impact. Based on the experimental results, it is proposed that the submerging model should have different forms based on the thresholds of conditions and different phases of the time, which need more work to be determined for different oils.
This is a preview of subscription content, log in to check access.
Access options
Buy single article
Instant access to the full article PDF.
US$ 39.95
Price includes VAT for USA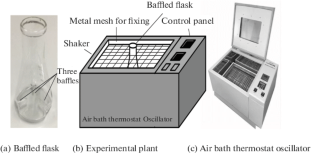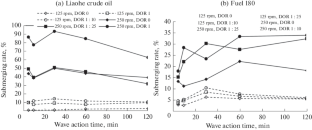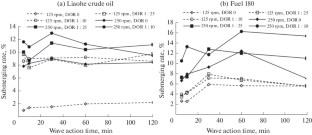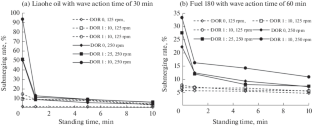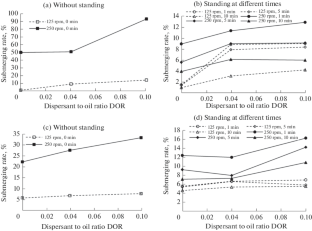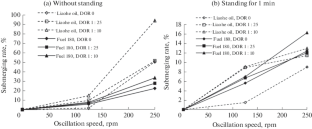 REFERENCES
1

Bandara, U.C. and Yapa, P.D., Bubble sizes, breakup, and coalescence in deepwater gas/oil plumes, J. Hydraul. Eng., 2011, vol. 137, pp. 729–738.

2

Chapman, H., Purnell, K., Law, R.J., and Kirby, M.F., The use of chemical dispersants to combat oil spills at sea: A review of practice and research needs in Europe, Mar. Pollut. Bull.,2007, vol. 54, pp. 827–838.

3

Chen, Z., Zhan, C.S., and Lee, K., Formation and vertical mixing of oil droplets resulting from oil slick under breaking waves–a modeling study, Environ. Forensics, 2009, vol. 10, pp. 347–353.

4

Delvigne, G.A.L. and Sweeney, C.E., Natural dispersion of oil, Oil Chem. Pollution, 1988, vol. 4, pp. 281–310.

5

Fay, J.A., The spread of oil slicks on a calm sea, in Oil on the Sea, Hoult, D.P., Ed., New York: Plenum,1969, pp. 53–63.

6

Hazen, E.L., Carlisle, A.B., Wilson, S.G., Ganong, J.E., Castleton, M.R., Schallert, R.J., Stokesbury, M.J.W., Bograd, S.J., and Block, B.A., Quantifying overlap between the Deepwater Horizon oil spill and predicted bluefin tuna spawning habitat in the Gulf of Mexico, Sci. Rep., 2016, vol. 6, p. 33824.

7

Hoult, D.P., Oil spreading on the sea, Annu. Rev. Fluid Mech., 1972, vol. 4, no. 4, pp. 341–368.

8

Johansen, Ø., Reed, M., and Bodsberg, N.R., Natural dispersion revisited. Mar. Pollut. Bull., 2015, vol. 93, pp. 20–26.

9

Lessard, R.R. and Demarco, G., The significance of oil spill dispersants, Spill Sci. Technol. Bull., 2000,vol. 6, pp. 59–68.

10

Li, H., Meng, L., Shen, T., Zhang, J., Bao, M., and Sun, P., The formation process and responsive impacts of single oil droplet in submerged process, Mar. Pollut. Bull., 2017.

11

Li, M. and Garrett, C., The relationship between oil droplet size and upper ocean turbulence, Mar. Pollut. Bull., 1998, vol. 36, pp. 961–970.

12

Li, Z., Spaulding, M., French McCay, D., Crowley, D., and Payne, J.R., Development of a unified oil droplet size distribution model with application to surface breaking waves and subsea blowout releases considering dispersant effects, Mar. Pollut. Bull., 2017, vol. 114, pp. 247–257.

13

Mustafa, G.A., Abd-Elgawad, A., Ouf, A., and Siam, R., The Egyptian Red Sea coastal microbiome: A study revealing differential microbial responses to diverse anthropogenic pollutants, Environ. Pollut., 2016, vol. 214, pp. 892–902.

14

Nissanka, I.D. and Yapa, P.D., Oil slicks on water surface: Breakup, coalescence, and droplet formation under breaking waves, Mar. Pollut. Bull., 2016, vol. 114, pp. 480–493.

15

Pan, Z., Zhao, L., Boufadel, M.C., King, T., Robinson, B., Conmy, R., and Lee, K., Impact of mixing time and energy on the dispersion effectiveness and droplets size of oil, Chemosphere, 2017, vol. 166, pp. 246–254.

16

Papadimitrakis, I., Psaltaki, M., and Markatos, N., 3-d oil spill modelling. natural dispersion and the spreading of oil-water emulsions in the water column, Global Nest J., 2011, vol, 13, pp. 325–338.

17

Reed, M., Johansen, Ø., Leirvik, F., and Brørs, B., Numerical Algorithm to Compute the Effects of Breaking Wave on Surface Oil Spilled at Sea,SINTEF, Trondheim, Norway, 2009.

18

Tkalich, P. and Chan. E.S., Vertical mixing of oil droplets by breaking waves, Mar. Pollut. Bull., 2002, vol. 44, pp. 1219–1229.

19

Venosa, A.D. and Holder, E.L., Determining the dispersibility of South Louisiana crude oil by eight oil dispersant products listed on the NCP Product Schedule, Mar. Pollut. Bull., 2013, vol. 66, pp. 73–77.

20

Yu, F., Li, J., Cui, S., Zhao, Y., Feng, Q., and Chen, G., A hindcast method to simulate oil spill trajectories for the Bohai Sea, Northeast China. Ocean Eng., 2016, vol. 124, pp. 363–370.

21

Zeinstra-Helfrich, M., Koops, W., and Murk, A.J., How oil properties and layer thickness determine the entrainment of spilled surface oil, Mar. Pollut. Bull., 2016, vol. 110, pp. 184–193.

22

Zhao, L., Wang, B., Armenante, P.M., Conmy, R., and Boufadel, M.C., Characterization of Turbulent Properties in the EPA Baffled Flask for Dispersion Effectiveness Testing, J. Environ. Eng., 2016. 142.https://doi.org/10.1061/(asce)ee.1943-7870.0001000
ACKNOWLEDGMENTS
This study was funded by the National Basic Research Program of China (2016YFC1402301), the Fundamental Research Funds for the Central Universities (3 132 017 095, 3 132 018 179).
About this article
Cite this article
Xing Zhao, Ya, Z., Wang, Z. et al. Study on the Effects of Waves and Dispersant on the Submergence of Spilled Oil. Water Resour 47, 95–102 (2020). https://doi.org/10.1134/S0097807820010157
Received:

Revised:

Accepted:

Published:

Issue Date:
Keywords:
spilled oil

submerging

wave strength

wave action time

dispersant

submergence stability