Abstract
Analysis of the kinetics of the processes occurring in the area of interaction between a plasma torch and Fe–Cr–S, Fe–Cr–Ni–S melts has been based on the influence of sulfur on the decarburization and desulfurization upon treatment of the melts by oxidizing plasma. The kinetic parameters of the plasma decarburization of high-chromium melts is determined, and the influence of the partial oxygen pressure in a plasma-forming gas and the sulfur content in a metal is established. At a low sulfur content in a metal in melting of Fe–Cr–S, Fe–Cr–Ni–S alloys in argon plasma, the limiting stage of desulfurization is found to be either sulfur evaporation in a plasma spot or its diffusion from the melt volume to the interface. Both processes are described by first-order equations. During treatment of a melt by an oxygen-containing plasma, sulfur is mainly removed due to the formation of gaseous oxides. At a high sulfur content in a melt, desulfurization takes place in the sorption kinetic mode. Under these conditions, the process rate decreases and the reaction can approach the second order. At increase in oxygen content in a plasma-forming gas intensifies decarburization and desulfurization; however, the rate constant is mainly determined by the initial sulfur content in a metal and, then, by the partial oxygen pressure in the gaseous phase.
This is a preview of subscription content, log in to check access.
Access options
Buy single article
Instant unlimited access to the full article PDF.
US$ 39.95
Price includes VAT for USA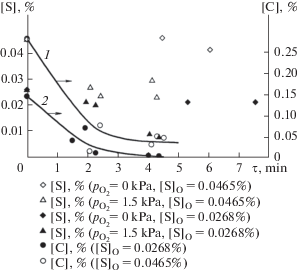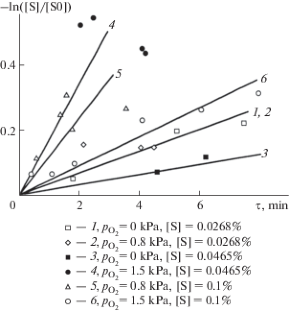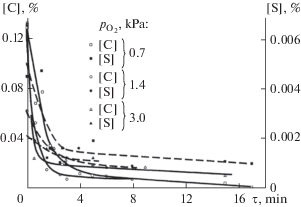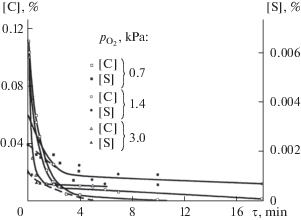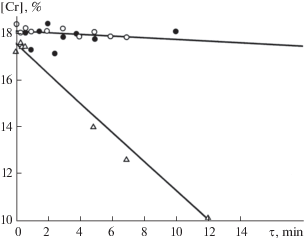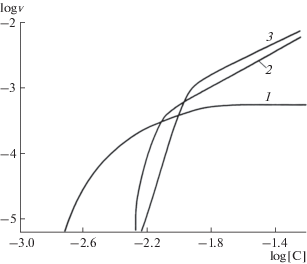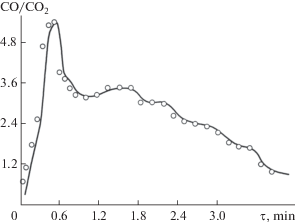 REFERENCES
1

A. P. Gulyaev, Pure Steel (Metallurgiya, Moscow, 1975).

2

A. Yu. Polyakov, Theoretical Fundamentals of Steel Making Furnace Refinement (Nauka, Moscow, 1975).

3

V. S. Cherednichenko, M. G. Kuz'min, and A. S. An'shakov, "Plasma facilities for melting and reduction of metals," Elektrometallurgiya, No. 9, 20–27 (2009).

4

V. S. Rimkevich, A. A. Sisev, S. V. Muruev, and M. V. Blokhin, "Possibilities of improvement of conventional melting of stainless steels," Chern. Metall., Byull. Nauchno-Tekh. Ekon. Inf., No. 8, 23–28 (2012).

5

G. Vil'gel'mi, "Heat engineering specifications of plasma process," Chern. Met., No. 224, 56–62 (1985).

6

D. I. Borodin, Theory and Practice of Steel Quality Improvements (Metallurgiya, Moscow, 1985).

7

S. N. Paderin and S. I. Filippov, "The influence of blockage of reactive surface on decarburization intensity of metal melts," Izv. Vyssh. Uchebn. Zaved., Chern. Metall., No. 11, 12–17 (1971).

8

T. Peprica and J. Skala, "Studium kinetiky oduhliceni taveniny Fe–C–S plynnou smesi," Kovove Mater., No. 27, 647–661 (1989).

9

J. K. Rao and H. G. Lee, "Decarburization and nitrogen absorption in molten Fe-C-alloys," Exp. Iron. Steel., No. 15, 228–237 (1988).

10

O. G. Salieva, S. I. Gubenko, and Yu. V. Tsvetkov, "Physicochemical fundamentals of metallurgical processes," in Proceedings of the 10th All-Union Conference (Chermetinformatsiya, Moscow, 1991), Vol. 2, pp. 81–84.

11

N. N. Drozdov, V. T. Burtsev, and S. I. Filippov, "Studying mechanism and kinetics of sulfur evaporation by drop weight method," Izv. Vyssh. Uchebn. Zaved., Chern. Metall., No. 5, 22–24 (1977).

12

V. A. Rumyantsev, O. A. Komolova, K. V. Grigorovich, and A. K. Garber, "Studying evaporation of components of reactive area upon treatment of chromium containing melts by low temperature plasma," Izv. Vyssh. Uchebn. Zaved., Chern. Metall., No. 11, 821–826 (2016).

13

A. A. Erokhin, Regularities of Plasma Arc Alloying and Refining of Metals (Nauka, Moscow, 1984).
About this article
Cite this article
Grigorovich, K.V., Komolova, O.A. & Rumyantsev, B.A. Influence of Sulfur on the Plasma Decarburization and Desulfurization of Corrosion-Resistant Steels. Russ. Metall. 2019, 1178–1183 (2019) doi:10.1134/S0036029519110065
Received:

Revised:

Accepted:

Published:

Issue Date:
Keywords:
corrosion-resistant steel

decarburization

desulfurization

plasma

kinetics