Abstract—The influence of argon-arc welding and laser welding on the fatigue properties and the fracture of a foam–aluminum sandwich is studied. Argon-arc-welded samples are found to have the highest fatigue strength.
This is a preview of subscription content, log in to check access.
Access options
Buy single article
Instant unlimited access to the full article PDF.
US$ 39.95
Price includes VAT for USA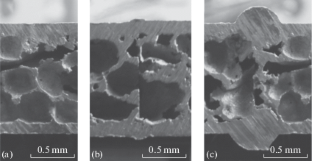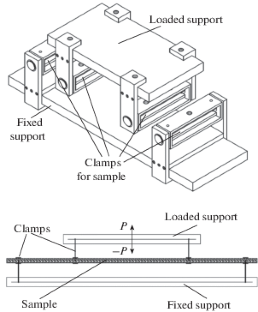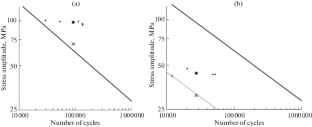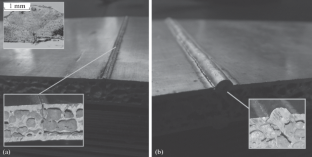 Notes
1.

The stresses were preliminarily calculated for an aluminum welded butt joint in a dense material, since the weld was only performed near the cover sheets and did not touch the foam center.
REFERENCES
1

V. G. Mikhailov, G. E. Kodzhaspirov, and F. Yu. Isupov, "Analysis of the methods of producing foam aluminum sandwiches for manufacturing light structures," Nauch.-Tekhn. Ved. SPbGPU, No. 1 (214), 180–185 (2015).

2

T. Hipke, G. Lange, and R. Poss, in Taschenbuch für Aluminium-Schäume (Aluminium-Verlag Marketing & Kommunikation GmbH, Düsseldorf, 2007), pp. 154–169.

3

M. Weber, J. Baumeister, and J. Banhart, in Aluminiumschäume und Ihre Eigenschaften (VDI Berichte, Bremen 1997), pp. 75, 78–86.

4

H. Harders, Ermüdung von Aluminiumschaum (Der Andere Verlag, 2005).

5

A.-M. Harte, N. A. Fleck, and M. F. Ashby, "The fatigue strength of sandwich beams with aluminium alloy foam core," Int. J. Fatig. 23, 499–507 (2001).

6

R. Rennert, E. Kullig, M. Vormwald, A. Esderts, and D. Siegele, in Rechnerischer Festigkeitsnachweis für Maschinenbauteile (Forschungskuratorium Maschinenbau (FKM), Frankfurt am Main, 2012), pp. 36–63, 168.
Additional information
Translated by K. Shakhlevich
About this article
Cite this article
Shapovalov, O.S., Kodzhaspirov, G.E., Hantelmann, K. et al. Effect of a Welding Method on the Fatigue Strength and Fracture of Foam–Aluminum Sandwiches. Russ. Metall. 2019, 1063–1066 (2019). https://doi.org/10.1134/S0036029519100239
Received:

Revised:

Accepted:

Published:

Issue Date:
Keywords: foam–aluminum sandwich

fatigue strength

four-point bending

butt weld