Abstract
The micellization behavior and foamability of a mixture of anionic surfactant sodium laureth sulfate (SLES) and nonionic polysorbate surfactants commercially available as Tween series were investigated. The mole fraction and the structure of the hydrophobic part of various polysorbates affect the critical micellar concentration (CMC) and foam height and stability of anionic surfactant. Experimental values of CMC were determined by measuring specific conductivity at 25°C and foam height and stability by modified Ross–Miles method at 23°C. The negative deviation of the experimentally determined CMC from theoretical values for ideal mixed micelle indicate non-ideal mixing behavior due to synergism as a consequence of attractive interactions between the individual surfactants in formed micelles. Thus synergism increase with increasing of both the mole fraction and length of hydrophobic tail of examined Tween in SLES/Tween mixtures. Foam height and stability significantly decrease with increasing length of the hydrophobic tail of Tween surfactants and their mole fractions in the binary mixture.
This is a preview of subscription content, log in to check access.
Access options
Buy single article
Instant unlimited access to the full article PDF.
US$ 39.95
Price includes VAT for USA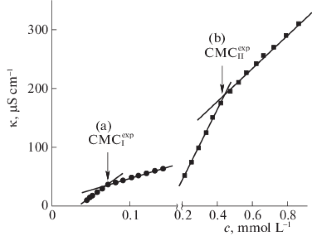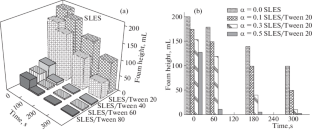 REFERENCES
1

M. J. Rosen, Surfactants and Interfacial Phenomena, 3rd ed. (Wiley, New Jersey, 2004).

2

J. Falbe, Surfactants in Consumer Products: Theory, Technology, and Application (Springer, Berlin, 1987).

3

J. Bhattacharjee, G. Verma, V. K. Aswal, A. A. Date, M. S. Nagarsenker, and P. A. Hassan, J. Phys. Chem. B 114, 16414 (2010).

4

C. W. Pouton, Eur. J. Pharm. Sci. 29, 278 (2006).

5

P. Kan, Z. B. Chen, C. J. Lee, and I. M. Chu, J. Control. Release 58, 271 (1999).

6

A. O. Barel, M. Paye, and H. I. Maibach, Handbook of Cosmetic Science and Technology, 3rd ed. (Informa HealthCare, New York, 2009).

7

E. A. Coors, H. Seybold, H. F. Merk, and V. Mahler, Ann. Allergy Asthma Immunol. 95, 593 (2005).

8

Pharmacopea Jugoslavica B (Savremena Administracija, Beograd, 2000).

9

H. Ohshima and K. Makino, Colloid and Interface Science in Pharmaceutical Research and Development, 1st ed. (Elsevier, Amsterdam, 2014).

10

W. Zhou and L. Zhu, Colloids Surf. A 255, 145 (2005).

11

M. Poša, I. Vapa, and D. Ćirin, Fluid Phase Equilib. 376, 124 (2014).

12

M. Muñoz, A. Rodríguez, M. Graciani Mdel, and M. L. Moyá, Langmuir 20, 10858 (2004).

13

J. H. Clint, J. Chem. Soc., Faraday Trans. 1 71, 1327 (1975).

14

S. Ghosh and S. P. Moulik, J. Colloid Interface Sci. 357, 357 (1998).

15

M. Aoudia, T. Al-Maamari, and F. Al-Salmi, Colloids Surf. A 335, 55 (2009).

16

D. Ćirin, M. Poša, V. Krstonošić, and M. Milanović, Hem. Ind. 66, 21 (2012).

17

D. Ćirin, M. Poša, and V. Krstonošić, Ind. Eng. Chem. Res. 51, 3670 (2012).

18

SRPS ISO 696: 2000, Surface active agents. Measurement of foaming power. Modified Ross–Miles method (Inst. for Standardization of Serbia, 2000).

19

S. N. Blagojević, S. M. Blagojević, and N. D. Pejić, J. Surfact. Deterg. 19, 363 (2016).

20

S. M. Blagojević, N. D. Pejić, and S. N. Blagojević, Russ. J. Phys. Chem. A 91, 2690 (2017).

21

L. L. Schramm and F. Wassmuth, Foams: Fundamentals and Applications in the Petroleum Industry, Vol. 242 of Advances in Chemistry Series (Am. Chem. Soc., Washington, 1994).

22

Sigma-Aldrich, Catalog/Products. https://www.sigmaaldrich.com/catalog/product/sigma/p2287SXS.

23

R. J. Williams, J. N. Phillips, and K. J. Mysels, Trans. Faraday Soc. 51, 728 (1955).

24

P. Mukerjee and K. J. Mysels, Critical Micelle Concentration of Aqueous Surfactant Systems, NSRDS–NBS 36 (US. Government Printing Office, Washington, 1971).
ACKNOWLEDGMENTS
This work was partially supported by the Ministry of Education, Science and Technological Development of the Republic of Serbia (grant no. 172015).
About this article
Cite this article
Blagojević, S.M., Erić, N., Nešović, M. et al. Micellization and Foamability of Sodium Laureth Sulfate and Polysorbate Surfactant Mixtures. Russ. J. Phys. Chem. 93, 2804–2811 (2019) doi:10.1134/S0036024419130053
Received:

Revised:

Accepted:

Published:

Issue Date:
Keywords:
surfactants

sodium–laureth sulfate

polysorbates

foaming