Abstract
This article seeks to understand how values enter into political discourse via justification and how those values are negotiated over time. The article maps out the terrain of diversity discourses, both as a specific type of discourse and as an example of ethical, moral and pragmatic modes of argumentation. The author examines Swedish "diversity discourses" in the periods of 1968–1975 and 1991–1995 in an effort to tease out the pragmatic, moral and ethical aspects of these discourses. Diversity discourses are defined as discourses regarding how much and what kind of diversity is acceptable or desirable in a society, as well as how such diversity should be handled. I find that values, both contextually-dependent ethical values and universal moral values, rather than being "prior" to politics, arise out of the intersection of pragmatic, ethical and moral discourses. What is moral and ethical, then is colored by the particular nexus of moral, ethical and pragmatic concerns such that what is acceptable at one particular time and location, may be unacceptable in another, even coming from the same actors with the same ideological commitments. Shifts in the ethical/moral modes of justification, then, lead to shifts in who is included in a democratic community.
This is a preview of subscription content, log in to check access.
Access options
Buy single article
Instant access to the full article PDF.
US$ 39.95
Price includes VAT for USA
Subscribe to journal
Immediate online access to all issues from 2019. Subscription will auto renew annually.
US$ 77
This is the net price. Taxes to be calculated in checkout.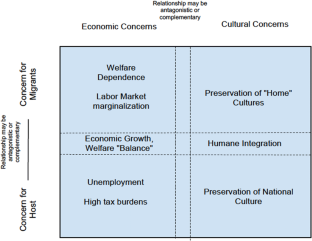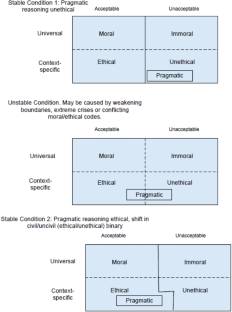 Notes
1.

2.

This paper does not attempt to disentangle what is truly "moral" versus what merely makes claims towards morality. As Tavory (2011) points out, this approach has its dangers, and, indeed, greater focus on "moral action" in this way is probably needed. Yet for our purposes, we are mainly interested in the mere presence of moral, ethical and pragmatic claims, not the truth or validity of the content of these claims.

3.

Vaisey (2009) makes this point about motivation as opposed to justification in individual moral reasoning, arguing that most individuals cannot articular clear moral principles to explain their motivation for actions, but that post-hoc justifications that draw on moral scripts do have an effect on later actions.

4.

Of course, New Democracy, a far-right party became popular in the 1990s, but its breakthrough was around issues of tax revolt primarily and began to move towards obscurity when it turned towards immigration as an issue (see Schall 2016).

5.

Petersson, Invandrarrådets 1:a sammandträdet, 01/11/1973.

6.

Lars Skiold (SAP) qtd in DN 1/9/1968.

7.

8.

9.

10.

DN 09/15/1971, see also DN 08/10/1973 for statement about "equal treatment of people regardless of race, religion or ethnic origin."

11.

One presaged by Schwarz's repeated refrain that "the right to equality included the right to be different" (a phrase that originates in DN 02/25/1966, but recurs frequently in Schwarz's writings, see Román (1994). On the constitutional enshrinement of "equality and freedom of choice," see Hansen (2001) and Schall (2016).

12.

see, e.g., ARB 09/02/1973.

13.

14.

15.

Palme, 1:a maj tal, 05/01/1971.

16.

17.

18.

19.

DN 7/5/1992; see also Söderberg ARB 04/13/1993.

20.

21.

Begler, Mossler & Bergström DN 09/19/1995.

22.

e.g., SvD 05/13/1991; SvD 09/18/1994; DN 07/11/1992.

23.

24.

25.

e.g., SvD 09/22/1993; SvD 08/13/1993.

26.

27.

qtd in Lilian Öhrström DN 07/02/1993.

28.

Note that not all who saw morality and pragmatism as opposed chose pragmatism. Jesus Alcala, whose quote opens this article, for instance, emphatically comes down on the side of what he calls "morality."
References
Abend, G. 2008. Two main problems in the sociology of morality. Theory and Society 37 (2): 87–125.

Alba, R.D., and V. Nee. 2003. Remaking the American Mainstream: Assimilation and the New Immigration. Cambridge, MA: Harvard University Press.

Alexander, J.C. 2001. Theorizing the "Modes of Incorporation": Assimilation, hyphenation, and multiculturalism as varieties of civil participation. Sociological Theory 19 (3): 237–249. https://doi.org/10.1111/0735-2751.00139.

Alexander, J.C. 2006. The civil sphere. Oxford: Oxford University Press.

Baumgart, Z. 2011. "No reform would move without a united labor front": Using unity to reconcile with variation in immigration discourse within American labor unions. University of Wisconsin: Unpublished Master's Thesis.

Benford, R.D., and D.A. Snow. 2000. Framing processes and social movements: An overview and assessment. Annual Review of Sociology 26 (1): 611–639.

Bentham, J. 1907. An introduction to the principles of morals and legislation. Oxford: Clarendon Press.

Berezin, M. 1997. Politics and culture: A less fissured terrain. Annual Review of Sociology 23 (1): 361–383. https://doi.org/10.1146/annurev.soc.23.1.361.

Bloemraad, I. 2006. Becoming a citizen in the United States and Canada: Structured mobilization and immigrant political incorporation. Social Forces 85 (2): 667–695.

Boltanski, L., and L. Thévenot. 2006. On justification: Economies of worth. Princeton: Princeton University Press.

Boltanski, L., and L. Thévenot. 1999. The sociology of critical capacity. European Journal of Social Theory 2 (3): 359–377.

Cooke, M. 1997. Authenticity and autonomy: Taylor, Habermas, and the politics of recognition. Political Theory 25 (2): 258–288. https://doi.org/10.1177/0090591797025002005.

Esser, H. 2004. Does the "New" Immigration Require a "New" Theory of Intergenerational Integration? 1. International Migration Review 38 (3): 1126–1159. https://doi.org/10.1111/j.1747-7379.2004.tb00231.x.

Faist, T. 2009. Diversity: A new mode of incorporation? Ethnic and Racial Studies 32 (1): 171–190. https://doi.org/10.1080/01419870802483650.

Favell, A. 2001. Philosophies of integration: Immigration and the idea of citizenship in France and Britain. Houndmills, Basingstoke, Hampshire: Palgrave in association with Centre for Research in Ethnic Relations, University of Warwick.

Glazer, N. 1993. Is assimilation dead? Annals of the American Academy of Political and Social Science 530: 122–136.

Hansen, L. 2001. Jämlikhet och valfrihet: en studie av den svenska invandrarpolitikens framväxt. Stckholm: Almqvist & Wiksell International.

Habermas, J. 1993. Justification and application: Remarks on discourse ethics. Cambridge, MA: MIT Press.

Habermas, J. 1994. Struggles for recognition in the democratic constitutional state. In Multiculturalism: Examining the politics of recognition, ed. A. Gutmann. Princeton, NJ: Princeton University Press.

Habermas, J. 1996. Between facts and norms: Contributions to a discourse theory of law and democracy. Cambridge, MA: MIT Press.

Heilbroner, R.L., and W.S. Milberg. 1995. The crisis of vision in modern economic thought. Cambridge, MA: Cambridge University Press.

Hultén, G. 2006. Främmande sidor: främlingskap och nationell gemenskap i fyra svenska dagstidningar efter 1945. Valdemarsvik: Akademitryck.

Jaworsky, B.N. 2013. Immigrants, aliens and Americans: Mapping out the boundaries of belonging in a new immigrant gateway. American Journal of Cultural Sociology 1 (2): 221–253.

Knocke, W. 1981. Invandrare möter facket: betydelse av hemlandsbakgrund och hemvist i arbetslivet: forskningslägesrapport kompletterad med intervjuer. Stockholm: Arbetslivscentrum.

Korpi, W. 1970. Varför strejkar arbetarna?. Stockholm: Tiden.

Kymlicka, W. 1995. Multicultural citizenship: A liberal theory of minority rights. Oxford: Oxford University Press.

Laitin, D.D. 1986. Hegemony and culture: Politics and religious change among the Yoruba. Chicago: University of Chicago Press.

Lee, J., and F.D. Bean. 2004. America's changing color lines: Race/ethnicity, immigration, and multiracial identification. Annual Review of Sociology 30: 221–242.

Miles, M.B., and A.M. Huberman. 1994. Qualitative data analysis: An expanded sourcebook. Thousand Oaks, CA: Sage.

Nord, L. 2001. Vår tids ledare : en studie av den svenska dagspressens politiska opinionsbildning. Stockholm: Carlssons förlag.

Odmalm, P. 2011. Political parties and 'the Immigration Issue': Issue ownership in Swedish parliamentary elections 1991–2010. West European Politics 34 (5): 1070–1091. https://doi.org/10.1080/01402382.2011.591098.

Parekh, B. 2006. Rethinking multiculturalism: Cultural diversity and political theory, 2nd ed. Basingstoke: Palgrave Macmillan.

Riffe, D., and A. Freitag. 1997. A content analysis of content analyses: Twenty-five years of journalism quarterly. Journalism & Mass Communication Quarterly. 74 (3): 515–524.

Riley, D. 2010. The civic foundations of fascism in Europe: Italy, Spain, and Romania, 1870–1945. Baltimore: John Hopkins University Press.

Riley, J. 1990. Utilitarian ethics and democratic government. Ethics 100 (2): 335–348.

Román, H. 1994. En invandrarpolitisk oppositionell: Debattören David Schwarz syn på svensk invandrarpolitik åren 1964–1993. Uppsala: Uppsala Multiethnic Papers.

Schall, C.E. 2014. Multicultural iteration: Swedish National Day as multiculturalism-in-practice. Nations and Nationalism 20 (2): 355–375.

Schall, C.E. 2016. The rise and fall of the miraculous welfare machine: Nation, immigration and social democracy in 20th century Sweden. Ithaca, NY: Cornell University Press.

Schall, C.E. 2020. Racist resurgences and old/new left hegemonies how the anti-racist left makes space for the far right in Sweden and the United States. In: Managing multicultural scandinavia. Madison: University of Wisconsin Press.

Schwarz, D. 1971. Svensk invandraroch minoritespolitik, 1945–1968. Stockholm: Prisma.

Skarpenes, O., R. Sakslind, and R. Hestholm. 2016. National repertoires of moral values. Cultura 13 (1): 7–27.

Swidler, A. 1986. Culture in action: Symbols and strategies. American Sociological Review 5: 273–286.

Tavory, I. 2011. The question of moral action: A formalist position. Sociological Theory 29 (4): 272–293. https://doi.org/10.1111/j.1467-9558.2011.01400.x.

Taylor, C. 1994. The politics of recognition. In Multiculturalism: Examining the politics of recognition, ed. A. Gutmann. Princeton, NJ: Princeton University Press.

Vaisey, S. 2009. Motivation and justification: A dual-process model of culture in action. American Journal of Sociology 114 (6): 1675–1715.

Voyer, A.M. 2013. Strangers and neighbors: Multiculturalism, conflict, and community in America. Cambridge: Cambridge University Press.

Wadensjö, E. 1973. Immigration och samhällsekonomi. Lund: Studentlitteratur.

Waters, M. 1990. Ethnic options: Choosing identities in America. Berkeley: University of California Press.

Weber, M. 1949. The methodology of the social sciences. (E. Shils, Trans.). Glencoe Ill: Free Press.

Yalcin, Z. 2010. Facklig gränspolitik: Landsorganisationens invandrings- och invandrarpolitik 1946–2009. Örebro, Sweden: Örebro Universitet.
Additional information
Publisher's Note
Springer Nature remains neutral with regard to jurisdictional claims in published maps and institutional affiliations.
About this article
Cite this article
Schall, C.E. Diversity discourses: moral, ethical and pragmatic reasoning in the Swedish immigration and integration debate, 1968–1975 and 1991–1995. Am J Cult Sociol (2020). https://doi.org/10.1057/s41290-020-00105-y
Keywords
Habermas

Justification

Immigration

Morality

Values

Discourse