Abstract
This research investigates the condition of unbuilt spaces in urban areas that reside in the interim between previous use and not-yet-decided new development. These unbuilt spaces are considered as valuable in the context of urban landscape. In order to acknowledge the character and quality of unbuilt spaces, design and planning procedures need to incorporate new interpretative techniques. The proposed NSA method integrates three research-by-design techniques that enable landscape researchers/designers to broaden the scope of disciplinary research practice. The conducted research is interdisciplinary and stands in the intersection of two research fields in the context of scale—urban planning and architectural design. The aim of this research is to propose the new methodological apparatus, which offers a holistic view on the notion of territory in regard to the notion of scale. The analysis takes the position that small-scale architectural design procedures and methods also apply to the scale of the landscape—territory. The proposed method—Narrative Spatial Analytics (NSA)—is based on simultaneous design procedures in opposing scales, assuming the overall significance of simultaneous understanding of the territory and the site.
Access options
Buy single article
Instant access to the full article PDF.
US$ 39.95
Tax calculation will be finalised during checkout.
Subscribe to journal
Immediate online access to all issues from 2019. Subscription will auto renew annually.
US$ 119
Tax calculation will be finalised during checkout.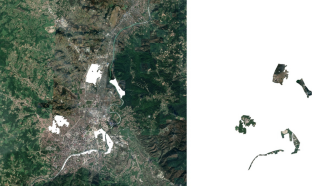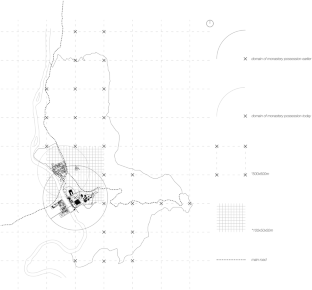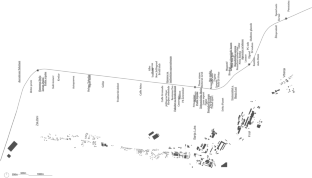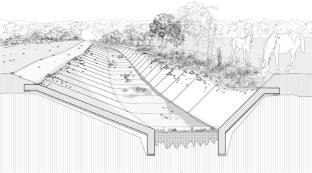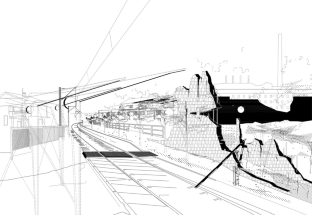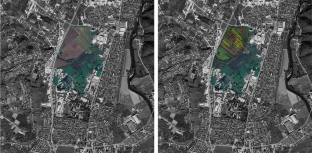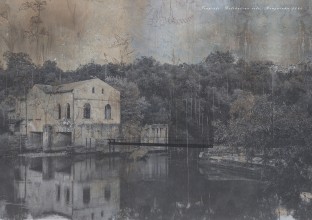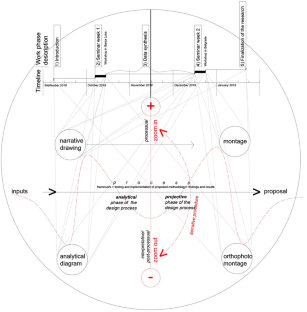 References
Ameel, L. 2020. The Narrative Turn in Urban Planning: Plotting the Helskini Waterfront. London and New York: Routledge.

Bruce, V., P.R. Green, and M.A. Georgeson. 1996. Visual perception, physiology psychology and ecology. East Sussex: Psychology Press.

Carlson, A. 2006. The Aesthetics of Environmental Architecture and Landscape, Territory, and Terrain. Building Material 13: 60–63.

Čičković, R. et al (2014) Preliminary Results of the 2013 Census of Population, Households and Dwellings in Republika Srpska, Banja Luka. Republika Srpska Institute of Statistics, Banja Luka. Retrieved from https://www.rzs.rs.ba/static/uploads/bilteni/popis/PreliminarniRezultati_Popis2013-drugo_izdanje_sa_kartama_Final.pdf.

Clarke, K.C., and J.G. Cloud. 2000. On the Origins of Analytical Cartography. Cartography and Geographic Information Science 27 (3): 195–204. https://doi.org/10.1559/152304000783547821.

Downes, M., and E. Lange. 2015. What You See is Not Always What You Get: A Qualitative, Comparative Analysis of Ex Ante Visualizations with Ex Post Photography of Landscape and Architectural Projects. Landscape and Urban Planning 142: 136–146.

Earle, T., R. Preucel, E. Brumfiel, C. Carr, W. Limp, C. Chippindale, R. Zeitlin, et al. 1987. Processual Archaeology and the Radical Critique [and Comments and Reply]. Current Anthropology 28 (4): 501–538.

Easterling, K. 2014. Extrastatecraft: The Power of Infrastructure Space. London: Verso.

Fleming, A. 2006. Post-processual Landscape Archaeology: A Critique. Cambridge Archaeological Journal 16 (3): 267–280.

Gaffney, V., and M. van Leusen. 1995. Postscript—GIS, Environmental Determinism and Archaeology. In Archaeology and Geographical Information Systems, ed. G. Lock and Z. Stancic, 367–382. London: Taylor & Francis.

Galofaro, L. 2017. On the Idea of Montage as Form of Architecture Production. Proceedings 2017 (870): 1–9.

Jackson, J.B. 1984. Discovering the Vernacular Landscape. New Haven: Yale University Press.

Lacaton, Anne. 2014. Architecture Utopia Realism: Guest Lecture Program—Laureates and Candidates. Faculty of Architecture and L'Institut Français. April 2, 2014, Faculty of Architecture, University of Belgrade. Lecture.

Marušič, I. 2002. Some Observations Regarding the Education of Landscape Architects for the 21st Century. Landscape and Urban Planning 60 (2): 95–103.

McCormick, B.H., T.A. DeFanti, and M.D. Brown. 1987. Visualization in Scientific Computing. ACM SIGGRAPH 21: 6.

Moellering, H., Clarke, K., Cromley, R., Franklin, R.W., Saalfeld, A., Kimerling, J. and Armstrong, M. 2000. Analytical Cartography. In proceedings UCGIS Emerging Research Themes in GIScience (pp. 1–7).

Myerson, G. 1997. Ecology and the End of Postmodernism. London: Totem Books.

Nassauer, J.I. 2012. Landscape as Medium and Method for Synthesis in Urban Ecological Design. Landscape and Urban Planning 106 (3): 221–229.

Nijhuis, S. 2013. Principles of landscape architecture. In Flowscapes. Exploring Landscape Infrastructures, ed. E. Farina and S. Nijhuis, 52–61. Madrid: Mairea Libros Publishers.

Nijhuis, S. 2016. Applications of GIS in Landscape Design Research. Research in Urbanism Series 4 (1): 43–56. https://doi.org/10.7480/rius.4.1367.

Nikezić, A., Stamenović, P. and Janković, N. 2017. Transgressing Scale: Architecture and nature: ECO Station, War Island, Belgrade. In: R. Bogdanović (ed.) Fifth International Conference and Exhibition within International Multimedia Event ON ARCHITECTURE Conference Proceedings; 7–9 December 2017, University of Belgrade – Faculty of Architecture, Belgrade, Serbia. Belgrade: STRAND—Sustainable Urban Society Association Belgrade (pp. 123–131).

Potteiger, M., and J. Purinton. 1998. Landscape Narratives: Design Practices for Telling Stories. New York: Wiley.

Rupprecht, C.D., and J.A. Byrne. 2014a. Informal Urban Greenspace: A Typology and Trilingual Systematic Review of Its Role for Urban Residents and Trends in the Literature. Urban Forestry & Urban Greening 13 (4): 597–611.

Rupprecht, C.D., and J.A. Byrne. 2014b. Informal Urban Green-Space: Comparison of Quantity and Characteristics in Brisbane, Australia and Sapporo. Japan. PloS ONE 9 (6): 1–17.

Sheppard, S.R.J. 2001. Guidance for Crystal Ball Gazers: Developing a Code of Ethics for Landscape Visualization. Landscape and Urban Planning 54: 183–199.

Stamenović, P., D. Predić, and D. Ereš. 2015. Transparency of Scale: Geographical Information Program (Google Earth) and The View From Beyond. In Keeping Up With Technologies To Improve Places, ed. E. Vaništa Lazarević, et al., 46–57. London: Cambridge Scholar Publishing.

Steenbergen, C.M. 2008. Composing Landscapes: Analysis, Typology and Experiments for Design. Basel: Birkhauser.

Stierli, M. 2010. Mies Montage. AA Files 61: 54–72.

Sullivan, Chip. 2008. Observation and the Analytical Representation of Space. In Representing Landscape Architecture, ed. Marc Treib, 63–72. New York: Taylor & Francis.

Throgmorton, J.A. 2003. Planning as Persuasive Storytelling in the Context of 'the Network Society'. Presented at the ACS P-AESOP Third Joint Congress, Leuven, Belgium (July 8–12, 2003). https://doi.org/10.17077/h5mm-k1r6.

Tobler, W.R. 1976. Analytical Cartography. The American Cartographer 3 (1): 21.

Topalovic, M. 2016. The Architecture of the Territory?. Cartha 2/33. Stable URL: https://www.carthamagazine.com/wpcontent/uploads/2016/09/33_CARTHA_2016_ISSUE-2_TOPALOVIC.pdf.

Trkulja, T., Lj. Došenović, and N. Matić. 2018. Greenways as an Element of Urban Planning: Banja Luka Case Study. Facta Universitatis Series: Architecture and Civil Engineering 16 (3): 501–515.

van Leusen, M. 1999. Viewshed and Cost Surface Analysis Using GIS (Cartographic Modelling in a Cell-Based GIS II). In: Barceló, J.A., I. Briz and A. Vila (eds.) New Techniques for Old Times. CAA98. Computer Applications and Quantitative Methods in Archaeology. Proceedings of the 26th Conference, Barcelona, March 1998 (BAR International Series 757) Oxford –Archaeopress (pp. 215–224).

Vidler, A. 2006. What is a Diagram Anyway? In Peter Eisenman feints, ed. S. Cassara and J. Kippnis, 19–27. Milan: Skira.
Acknowledgements
This paper includes students' work, which was created during the Elective course Architecture of Territory, led by the authors of this article, during the autumn semester of the academic year 2019/2020 at the University of Belgrade, Faculty of Architecture. The Elective course was part of a collaboration with Faculty of Architecture, Civil Engineering and Geodesy, University of Banja Luka. The authors of this paper wish to acknowledge and thank students, for their hard effort and exceptional work during the elective course Architecture of Territory that is presented in this paper. The authors also wish to acknowledge and thank prof. Milica Topalović (design studio Architecture of Territory—ETH Zürich) for her guidance and expertise. The authors also want to thank prof. Ljiljana Došenović and asst. prof. Tanja Trkulja (elective studio Green Spaces of the Urban Landscape—Faculty of Architecture, Civil Engineering and Geodesy, University of Banja Luka) for constructive collaboration conducted through our joint curriculum programs. The research was partially conducted as part of the curriculum accredited by University of Belgrade, Faculty of Architecture. Authors received no supplementary financial support for this research.
Additional information
Publisher's Note
Springer Nature remains neutral with regard to jurisdictional claims in published maps and institutional affiliations.
About this article
Cite this article
Stamenović, P., Bulajić, Đ. Narrative spatial analytics (NSA) in urban landscape research and design. Urban Des Int (2021). https://doi.org/10.1057/s41289-020-00148-0
Keywords
Narrative spatial analytics

Landscape architecture research methods

Narrative drawing

Analytical mapping

Architectural montage

Iterative design