Abstract
The current understanding of urban resilience focuses on economic, environmental, and social responses. While the significance of art in enhancing social resistance has been acknowledged, the full potential of (un)authorised artistic and creative practices in initiating and strengthening the strategies of urban resilience is not yet recognised. Based on extensive fieldwork in 2012–2017, this paper delineates how urban hacking challenges the sociopolitical and spatio-aesthetic dynamics of the urban public space in Hong Kong as a form of cultural resilience that can contribute to a more holistic understanding of urban resilience. The diversity of urban hacking is indicated in an analysis of selected case studies of urban knitting and digital hacking that question the prevailing perceptions emphasising hacking as a method of illegal and arbitrary destruction. I posit that varied forms of urban hacking have a growing power to raise awareness of sociopolitical issues, enhance solidarity, and renegotiate space for new strategies and subjectivities aiming for more versatile co-authorship of the city.
This is a preview of subscription content, log in to check access.
Access options
Buy single article
Instant access to the full article PDF.
US$ 39.95
Price includes VAT for USA
Subscribe to journal
Immediate online access to all issues from 2019. Subscription will auto renew annually.
US$ 175
This is the net price. Taxes to be calculated in checkout.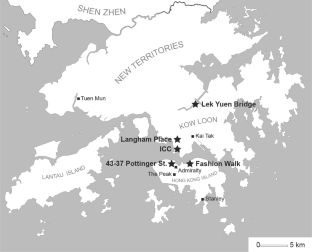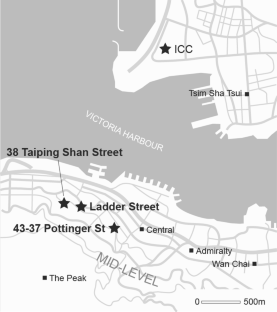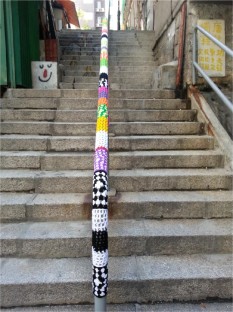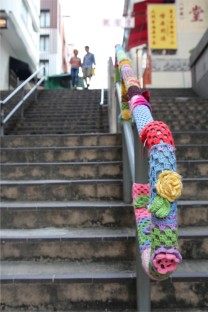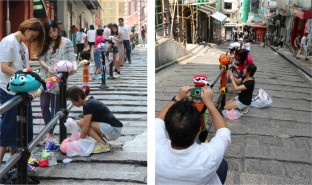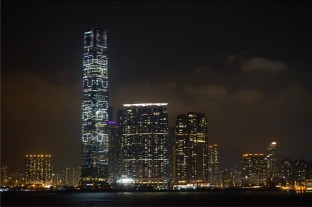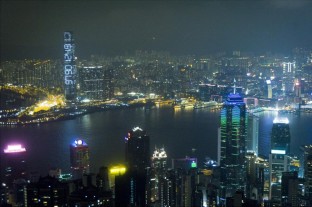 Notes
1.

Despite persistent efforts, some related stakeholders of the chosen case studies refused to be interviewed.

2.

The regulations and management of "public open space" (PoS) in Hong Kong is currently complicated by the growing amount of space managed by the private developers.

3.

4.

Translation by the author, published with the consent of Poon.

5.

Original statement provided by the artists to author.

6.

Statement and a short video available online; Add Oil Team (2016).
References
Abbas, A. 1997. Hong Kong: Culture and the politics of disappearance. Hong Kong: Hong Kong University Press.

Add Oil Team. 2016. Countdown. http://addoilteam.hk/countdown/. Accessed 15 July 2017.

Amin, A. 2006. Collective culture and urban public space. City 12 (1): 5–24.

Bauhinia Foundation Research Centre. 2007. Hong Kong: A creative metropolis. A policy submission paper, 3 October. http://www.bauhinia.org/assets/pdf/research/20071003/CreativeSubmissionPaper_ENG.pdf. Accessed 10 July 2017.

Berkes, F., and H. Ross. 2013. Community resilience: Toward an integrated approach. Society & Natural Resources 26 (1): 5–20.

Buser, M., C. Bonura, M. Fannin, and K. Boyer. 2013. Cultural activism and the politics of place-making. City 17 (5): 606–627.

Cai, Y. 2017. The occupy movement in Hong Kong. Sustaining decentralized practices. London: Routledge.

Castell, M. 2012. Networks of outrage and hope: Social movements in internet age. Cambridge: Polity.

Cheung, S. 2015. Taking part: Participatory art and the emerging civil society in Hong Kong. World Art 5 (1): 143–166.

Clarke, H.E., and B. Mayer. 2017. Community recovery following the deepwater horizon oil spill: Toward a theory of cultural resilience. Society & Natural Resources 30 (2): 129–144.

DeLaure, M., and M. Fink (eds.). 2017. Culture jamming: Activism and the art of cultural resistance. New York: New York University Press.

Desouza, K.C., and T.H. Flanery. 2013. Designing, planning, and managing resilient cities: A conceptual framework. Cities 35: 89–99.

Dolan, P. 2012. Travelling through social support and youth civic action on a journey towards resilience. In The social ecology of resilience, ed. M. Ungar. New York: Springer.

Douglas, G.C.C. 2018. The help-yourself city: Legitimacy and inequality in DIY urbanism. New York: Oxford University Press.

Eco, U. 1986. Faith in fakes. Essays. Trans. William Weaver, London: Seeker & Warburg.

Finn, D. 2014. DIY urbanism: implications for cities. Journal of Urbanism: International Research on Placemaking and Urban Sustainability 7 (4): 381–398.

Firat, B.O., and A. Kuryel (eds.). 2011. Cultural activism: Practices, dilemmas, and possibilities. Amsterdam: Brill.

Gadringer, M. 2010. Urban hacking as a strategy for urban (re-)planning/designing. In: Urban hacking. Cultural jamming strategies in the risky spaces of modernity, eds. Friesinger G., Grenzfurthner J. and Ballhausen T, 35–44. Bielefeld: Transcript-Verlag.

Grierson, E., and K. Sharp (eds.). 2013. Re-imagining the city: Art, globalization and urban spaces. Bristol: Intellect.

Harvey, D. 2009. Social justice and the city, rev ed. Athens: University of Georgia Press.

Ho, O. 2016. 藝術抗爭,也需顧及團隊 [Art making a stance, and also taking into account the collective] The Initium, 1 June, https://theinitium.com/article/20160601-opinion-oscarho-art2047/. Accessed 7 July 2017.

Hou, J. 2010. (Not) your everyday public space. In Insurgent public space: Guerrilla urbanism and the remaking of contemporary cities, ed. J. Hou, 1–17. New York: Routledge.

Iveson, K. 2007. Publics and the city. Oxford: Blackwell.

Iveson, K. 2013. Cities within the city: Do-it-yourself urbanism and the right to the city. International Journal of Urban and Regional Research 37 (3): 941–956.

Kelly, M. 2014. Knitting as a feminist project? Women's Studies International Forum 44: 133–144.

Kester, G. 2011. The one and the many: Contemporary collaborative art in a global context. Durham: Duke University Press.

Knott, K. 2015. Yarn bomb queen's next Hong Kong target is Tsing Ma Bridge. May 9, South China Morning Post. http://www.scmp.com/lifestyle/arts-entertainment/article/1789285/yarn-bomb-queens-next-hong-kong-target-tsing-ma-bridge. Accessed 7 April 2018.

Ku, A. 2012. The development of citizenship in Hong Kong. Governance without democracy. In Repositioning the Hong Kong government: Social foundations and political challenges, ed. S.W. Chiu and S. Wong, 123–145. Hong Kong: Hong Kong University Press.

Lai, M. 2010. Dancing to different tunes: Performance and activism among migrant domestic workers in Hong Kong. Women's Studies International Forum 33 (5): 501–511.

Lam, T. & Tavecchia, B. 2014. Taxonomy of public space in contemporary Hong Kong. In Public space in urban Asia, ed. Lim S.W., 131–137. Singapore: World Scientific Pub. Co.

Law, L. 2002. Defying disappearance: Cosmopolitan public spaces in Hong Kong. Urban Studies 39 (9): 1625–1645.

Lazzeretti, L. 2012. The remarkable resilience of cities of art. In Reframing regional development: Evolution, innovation and transition, ed. P. Cooke. London: Routledge.

Low, S. 2006. The erosion of public space and the public realm: Paranoia, surveillance and privatization in New York City. City and Society 18 (1): 43–49.

Lydon, M. ed. 2012. Tactical urbanism vol. 1. https://issuu.com/streetplanscollaborative/docs/tactical_urbanism_vol.1. Accessed 1 November 2018.

Lydon, M., and A. Garcia. 2015. Tactical urbanism: Short-term action for long-term change. Washington, DC: Island Press/Center for Resource Economics.

McCaughan, E.J. 2012. Art and social movements: Cultural politics in Mexico and Aztlán. Durham: Duke University Press.

Meerow, S., J.P. Newell, and M. Stults. 2016. Defining urban resilience: A review. Landscape and Urban Planning 147: 38–49.

Mingpao. 2017. 短片: 習近平訪港. ICC現歡迎字眼 [Video clip: Xi Jinping's visit to Hong Kong. ICC displays welcoming remarks.], June 29. https://news.mingpao.com/ins/instantnews/web_tc/article/20170629/s00001/1498749222573. Accessed 15 May 2018.

Moore, M., and L. Prain. 2009. Yarn bombing: The art of Crochet and Knit Graffiti. Vancouver: Arsenal Pulp Press.

Mould, O. 2014. Tactical urbanism: The new vernacular of the creative city. Geography Compass 8 (8): 529–539.

Németh, J., and J. Langhorst. 2014. Rethinking urban transformation: Temporary uses for vacant land. Cities 40: 143–150.

Pasquinelli, C., and J. Sjöholm. 2015. Art and resilience: The spatial practices of making a resilient artistic career in London. City, Culture and Society 6 (3): 75–81.

Pentney, B.A. 2008. Feminism, activism, and knitting: Are the fibre arts a viable mode for feminist political action? Thirdspace: A Journal of Feminist Theory & Culture 8

Pratt, A.C. 2015. Resilience, locality and the cultural economy. City, Culture and Society 6 (3): 61–67.

Price, L. 2015. Knitting and the city. Geography Compass 9 (2): 81–95.

Radoine, H. 2013. Cultural resilience in contemporary urbanism: The case of Sharjah, UAE. International Development Planning Review 35 (3): 241–260.

Reed, T.V. 2005. The art of protest: Culture and activism from the civil rights movement to the streets of seattle. Minneapolis: University of Minnesota Press.

Sayeg, M. 2015. How yarn bombing grew into a worldwide movement. Ted Talk, November. https://www.ted.com/talks/magda_sayeg_how_yarn_bombing_grew_into_a_worldwide_movement/transcript?language=en. Accessed 17 July 2017.

Schneider, F.A., and G. Friesinger. 2010. Urban hacking as a practical and theoretical critique of public spaces. In Urban hacking: Cultural jamming strategies in the risky spaces of modernity, ed. G. Friesinger, J. Grenzfurthner, and T. Ballhausen, 13–33. Bielefeld: Transcript-Verlag.

Stracey, F. 2014. Constructed situations: A new history of the situationist international. London: Pluto Press.

Talen, E. 2015. Do-it-yourself urbanism: A history. Journal of Planning History 14 (2): 135–148.

Thompson, N. 2012. Living as a form: Socially engaged art from 1991–2011. Cambridge, MA: MIT Press.

Valjakka, M. 2015. Urban art images and the concerns of mainlandization in Hong Kong. In Asian cities: Colonial to global, ed. G. Bracken, 93–121. Amsterdam: Amsterdam University Press.

Valjakka, M. 2016. Contesting transcultural trends: Emerging self-identities and urban art images in Hong Kong. In Routledge handbook of Graffiti and street art, ed. J. Ross, 381–387. New York: Routledge.

Webb, D. 2018. Tactical urbanism: Delineating a critical praxis. Planning Theory & Practice 19 (1): 58–73.

Weibel, P. (ed.). 2015. Global activism: Art and conflict in the 21st century. Ettlingen, Germany: Kraft Druck GmbH.

Wilson, G.A. 2012. Community resilience and environmental transitions. Abingdon: Routledge.

Young, I.M. 2002. The ideal of community and the politics of difference. In The Blackwell city reader, ed. G. Bridge and S. Watson, 430–439. Malden, MA: Blackwell Publishing.

Yiu, M. 2011. Hong Kong's global image campaign. Port city transformation from British colony to Special Administrative Region of China. In Port cities. Dynamic landscapes and global networks, ed. C. Hein, 214–229. London: Routledge.

Yúdice, G. 2003. The expediency of culture: Uses of culture in the global era. Durham: Duke University Press.

Zukin, S. 2010. Naked City: The death and life of authentic urban places. New York: Oxford University Press.
Acknowledgements
The extended research period was made possible by the financial support of the Academy of Finland (2012–2014): the International Institute for Asian Studies, Leiden University (2015–2016); the Finnish Cultural Foundation (2016); and the Asia Research Institute, National University of Singapore (2017–2018). A round of thanks is owed to artists, curators, residents and scholars who shared their insights and support during this study, including Jeff Hou.
Additional information
Publisher's Note
Springer Nature remains neutral with regard to jurisdictional claims in published maps and institutional affiliations.
About this article
Cite this article
Valjakka, M. Urban hacking: the versatile forms of cultural resilience in Hong Kong. Urban Des Int 25, 152–164 (2020). https://doi.org/10.1057/s41289-019-00079-5
Keywords
Urban hacking

Urban resilience

Cultural resilience

Civic engagement

Co-authorship of the city

Artistic and creative practices