Abstract
Firms that have losses are expected to sell tax-free securities and replace them with taxable securities since they can no longer benefit from tax savings. However, after the most recent financial crisis, firms' decisions to rebalance their investment portfolios may have led to additional losses during a period of stressed financial performance and increased insurance regulation. This study examines portfolio allocation behaviour in the property and casualty insurance industry. The results show that investment limitations imposed by insurance regulators can inhibit desired investment allocation post the financial crisis.
Access options
Buy single article
Instant access to the full article PDF.
US$ 39.95
Tax calculation will be finalised during checkout.
Subscribe to journal
Immediate online access to all issues from 2019. Subscription will auto renew annually.
US$ 119
Tax calculation will be finalised during checkout.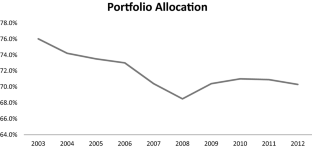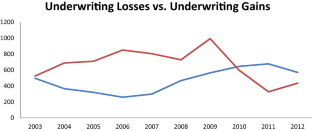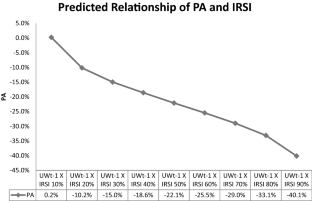 Notes
1.

Approximately two-thirds of the insurance industry portfolio are held in the form of corporate or government bonds. In fact, insurers are among the largest holders of state and municipal government bonds (i.e., tax-free securities) that go directly towards the financing of public projects (American Insurance Association 2010).

2.

Insurers derive their total income from two sources: underwriting and investing. Just like investment income, underwriting income can be volatile. Moreover, underwriting income has historically been negative (Fairley 1979).

3.

Interest income on tax-free securities may not always be completely tax-free for P&C firms. However, the line item for tax-free securities is listed as entirely tax-free.

4.

I would like to thank the authors for providing me with their data set to conduct my analysis.

5.

Source: NAIC, used by permission. The NAIC does not endorse any analysis of its data or conclusions based on its use.

6.

The primary users of the statutory financial statements are state or local regulators. In addition, SAP is focused on long-term liabilities of insurance companies and stresses the long-term claim-paying ability of the insurer, resulting in lower capital and income volatility, hence giving a more conservative measure of an insurer's financial stability.

7.

NAIC (2001) states, "One of the most difficult tasks facing insurance regulators is to make effective use of limited resources. All companies are required to file annual statements with all states in which they are licensed to operate. Obviously, no state is able to review thoroughly the financial condition of all licensed companies immediately upon receipt of the annual statements. IRIS helps to select those companies that merit highest priority in the allocation of the regulators' resources, thus directing those resources to the best possible use."

8.

Nissim (2010, p. 32) states… "The IRIS ratios are only a preliminary screen for targeting troubled firms, and regulators exercise judgment concerning the appropriate response to IRIS failure."

9.

10.

I use variance inflation factors (VIF) for the independent, interacted independent and control variables in the same regression to test for multicollinearity. The mean VIF is 1.77 and no individual VIF is greater than 10, a common threshold at which multicollinearity is considered an issue (Neter et al. 1985).
References
Acharya, V.V., and M. Richardson. 2009. Causes of the financial crisis. Critical Review 21: 195–210.

American Insurance Association. (2010). Property-casualty insurance basics. https://www.aiadc.org/File%2520Library/Resources/Industry%2520Resources/Insurance%2520101/Ins_101.pdf.

Beaver, W., M. McNichols, and K. Nelson. 2003. Management of the loss reserve accrual and the distribution of earnings in the property-casualty insurance industry. Journal of Accounting and Economics 35: 347–376.

Becker, B., and V. Ivashina. 2015. Reaching for yield in the bond market. Journal of Finance 70: 1863–1902.

Berger, P.G., and E. Ofek. 1995. Diversification's effect on firm value. Journal of Financial Economics 37 (1): 39–65.

Berger, P.G., J.D. Cummins, M.A. Weiss, and H. Zi. 2000. Conglomeration versus strategic focus: Evidence from the insurance industry. Journal of Financial Intermediation 9 (4): 323–362.

Blake, D., B.N. Lehmann, and A. Timmerman. 1999. Asset allocation dynamics and pension fund investment policy. Journal of Business 72 (4): 429–461.

Bohn, H., and L.L. Tesar. 1996. U.S. equity investment in foreign markets: Portfolio rebalancing or return chasing? American Economic Review 86 (2): 77–81.

Boyer, M.M., E.P. Cowins, and W.D. Reddic. 2018. Portfolio rebalancing behavior with operating losses and investment regulation. International Review of Economics and Finance 63: 313–328.

Bradford, D.F., and K.D. Logue. 1998. Economics of property-casualty insurance. Chicago: University of Chicago Press.

Braun, A., H. Schmeiser, and F. Schreiber. 2017. Portfolio optimization under solvency II: Implicit constraints imposed by the market risk standard formula. Journal of Risk and Insurance 84 (1): 177–207.

Chen, Y.C., and R. PonArul. 1991. Tax sheltering behavior of property-liability insurers: Some additional evidence. Journal of Risk and Insurance 58 (4): 722–728.

Comment, R., and G.A. Jarrell. 1995. Corporate focus and stock returns. Journal of Financial Economics 37 (1): 67–87.

Cornaggia, J., K.J. Cornaggia, and J.E. Hund. 2017. Credit ratings across asset classes: A long-term perspective. Review of Finance 21: 1–45.

Cummins, J.D., and P.M. Danzon. 1997. Price, financial quality, and capital flows in insurance market. Journal of Financial Intermediation 6 (1): 3–38.

Cummins, J.D., and E. Grace. 1994. Tax management and investment strategies of property-liability insurers. Journal of Banking & Finance 18 (1): 43–72.

Danzon, P.M., A.J. Epstein, and S.J. Johnson. 2004. The "crisis" in medical malpractice insurance. Brookings-Wharton Papers on Financial Services 2004: 55–96.

Eling, M., and D. Pankoke. 2016. Costs and benefits of financial regulation: An empirical assessment for insurance companies. Geneva Papers on Risk and Insurance: Issues and Practice 2: 529–554.

Fairley, W.B. 1979. Investment income and profit margins in property-liability insurance: Theory and empirical results. The Bell Journal of Economics 10 (1): 192–210.

Gaver, J.J., and J.S. Paterson. 2004. Do insurers manipulate loss reserves to mask solvency problems. Journal of Accounting and Economics 37: 393–416.

Gaver, J.J., and J.S. Paterson. 2012. The influence of auditor state-level legal liability on conservative financial reporting in the property-casualty insurance industry. Auditing: A Journal of Practice & Theory 31 (3): 95–124.

Gaver, J.J., and J.S. Paterson. 2014. The association between actuarial services and audit quality. Auditing: A Journal of Practice & Theory 33 (1): 139–159.

Grace, M.F., and J.T. Leverty. 2010. Political cost incentives for managing the property-liability insurer loss reserve. Journal of Accounting Research 48: 21–49.

Harrington, S.E. 2009. The financial crisis, systemic risk, and the future of insurance regulation. Journal of Risk and Insurance 76 (4): 785–819.

Harrington, S.E., and J. Nelson. 1986. A regression-based methodology for solvency surveillance in the property-liability insurance industry. Journal of Risk and Insurance 53: 583–605.

Harrington, S.E., and G. Niehaus. 2003. Capital, corporate income taxes, and catastrophe insurance. Journal of Financial Intermediation 12 (4): 365–389.

He, E., and D.W. Sommer. 2010. Separation of ownership and control: implication for board composition. Journal of Risk and Insurance 77 (2): 265–295.

Heaton, H. 1986. The relative yield on taxable and tax-exempt debt. Journal of Money, Credit, and Banking 18: 482–494.

Hendershott, P.H., and T.W. Koch. 1980. The demand for tax-exempt securities by financial institutions. Journal of Finance 35 (3): 717–727.

Kwon, W.J., H. Kim, and S.J. Lee. 2005. Can insurance firms easily exit from the market? A global comparative analysis of regulatory structures. Geneva Paper on Risk and Insurance Issues & Practices 30 (2): 268–284.

Lambert, E.W., and A.E. Hofflander. 1967. Portfolio management of property-liability companies. Financial Analysts Journal 23 (5): 141–146.

Mayers, D., and C.W. Smith. 2010. Compensation and board structure: evidence from the insurance industry. Journal of Risk and Insurance 77 (2): 297–327.

National Association of Insurance Commissioners. 2001. Using the NAIC insurance regulatory information system: property and liability. Kansas City, MO: NAIC.

Nelson, K.K. 2000. Rate regulation, competition, and loss reserve discounting by property-casualty insurers. The Accounting Review 75: 115–138.

Neter, J., W. Wassermann, and M.H. Kutner. 1985. Applied linear statistical models. Homewood, IL: Irwin.

Nissim, D. 2010. Analysis and valuation of insurance companies. New York: Center for Excellence in Accounting & Security Analysis, Columbia Business School.

Opp, C.C., M.M. Opp, and M. Harris. 2013. Rating agencies in the face of regulation. Journal of Financial Economics 108: 46–61.

Pasiouras, F., and C. Gaganis. 2013. Regulations and soundness of insurance firms: International evidence. Journal of Business Research 66: 632–642.

Petersen, M. 2009. Estimating standard errors in finance panel data sets: Comparing approaches. Review of Financial Studies 22: 435–480.

Petroni, K. 1992. Management's response to the differential costs and benefits of optimistic reporting in the property-casualty insurance industry. Journal of Accounting and Economics 15: 485–508.

Petroni, K., S.G. Ryan, and J.M. Wahlen. 2000. Discretionary and non-discretionary revisions of loss reserves by property-casualty insurers: Differential implications for future profitability, risk and market value. Review of Accounting Studies 5 (2): 95–125.

Pottier, S.W., and D.W. Sommer. 1999. Property-liability insurer financial strength ratings: Differences across rating agencies. Journal of Risk and Insurance 66: 621–642.

Randall, R.E., & R.W. Kopcke. 1991. The financial condition and regulation of insurance companies: An overview. Conference Series no. 35. Federal Reserve Bank of Boston.

Schich, S. 2009. Expanded government guarantees for banks: Benefits, costs and exit issues. Financial Market Trends 2009 (1): 89–123.

Smith, M.L. 1989. Investment return and yields to holders of insurance. Journal of Business 62 (1): 81–98.

Woodside-Oriakhi, M., C. Lucas, and J.E. Beasley. 2013. Portfolio rebalancing with an investment horizon and transactions costs. Omega 41 (2): 406–420.
Acknowledgements
I would like to thank Joseph Comprix, Randell Elder, Susan Albring, Craig Nichols, William Horrace, Tyler Leverty, Norma Nielson, Dara Marshall, Lamont Black, Stephani Mason, Phebian L. Davis-Culler, Noelle Butski and Menna Bizuneh and worship participants at West Virginia University, New Mexico State University, DePaul University, Miami University. Funds were provided by DePaul University, Syracuse University and the Hagan Family Foundation Fund. Data Source: National Association of Insurance Commission (NAIC), by permission. The NAIC does not endorse any analysis or conclusions based upon the use of its data. I bear full responsibility for any remaining errors in the text.
Additional information
Publisher's Note
Springer Nature remains neutral with regard to jurisdictional claims in published maps and institutional affiliations.
About this article
Cite this article
Reddic, W.D. Under pressure: investment behaviour of insurers under different financial and regulatory conditions. Geneva Pap Risk Insur Issues Pract 46, 1–20 (2021). https://doi.org/10.1057/s41288-020-00174-7
Received:

Accepted:

Published:

Issue Date:
Keywords
Statutory accounting principles

Insurance

Tax-free and taxable securities

Regulation

Portfolio rebalance