Abstract
Using a change in EU food aid policy in 1996 as an instrument for EU food aid allocation, I investigate how other donors react to the EU's food aid allocation. At that time, the EU suddenly divided by two the number of its food aid recipients. On average, other donors imitate the EU at both extensive and intensive margins. Donors' reactions are heterogeneous: European countries and Canada herd the EU, while the World Food Programme substitutes. The USA do not react. Those results can be explained by competition for relative impact and information effects. For a recipient country who constantly received food aid from the EU before 1996, the number of donors decreases by almost 0.5. This behavior reinforces the problem of orphan and darling recipients.
Résumé
Cet article étudie comment les donneurs d'aide alimentaire réagissent à un changement d'allocation par l'Union Européenne. L'aide européenne est instrumentée à partir d'un changement de politique d'aide alimentaire introduit par une réforme en 1996. Celle-ci divise, en un an, par deux le nombre de pays bénéficiaires d'aide alimentaire européenne. En moyenne, les autres donneurs imitent les comportements de l'UE tant à la marge extensive qu'à la marge intensive. Néanmoins, on observe une forte hétérogénéité de comportement : les pays membres et le Canada suivent l'UE tandis que le PAM se substitute à celle-ci. Les Etats-Unis, quant à eux, ne réagissent pas. Ces résultats peuvent s'expliquer par des effets de concurrence quant à l'impact comparé de leurs programmes et par des effets d'information. Pour un pays qui a reçu toutes les années de l'aide de l'UE avant 1996, cela induit une baisse de 0.5 donneur. Ces comportements ont tendance à renforcer les problèmes de bénéficiaires choyés et négligés.
We're sorry, something doesn't seem to be working properly.
Please try refreshing the page. If that doesn't work, please contact support so we can address the problem.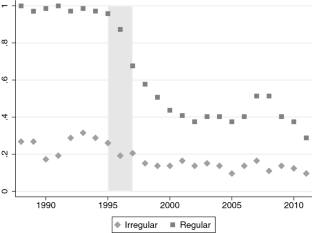 Notes
1.

"Food is a weapon much more than other type of aid because you can starve people" (Butz (US Foreign Secretary), 1967).

2.

Results are robust to the use of lagged EU food aid.

3.

Data are provided by DAC-OECD. I exclude sector code 520.

4.

I have not obtained a copy of this document.

5.

Since the ratification of the Lisbon Treaty (2009), the Commission no longer needs approval from EU member states on the allocation of food and humanitarian aid.

6.

For the USA and Japan, other explanation may explain an absence of significant reaction. Indeed their food aid policy is mostly driven by agricultural surplus and domestic political concerns (Barrett and Maxwell 2005).

7.

The World Bank definition is countries that have a population of 1.5 million or less, or are members of the Small States Forum.
References
Aaltola, M. 1999. Emergency Food Aid as a Means of Political Persuasion in the North Korean Famine. Third World Quarterly 20 (2): 371–386.

Annen, K., and L. Moers. 2016. Donor Competition for Aid Impact, and Aid Fragmentation. The World Bank Economic Review.

Aronow, P.M., A. Carnegie, and N. Marinov. 2017. Foreign Aid, Human Rights and Democracy Promotion: Evidence from a Natural Experiment. American Journal of Political Science 61 (3): 671–683.

Barrett, C., and D. Maxwell. 2005. Food Aid After Fifty Years: Recasting Its Role. Priorities for Development Economics. Abingdon: Routledge.

Barrett, C.B., and K.C. Heisey. 2002. How Effectively Does Multilateral Food Aid Respond to Fluctuating Needs? Food Policy 27 (5–6): 477–491.

Bellemare, M.F., T. Masaki, and T.B. Pepinsky. 2017. Lagged Explanatory Variables and the Estimation of Causal Effect. The Journal of Politics 79 (3): 949–963.

Berthélemy, J.-C. 2006. Bilateral Donor's Interest vs. Recipients' Development Motives in Aid Allocation: Do All Donors Behave the Same? Review of Development Economics 10 (2): 179–194.

Besley, T., and R. Burgess. 2002. The Political Economy Of Government Responsiveness: Theory and Evidence From India. The Quarterly Journal of Economics 117 (4): 1415–1451.

Bourguignon, F., and J.-P. Platteau. 2015. The Hard Challenge of Aid Coordination. Aid Policy and the Macroeconomic Management of Aid. World Development 69: 86–97.

Carbone, M. 2017. Make Europe happen on the ground? Enabling and constraining factors for European Union aid coordination in Africa. Development Policy Review 35 (4): 531–548.

Clay, E.J., S. Dhiri, and C. Benson. 1996. Joint Evaluation of European Union Programme Food Aid. Danida: Ministry of Foreign Affairs.

Council Regulation (EC) 1996. No 1292/96. Council Regulation (EC) No 1292/96 of 27 June 1996 on food-aid policy and food-aid management and special operations in support of food security. Official Journal of the European Communities, June.

Davies, R.B., and S. Klasen. 2019. Darlings and Orphans: Interactions Across Donors in International Aid. The Scandinavian Journal of Economics 121 (1): 243–277.

Ferrière, N., and A. Suwa-Eisenmann. 2015. Does Food Aid Disrupt Local Food Market? Evidence from Rural Ethiopia. World Development 76: 114–131.

Frot, E., and J. Santiso. 2011. Herding in Aid Allocation. Kyklos 64 (1): 54–74.

Fuchs, A., P. Nunnenkamp, and H. Öhler. 2015. Why Donors of Foreign Aid Do Not Coordinate: The Role of Competition for Export Markets and Political Support. The World Economy 38 (2): 255–285.

Galiani, S., S. Knack, L.C. Xu, and B. Zou. 2017. The Effect of Aid on Growth: Evidence from a Quasi-experiment. Journal of Economic Growth 22 (1): 1–33.

Gates, S. and A. Hoeffler. 2004. Global Aid Allocation: Are Nordic Donors Different? CSAE Working Paper Series.

Gehring, K., and S.A. Schneider. 2018. Towards the Greater Good? EU Commissioners' Nationality and Budget Allocation in the European Union. American Economic Journal: Economic Policy 10 (1): 214–39.

Kim, T. 2011. Strategizing Aid: US-China Food Aid Relations to North Korea in the 1990s. International Relations of the Asia-Pacific.

Kuhlgatz, C., A. Abdulai, and C.B. Barrett. 2010. Food Aid Allocation Policies: Coordination and Responsiveness to Recipient Country Needs. Agricultural Economics 41 (3–4): 319–327.

Mascarenhas, R., and T. Sandler. 2006. Do Donors Cooperatively Fund Foreign Aid? The Review of International Organizations 1 (4): 337–357.

Neumayer, E. 2005. Is the Allocation of Food Aid Free from Donor Interest Bias? Journal of Development Studies 41 (3): 394–411.

Nunn, N., and N. Qian. 2014. US Food Aid and Civil Conflict. The American Economic Review 104 (6): 1630–1666.

Quisumbing, A.R. 2003. Food Aid and Child Nutrition in Rural Ethiopia. World Development 31 (7): 1309–1324.

Strezhnev, A. and E. Voeten. 2012. United Nations General Assembly Voting Data. Data

Thirion, M.-C. 1996. Aide alimentaire française, éléments de diagnostic. SEAH.

Tingley, D. 2010. Donors and Domestic Politics: Political Influences on Foreign Aid Effort. Special Section: Foreign Aid. The Quarterly Review of Economics and Finance 50 (1): 40–49.

Vesterlund, L. 2003. The Informational Value of Sequential Fundraising. Journal of Public Economics 87 (3): 627–657.

Werker, E., F.Z. Ahmed, and C. Cohen. 2009. How is Foreign Aid Spent? Evidence from a Natural Experiment. American Economic Journal: Macroeconomics 1: 225–244.

World Food Programme. 2011. Food Aid Information System, World Food Programme. Available at: http://www.wfp.org/fais/.

World Food Programme. 2017. How Climate Drives Hunger: Food Security Climate Analyses, Methodologies and Lessons 2010–2016. WFP, Climate Resilience for Food Security.

Zahariadis, N., R. Travis, and J.B. Ward. 2000. US Food Aid to Sub-Saharan Africa: Politics or Philanthropy? Social Science Quarterly 81 (2): 663–676.
Ethics declarations
Conflict of interest
The authors declare that they have no conflict of interest.
Additional information
Publisher's Note
Springer Nature remains neutral with regard to jurisdictional claims in published maps and institutional affiliations.
I thank the World Food Programme for sharing the data . The research leading to these results has received funding from the European Union's Seventh Framework Programme FP7/2007–2011 under Grant Agreement n290693 FOODSECURE. The author alone is responsible for any omissions or deficiencies. Neither the FOODSECURE project and any of its partner organizations nor any organizations of the European Union or European Commission are accountable for the content of this paper.
Appendices
A Descriptive Statistics
Figure 3 provides the annual average quantities received by EU recipients. Table 8 provides descriptive statistics on control variables.
B Additional Results
Table 9 gives pre-trend analysis for EU food aid allocation depending on the type of recipients.
About this article
Cite this article
Ferrière, N. To Give or Not to Give? How Do Other Donors React to European Food Aid Allocation?. Eur J Dev Res (2021). https://doi.org/10.1057/s41287-021-00360-w
Keywords
Food aid

European Union

Coordination

Interaction

Allocation