Abstract
The lingering Boko Haram terrorism deserves investigation to determine whether external intervention is needed under the principle of responsibility to protect. In the application of responsibility to protect, the principal challenges have been how to respond, when to respond, and who has the authority to initiate response, especially when the protection of people at risk falls outside one's territory. The possible application of the principle in conflict situations, as argued by many authors, is hindered by the concept of national sovereignty. Given the seeming inability of the Nigerian government to curb terrorism, here we raised the questions: should the international community intervene, what approach should be adopted, and how can the intervention be conducted without compromising Nigeria's sovereignty? Using a qualitative methodology and the collection of primary data through documentary evidence, we highlight the failure of the Nigerian government to protect the people of Northeast Nigeria from Boko Haram and suggest that external intervention has become necessary.
Access options
Buy single article
Instant access to the full article PDF.
US$ 39.95
Tax calculation will be finalised during checkout.
Subscribe to journal
Immediate online access to all issues from 2019. Subscription will auto renew annually.
US$ 119
Tax calculation will be finalised during checkout.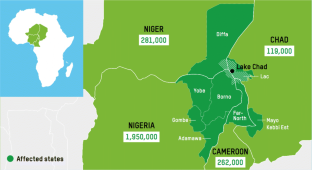 Notes
1.

The six Northeast states of Nigeria are Adamawa, Bauchi, Gombe, Borno, Taraba and Yobe.

2.

Dasukigate is an illegal deal uncovered by the presidential investigations committee in 2015. The committee report showed an extra-budgetary spending of about $2.2 billion disbursed into the office of the National Security Adviser (NSA) in procurement of arms to fight Boko Haram but was not spent for that purpose. Some persons connected to deal are under detention including Col. Sambo Dasuki Rtd, the then National Security Adviser.
References
Adibe, J. 2012. Boko Haram: One Sect. Conflicting Narratives. African Renaissance 9(1): 47–64.

Adibe, J. 2014. A Nation at War with Itself. Daily Trust April 17: Back Page.

Agbiboa, D. 2013. Peace at dagger's drawn? Boko Haram and the State of Emergency in Nigeria. Studies in Conflict and Terrorism 37(1): 41–67.

Badescu, C., and L. Bergholm. 2009. Responsibility to Protect and the Conflict in Darfur: The Big Let-Down. Security Dialogue 40(3): 287–309.

Byers, M. 2002. Terrorism, the Use of Force, and International Law After 11 September. International and Comparative Law Quarterly 51(2): 401–414.

Campbell, J. 2016. Nigeria Security Tracker: Mapping Violence in Nigeria. US: Council on Foreign Relations. Last updated 1 October https://www.cfr.org/nigeria/nigeria-security-tracker/p29483. Accessed 26 Oct 2019.

Chandler, D. 2009. Unravelling the Paradox of 'The Responsibility to Protect'. Irish Studies in International Affairs 20: 27–39.

Chataway, T. 2007. Towards Normative Consensus on Responsibility to Protect. Griffith Law Review 16(1): 193–211.

Cooper, H. 2017. Trump Team's Queries About Africa Point to Skepticism About Aid. New York Times January 13.

Dallaire, R. 2005. The Responsibility to Protect. New England Journal of Public Policy 19(2): 121–137.

Dershowitz, Alan M. 2002. Why terrorism works, understanding the threat, responding to the challenges. New York: R.R. Donnelley & Sons Co., Inc.

Dixon, P. 2009. "Hearts and Minds"? British Counter-Insurgency from Malaya to Iraq. Journal of Strategic Studies 32(3): 353–381.

Duodu, C. 2009. Mohammed Yusuf's final Days. August 6. The Guardian (Nigeria) https://www.theguardian.com/commentisfree/belief/2009/aug/06/mohammed-yusuf-boko-haram-nigeria Accessed 26 Oct 2019.

Duruji, M.M., and F.O. Oviasogie. 2013. State Failure, Terrorism and Global Security: An Appraisal of the Boko Haram Insurgency in Northern Nigeria. Journal of Sustainable Society 2(1): 20–30.

Easton, D. 1965. A Framework for Political Analysis. Englewood Cliffs: Prentice-Hall.

Evans, G. 2008. The Responsibility to Protect: An Idea Whose Time Has Come… and Gone? International Relations 22(3): 283–298.

Ezemenaka, K.E., and J. Prouza. 2016. Biafra Resurgence: State Failure, Insecurity and Separatist Agitations in Nigeria. Central European Journal of International and Security Studies. 3: 88–109.

Foyou, V.E., P. Ngwafu, M. Santoyo, and A. Ortiz. 2018. The Boko Haram Insurgency and its Impact on Border Security, trade and Economic Collaboration between Nigeria and Cameroon: An Exploratory Study. African Social Science Review 9(1): 66–76.

Hassan, M.B. 2013. Democratization in Diversity: The Challenges of Nation Building in Nigeria. Lapai International Journal of Politics 1(1): 40–60.

Hassan, M.B. 2014. Boko Haram Insurgency and the Spate of Insecurity in Nigeria: Manifestation of Governance Crisis. Research on Humanities and Social Sciences 4(18): 9–18.

Iyekekpolo, W.O. 2018. Political Elites and the Rise of the Boko Haram Insurgency in Nigeria. Terrorism and Political Violence. https://doi.org/10.1080/09546553.2017.1400431.

Ki-moon, B. 2009 'Implementing the Responsibility to Protect: Report of the Secretary General, A/63/677, January 12.

Laswell, H.D. 1936. Politics: Who Gets What, When and How?. New York: Whittlesey House.

Lobel, J. 1999. The Use of Force to Respond to Terrorist Attacks: The Bombing of Sudan and Afghanistan. Yale Journal of International Law 24: 537–557.

Murphy, S.D. 1999. Contemporary Practice of the United States Relating to International Law. American Journal of International Law 93(1): 161–194.

Ojeme, V. 2012. Boko Haram: FG faults calls for foreign intervention. June 13 The Vanguard (Nigeria) https://www.vanguardngr.com/2012/06/boko-haram-fg-faults-calls-for-foreign-intervention/June 2019.

Olasupa, A. 2018. How Buhari Stopped us from Fighting Boko Haram-South African Mercenary. Nov 26 The Guardian (Nigeria) https://m.guardian.ng/news/how-buhari-stopped-us-from-fighting-boko-haram-south-african-mercenary/. Accessed 3 May 2019.

Omenma, J.T., and C.M. Hendricks. 2018. Counterterrorism in Africa: an analysis of the Civilian Joint Task Force and Military partnership in Nigeria. Security Journal 31(3): 764–794.

Onapajo, H. 2013. Why Nigeria is not winning the anti-Boko Haram War. In Boko Haram: Anatomy of a Crisis, ed. I. Mantzikos, 53–59. Bristol: e-International Relations.

Onuoha, F.C. 2012. The Audacity of the Boko Haram: Background, Analysis and Emerging Trend. Security Journal 25(2): 134–151.

Perry, M. 2010. Talking to Terrorists: Why America Must Engage with its Enemies. New York: Basic Books.

Piazza, J.A. 2008. Incubates of Terror: Do Failed and Failing States Promote Transnational Terrorism? International Studies Quarterly 52(3): 469–488.

Plouviez, D. 2018. The French Navy and War Entrepreneurs: Identity, Business Relations, Conflicts, and Cooperation in the Eighteenth Century. Business History 60(1): 41–56.

Poling, C.C. 2013. U.S Congress and Boko Haram. In Boko Haram: Anatomy of a Crisis, ed. I. Mantzikos, 73-84. Bristol: e-International Relations.

Powell, J. 2014. Talking to Terrorists: How to End Armed Conflicts. London: The Bodley Head.

Powell, J. 2015. Terrorists at the Table: Why Negotiating is the Only Way to Peace. New York: Palgrave Macmillan Trade.

Ramraj, V.V. 2002. Terrorism, Security, and Rights: A New Dialogue. Singapore Journal of Legal Studies. 1–15.

Rosso, S.J. 1995. The Insecure State: Reflections on "the State" and "Security" in a Changing World. Daedalus 124(2): 175–207.

Sidi, M.M. 2015. National Emergency Management Agency. Annual Report. Abuja: Yaliman Press Ltd.

Skinner, J., and S. Begum. 2016. Lake Chad's Unseen Crisis: Voices of Refugees and Internally Displaced People from Niger and Nigeria. Cowley, Oxford: Oxfam International.

Smith, S. 2001. General Templer and Counter-Insurgency in Malaya: Hearts and Minds, Intelligence, and Propaganda. Intelligence and National Security 16(3): 60–78.

Steinberg, D. 2009. Responsibility to Protect: Coming of Age? Global Responsibility to Protect 1(4): 432–441.

Stewart, P. 2006. Weak States and Global Threats: Fact or Fiction? The Washington Quarterly 29 (2): 27–53.

Surchin, A.D. 1995. Terror and the Law: The Unilateral Use of Force and the June 1993 Bombing of Baghdad. Duke Journal of Comparative and International Law 5: 457–497.

Tijani, M. 2015. In Figures: all Boko Haram Attacks in 2015. Dec 28, 2015. The Cable. https://www.thecable.ng/path-of-a-ruthless-killer-all-boko-haram-deaths-in-2015 Accessed on 26 October 2019.

Tukur, S. 2017. Shocking Revelation: 100,000 killed, two million displaced by Boko Haram Insurgency, Borno Governor Says, Premium Times. February 13, 2017.

UNDP Report. 2018. Achieving Human development in North East Nigeria. Abuja: UNDP.

United Nations Development Programme, 1994. Human Development Report, 1994 New York: Oxford University Press.

Usman, A., and S. Bashir. 2018. Fragility of the Nigerian State and the Challenge of Boko Haram Violence. Covenant University Journal of Politics and International Affairs 6(1): 19–41.

Vieira, J.D. 1991. Terrorism at the BBC: The IRA on British Television. In Media Coverage of Terrorism Methods of Diffusion, ed. A.O. Alali and K.K. Eke, 234–256. London: Sage Publication.

Winsor, M. 2015 Goodluck Jonathan's Administration Spent Trillions on Naigerian National Security in Past Five Years, Yet Boko Haram Remains: Report. International Business Times. June 19 https://www.ibtimes.com/goodluck-jonathans-administration-spent-trillions-nigerian-national-security-past-1975154 Accessed 21 June 2019.

Zartman, I.W. (ed.). 1995. Collapsed States: The Disintegration and Restoration of Legitimate Authority. Boulder, CO: Lynne Rienner.

Zartman, I.W. (ed.). 2000. Traditional Cures for Modern Conflicts: African Conflict "Medicine". Boulder, CO: Lynne Rienner.

Zenn, J., and Z. Pieri. 2017. How much Takfir is too much Takfir?: The Evolution of Boko Haram's Factionalization. Journal For Deradicalization 11: 281–308.
Acknowledgements
This research was supported by the Philosophical faculty, University of Hradec Králové, Czech Republic.
Additional information
Publisher's Note
Springer Nature remains neutral with regard to jurisdictional claims in published maps and institutional affiliations.
About this article
Cite this article
Ekumaoko, C.E., Ezemenaka, K.E. Responsibility to protect: external intervention on Boko Haram terrorism in Nigeria. Secur J 33, 493–513 (2020). https://doi.org/10.1057/s41284-020-00239-1
Keywords
Responsibility to protect

Boko Haram

Conflict

Government

Ethnic cleansing