Abstract
Most of the research on the role of police in the protection of industrial technology has recommended the expansion of police departments and the provision of education to strengthen the expertise of investigators. However, no research has sought to identify which specific expertise should be strengthened. This study analyzed which competencies are required by professional police investigators in industrial espionage cases to gain expertise. The study used the Developing A Curriculum (DACUM) technique, normally used to develop curriculum through job analysis. The study produced a series of competency items in three stages: (1) created a job model, (2) filtered out unnecessary competency items via expert reviews, and (3) verified the selected items via surveys and focus group interviews. Unnecessary items were filtered out throughout the study. The study found that "knowledge about laws related to industrial espionage," "case types and modus operandi," and "knowledge related to digital forensics and utilization of useful tools" are necessary competencies for the police investigating industrial espionage cases. Several non-essential but beneficial competencies were also found, such as "understanding of the latest technology trends," "knowledge of internal computer systems and relevant organizations," and "ability to use programs to design drawings or program source codes."
Access options
Buy single article
Instant access to the full article PDF.
US$ 39.95
Tax calculation will be finalised during checkout.
Subscribe to journal
Immediate online access to all issues from 2019. Subscription will auto renew annually.
US$ 119
Tax calculation will be finalised during checkout.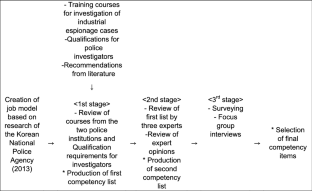 Notes
1.

2.

Among law enforcement agencies, the Korean National Police Agency is the only one that operates a team that investigates industrial espionage cases. In July 2010, the Korean National Police Agency started operating the investigation team in six provincial police agencies. Since February 2017, it has expanded across the country to include 17 provincial police agencies. According to internal data from the Korean National Police Agency, the dedicated investigative teams processed 825 cases and arrested 2467 criminals between July 2010 and February 2017. In addition, most police investigators have completed the professional training course given by the Korean National Police Agency. For these reasons, they were considered suitable participants for this research.

3.

In total, there are 59 police industrial espionage investigators in the Korean National Police Agency.

4.

The focus group interview was conducted as a "mini group interview," which normally consists of about four to five people. This interview method is designed to obtain a wide range of ideas from people from various backgrounds. Its advantage is that it produces more intuitive and easily understandable results than a quantitative analysis can produce (Lee 2014). Hence, this method is suitable for exploratory research.

5.
References
Agency, Korean National Police. 2009. 2008 Annual Police Statistics. Seoul: TSO.

Agency, Korean National Police. 2013. A Study on Basic Education and Evaluation of Investigators. Seoul: TSO.

Agency, Korean National Police. 2015. Development of Education and Training System to Improve Cybercrime Response Ability. Seoul: TSO.

Agency, Korean National Police. 2016. 2015 Annual Police Statistics. Seoul: TSO.

Agency, Korean National Police. 2017. 2016 Annual Police Statistics. Seoul: TSO.

Almeling, D.S. 2008. Four Reasons to Enact a Federal Trade Secrets Act. Fordham Intellectual Property, Media and Entertainment Law Journal 19: 769–798.

Andrijcic, E., and B. Horowitz. 2006. A Macro-Economic Framework for Evaluation of Cyber Security Risks Related to Protection of Intellectual Property. Risk Analysis 26(4): 907–923.

Berg, I. 1970. Education and Jobs: The Great Training Robbery. New York: Praeger.

Boyatzis, R.E. 1982. The Competent Manager: A Model for Effective Performance. New York: Wiley.

Cho, H.D. 2013. Confrontation Capacity Strengthening Plan About Industrial Espionage in Police. The Korean Association of Police Science Review 40: 193–213.

Cho, J., and Y. Chun. 2017. A New Direction for Police Activities to Respond to the Industrial Technology Outflow Crime. Journal of Korea Security Science Association 50: 239–262.

Colwill, C. 2009. Human Factors in Information Security: The Insider Threat–Who Can You Trust These Days? Information Security Technical Report 14(4): 186–196.

Dofasco. 1996. The DACUM Job Analysis Process. Columbus, OH: Educational Resources Information Centre.

Elliott, S.M. 2007. The Threat from Within: Trade Secret Theft by Employees. Nature Biotechnology 25(3): 293–295.

Hinduja, S., and J.R. Ingram. 2008. Self-Control and Ethical Beliefs on the Social Learning of Intellectual Property Theft. Western Criminology Review 9(2): 52–72.

Hong, S. 2015. A Study on the Police Policy to Counter Industrial Espionage. Journal of the Institute of Police Science 10(3): 65–93.

Hoyt, D. P. 1965. The Relationship Between College Grades and Adult Achievement. A Review of the Literature (Res. rep. No. 7). Iowa City, LA: American College Testing Program.

Hudson, L. 1960. Degree Class and Attainment in Scientific Research. British Journal of Psychology 51: 67–73.

Joo, S.B. 2011. A Study on the Countermeasure of Police About Industrial Espionage. Public Policy Review 28(1): 161–179.

Lee, H.S. 2012. A Study on the Measure of Facilitating Industrial Security by the Police. Journal of Korean Association of Governmental Studies 2012(4): 173–192.

Lee, G. 2014. Understanding of Research Methodology. Seoul: Booknet.

Lee, H.M. 2016. Organizational Capability and Core Talents. Seoul: Readread Press.

McClelland, D.C. 1973. Testing for Competence Rather than for Intelligence. American Psychologist 28(1): 1–14.

McCormick, M. 2008. Data Theft: A Prototypical Insider Threat. In Insider Attack and Cyber Security, eds. S.J. Stolfo et al., 53–68. Boston: Springer.

Ministry of Trade, Industry and Energy. 2015. The Second Comprehensive Plan for Prevention and Protection of Industrial Technology. Retrieved from http://www.is-portal.net/bmt/newbbs/view.act?pageCode=P14030101&bbs_config_nid=26&bbs_nid=525. Accessed 15 Jan 2019.

Nasheri, H. 2005. Economic Espionage and Industrial Spying. Cambridge: Cambridge University Press.

Shultz II, C.J., and B. Saporito. 1996. Protecting Intellectual Property: Strategies and Recommendations to Deter Counterfeiting and Brand Piracy in global markets. The Columbia Journal of World Business 31(1): 18–28.

Spencer, L.M., and S.M. Spencer. 1993. Competence at Work: Models for Superior Performance. New York: Wiley.

Warkentin, M., and R. Willison. 2009. Behavioral and Policy Issues in Information Systems Security: The Insider Threat. European Journal of Information Systems 18(2): 101–105.

Wing Jr., C.W., and M.A. Wallace. 1971. College Admissions and the Psychology of Talent. New York: Holt, Rinehart & Winston.

Yoon, D., S. Cho, and E. Bae. 2011. A Study Based on the Critical Review of Previous Research on the DACUM Job Analysis in Korea. Journal of Education and Culture 17(3): 87–115.
Additional information
Publisher's Note
Springer Nature remains neutral with regard to jurisdictional claims in published maps and institutional affiliations.
About this article
Cite this article
Lee, S., Lee, J. & Jung, J. An exploration of the necessary competencies of professional police investigators for industrial espionage cases in South Korea. Secur J 33, 119–138 (2020). https://doi.org/10.1057/s41284-019-00196-4
Keywords
Industrial espionage

Professional police investigator

Competency

Knowledge

Skill

DACUM