Abstract
The present article uses game experiments to understand the dynamics of oligopolistic competition in liner shipping markets. We show how a limited number of carriers, interacting over time, acting independently or grouped into global shipping alliances, are able to effectively and jointly reduce excess capacity. A serious game (called TRALIN) has been designed to this end, mimicking the global liner shipping market where four to five global shipping alliances compete on a set of 12 routes, connecting four ports of call for a few sequential voyages. Carriers are initially subject to low profits due to over-capacity and have to anticipate competitor capacity decisions and vessel deployment simultaneously. Results from 18 experimental games with 4644 decisions were collected and statistically analysed to confirm the main tenets of oligopoly theory and to highlight the existence of a learning effect from successive interactions (rounds in games). Our results suggest that a 'coordinated' reduction in capacity is more likely to occur when the number of competitors is limited, but even more when excessive capacity is high, urging the need for cooperation; a learning effect amongst market participants is detected over time. Serious games are flexible tools for improving our understanding of competition, the organization of liner shipping networks, and the role played by global shipping alliances. This tool may help practitioners to understand how over-capacity is evolving within the competitive process, and what factors may influence it. Although voluntarily made simplistic for the purpose of experiments, our design allows one to focus on the main tenets of oligopoly theory as applied to shipping markets.
Access options
Buy single article
Instant access to the full article PDF.
US$ 39.95
Tax calculation will be finalised during checkout.
Subscribe to journal
Immediate online access to all issues from 2019. Subscription will auto renew annually.
US$ 399
Tax calculation will be finalised during checkout.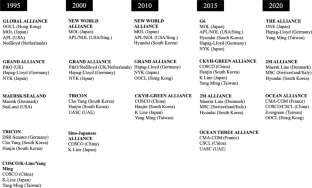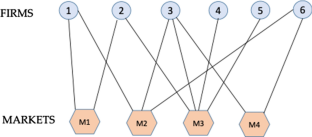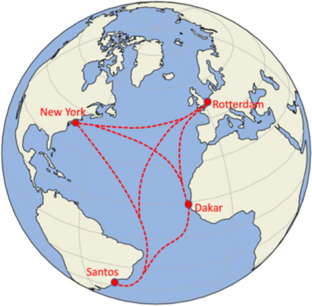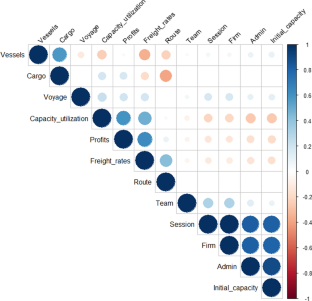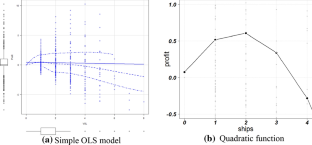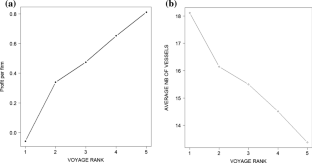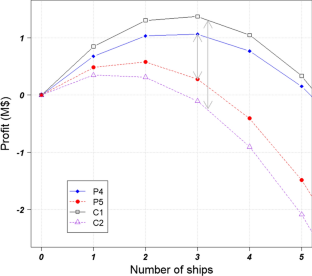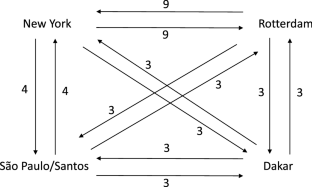 Notes
1.

The online version of TRALIN is available in a beta version. Interested readers can send a request to nicolas.gruyer@economics-games.com.

2.

With the liner shipping system, it is possible for members of a GSA to compete on a specific trade but to cooperate on other trades through, for instance, consortia, slot- or vessel-chartering agreements. In our example, we assume that they are competing on the transatlantic trade.

3.

In future developments of the game, we could imagine that players negotiate and trade their ships instead of using a central agency.

4.

The initial total capacity supply usually reaches between 320,000 and 500,000 TEUs (4 or 5 companies × 15 or 20 containerships × 5000 TEUs per vessel), when the aggregate cargo demand for the whole network is only 243,000 TEUs, meaning that the required carrying capacity (50 ships) is more or less exceeded according to treatments.

5.

A Variance Inflation Factor (VIF) test indicated values fairly close to 1 and smaller than 5 for the variables number of vessels, freight rates, capacity utilisation and cargo demand (1.86, 1.46, 1.64 and 1. 87, respectively), thus suggesting a moderate correlation between the independent variables.

6.

It was not possible to test for random effects in the model because of the non-panel structure of data. It could be done at the cost of dramatic reduction in the number of observations, by pooling the GSA decisions for all routes. This was also tested but did not provide any interesting additional knowledge for this study.

7.

Capacity model versus simple quadratic model: F = 91.504*** (Prob < 0.01). Concentration model versus simple quadratic model: F  = 10.741*** (Prob < 0.01). The three models (Capacity, Concentration, single-sloped Quadratic) altogether: F = 11.842*** (Prob < 0.01).

8.

That is, intercept and slope of the demand curve are more or less a proxy of elastic demand; market size, measured by cargo demand; freight rate and capacity utilisation.
References
Agarwal, R., and Ö. Ergun. 2008. Ship Scheduling and Network Design for Cargo Routing in Liner Shipping. Transportation Science 42 (2): 175–196.

Abdullah, N.L., M.H. Hanafiah, and N.A. Hashim. 2013. Developing Creative Teaching Module: Business Simulation in Teaching Strategic Management. International Education Studies 6 (6): 95–107.

Alphaliner. 2020. Alphaliner Top 100. https://alphaliner.axsmarine.com/PublicTop100/.

Bimpikis, K., S. Ehsani, and R. İlkılıç. 2019. Cournot Competition in Networked Markets. Management Science. https://doi.org/10.1287/mnsc.2018.3061.

Boston Consulting Group. 2015. The transformation imperative in the container industry. Retrieved (July 2020) at https://www.bcg.com/publications/2015/transportation-travel-tourism-transformation-imperative-container-shipping.

Brauer, J., and G. Delemeester. 2001. Games Economists Play: A Survey of Non-computerized Classroom-Games for College Economics. Journal of Economic Surveys 15 (2): 221–236.

Burt R. 2001. Bandwidth and echo: Trust, information, and gossip in social networks. In Rauch J.E., Casella A. (Eds), Networks and markets. The Russel Sage Foundation, Chapter 2, pp. 30–74.

Cariou P. 2001. Les alliances stratégiques dans le transport maritime de ligne régulières, Thèse de Doctorat Université de Nantes.

Cariou, P., and Haralambides H.E. 1999. Strategic alliances in liner shipping: An analysis of operational synergies. In Proceedings of the IAME conference.

Cariou, P. 2008. Liner Shipping Strategies: An Overview. International Journal of Ocean Systems Management 1 (1): 2–13.

Caschili, S., F. Medda, F. Parola, and C. Ferrari. 2014. An Analysis of Shipping Agreements: The Cooperative Container Network. Networks and Spatial Economics 14 (3–4): 357–377.

Chen, R., J.X. Dong, and C.Y. Lee. 2016. Pricing and Competition in a Shipping Market with Waste Shipments and Empty Container Repositioning. Transportation Research Part B 85: 32–55.

Chen, G., N.G.M. Rytter, L. Jiang, P. Nielsen, and L. Jensen. 2017. Pre-announcements of Price Increase Intentions in Liner Shipping Spot Markets. Transportation Research Part A 95: 109–125.

Choi, T.-M., S.-H. Chung, and X. Zhuo. 2020. Pricing with Risk Sensitive Competing Container Shipping Lines: Will Risk Seeking Do More Good Than Harm? Transportation Research Part B 133: 210–229.

Christiansen, M., K. Fagerholt, and D.D. Ronen. 2004. Ship Routing and Scheduling: Status and Perspectives. Transportation Science 38 (1): 1–18.

Clarke, R., and S.W. Davies. 1982. Market Structure and Price-Cost Margins. Economica 49 (195): 277–287.

Cowling, K., and M. Waterson. 1976. Price-Cost Margins and Market Structure. Economica 43 (171): 267–274.

Cruijssen, F., W. Dullaert, and H. Fleuren. 2007. Horizontal Cooperation in Transport and Logistics: A Literature Review. Transportation Journal 46 (3): 22–39.

∙Cullinane K., and Khanna M. 2000. Economies of scale in large containerships: optimal size and geographical implications, Journal of Transport Geography, 8(3), 181–195.

Davies J.E. 1983. Pricing in the liner shipping industry: A survey of conceptual models, Canadian transport Commission, Research Branch, N° 1983/04 E, 85p.

Davies J.E. 1990. Destructive Competition and market unsustainability in the liner shipping industry, International Journal of Transport Economics XVII(3): 227–245.

Davies J.E., Pirrong C., Sjostrom W., and Yarrow G. 1995. Stability and Related Problems in Liner Shipping: An Economic Overview, September, working Paper 38 p.

Davis, J.S. 2019. Qualitative Research to Discover How and Why Students Learn from Economic Games. International Review of Economics Education 31: 100160.

Devaney J.W., Livanos V.M., and Stewart R.J. 1975. Conference Pricing and The West Coast of South America, Journal of Transport Economics and Policy: 154–177.

Dobrescu, L.I., B. Greiner, and A. Motta. 2015. Learning Economics Concepts Through Game-Play: An Experiment. International Journal of Education Research 69: 23–37.

Dong, Y., L. Miaojia, and S. Xiaoning. 2011. Verifying Liner Shipping Alliance's Stability by Applying Core Theory. Research in Transportation Economics 32 (1): 15–24.

Durham, Y., T. McKinnon, and C. Schulman. 2007. Classroom Experiments: Not Just Fun and Games. Economic Inquiry 45 (1): 162–178.

Ducruet, C., and T. Notteboom. 2012. (2012), The Worldwide Maritime Network of Container Shipping: Spatial Structure and Regional Dynamics. Global Networks 3: 395–423.

Edgeworth, F.Y. 1925. The Pure Theory of Monopoly, Reprinted in Collected Papers Relating to Political Economy 1. New York: Macmillan.

Emerson, T.L.N., and B.A. Taylor. 2004. Comparing Student Achievement Across Experimental and Lecture-Oriented Sections of Principles of Microeconomics Course. Southern Economic Journal 70 (3): 672–693.

Fusillo, M. 2006. Some Notes on Structure and Stability in Liner Shipping. Maritime Policy and Management 33 (5): 463–475.

García, Gallego A. 1998. Oligopoly Experimentation of Learning with Stimulated Markets. Journal of Economic Behavior & Organization 35 (3): 333–335.

Ghorbani M., Accario M., Transchel S., and Cariou P. 2019. Strategic alliances in container shipping: A review of the literature and future research agenda. Proceedings of the International Association of Maritime Economists, 25–28 June 2019, Athens.

Global Insight. 2005. The application of competition rules to liner shipping, Final Report for the European Commission.

Han, Y., and M. Ryan. 2017. Teaching Strategic Thinking on Oligopoly: Classroom Activity and Theoretic Analysis. e-Journal of Business Education and scholarship of teaching 11 (1): 127–139.

Harker, P.T., and T.L. Freisz. 1986. The Use of Equilibrium Network Models in Logistics Management: With Application to the U.S. Coal Industry. Transportation Research Part B 18 (5): 457–470.

Haralambides, H.E. 2007. Structure and Operations in the Liner Shipping Industry Handbook of Transport Modellin. New York: Pergamon-Elsevier Science.

Hazlett, D. 2007. A Classroom Investment Coordination Experiment. International Review of Economics Education 6 (1): 63–76.

Hirata E. 2017. Contestability of container liner shipping market in alliance era. The Asian Journal of Shipping and Logistics, 33(1), 27–32.

Koopmans, T. 1939. Tanker Freight Rates and Tankship Building: An Analysis of Cyclical Fluctuations. Netherlands Economic Institute No. 27. Haarlem: De Erven F. Bohn N.V.

Lean, J., M. Moizer, and C.A. Towler. 2006. Active Learning in Higher Education. Journal of Simulation and games 7 (3): 227–242.

Lee, H., M. Boile, S. Theofanis, and S. Choo. 2012. Modeling the Oligopolistic and Competitive Behaviour of Carriers in Maritime Freight Transportation Networks. Procedia: Social and Behavioral Sciences 54: 1080–1094.

Liu, J., and J. Wang. 2019. Carrier Alliance Incentive Analysis and Coordination in a Maritime Transport Chain Based on Service Competition. Transportation Research Part E 128: 333–355.

Lipczynski, J., J. Goddard, and J.O.S. Wilson. 2017. Industrial Organization: Competition, Strategy and Policy, 5th ed. New York: Pearson.

Midoro, R., and A. Pitto. 2000. A Critical Evaluation of Strategic Alliances in Liner Shipping. Maritime Policy & Management 27 (1): 31–40.

Marcotte, P. 1987. Algorithms for the Network Oligopoly Problem. The Journal of Operational Research Society 38 (11): 1051–1065.

Merk, O. 2018. The Impact of Alliances in Container Shipping. Technical report OECD/International Transport Forum. https://www.itf-oecd.org/impact-alliances-container-shipping.

Merikas, A.G., A.A. Merikas, and D. Polemis. 2014. The Economics of Concentration in Shipping: Consequences for the VLCC Tanker Sector. Maritime Economics & Logistics 16: 92–110.

Mitsuhashi, H., and H.R. Greve. 2009. A Matching Theory of Alliance Formation and Organizational Success: Complementarity and Compatibility. Academy of Management Journal 52 (5): 975–995.

Nagurney, A., J. Dong, and D. Zhang. 2002. A Supply Chain Network Equilibrium Model. Transportation Research Part E 38: 281–303.

Nagurney, A., and D. Li. 2014. A Dynamic Network Oligopoly Model with Transportation Costs, Product Differentiation, and Quality Competition. Computational Economics 44 (2): 201–229.

Ng, C.F. 2019. A Video Game to Supplement a Hybrid principles of Microeconomics Course. The Journal of Economic Education 50 (1): 44–56.

Orzen, H. 2008. Counterintuitive Number Effects in Experimental Oligopolies. Experimental Economics 11: 390–401.

Pal, R., and M. Scrimitore. 2016. Tacit Collusion and Market Concentration Under Network Effects. Economics Letters 145: 266–269.

Panayides, P.M., and R. Wiedmer. 2011. Strategic Alliances in Container Liner Shipping. Research in Transport Economics 32: 25–38.

Pirrong, S.C. 1992. An Application of Core Theory to the Analysis of Ocean Shipping Markets. The Journal of Law and Economics 35 (1): 89–131.

Plum, C.E.M., D. Pisinger, J.-J. Salazar-Gonzalez, and M.M. Sigurd. 2014. Single Liner Shipping Service Design. Computers & Operations Research 45: 1–6.

Race, P. 2020. The Lecturer's Toolkit, a Practical Guide to Assessment, Learning and Teaching, 5th ed. London: Routledge.

Rapoport, A. 1989. Prisoner's Dilemma J. In Game Theory, ed. Eatwell, M. Milgate, and P. Newman, 199–204. London: The New Palgrave, Palgrave Macmillan.

Rau, P., and S. Spinler. 2017. Alliance Formation in a Cooperative cContainer Shipping Game: Performance of a rReal options Investment Approach. Transportation Research Part E 101: 155–175.

Rau, P., and S. Spinler. 2016. Investment into Container Shipping Capacity: A Real Options Approach in Oligopolistic Competition. Transportation Research Part E 93: 130–147.

Rauch, J.E., and A. Casella, eds. 2001. Networks and Markets. New York: The Russel Sage Foundation.

Ritterfeld, U., M. Cody, and P. Vordere, eds. 2009. Serious Games: Mechanisms and Effects. New York: Routledge.

Rochdale Report. 1970. Committee of Enquiry into Shipping, Chairman V.R. Rochdale, May, Cmnd 4387, HMSO, London.

Rumeser, D., and M. Emsley. 2019. Can Serious Games Improve Project Management Decision Making Under Complexity. Project Management Journal 50 (1): 23–39.

Sjöström, W. 1989. Collusion in Ocean Shipping: A Test of Monopoly and Empty Core Models. Journal of Political Economy 97: 1160–1179.

Sjostrom, W. 1992. Price Discrimination by Shipping Conferences. Logistics and Transportation Review 28 (2): 209–215.

Sys, C. 2009. Is the Container Liner Shipping Industry an Oligopoly? Transport Policy 16 (5): 259–270.

Song, D.W., and M. Panayides. 2002. A Conceptual Application of Cooperative Game Theory to Liner Shipping Strategic Alliances. Maritime Policy and Management 29 (3): 285–301.

Stopford, M. 2009. Maritime Economics, 3rd ed. London: Routledge.

Telser, L.G. 1978. Economic Theory and the Core. Chicago: The University of Chicago Press.

Tsigaris, P. 2008. Is There a Double Dividend from Classroom Experimental Games? American Journal of Business Education 1 (1): 23–36.

UNCTAD. 2020. Review of Maritime Transport, UNCTAD/RMT/2020, United Nations.

Waldman, D.E., and E.J. Jensen. 2013. Industrial Organization, Theory and Practice. New York: Pearson New International Edition.

Wang, H., Q. Meng, and X. Zhang. 2014. Game-Theoretical Models for Competition Analysis in a New Emerging Liner Container Shipping Market. Transportation Research Part B 70: 201–227.
Acknowledgements
The authors are indebted to Nicolas Gruyer, co-founder of www.economics-games.com, a portal of classroom games for teaching economics, who first believed in the serious game TRALIN and helped us to develop the online beta version. We are also grateful to Frédéric Salladarré, from the University of Rennes, for his careful assistance on early versions of the manuscript. Finally, we also wish to express our special thanks to the many students in Nantes, Marseilles, Bordeaux, Tangier, Hô Chi Minh City, Tam Dao, Shanghai, Malmö, Copenhagen and Abidjan who participated enthusiastically in the TRALIN sessions, in particular Srey Neath Pan, from Cambodia, who wrote a master dissertation about this experimental game. We also wish to express our appreciation to the MEL editor and reviewers for their insightful comments, which have helped us significantly to improve the paper.
Additional information
Publisher's Note
Springer Nature remains neutral with regard to jurisdictional claims in published maps and institutional affiliations.
About this article
Cite this article
Cariou, P., Guillotreau, P. Capacity management by global shipping alliances: findings from a game experiment. Marit Econ Logist (2021). https://doi.org/10.1057/s41278-021-00184-9
Keywords
Oligopoly

Directed networks

Serious game

Shipping

Global shipping alliances

Capacity management