Abstract
This article proposes a methodology for the classification of container terminals aiming to identify groups of terminals with similar management characteristics. Based on physical and terminal operations data and the subjective judgment of experts in port management, we show that it is possible to identify the main factors affecting the management of container terminals and produce a classification of these facilities, allowing determination of their strengths, weaknesses, and place within their port system and in relation to their competitors. The methodology is based on the fuzzy analytic hierarchy process (F-AHP). As a case study to validate the procedure, the Spanish port system is selected, and the results are compared with other classification methods not including subjectivity criteria, namely cluster analysis. By assigning more weight to expert judgments, results differ and become more trustworthy, since expert knowledge can go beyond simple variables such as TEUs moved or number of available cranes.
This is a preview of subscription content, log in to check access.
Access options
Buy single article
Instant access to the full article PDF.
US$ 39.95
Price includes VAT for USA
Subscribe to journal
Immediate online access to all issues from 2019. Subscription will auto renew annually.
US$ 446
This is the net price. Taxes to be calculated in checkout.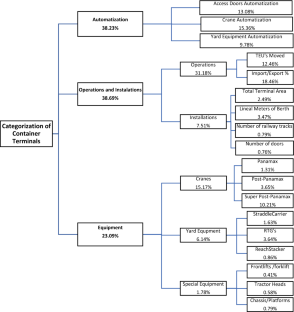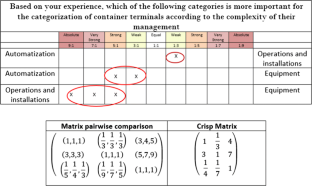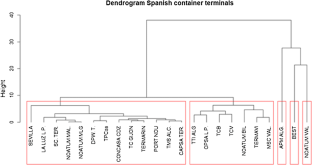 References
Bichou, K., and R. Gray. 2005. A critical review of conventional terminology for classifying seaports. Transportation Research Part A Policy and Practice 39: 75–92.

Cabral, A.M.R., and F. Sousa Ramos. 2014. Cluster analysis of the competitiveness of container ports in Brazil. Transportation Research Part A Policy and Practice 69: 423–431.

Chang, D.-Y. 1996. Applications of the extent analysis method on Fuzzy AHP. European Journal of Operational Research 95: 649–655.

Chou, C.-C., and K.-W. Yu. 2013. Application of a new hybrid Fuzzy AHP Model to the location choice. Mathematical Problems in Engineering. https://doi.org/10.1155/2013/592138.

Cullinane, K., T.-F. Wang, D.-W. Song, and P. Ji. 2006. The technical efficiency of container ports: Comparing data envelopment analysis and stochastic frontier analysis. Transportation Research Part A Policy and Practice 40: 354–374.

Da Cruz, M.R.P., J.J. Ferreira, and S.G. Azevedo. 2013. Key factors of seaport competitiveness based on the stakeholder perspective: An analytic hierarchy process (AHP) model. Maritime Economics & Logistics 15: 416–443.

De Koster, M.B.M., B.M. Balk, and W.T.I. Van Nus. 2009. On using DEA for benchmarking container terminals. International Journal of Operations & Production Management 29: 1140–1155.

Demirel, T., N.Ç. Demirel, and C. Kahraman. 2008. Fuzzy analytic hierarchy process and its application. In Fuzzy multi-criteria decision making, ed. C. Kahraman, 53–83. Boston: Springer.

Di Francesco, M., A. Manca, S. Zanda, and P. Zuddas. 2016. Planning and optimising manpower management in a transshipment container terminal. European Journal of Industrial Engineering 10: 777–793.

Dong, Q., and T.L. Saaty. 2014. An analytic hierarchy process model of group consensus. Journal of Systems Science and Systems Engineering 23: 362–374.

Ducruet, C., S. Cuyala, and A. El Hosni. 2018. Maritime networks as systems of cities: The long-term interdependencies between global shipping flows and urban development (1890–2010). Journal of Transport Geography 66: 340–355.

Estrada Llaquet, J. L., 2007. Mejora de la competitividad de un puerto por medio de un nuevo modelo de gestión de la estrategia aplicando el cuadro de mando integral. Doctoral thesis.

Gianfranco, F., P. Claudia, S. Patrizia, and F. Paolo. 2014. Port cooperation policies in the Mediterranean Basin: An experimental approach using cluster analysis. Transportation Research Procedia 3: 700–709.

Goepel, K.D. 2013. Implementing the analytic hierarchy process as a standard method for multi-criteria decision making in corporate enterprises—A new AHP excel template with multiple inputs. Conference Paper. https://doi.org/10.13033/isahp.y2013.047.

Guy, E., and B. Urli. 2006. Port selection and multicriteria analysis: An application to the Montreal–New York alternative. Maritime Economics & Logistics 8: 169–186.

Hinkka, V., J. Eckhardt, A. Permala, and H. Mantsinen. 2016. Changing training needs of port workers due to future trends. Transportation Research Procedia 14: 4085–4094.

Hothorn, T., and B.S. Everitt. 2014. A handbook of statistical analyses using R. Boca Raton: Chapman and Hall/CRC.

Jackson, M.C. 2007. Systems approaches to management. Boston: Springer.

Kubler, S., et al. 2016. A state-of the-art survey & testbed of fuzzy AHP (FAHP) applications. Expert Systems with Applications 65: 398–422.

Kwong, C.-K., and H. Bai. 2003. Determining the importance weights for the customer requirements in QFD using a fuzzy AHP with an extent analysis approach. IIE Transactions 35: 619–626.

Lampe, H.W., and D. Hilgers. 2015. Trajectories of efficiency measurement: A bibliometric analysis of DEA and SFA. European Journal of Operational Research 240: 1–21.

Levinson, M. 2016. The box: How the shipping container made the world smaller and the world economy bigger-with a new chapter by the author. Princeton: Princeton University Press.

Lirn, T.-C., H.A. Thanopoulou, and A.K.C. Beresford. 2003. Transhipment port selection and decision-making behaviour: analysing the Taiwanese case. International Journal of Logistics: Research and Applications 6: 229–244.

Lirn, T.C., H.A. Thanopoulou, M.J. Beynon, and A.K.C. Beresford. 2004. An application of AHP on transhipment port selection: A global perspective. Maritime Economics & Logistics 6: 70–91.

Lloyds List. 2018. Lloyd's List. https://lloydslist.maritimeintelligence.informa.com/one-hundred-container-ports-2018. Accessed 18 January 2019.

Lu, B., and Wang, S. 2017. DEA conceptual exposition and literature review. In Container Port Production and Management, 7–17. Singapore: Springer.

Mardani, A., et al. 2016. Multiple criteria decision-making techniques in transportation systems: A systematic review of the state of the art literature. Transport 31: 359–385.

Marios, K. 2006. Strategic management, global cultural perspectives for profit and non-profit organizations. Burlington, MA: Elsevier Butterworth-Heinemann.

Martín-Soberón, A.M., A. Monfort, R. Sapiña, N. Monterde, and D. Calduch. 2014. Automation in port container terminals. Procedia-Social and Behavioral Sciences 160: 195–204.

Milligan, G.W., and M.C. Cooper. 1988. A study of standardization of variables in cluster analysis. Journal of Classification 5: 181–204.

Monfort, A., et al. 2001. Terminales marı́timas de contenedores: el desarrollo de la automatización. Valencia: Fundación Instituto Portuario de Estudios y Cooperación de la Comunidad Valenciana.

Orive, A.C., et al. 2016. Metodologı́a para la clasificación de los puertos mediante indicadores de explotación utilizando análisis de conglomerados. INGE CUC 12: 41–49.

Palacio, A., Adenso-Dı́az, B., and Lozano, S. 2015. A decision-making model to design a sustainable container depot logistic network: The case of the port of Valencia. Transport 1–12.

Pallis, A.A., T.K. Vitsounis, and P.W. De Langen. 2010. Port economics, policy and management: Review of an emerging research field. Transport Reviews 30: 115–161.

Puertos del Estado. 2017. Corporate web site. http://www.puertos.es/es-es/estadisticas/Paginas/estadistica_mensual.aspx. Accessed 3 January 2019.

Puertos del Estado. 2018. Observatorio Permanente de los Servicios Portuarios. http://observatorio.puertos.es/. Accessed 9 January 2019.

Rios, L.R., and A.C.G. Maçada. 2006. Analysing the relative efficiency of container terminals of Mercosur using DEA. Maritime Economics & Logistics 8: 331–346.

Rodrigue, J.-P., and T. Notteboom. 2009. The terminalization of supply chains: Reassessing the role of terminals in port/hinterland logistical relationships. Maritime Policy & Management 36: 165–183.

Rousseeuw, P.J., and L. Kaufman. 1990. Finding groups in data. Series in Probability & Mathematical Statistics 34 (1): 111–112.

Saaty, R.W. 1987. The analytic hierarchy process—What it is and how it is used. Mathematical Modelling 9: 161–176.

Sauri, S., and E. Martin. 2011. Space allocating strategies for improving import yard performance at marine terminals. Transportation Research Part E Logistics and Transportation Review 47: 1038–1057.

Sharma, M.J., and S.J. Yu. 2009. Performance based stratification and clustering for benchmarking of container terminals. Expert Systems with Applications 36: 5016–5022.

Song, D.-W., S. Cheon, and C. Pire. 2015. Does size matter for port coopetition strategy? Concept, motivation and implication. International Journal of Logistics Research and Applications 18: 207–227.

Song, D.-W., and K.-T. Yeo. 2004. A competitive analysis of Chinese container ports using the analytic hierarchy process. Maritime Economics & Logistics 6: 34–52.

Thompson, A., M. Peteraf, J. Gamble, and A. Strickland. 2018. Crafting & Executing Strategy 21/e: The Quest for Competitive Advantage: Concepts and Cases. McGraw-Hill Education.

Torres, A.I.Z., and O.H.P. Rendón. 2013. El transporte internacional como factor de competitividad en el comercio exterior. Journal of Economics Finance and Administrative Science 18: 108–118.

Tovar, B., and H. Rodrı́guez-Déniz. 2015. Classifying ports for efficiency benchmarking: A review and a frontier-based clustering approach. Transport Reviews 35: 378–400.

Ugboma, C., O. Ugboma, and I.C. Ogwude. 2006. An analytic hierarchy process (AHP) approach to port selection decisions—Empirical evidence from Nigerian ports. Maritime Economics & Logistics 8: 251–266.

UNCTAD. 2018. Review of maritime transport 2018. Geneva: UNCTAD.

Ung, S.T., et al. 2006. Human error assessment and management in port operations using fuzzy AHP. Marine Technology Society Journal 40: 73–86.

Vaidya, O.S., and S. Kumar. 2006. Analytic hierarchy process: An overview of applications. European Journal of Operational Research 169: 1–29.

Van Laarhoven, P.J.M., and W. Pedrycz. 1983. A fuzzy extension of Saaty's priority theory. Fuzzy Sets and Systems 11: 229–241.

Vieira, G.B.B., F.J. Kliemann Neto, and F.G. Amaral. 2014. Governance, governance models and port performance: A systematic review. Transport Reviews 34: 645–662.

Wilks, D.S. 2011. Cluster analysis. International Geophysics 100: 603–616.

Wu, Z., and J. Xu. 2012. A consistency and consensus based decision support model for group decision making with multiplicative preference relations. Decision Support Systems 52: 757–767.

Wu, J., H. Yan, and J. Liu. 2010. DEA models for identifying sensitive performance measures in container port evaluation. Maritime Economics & Logistics 12: 215–236.
Acknowledgements
This research was carried out with partial financial support from the Spanish Ministry of Science and the European Regional Development Fund (ERDF) grant DPI2017-85343-P. The authors would like to thank Prof. Montes Peón and all personnel at the Spanish port authorities and different container terminals who contributed to the verification of terminal data and served as experts in the survey. We are especially grateful to MEL reviewers, whose comments were very useful in improving the manuscript and are greatly appreciated.
Additional information
Publisher's Note
Springer Nature remains neutral with regard to jurisdictional claims in published maps and institutional affiliations.
About this article
Cite this article
Adenso-Díaz, B., Álvarez, N.G. & Alba, J.A.L. A fuzzy AHP classification of container terminals. Marit Econ Logist 22, 218–238 (2020). https://doi.org/10.1057/s41278-019-00144-4
Keywords
Container terminals

Port management

Fuzzy AHP

Clustering

Port classification