Abstract
Within the United States, sport has historically been a site for public struggles about equality. Despite the benefits of athletics, US Latinx youth (especially teenage girls) are less likely than other ethnoracial groups to participate in sports. Previous research has shown that gender, socioeconomic status, ethnicity, and language affect sport participation. This study examines those influences on Latinx sport involvement and explores how those factors differ for boys and for girls. Data on sport participation was collected for a subset of eighth and tenth graders (n = 15,766) that participated in the Monitoring the Future study. Regression analysis shows that boys were more likely than girls to play sports and that the influence of socioeconomic status was slightly stronger among girls. Sport participation was higher in native-English-speaking girls than among girls who learned English as a second language. These findings have implications for professionals who work with Latinx adolescents.
Resumen
El deporte en los Estados Unidos ha sido históricamente un lugar donde se libran luchas públicas por la igualdad. A pesar de los beneficios ofrecidos por los deportes, la juventud latina en los estados Unidos (sobre todo las niñas adolescentes) tiene menos probabilidades de participar que otros grupos etnorraciales. Las investigaciones anteriores han demostrado que el género, la condición socioeconómica, la etnicidad y el idioma afectan la participación en los deportes. Este estudio examina las influencias sobre la participación deportiva latina y explora cómo dichos factores son diferentes para niñas y niños. Se recopilaron datos sobre la participación deportiva para un subconjunto de estudiantes de octavo y décimo grado (n = 15,766) que formaron parte del estudio llamado "Monitoring the Future." Un análisis de regresión muestra que los varones tenían mayores probabilidades que las niñas de participar en deportes y que la influencia de la condición socioeconómica fue levemente mayor entre las niñas. La participación deportiva fue mayor en las niñas cuya lengua materna era el inglés en comparación con la de las niñas que aprendieron inglés como segundo idioma. Estos hallazgos tienen implicaciones importantes para los profesionales que trabajan con adolescentes latinos.
Access options
Buy single article
Instant access to the full article PDF.
US$ 39.95
Tax calculation will be finalised during checkout.
Subscribe to journal
Immediate online access to all issues from 2019. Subscription will auto renew annually.
US$ 79
Tax calculation will be finalised during checkout.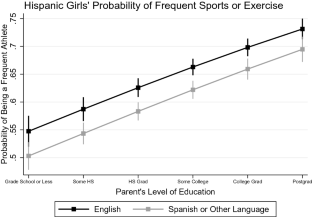 Notes
1.

The term Latinx is used an effort to be inclusive of all possible genders (Torres 2018).
References
Adams, L., K. Baskerville, D. Lee, M. Spruiell, and R. Wolf. 2006. The Hispanic Community and Outdoor Recreation, 22 March. UCLA Anderson School of Management Applied Management Research Program. http://develop.outdoorindustry.org/wp-content/uploads/2017/03/ResearchHispanic.pdf. Accessed 20 Oct 2020.

Alba, R., and V. Nee. 2005. Remaking the American Mainstream. Cambridge: Harvard University Press.

Allender, S., G. Cowburn, and C. Foster. 2006. Understanding Participation in Sport and Physical Activity Among Children and Adults: A Review of Qualitative Studies. Health Education Research 21 (6): 826–835.

Andersen, P.L., and A. Bakken. 2018. Social Class Differences in Youths' Participation in Organized Sports: What Are the Mechanisms? International Review for the Sociology of Sport 54 (8): 921–937.

Bean, F.D., and G. Stevens. 2005. America's Newcomers and the Dynamics of Diversity. New York: Russell Sage Foundation.

Belcher, B.R., D. Berrigan, K.W. Dodd, B.A. Emken, C.P. Chou, and D. Spruijt-Metz. 2010. Physical Activity in US Youth: Effect of Race/Ethnicity, Age, Gender, and Weight Status. Medicine and Science in Sports and Exercise 42 (12): 2211–2221.

Bergeron, M.F. 2007. Improving Health Through Youth Sports: Is Participation Enough? New Directions for Youth Development 115: 27–41.

Bermudez, S. 2003. Popular Culture in Latin America. In Companion to Latin American Studies: Companion to Latin American Studies, ed. P. Swanson, 172–184. London: Routledge.

Borden, L.M., D.F. Perkins, F.A. Villarruel, A. Carleton-Hug, M.R. Stone, and J.G. Keith. 2006. Challenges and Opportunities to Latino Youth Development: Increasing Meaningful Participation in Youth Development Programs. Hispanic Journal of Behavioral Sciences 28 (2): 187–208.

Braddock, J.H., II., J. Sokol-Katz, A. Greene, and L. Basinger-Fleischman. 2005. Uneven Playing Fields: State Variations in Boys' and Girls' Access to and Participation in High School Interscholastic Sports. Sociological Spectrum 25 (2): 231–250.

Brake, D.L. 2010. Getting in the Game: Title IX and the Women's Sports Revolution. New York: New York University Press.

Brown, C.S., and E.A. Stone. 2016. Gender Stereotypes and Discrimination: How Sexism Impacts Development. In Advances in Child Development and Behavior, vol. 50, ed. S.S. Horn, M.D. Ruck, and L.S. Liben, 105–133. San Diego: Academic.

Bruening, J.E. 2005. Gender and Racial Analysis in Sport: Are All the Women White and All the Blacks Men? Quest 57 (3): 330–349.

Burgos, A. 2007. Playing America's Game: Baseball, Latinos, and the Color Line. Berkeley: University of California Press.

Cahn, S.K. 2015. Coming on Strong: Gender and Sexuality in Women's Sport, 2nd ed. Urbana: University of Illinois Press.

Carter-Pokras, O., C.J. Crespo, E. Kelly, S. Mora, M. Motta, and I. Rivera. 2006. Supporting Physical Fitness for Latina Adolescents. Journal of Latino-Latin American Studies 2 (2): 33–48.

Cauce, A.M., and M. Domenech-Rodriguez. 2002. Latino Families: Myths and Realities. In Latino Children and Families in the United States: Current Research and Future Directions, ed. J. Contreras, A.M. Neal-Barnett, and K.A. Kerns, 3–25. Westport: Praeger.

Coakley, J. 2016. Sports in Society: Issues and Controversies, 12th ed. New York: McGraw-Hill Education.

Cooky, C. 2009. "Girls Just Aren't Interested": The Social Construction of Interest in Girls' Sport. Sociological Perspectives 52 (2): 259–283.

Cooky, C., and M.A. Messner. 2018. No Slam Dunk: Gender, Sport and the Unevenness of Social Change. New Brunswick: Rutgers University Press.

Cooky, C., M.A. Messner, and R.H. Hextrum. 2013. Women Play Sport, but Not on TV: A Longitudinal Study of Televised News Media. Communication and Sport 1 (3): 203–230.

Cooky, C., and L. Rauscher. 2016. Girls and the Racialization of Female Bodies in a Sport Context. In Child's Play: Sport in Kids' Worlds, ed. M. Messner and M. Musto, 61–81. New Brunswick: Rutgers University Press.

Crawford, A. 2011. Jessica Mendoza: Hispanic Girls Moving Beyond Traditional Roles, onto Field. ESPN, 11 October. https://www.espn.com/blog/high-school/girl/post/_/id/334/jessica-mendoza-hispanic-girls-moving-beyond-traditional-roles-onto-field.

Davalos, D.B., E.L. Chavez, and R.J. Guardiola. 1999. The Effects of Extracurricular Activity, Ethnic Identification, and Perception of School on Student Dropout Rates. Hispanic Journal of Behavioral Sciences 21 (1): 61–77.

Elsey, B., and J. Nadel. 2019. Futbolera: A History of Women and Sports in Latin America. Austin: University of Texas Press.

Erkut, S., and A.J. Tracy. 2002. Predicting Adolescent Self-Esteem from Participation in School Sports Among Latino Subgroups. Hispanic Journal of Behavioral Sciences 24 (4): 409–429.

Fernandez, M., and P.A. Witt. 2013. Attracting Hispanics to an African American Recreation Center: Examining Attitudes and Historical Factors. Journal of Leisure Research 45 (4): 423–444.

Ferry, M., and S. Lund. 2018. Pupils in Upper Secondary School Sports: Choices Based on What? Sport, Education and Society 23 (3): 270–282.

Flores, A., G. López, and J. Radford. 2017. 2015, Hispanic Population in the United States Statistical Portrait: Statistical Portrait of Hispanics in the United States. Pew Research Center's Hispanic Trends Project, 18 September. http://www.pewhispanic.org/2017/09/18/facts-on-u-s-latinos-trend-data/.

Flores-Gonzälez, N. 2000. The Structuring of Extracurricular Opportunities and Latino Student Retention. Journal of Poverty 4 (1/2): 85–108.

Floyd, M.F., and J.H. Gramann. 1993. Effects of Acculturation and Structural Assimilation in Resource-Based Recreation: The Case of Mexican Americans. Journal of Leisure Research 25 (1): 6–21.

Fredricks, J.A., and S.D. Simpkins. 2012. Promoting Positive Youth Development through Organized After-School Activities: Taking a Closer Look at Participation of Ethnic Minority Youth: Organized Activities. Child Development Perspectives 6 (3): 280–287.

Hall, R.L. 2001. Shaking the Foundation: Women of Colour in Sport. Sport Psychologist 15 (4): 386–400.

Hartmann, D. 2000. Rethinking the Relationships Between Sport and Race in American Culture: Golden Ghettos and Contested Terrain. Sociology of Sport Journal 17 (3): 229–253.

Harwood, C., and C. Knight. 2009. Stress in Youth Sport: A Developmental Investigation of Tennis Parents. Psychology of Sport and Exercise 10 (4): 447–456.

Hogshead-Makar, N., and A. Zimbalist, eds. 2007. Equal Play: Title IX and Social Change. Philadelphia: Temple University Press.

Holt, N.L., B.C. Kingsley, L.N. Tink, and J. Scherer. 2011. Benefits and Challenges Associated with Sport Participation by Children and Parents from Low-Income Families. Psychology of Sport and Exercise 12 (5): 490–499.

Hubbard, K. 2016. Disparities in Moderate-to-Vigorous Physical Activity Among Girls and Overweight and Obese Schoolchildren During School- and Out-of-School Time. International Journal of Behavioral Nutrition and Physical Activity 13 (39): 1–8.

Iber, J., S. Regalado, J. Alamillo, and A. De Leon. 2011. Latinos in U.S. Sport: A History of Isolation, Cultural Identity, and Acceptance. Champaign: Human Kinetics.

Jacobs, F., F. Smits, and A. Knoppers. 2017. "You Don't Realize What You See!": The Institutional Context of Emotional Abuse in Elite Youth Sport. Sport in Society 20 (1): 126–143.

Johnson, M.S. 2017. Why is Women's Soccer So White? Latino USA, 7 July. https://www.latinousa.org/2017/07/07/womens-soccer-white-2/.

Kay, T. 2006. Daughters of Islam: Family Influences on Muslim Young Women's Participation in Sport. International Review for the Sociology of Sport 41 (3/4): 357–373.

Kluka, D. 2016. Latin American Women and Sport in the United States. In Women and Sport in Latin America, ed. R. Lopez de D'Amico, T. Benn, and G. Pfister, 231–242. London: Routledge.

Lee, Y. 2005. A New Voice: Korean American Women in Sports. International Review for the Sociology of Sport 40 (4): 481–495.

Macur, J. 2020. Olympic Gymnast Recalls Emotional Abuse "So Twisted That I Thought It Couldn't Be Real." New York Times, 1 May. https://www.nytimes.com/2020/05/01/sports/maggie-haney-gymnastics-abuse.html.

McFarland, J., J. Cui, A. Rathburn, and J. Holmes. 2018. Trends in High School Dropout and Completion Rates in the United States: 2018. National Center for Education Statistics Compendium Report, December. Washington, DC: US Department of Education. https://nces.ed.gov/pubs2019/2019117.pdf.

McGovern, J. 2017. #SheBelieves, but Who is She? Race, Ethnicity, and the U.S. Women's Soccer Team. Engaging Sports (blog), 28 February. https://thesocietypages.org/engagingsports/2017/02/28/shebelieves-but-who-is-she-race-ethnicity-and-the-u-s-womens-soccer-team/.

Melnick, M.J., D.F. Sabo, and B. Vanfossen. 1992. Educational Effects of Interscholastic Athletic Participation on African-American and Hispanic Youth. Adolescence 27 (106): 295–308.

Miech, R.A., L.D. Johnston, J.G. Bachman, P.M. O'Malley, J.E. Schulenberg, and M.E. Patrick. 2017. Monitoring the Future: A Continuing Study of American Youth, 2016 (Restricted-Use). Inter-University Consortium for Political and Social Research.https://doi.org/10.3886/ICPSR36948.v1

Nadel, J., and B. Elsey. 2019. How Argentina's Women Took on Blatant Sexism to Reach the World Cup. The Guardian, 13 June. https://www.theguardian.com/football/2019/jun/13/argentina-womens-world-cup-sexism-england.

Peguero, A.A. 2011. Immigrant Youth Involvement in School-Based Extracurricular Activities. Journal of Educational Research 104 (1): 19–27.

Pescador, J.J. 2004. ¡Vamos Taximaroa! Mexican/Chicano Soccer Associations and Transnational/Translocal Communities, 1967–2002. Latino Studies 2 (3): 352–376.

Portes, A., and R.G. Rumbaut. 2001. Legacies: The Story of the Immigrant Second Generation. Berkeley: University of California Press.

Raakman, E., K. Dorsch, and D. Rhind. 2010. The Development of a Typology of Abusive Coaching Behaviours Within Youth Sport. International Journal of Sports Science and Coaching 5 (4): 503–515.

Riess, S.A. 2014. A Companion to American Sport History. Hoboken: Wiley.

Rodriguez, G. 2002. Boxing and Masculinity: The History and (Her)Story of Oscar de La Hoya. In Latino/a Popular Culture, ed. M. Habell-Pallan and M. Romero, 384–410. New York: New York University Press.

Rodriguez, M.C., and D. Morrobel. 2004. A Review of Latino Youth Development Research and a Call for an Asset Orientation. Hispanic Journal of Behavioral Sciences 26 (2): 107–127.

Sabo, D., and P. Veliz. 2008. Go Out and Play: Youth Sports in America. East Meadow: Women's Sports Foundation.

Saenz, R., and M.C. Morales. 2015. Latinos in the United States: Diversity and Change. Malden: Polity.

Schultz, J. 2014. Qualifying Times: Points of Change in U.S. Women's Sport. Urbana: University of Illinois Press.

Shakib, S., P. Veliz, M.D. Dunbar, and D. Sabo. 2011. Athletics as a Source for Social Status Among Youth: Examining Variation by Gender, Race/Ethnicity, and Socioeconomic Status. Sociology of Sport Journal 28 (3): 303–328.

Shinn, C.A. 2002. Futbol Nation: US Latinos and the Goal of a Homeland. In Latino/a Popular Culture, ed. M. Habell-Pallan and M. Romero, 365–383. New York: New York University Press.

Simón, Y. 2016. Only 4 Latina Gymnasts Have Repped Team USA at the Olympics Since 1936. Remezcla, 22 July. https://remezcla.com/lists/sports/only-4-latina-gymnasts-have-repped-team-usa-at-the-olympics-since-1936/.

Simpkins, S.D., M. O'Donnell, M.Y. Delgado, and J.N. Becnel. 2011. Latino Adolescents' Participation in Extracurricular Activities: How Important are Family Resources and Cultural Orientation? Applied Developmental Science 15 (1): 37–50.

Staurowsky, E.J., K.E. Miller, S. Shakib, M.J. De Souza, G. Ducher, N. Gentner, N. Theberge, and N.I. Williams. 2015. Her Life Depends on It III: Sport, Physical Activity, and the Health and Well-Being of American Girls and Women, May. East Meadow: Women's Sports Foundation. https://www.womenssportsfoundation.org/articles_and_report/her-life-depends-on-it-iii/.

Stodolska, M., and M.F. Floyd. 2015. Leisure, Race, Ethnicity, and Immigration. In Leisure Matters: The State and Future of Leisure Studies, ed. G.J. Walker, D. Scott, and M. Stodolska. State College: Venture Publishing.

The Aspen Institute. 2017. State of Play 2017, December. https://assets.aspeninstitute.org/content/uploads/2017/12/FINAL-SOP2017-report.pdf.

Torres, L. 2018. Latinx? Latino Studies 16 (3): 283–285.

University of Michigan Survey Research Center. n.d. Purpose and Design of MTF. http://www.monitoringthefuture.org/purpose.html. Accessed 12 Oct 2020.

Velasco-Mondragon, E., A. Jimenez, A.G. Palladino-Davis, D. Davis, and J.A. Escamilla-Cejudo. 2016. Hispanic Health in the USA: A Scoping Review of the Literature. Public Health Reviews 37: 31.

Westfall, S., and D. Gould. 2016. Youth Culture and Its Influence on Children's Sport. In The Young are Making Their World: Essays on the Power of Youth Culture, ed. Y. Kiuchi and F.A. Villarruel, 157–182. McFarland: Jefferson.
Additional information
Publisher's Note
Springer Nature remains neutral with regard to jurisdictional claims in published maps and institutional affiliations.
About this article
Cite this article
McGovern, J. Are Latinx youth getting in the game? The effects of gender, class, ethnicity, and language on Latinx youth sport participation. Lat Stud (2021). https://doi.org/10.1057/s41276-021-00307-6
Keywords
Sport

Youth

Latinx

Adolescence
Palabras clave
Deportes

Jóvenes/Juventud

Latinx/Latina

Adolescencia