Abstract
Overbooking is a technique in revenue management which offers products or services more than the amount available because there is a possibility that some purchasers may later cancel their purchases. In car rental overbooking problem, overbooking model is complicated because in car rental business, different types of car must be taken into account. This paper presents a mathematical overbooking model for car rental business with two levels of prices in order to find the optimal overbooking levels which minimize the total cost, consisting of opportunity cost, outsourcing cost, and upgrading cost. Booking requests and show-up customers are joint random variables which follow some known joint distributions. Sensitivity analysis is performed to examine the effects of parameters in the overbooking model on the optimal overbooking levels. Due to the complication of the overbooking model, several simplified models are presented as alternative methods for estimating the solutions of the overbooking problem. The results show that the total cost difference between the optimal model and the proposed regression models is in the range of about 3.2–14.09%. The expected total cost when the overbooking policy is implemented is also compared to the total cost when there is no overbooking policy to explore how overbooking decision is significant in minimizing total cost.
Access options
Buy single article
Instant access to the full article PDF.
US$ 39.95
Tax calculation will be finalised during checkout.
Subscribe to journal
Immediate online access to all issues from 2019. Subscription will auto renew annually.
US$ 259
Tax calculation will be finalised during checkout.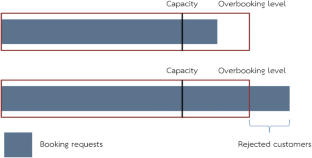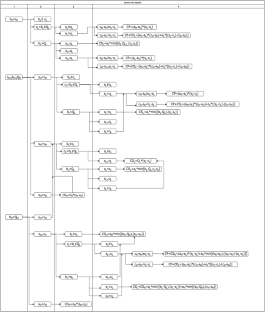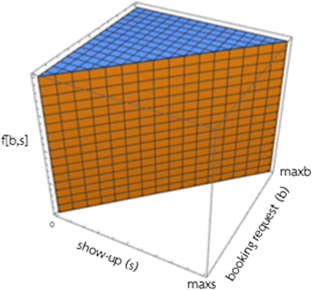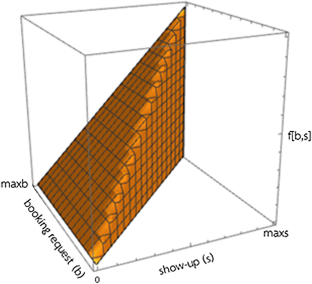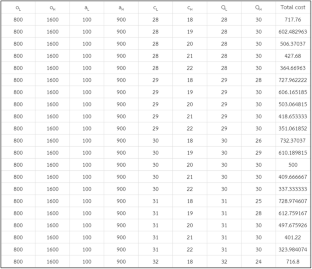 References
Carroll, W.J., and R.C. Grimes. 1995. Evolutionary change in product management: Experiences in the car rental industry. INFORMS Journal on Applied Analytics 25: 84–104.

Cetin, G., T. Demirciftci, and A. Bilgihan. 2016. Meeting revenue management challenges: Knowledge, skills and abilities. International Journal of Hospitality Management 57: 132–142.

Chevalier, P., A. Lamas, L. Lu, and T. Mlinar. 2015. Revenue management for operations with urgent orders. European Journal of Operational Research 240: 476–487.

Cross, R. 1997. Revenue management: Hard-Core tactics for market domination. New York: Broadway Books.

El Haddad, R., A. Roper, and P. Jones. (Year) Published. The impact of revenue management decisions on customers attitudes and behaviours: A case study of a leading UK budget hotel chain. In EuroCHRIE 2008 Congress, 11th–14th October 2008 Emirates Hotel School. Dubai, UAE, 2011.

El-Sharo, M.D., B. Zheng, S.W. Yoon, and M.T. Khasawneh. 2015. An overbooking scheduling model for outpatient appointments in a multi-provider clinic. Operations Research for Health Care 6: 1–10.

Feng, H., C. Deccio, R. Ball, M. Clement, and Q. Snell. 2004. A piecewise linear approach to overbooking. 2004 workshop on high performance switching and routing, 326–330, HPSR., Apr 19–21 2004.

Fouad, A.M., A.F. Atiya, M. Saleh, and A.E.M. Bayoumi. 2014. A simulation-based overbooking approach for hotel revenue management. In 2014 10th international computer engineering conference (ICENCO), 61–69, Dec 29–30 2014.

Kimes, S.E., and J. Wirtz. 2003. Has revenue management become acceptable? Findings from an international study on the perceived fairness of rate fences. Journal of Service Research 6: 125–135.

Koide, T., and H. Ishii. 2005. The hotel yield management with two types of room prices, overbooking and cancellations. International Journal of Production Economics 93–94: 417–428.

LaGanga, L.R., and S.R. Lawrence. 2007. Clinic overbooking to improve patient access and increase provider productivity*. Decision Sciences 38: 251–276.

Lazov, I. 2017. Profit management of car rental companies. European Journal of Operational Research 258: 307–314.

Li, G. 1985. Robust regression. Exploring Data Tables, Trends, and Shapes.

Li, D., and Z. Pang. 2017. Dynamic booking control for car rental revenue management: A decomposition approach. European Journal of Operational Research 256: 850–867.

Li, Z., and F. Tao. 2010. On determining optimal fleet size and vehicle transfer policy for a car rental company. Computers & Operations Research 37: 341–350.

McGill, J.I., and G. van Ryzin. 1999. Revenue management: Research overview and prospects. Transportation Science 33: 233–256.

Muthuraman, K., and M. Lawley. 2008. A stochastic overbooking model for outpatient clinical scheduling with no-shows. IIE Transactions 40: 820–837.

Nadaraya, E.A. 1964. On estimating regression. Theory of Probability & Its Applications 9: 141–142.

Oliveira, B.B., M.A. Carravilla, and J.F. Oliveira. 2017. Fleet and revenue management in car rental companies: A literature review and an integrated conceptual framework. Omega 71: 11–26.

Pachon, J., E. Iakovou, and I. Chi. 2006. Vehicle fleet planning in the car rental industry. Journal of Revenue and Pricing Management 5: 221–236.

Phumchusri, N., and P. Maneesophon. 2014. Optimal overbooking decision for hotel rooms revenue management. Journal of Hospitality and Tourism Technology 5: 261–277.

Rothstein, M. 1985. OR forum—OR and the airline overbooking problem. Operations Research 33: 237–248.

Salemi Parizi, M., and A. Ghate. 2016. Multi-class, multi-resource advance scheduling with no-shows, cancellations and overbooking. Computers & Operations Research 67: 90–101.

Sierag, D.D., G.M. Koole, R.D. van der Mei, J.I. van der Rest, and B. Zwart. 2015. Revenue management under customer choice behaviour with cancellations and overbooking. European Journal of Operational Research 246: 170–185.

Smith, B.C., J.F. Leimkuhler, and R.M. Darrow. 1992. Yield management at American airlines. Interfaces 22: 8–31.

Suzuki, Y. 2006. The net benefit of airline overbooking. Transportation Research Part E: Logistics and Transportation Review 42: 1–19.

Thairentacar. 2019. https://www.thairentacar.com/index.php/en/component/main/contents?layout=detail&id=147&cid=8. Accessed 10 July 2019.

Wang, Y.-J., and C.-S. Kao. 2008. An application of a fuzzy knowledge system for air cargo overbooking under uncertain capacity. Computers and Mathematics with Applications 56: 2666–2675.

Wannakrairot, A., and N. Phumchusri. 2016. Two-dimensional air cargo overbooking models under stochastic booking request level, show-up rate and booking request density. Computers & Industrial Engineering 100: 1–12.

You, P.-S., and Y.-C. Hsieh. 2014. A study on the vehicle size and transfer policy for car rental problems. Transportation Research Part E: Logistics and Transportation Review 64: 110–121.
Additional information
Publisher's Note
Springer Nature remains neutral with regard to jurisdictional claims in published maps and institutional affiliations.
About this article
Cite this article
Phumchusri, N., Sangsukiam, P. & Chariyasethapong, N. Optimal overbooking model for car rental business with two levels of prices having stochastic joint booking and show-up levels. J Revenue Pricing Manag 19, 190–209 (2020). https://doi.org/10.1057/s41272-019-00210-9
Received:

Accepted:

Published:

Issue Date:
Keywords
Overbooking

Revenue management

Car rental

Opportunity cost

Outsourcing cost

Upgrading cost