Abstract
Intimate partner violence (IPV) is a major threat to women's safety and well-being worldwide. Firearms heighten this threat by increasing the morbidity and mortality of IPV. This paper focuses on the United States, a nation with high rates of IPV alongside high rates of gun ownership. The United States has implemented several policy approaches to reduce the harmful role that firearms play in IPV by limiting access to firearms for IPV offenders. One such law prohibits persons under Domestic Violence Restraining Orders (DVROs) from purchasing or possessing firearms or ammunition. Although DVRO firearm prohibitions can reduce the risk of firearm-related injury and homicide associated with IPV, implementation and enforcement of these laws at regional and local levels is challenging and variable. We discuss implications for DVRO research, policy, and practice as part of a comprehensive approach to prevent and reduce firearm-related IPV.
Access options
Buy single article
Instant access to the full article PDF.
US$ 39.95
Tax calculation will be finalised during checkout.
Subscribe to journal
Immediate online access to all issues from 2019. Subscription will auto renew annually.
US$ 79
Tax calculation will be finalised during checkout.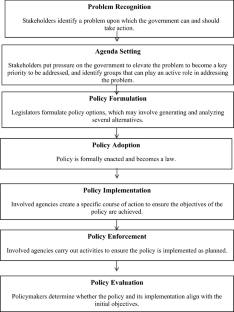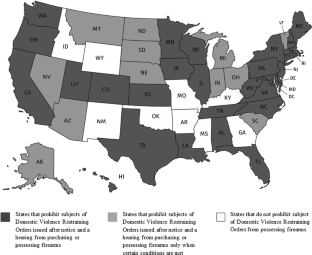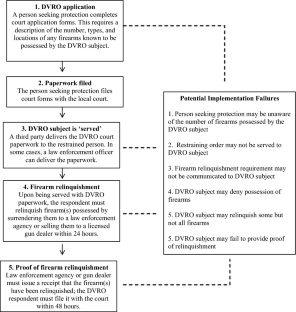 References
1.

National Center for Injury Prevention and Control, Division of Violence Prevention. Preventing intimate partner violence. 2017. https://www.cdc.gov/violenceprevention/pdf/ipv-factsheet.pdf.

2.

Devries KM, Mak JYT, Garcia-Moreno C, Petzold M, Child JC, Falder G, Lim S, Bacchus LJ, Engell RE, Rosenfeld L, Pallitto C, Vos T, Abrahams N, Watts CH. The global prevalence of intimate partner violence against women. Science. 2013;340(6140):1527–8.

3.

Bonomi AE, Thompson RS, Anderson M, Reid RJ, Carrell D, Dimer JA, Rivara FP. Intimate partner violence and women's physical, mental, and social functioning. Am J Prev Med. 2006;30(6):458–66.

4.

Coker AL, Davis KE, Arias I, Desai S, Sanderson M, Brandt HM, Smith PH. Physical and mental health effects of intimate partner violence for men and women. Am J Prev Med. 2002;23(4):260–8.

5.

World Health Organization. Global and regional estimates of violence against women: prevalence and health effects of intimate partner violence and non-partner sexual violence. 2013. https://apps.who.int/iris/bitstream/handle/10665/85239/9789241564625_eng.pdf?sequence=1.

6.

United Nations Office on Drugs and Crime. Global study on homicide: gender-related killing of women and girls. 2018. https://www.unodc.org/documents/data-and-analysis/GSH2018/GSH18_Gender-related_killing_of_women_and_girls.pdf.

7.

McEvoy C, Hideg G. Global Violent Deaths 2017. Small arms survey. 2017. http://www.smallarmssurvey.org/fileadmin/docs/U-Reports/SAS-Report-GVD2017.pdf.

8.

Zeoli AM, Malinski R, Turchan B. Risks and targeted interventions: firearms in intimate partner violence. Epidemiol Rev. 2016;38(1):125–39.

9.

Amnesty International. Gun violence—key facts. https://www.amnesty.org/en/what-we-do/arms-control/gun-violence/.

10.

Hemenway D, Shinoda-Tagawa T, Miller M. Firearm availability and female homicide victimization rates among 25 populous high-income countries. J Am Med Womens Assoc. 2002;57(2):100–4.

11.

Gramlich J. 7 Facts About Guns in the U.S. Pew Research Center. 2018. https://www.pewresearch.org/fact-tank/2018/12/27/facts-about-guns-in-united-states/.

12.

Sorenson SB. Guns in intimate partner violence: comparing incidents by type of weapon. J Womens Health. 2017;26(3):249–58.

13.

Bailey JE, Kellermann AL, Somes GW, Banton JG, Rivara FP, Rushforth NP. Risk factors for violent death of women in the home. Arch Intern Med. 1997;157(7):777–82.

14.

Zeoli AM, Webster DW. Effects of domestic violence policies, alcohol taxes and police staffing levels on intimate partner homicide in large US cities. Inj Prev. 2010;16(2):90–5.

15.

Vigdor ER, Mercy JA. Do laws restricting access to firearms by domestic violence offenders prevent intimate partner homicide? Eval Rev. 2006;30(3):313–46.

16.

Diez C, Kurland RP, Rothman EF, Bair-Merritt M, Fleegler E, Xuan Z, Galea S, Ross CS, Kalesan B, Goss KA, Siegel M. State intimate partner violence-related firearm laws and intimate partner homicide rates in the United States, 1991 to 2015. Ann Intern Med. 2017;167(8):536–43.

17.

Zeoli AM, McCourt A, Buggs S, Frattaroli S, Lilley D, Webster DW. Analysis of the strength of legal firearms restrictions for perpetrators of domestic violence and their associations with intimate partner homicide. Am J Epidemiol. 2018;187(7):1449–55.

18.

Sacco LN. The Violence Against Women Act (VAWA): Historical overview, funding, and reauthorization. Congressional research service. 2019. https://fas.org/sgp/crs/misc/R45410.pdf.

19.

Giffords Law Center to Prevent Gun Violence. Domestic violence & firearms. https://lawcenter.giffords.org/gun-laws/policy-areas/who-can-have-a- gun/domestic-violence-firearms/.

20.

Zeoli AM, Frattaroli S, Roskam K, Herrera AK. Removing firearms from those prohibited from possession by domestic violence restraining orders: a survey and analysis of state laws. Trauma Violence Abuse. 2017;1:1524838017692384.

21.

Sorenson SB, Shen H. Restraining orders in california: a look at statewide data. Violence Women. 2005;11(7):912–33.

22.

Vittes KA, Webster DW, Frattaroli S, Claire BE, Wintemute GJ. Removing guns from batterers: findings from a pilot survey of domestic violence restraining order recipients in California. Violence Women. 2013;19(5):602–16.

23.

Webster DW, Wintemute GJ. Effects of policies designed to keep firearms from high-risk individuals. Annu Rev Public Health. 2015;36:21–37.

24.

Wintemute GJ, Frattaroli S, Claire BE, Vittes KA, Webster DW. Identifying armed respondents to domestic violence restraining orders and recovering their firearms: process evaluation of an initiative in California. Am J Public Health. 2014;104(2):e113–8.

25.

Barry CL, Webster DW, Stone E, Crifasi CK, Vernick JS, McGinty EE. Public support for gun violence prevention policies among gun owners and non-gun owners in 2017. Am J Public Health. 2018;108(7):878–81.

26.

Vittes KA, Sorenson SB. Keeping guns out of the hands of abusers: handgun purchases and restraining orders. Am J Public Health. 2008;98(5):828–31.

27.

Giffords Law Center to Prevent Gun Violence. California. https://lawcenter.giffords.org/gun-laws/state-law/California/.

28.

Niolon PH, Kearns M, Dills J, Rambo K, Irving S, Armstead TL, Gilbert L. Preventing intimate partner violence across the lifespan: a technical package of programs, policies, and practices. national center for injury prevention and control. Centers for Disease Control and Prevention. 2017.

29.

Everytown for Gun Safety. Mass shootings in the United States: 2009–2016. 2017. https://everytownresearch.org/wp-content/uploads/2017/04/Analysis_of_Mass_Shooting_062117.pdf.
Additional information
Publisher's Note
Springer Nature remains neutral with regard to jurisdictional claims in published maps and institutional affiliations.
About this article
Cite this article
Goodyear, A., Rodriguez, M. & Glik, D. The role of firearms in intimate partner violence: policy and research considerations. J Public Health Pol 41, 185–195 (2020). https://doi.org/10.1057/s41271-019-00198-x
Keywords
Firearms

Intimate partner violence

Homicide

Policy