Abstract
Citizens' evaluation of how well the system works is central to the legitimacy of a democratic system. Elections and voting are crucial parts of the democratic system, and therefore, it is very important to evaluate voter satisfaction with the electoral process. In this study, we evaluate one aspect of the electoral process: the supply of parties on the ballot paper, and we use a direct measure of satisfaction with the party choices available on the ballot. We performed a survey experiment with a representative sample of citizens in four Western European democracies: Austria, England, Ireland and Sweden. The results point to a clear answer: voters are more satisfied if there are more parties to choose from. The findings also show that the positive effect is stronger among the higher educated. We also examined if it is the presence of an ideologically close option that really matters. The results show that respondents in every ideological position prefer more parties. This strongly suggests that it is the number of parties, as such that matters.
This is a preview of subscription content,
to check access.
Access this article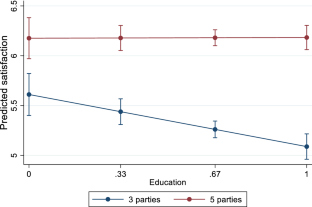 Similar content being viewed by others
Data availability
The dataset generated during the current study are available from the corresponding author on reasonable request.
Notes
They defined egocentric congruence as the ideological match between one or more elected representatives and an individual citizen.

In Sweden, this was a choice forced upon us due to the need to keep the overall length of the survey manageable.

Expect for Sweden where a 1–10 scale has been used instead. In Sweden, the choice of the scale was forced upon us due to consistency with the rest of the survey questions. We recoded the satisfaction variable in Sweden to account for this difference.

The original question to measure our dependent variable in Swedish and in German are as follows. German: Auf einer Skala von 0 bis 10, wobei 0 bedeutet "gar nicht zufrieden" und 10 bedeutet "sehr zufrieden", wir zufrieden sind Sie mit dem Parteiangebot auf dem Stimmzettel, den Sie gerade benutzt haben? Swedish: På en skala 1–10 där 1 är inte alls nöjd och 10 är mycket nöjd, hur nöjd är du med det antal partier som erbjuds i valet?

Lijphart (2012, 76–77) argues that in several countries with two-party systems the major parties are mainly divided with respect to one issue dimension of partisan conflict, namely the left–right dimension, while in other countries, other issue dimensions also matter. In this study, we concentrate on the classic left–right issue dimension.

The voting choice variable compares closed list voting systems (e.g. South Africa and Spain), offering voters a categorical vote choice, (there the order of candidates is fixed by the party itself), versus ranking list systems (similar to the one adopted in Ireland), where voters are asked to order parties in declining order (though not forced to choose all parties).

The positions of the parties in the 3-party scenario are 2.5/5/7.5 and 1.7/3.3/5/6.7/8.5 in the 5-party scenario. The distance from the closest party is 0.8 smaller with 5 parties for those in positions 0/1/9/10, 0.2 or 0.3 for those in positions 2/3/4/6/7/8, and the distance is the same (nil) for those in position 5.

We also examine whether the impact of extremism depends on the number of parties. We perform an estimation with extremism, a variable that goes from 0 to 5. 0 corresponding to the centrist location (5 on the 0 to 10 scale) and 5 corresponding to extremist positions (0 or 10 on the 0 to 10 scale) and an interaction term between extremism and number of parties. The results in Appendix G show that the interaction is statistically insignificant.
References
Aarts, Kees, and Jacques Thomassen. 2008. Satisfaction with democracy: Do institutions matter? Electoral Studies 27 (1): 5–18.

Almond, Gabriel A., G. Bingham Powell, Kaare Strom, and Russell J. Dalton. 2004. Comparative politics today: A world view. New York: Pearson Longman.

Anderson, Christopher J. 1998. Parties, party systems, and satisfaction with democratic performance in the new Europe. Political Studies 46 (3): 572–588.

Anderson, Christopher J., and Christine A. Guillory. 1997. Political institutions and satisfaction with democracy: A cross-national analysis of consensus and majoritarian systems. American Political Science Review 91 (1): 66–81.

Birch, Sarah. 2008. Electoral institutions and popular confidence in electoral processes: A cross-national analysis. Electoral Studies 27 (2): 305–320.

Blais, André. 2006. What affects voter turnout? Annual Review of Political Science 9: 111–125.

Blais, André, and R Kenneth Carty. 1990. Does proportional representation foster voter turnout? European Journal of Political Research 18 (2): 167–181.

Christmann, Pablo, and Mariano Torcal. 2018. The effects of government system fractionalization on satisfaction with democracy. Political Science Research and Methods 6 (3): 593–611.

Criado, Henar, and Francisco Herreros. 2007. Political support: Taking into account the institutional context. Comparative Political Studies 40 (12): 1511–1532.

Curini, Luigi, Willy Jou, and Vincenzo Memoli. 2012. Satisfaction with democracy and the winner/loser debate: The role of policy preferences and past experience. British Journal of Political Science 42 (2): 241–261.

Dahlberg, Stefan, and Sören. Holmberg. 2014. Democracy and bureaucracy: How their quality matters for popular satisfaction. West European Politics 37 (3): 515–537.

Dassonneville, Ruth, and Ian McAllister. 2020. The party choice set and satisfaction with democracy. West European Politics 43 (1): 49–73.

Diamond, Larry, and Leonardo Morlino. 2005. Assessing the quality of democracy. Baltimore: The Johns Hopkins University Press.

Donovan, Todd, and Jeffrey Karp. 2017. Electoral rules, corruption, inequality and evaluations of democracy. European Journal of Political Research 56 (3): 469–486.

Ezrow, Lawrence, and Georgios Xezonakis. 2011. Citizen satisfaction with democracy and parties' policy offerings. Comparative Political Studies 44 (9): 1152–1178.

Gallagher, Michael. 2019. Election indices dataset 2019. Cited 20190812. http://www.tcd.ie/Political_Science/people/michael_gallagher/ElSystems/index.php.

Henderson, Ailsa. 2008. Satisfaction with democracy: The impact of winning and losing in Westminster systems. Journal of Elections, Public Opinion and Parties 18 (1): 3–26.

Högström, John. 2013. Quality of democracy around the globe: A comparative study. Östersund, Sweden: Department of Social Sciences, Mid Sweden University.

Jusko, Karen Long, and W Phillips Shively. 2005. Applying a two-step strategy to the analysis of cross-national public opinion data. Political Analysis 13 (4): 327–344.

Kim, Myunghee. 2009. Cross-national analyses of satisfaction with democracy and ideological congruence. Journal of Elections, Public Opinion and Parties 19 (1): 49–72.

Laakso, Markku, and Rein Taagepera. 1979. Effective number of parties: A measure with application to West Europe. Comparative Political Studies 12 (1): 3–27.

Lane, Jan-Erik., and Svante O. Ersson. 1996. European politics: An introduction. London: SAGE.

Lijphart, Arend. 1999. Patterns of democracy: Government forms and performance in thirty-six countries. New Haven: Yale University Press.

Lijphart, Arend. 2012. Patterns of democracy: Government forms and performance in thirty-six countries. New Haven: Yale University Press.

Lundell, Krister. 2011. Accountability and patterns of alternation in pluralitarian, majoritarian and consensus democracies. Government and Opposition 46 (2): 145–167.

Manin, Bernard, Adam Przeworski, and Susan Stokes. 1999. Elections, accountability, and representation. In Democracy, accountability, and representation, ed. Adam Przeworski, Susan C. Stokes, and Bernard Manin, 29–54. Cambridge: Cambridge University Press.

Martinsson, Johan, Maria Andreasson, and Elias Markstedt. 2018. Technical report Citizen Panel 30—2018. Gothenburg: University of Gothenburg LORE.

Mayne, Quinton, and Armen Hakhverdian. 2017. Ideological congruence and citizen satisfaction: Evidence from 25 advanced democracies. Comparative Political Studies 50 (6): 822–849.

Miller, Arthur H., and Ola Listhaug. 1990. Political parties and confidence in government: A comparison of Norway, Sweden and the United States. British Journal of Political Science 20 (3): 357–386.

Mutz, Diana C., and Robin Pemantle. 2015. Standards for experimental research: Encouraging a better understanding of experimental methods. Journal of Experimental Political Science 2 (2): 192–215.

Mutz, Diana C., Robin Pemantle, and Philip Pham. 2019. The perils of balance testing in experimental design: Messy analyses of clean data. The American Statistician 73 (1): 32–42.

Neto, Octavio Amorim, and Gary W. Cox. 1997. Electoral institutions, cleavage structures, and the number of parties. American Journal of Political Science 41 (1): 149–174.

Norris, Pippa. 1999. Institutional explanations for political support. In Critical citizens: Global support for democratic governance, ed. Pippa Norris, 217–235. Oxford and New York: Oxford University Press.

PUMA. 2018. PUMA Survey 4.1. Insights in societal changes in Austria AUSSDA—The Austrian Social Science Data Archive Vienna.

Quaranta, Mario, and Sergio Martini. 2017. Easy come, easy go? Economic performance and satisfaction with democracy in Southern Europe in the last three decades. Social Indicators Research 131 (2): 659–680.

Reher, Stefanie. 2016. The effects of congruence in policy priorities on satisfaction with democracy. Journal of Elections, Public Opinion and Parties 26 (1): 40–57.

Schwartz, Barry. 2004. The tyranny of choice. Scientific American 290 (4): 70–75.

Schwartz, B., A. Ward, J. Monterosso, S. Lyubomirsky, K. White, and D.R. Lehman. 2002. Maximizing versus satisficing: Happiness is a matter of choice. Journal of Personality and Social Psychology 83 (5): 1178–1197.

Somer-Topcu, Zeynep, and Laron K. Williams. 2008. Survival of the fittest? Cabinet duration in postcommunist Europe. Comparative Politics 40 (3): 313–329.

Stiers, Dieter, Jean-François Daoust, and André Blais. 2018. What makes people believe that their party won the election? Electoral Studies 55: 21–29.

Taagepera, Rein, Peter Selb, and Bernard Grofman. 2014. How turnout depends on the number of parties: a logical model. Journal of Elections, Public Opinion & Parties 24 (4): 393–413.

Weil, Frederick D. 1989. The sources and structure of legitimation in Western democracies: A consolidated model tested with time-series data in six countries since World War II. American Sociological Review 54 (5): 682–706.

Zizzo, Daniel John. 2010. Experimenter demand effects in economic experiments. Experimental Economics 13 (1): 75–98.
Funding
This study was not founded by any grant.
Ethics declarations
Conflict of interest
The corresponding author states that there is no conflict of interest.
Additional information
Publisher's Note
Springer Nature remains neutral with regard to jurisdictional claims in published maps and institutional affiliations.
Supplementary Information
Below is the link to the electronic supplementary material.
About this article
Cite this article
Högström, J., Blais, A. & Plescia, C. Do voters prefer more parties on the ballot?. Acta Polit 57, 459–471 (2022). https://doi.org/10.1057/s41269-021-00203-w
Accepted:

Published:

Issue Date:

DOI: https://doi.org/10.1057/s41269-021-00203-w
Keywords