Abstract
How do countries decide whether or not to recognize an aspiring state? We examine such decisions in the context of contested recognition, which we define as a claim to statehood that is recognized by a large number of countries, but remains unrecognized by many others. We suggest that religion—both at the domestic level via religious regulation and discrimination against minority religions and at the international level via transnational religious ties—shapes recognition decisions. In cases where the two parties to a recognition dispute share the same dominant religious tradition (as in Western Sahara), transnational religious ties are expected to lead to external support for the side that emphasizes its religious identity and that has access to more resources. Moreover, we show that countries with higher levels of religious regulation are less likely to extend recognition. We assess these two conjectures for why some countries—but not others—have recognized the Sahrawi Arab Democratic Republic as an independent state using data on the recognition decisions of all 192 United Nations member states.
This is a preview of subscription content, log in to check access.
Access options
Buy single article
Instant access to the full article PDF.
US$ 39.95
Price includes VAT for USA
Subscribe to journal
Immediate online access to all issues from 2019. Subscription will auto renew annually.
US$ 124
This is the net price. Taxes to be calculated in checkout.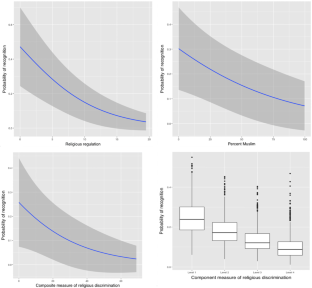 Notes
1.

Coggins (2011) is an exception that we discuss in more detail below.

2.

There is another subset of states with minimal recognition, often by one or a few states (e.g., Abkhazia, Nagorno-Karabakh, South Ossetia, Northern Cyprus), which provide a set of cases that are amenable to qualitative analysis but not statistical methods.

3.

4.

5.

E.g., see Berkhout and Ruedin (2017) on religion and politics of immigration.

6.

The correlation in our data between these two predictors is less than 0.30.

7.

Saideman (1997, p. 728) hypothesizes that "[s]tates will be neutral or ambivalent toward those conflicts where decision makers' supporters have ties to both sides" with regard to ethnic ties in international relations. One could extend this to religion, and suggest that countries with shared religious ties to both the incumbent state and the aspiring state would remain neutral, which would most likely result in non-recognition, the default position.

8.

9.

Zunes and Mundy (2010) argue that there is broad international consensus that the status of Western Sahara is a matter of decolonialization.

10.

Some recognitions were later retracted, but we are not focused on retractions in this article, which we believe would require a separate and full analysis beyond the scope of this study.

11.

The source of recognition data is: https://www.worldstatesmen.org/Western_Sahara.html [Last Accessed: November 21 2015]. A list of recognitions that occurred prior to 1994 is available in Pazzanita and Hodges (1994, pp. 378–379). We view this decision as zero-sum, so recognition of the aspring state implies not supporting the parent state and vice versa.

12.

We agree with Fox (2011, p. 6) that "the indexes provide a more accurate and nuanced analysis of religious phenomena" than single variables.

13.

The source of the percent Muslim variable is the ARDA data.

14.

Cheibub et al. (2010). We use the average democracy score from 2000–2010 in the final models. Using the 1990s or 1980s did not change the main results.

15.

16.

The source for this variable is Alesina et al. (2003).

17.

18.

19.

20.

We also compared Models 1 and Model 4 using separation plots, and did not observe any large differences in models with and without these controls.

21.

The classification accuracy without the controls is slightly worse, and the accuracy without the two religion variables is significantly worse.
References
Alesina, Alberto, Arnaud Devleeschauwer, William Easterly, Sergio Kurlat, and Romain Wacziarg. 2003. Fractionalization. Journal of Economic Growth 8 (2): 155–194.

Anonymous, 2002. Government recognition in Somalia and regional political stability in the Horn of Africa. The Journal of Modern African Studies. 40 (2): 247–272.

Association of Religion Data Archives (ARDA). https://www.thearda.com/. Accessed 19 Nov 2015.

Berg, Eiki, and Ene Kuusk. 2010. What makes sovereignty a relative concept? Empirical approaches to international society. Political Geography. 29: 40–49.

Berkhout, Joost, and Didier Ruedin. 2017. Why religion? Immigrant groups as objects of political claims on immigration and civic integration in Western Europe, 1995–2009. Acta Politica 52 (2): 156–178.

Bhatia, Michael. 2001. Interview with Brahim Bedileh, commander, 2nd military region (tifariti), POLISARIO front. Review of African Political Economy.

Bustikova, Lenka. 2020. Extreme reactions: Radical right mobilization in eastern Europe. Cambridge University Press.

Carter, David, and Hein Goemans. 2011. The Making of territorial order: New borders and the emergence of interstate conflict. International Organization 65 (2): 275–309.

Caspersen, Nina. 2012. Unrecognized States. Malden, MA: Polity Press.

Cheibub, Jose Antonio, Jennifer Gandhi, and James R. Vreeland. 2010. Democracy and dictatorship revisited. Public Choice 143: 67–101.

Coggins, Bridget. 2011. Friends in high places: International politics and the emergence of states from secessionism. International Organization 65 (3): 433–467.

Coggins, Bridget. 2014. Power politics and state formation in the twentieth century: The dynamics of recognition. Cambridge University Press.

De Orellana, Pablo. 2015. Struggles over identity in diplomacy: 'Commie terrorists' contra 'imperialists' in Western Sahara. International Relations 29 (4): 477–499.

Englebert, Pierre, and Rebecca Hummel. 2005. Let's stick together: Understanding Africa's secessionist deficit. African Affairs. 104 (416): 399–427.

Fazal, Tanisha M., and Ryan D. Griffiths. 2014. Membership has its privileges: The changing benefits of statehood. International Studies Review 16: 79–106.

Florea, Adrian. 2014. De facto states in international politics (1945–2011): A new data set. International Interactions 40 (5): 788–811.

Fox, Jonathan. 2004. Religion, civilization, and civil war. Lanham: Lexington Books.

Fox, Jonathan. 2011. Building composite measures of religion and state. Interdisciplinary Journal of Research on Religion 7: 1–39.

Fox, Jonathan. 2015. Political secularism, religion, and the state. Cambridge: Cambridge University Press.

Fox, Jonathan. 2008. A world survey of religion and the state. Cambridge: Cambridge University Press.

Fox, Jonathan, and Schmuel Sandler. 2004. Bringing religion into international relations. London: Palgrave Macmillan.

Fox, Jonathan, Patrick James, and Yitan Li. 2009. Religious affinities and international intervention in ethnic conflicts in the middle east and beyond. Canadian Journal of Political Science 42 (1): 161–186.

Freedom House. 2014. https://freedomhouse.org/report/freedom-world/2014/western-sahara#.Vbu0xvnlw4I.

Gleditsch, Kristian S. 2002. Expanded trade and GDP data. Journal of Conflict Resolution 46: 712–724.

Griffiths, Ryan D. 2015. Between dissolution and blood: How administrative lines and categories shape secessionist outcomes. International Organization 69 (3): 731–751.

Griffiths, Ryan D. 2016. Age of secession: The international and domestic determinants of state birth. Cambridge: Cambridge University Press.

Grim, Brian J., and Roger Finke. 2006. International religion indexes: Government regulation, government favoritism, and social regulation of religion. Interdisciplinary Journal of Research on Religion 2: 1–40.

Grim, Brian J., and Roger Finke. 2011. The price of freedom denied: Religious persecution and conflict in the twenty-first century. Cambridge: Cambridge University Press.

Grzymala Busse, Anna. 2012. Why comparative politics should take religion (more) seriously. Annual Review of Political Science 15: 421–442.

Henne, Peter S. 2012. The two swords: Religion–state connections and interstate disputes. Journal of Peace Research 49 (6): 753–768.

Herbst, Jeffrey. 1989. The creation and maintenance of national boundaries in Africa. International Organization 43 (4): 673–692.

Horowitz, Donald. 2001. Ethnic groups in conflict. Berkeley: University of California Press.

Isani, Mujtaba, and Daniel Silverman. 2016. Foreign policy attitudes toward islamic actors: An experimental approach. Political Research Quarterly 69 (3): 571–582.

Ker-Lindsay, James. 2012. The foreign policy of counter secession: Preventing the recognition of contested states. Oxford: Oxford University Press.

Kolsto, Pal. 2006. The sustainability and future of unrecognized quasi-states. Journal of Peace Research 43 (6): 723–740.

Krasner, Stephen D. 1999. Sovereignty: Organized hypocrisy. Princeton: Princeton University Press.

Lake, David. 2009. Hierarchy in international relations. Ithaca: Cornell University Press.

Maoz, Zeev. 1989. Joining the club of nations: Political development and international conflict, 1816–1976. International Studies Quarterly 33 (2): 199–231.

Marshall, Monty, Ted Gurr and Keith Jaggers. 2014. Polity IV project: Dataset users manual v2013.

McCauley, John F., and Daniel N. Posner. 2015. African borders as sources of natural experiments: Promise and pitfalls. Political Science Research and Methods 3 (2): 409–418.

Mirilovic, Nikola, and David Siroky. 2015. Two states in the holy land? International recognition and the Israeli-Palestinian conflict. Politics and Religion 8 (2): 263–285.

Mirilovic, Nikola, and David Siroky. 2017. International recognition and religion: A quantitative analysis of Kosovo's contested status. International Interactions 43 (4): 668–687.

Morocco Word News. 2015. King Mohammed VI inaugurates institute for the training of imams, female preachers. https://www.moroccoworldnews.com/2015/03/155048/king-mohammed-vi-inaugurates-institute-for-the-training-of-imams-female-preachers/. Accessed 19 Nov 2015.

Mundy, Jacob. 2006. How the US and Morocco Seized the Spanish Sahara. Le Monde Diplomatique.

Mundy, Jacob. 2007. Performing the nation, pre-figuring the state: The Western Saharan refugees, thirty years later. Journal of Modern African Studies 45 (2): 275–297.

Özpek, Burak Bilgehan. 2014. The role of democracy in the recognition of de facto states: An empirical assessment. Global Governance 20: 585–599.

Pazzanita, Anthony G. 1994. Morocco versus Polisario: A political interpretation. The Journal of Modern African Studies 32 (2): 265–278.

Pazzanita, Anthony G., and Tony Hodges. 1994. Historical dictionary of Western Sahara. Metuchen: Scarecrow Press.

Pegg, Scott. 1998. International society and the de facto state. Brookfield: Ashgate.

Rich, Timothy S. 2009. Status for sale: Taiwan and the competition for diplomatic recognition. Issues and Studies 45 (4): 159–188.

Saideman, Stephen M. 1997. Explaining the international relations of secessionist conflicts: Vulnerability versus ethnic ties. International Organization 51 (4): 721–753.

Saideman, Stephen M. 2001. The ties that divide: Ethnic politics, foreign policy, and international conflict. NY: Columbia University Press.

San Martin, Pablo. 2004. Briefing: Western sahara: Road to perdition? African Affairs. 103 (413): 651–660.

Sarkissian, Ani. 2015. The varieties of religious repression: Why governments restrict religion. NY: Oxford University Press.

Siroky, David S., Christopher W. Hale. 2017. Inside irredentism: A global empirical analysis. American Journal of Political Science 61 (1): 117–128.

von Hippel, Karin. 1995. The non-interventionary norm prevails: An analysis of the Western Sahara. The Journal of Modern African Studies. 33 (1): 67–81.

Wainscott, Ann. 2014. Morocco steps up leadership in religious and security affairs in W. Africa. Islamic Commentary. https://islamicommentary.org/2014/03/morocco-steps-up-leadership-in-religious-and-security-affairs-in-w-africa/. Accessed 18 Nov 2015

Warner, Carolyn, and Steve G. Walker. 2011. Thinking about the role of religion in foreign policy: A framework for analysis. Foreign Policy Analysis 7 (1): 113–135.

Weidmann, Nils B., Doreen Kuse, and Kristian Skrede Gleditsch. 2010. The geography of the international system: The CShapes dataset. International Interactions 36: 86–106.

Wendt, Alexander. 1992. Anarchy is what states make of it: The social construction of power politics. International Organization 46 (2): 391–425.

Zoubir, Yahia H. 1990. The western sahara conflict: Regional and international dimensions. The Journal of Modern African Studies. 28 (2): 225–243.

Zunes, Stephen. 1987. Nationalism and non-alignment: The non-ideology of the polisario. Africa Today 34 (3): 33–46.

Zunes, Stephen, and Jacob Mundy. 2010. Western Sahara: War, nationalism and conflict irresolution. Syracuse: Syracuse University Press.
Ethics declarations
Conflict of interest
On behalf of all authors, the corresponding author states that there is no conflict of interest.
Additional information
Publisher's Note
Springer Nature remains neutral with regard to jurisdictional claims in published maps and institutional affiliations.
About this article
Cite this article
Mirilovic, N., Siroky, D.S. International recognition, religion, and the status of Western Sahara. Acta Polit (2020). https://doi.org/10.1057/s41269-020-00166-4
Keywords
Sovereignty

International recognition

Religion

North Africa