Abstract
A burgeoning literature on minority representation asks whether immigrant-origin voters are more likely to vote for candidates of immigrant-origin (CIOs) than for native candidates, thus giving parties incentives to nominate CIOs. At present, however, evidence of such a link comes exclusively from candidate-centred electoral systems. The present study intends to narrow this gap by examining the influence of CIOs on the voting behaviour of immigrant-origin citizens in Germany, a more party-centred electoral environment. An empirical analysis of opinion survey and candidate data from the 2013 Bundestag election suggests that the electoral link between voters and CIOs is considerable. This paper is thus the first one to show that CIOs are a significant factor for the electoral mobilisation of immigrant-origin citizens in a party-centred electoral system.
This is a preview of subscription content, log in to check access.
Access options
Buy single article
Instant access to the full article PDF.
US$ 39.95
Price includes VAT for USA
Subscribe to journal
Immediate online access to all issues from 2019. Subscription will auto renew annually.
US$ 124
This is the net price. Taxes to be calculated in checkout.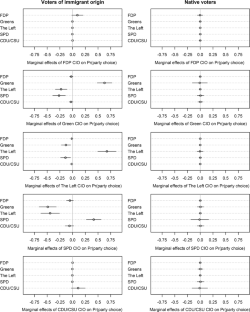 Notes
1.

An exceptions to this pattern applies, however, to the immigrant group of so-called "ethnic Germans", whose troubled history with communist parties has made them overwhelmingly supporters of the Christian Democrats (Wüst 2004).

2.

Please see Appendix Table 1 in the supplementary material for a detailed overview and description of the GLES variables used in this article and how they were recoded.

3.

Please see Appendix Table 2 in the supplementary material for a detailed description of the specific immigrant backgrounds of voters and candidates, and of immigrant and native voters' exposure to local CIOs in the final merged dataset.

4.

The translated question wording (own translation) of this item (v82a-e) is: "Do you know the name of one or several district candidates and can you maybe even tell me for which party these candidates are running in the Election on 22nd September 2013? Please tell me the name and party of the candidates."

5.

Assuming that the electoral link between immigrant-origin voters and candidates is stronger if they are of same rather than of different descent, it should be more difficult to establish the link statistically in the latter case. According to hypothesis-testing theory, such a situation would increases the probability of a type II error, that is, failing to reject the null-hypothesis (i.e. no relationship) even if the null-hypothesis is wrong (i.e. relationship exists) (Cameron and Trivedi 2009, p. 407; Zingher and Farrer 2016, p. 695). As it should become more difficult to establish a relationship as a type II error becomes more likely, our confidence in the validity of the hypothesis is strengthened if the empirical evidence supports the hypothesis anyways.
References
Alba, R., and N. Foner. 2015. Strangers No More: Immigration and the Challenges of Integration in North America and Western Europe. Princeton: Princeton University Press.

Alvarez, M.R., and J. Nagler. 1998. When Politics and Models Collide: Estimating Models of Multiparty Elections. American Journal of Political Science 42 (1): 55–96.

Banducci, S., T. Donovan, and J. Karp. 2004. Minority Representation, Empowerment and Participation. Journal of Politics 66 (2): 534–556.

Barreto, M.A. 2007. ¡Sı SePuede! Latino Candidates and the Mobilization of Latino Voters. American Political Science Review 101 (3): 425–441.

Bergh, J., and T. Bjorklund. 2011. The Revival of Group Voting: Explaining the Voting Preferences of Immigrants in Norway. Political Studies 59 (2): 308–327.

Bird, K., T. Saalfeld, and A.M. Wüst. 2011. Ethnic Diversity, Political Participation and Representation: A Theoretical Framework. In The Political Representation of Immigrants and Minorities. Voters, Parties and Parliaments in Liberal Democracies, ed. K. Bird, T. Saalfeld, and A.M. Wüst, 1–21. London: Routledge.

Bloemraad, I., and K. Schönwälder. 2013. Immigrant and Ethnic Minority Representation in Europe: Conceptual Challenges and Theoretical Approaches. West European Politics 36 (3): 564–579.

Bundeswahlleiter. 2013a. 5,8 Millionen Deutsche mit Migrationshintergrund sind wahlberechtigt. https://www.bundeswahlleiter.de/de/bundestagswahlen/BTW_BUND_13/presse/W13013_Wahlberechtigte_Migrationshintergrund.html. Accessed 9 Mar 2016.

Bundeswahlleiter. 2013b. Wahl zum 18. Deutschen Bundestag am 22. September 2013. Sonderheft: Die Wahlbewerber für die Wahl zum 18. Deutschen Bundestag 2013. Wiesbaden.

Cameron, A.C., and P.K. Trivedi. 2009. Microeconomics Using Stata. College Station, TX: Stata Press.

Campbell, A., P.E. Converse, W.E. Miller, and D.E. Stokes. 1960. The American Voter. New York: Wiley.

Campbell, A., G. Gurin, and W.E. Miller. 1954. The Voter Decides. Evanston: Row, Peterson and Company.

Carey, J.M., and M.S. Shugart. 1995. Incentives to Cultivate a Personal Vote: A Rank Ordering of Electoral Formulas. Electoral Studies 14 (4): 417–439.

da Fonseca, S.C. 2011. New Citizens-New Candidates? Candidate Selection and the Mobilization of Immigrant Voters in German Elections. In The Political Representation of Immigrants and Minorities, ed. K. Bird, T. Saalfeld, and A.M. Wüst, 109–127. London and New York: Routledge.

Dancygier, R.M., and E.N. Saunders. 2006. A New Electorate? Comparing Preferences and Partisanship Between Immigrants and Natives. American Journal of Political Science 50 (4): 962–981.

Dawson, M. 1994. Behind the Mule: Race and Class in African-American Politics. Princeton: Princeton University Press.

Fernandes, J.M., C. Leston-Bandeira, and C. Schwemmer. 2017. Election Proximity and Representation Focus in Party-Constrained Environments. Party Politics. https://doi.org/10.1177/1354068817689955.

Ferrara, F., E.S. Herron, and M. Nishikawa. 2005. Mixed Electoral Systems. Contamination and Its Consequences. New York: Palgrave Macmillan.

Fisher, S.D., A.F. Heath, D. Sanders, and M. Sobolewska. 2015. Candidate Ethnicity and Vote Choice in Britain. British Journal of Political Science 45 (4): 883–905.

Gerring, J., and J. Seawright. 2007. Techniques for Choosing Cases. In Case Study Research. Principles and Practices, ed. J. Gerring. Cambridge: Cambridge University Press.

Gschwend, T., and T. Zittel. 2015. Do Constituency Candidates Matter in German Federal Elections? The Personal Vote as an Interactive Process. Electoral Studies 39: 338–349.

Hainmueller, J., and H.L. Kern. 2008. Incumbency as a Source of Spillover Effects in Mixed Electoral Systems: Evidence from a Regression-Discontinuity Design. Electoral Studies 27 (2): 213–227.

Hazan, R.Y. 1999. Constituency Interests Without Constituencies: The Geographical Impact of Candidate Selection on Party Organization and Legislative Behavior in the 14th Israeli Knesset, 1996–99. Political Geography 18: 791–811.

Heath, O., G. Verniers, and S. Kumar. 2015. Do Muslim Voters Prefer Muslim Candidates? Co-religiosity and Voting Behaviour in India. Electoral Studies 38: 10–18.

Jesse, E. 1988. Split-Voting in the Federal Republic of Germany. Electoral Studies 7: 10–124.

Kittilson, M.C., and K. Tate. 2005. Political Parties, Minorities and Elected Office: Comparing Opportunities for Inclusion in the United States and Britain. In The Politics of Democratic Inclusion, ed. C. Wolbrecht and R.E. Hero, 163–185. Philadelphia: Temple University Press.

Landa, J., M. Copeland, and B. Grofman. 1995. Ethnic Voting Patterns: A Case Study of Metropolitan Toronto. Political Geography 14 (5): 435–449.

Latner, M., and A. McGann. 2005. Geographical Representation Under Proportional Representation: The Cases of Israel and the Netherlands. Electoral Studies 24 (4): 709–734.

Laurence, J., and R. Maxwell. 2012. Political Parties and Diversity in Western Europe. In Immigrant Politics: Race and Representation in Western Europe, ed. T. Givens and R. Maxwell. Boulder: Lynne Rienner Publishers.

Lavine, H. 2001. The Electoral Consequences of Ambivalence Toward Presidential Candidates. American Journal of Political Science 45 (4): 915–929.

Lazarsfeld, P.F., B. Berelson, and H. Gaudet. 1944. The People's Choice. New York: Duell, Sloan and Pearce.

Leijenaar, M., and K. Niemöller. 1997. The Netherlands. In Passages to Power. Legislative Recruitment in Advanced Democracies, ed. P. Norris, 114–136. Cambridge: Cambridge University Press.

Long, J.S., and J. Freese. 2014. Regression Models for Categorical Dependent Variables Using Stata, 3rd ed. College Station, TX: Stata Press.

Manow, P. 2015. Mixed Rules, Mixed Strategies. Candidates and Parties in Germany's Electoral System. Colchester: ECPR Press.

McConnaughy, C.M., I.K. White, D.L. Leal, and J.P. Casellas. 2010. A Latino on the Ballot: Explaining Coethnic Voting Among Latinos and the Response of White Americans. The Journal of Politics 72 (4): 1199–1211.

McDermott, M.L. 1998. Race and Gender Cues in Low-Information Elections. Political Research Quarterly 51 (4): 895–918.

Mediendienst Integration. 2013. Bundestagskandidaten mit Migrationshintergrund. https://mediendienst-integration.de/fileadmin/Dateien/Bundestagskandidaten_MDI.pdf. Accessed 9 Mar 2016.

Messina, A.M. 2007. The Logics and Politics of Post-WWII Migration to Western Europe. Cambridge: Cambridge University Press.

Moser, R.G., and E. Scheiner. 2005. Strategic Ticket Splitting and the Personal Vote in Mixed-Member Electoral Systems. Legislative Studies Quarterly 30 (2): 259–276.

Mutz, D.C. 2002. The Consequences of Cross-Cutting Networks for Political Participation. American Journal of Political Science 46 (4): 838–855.

OECD and EU. 2015. Indicators of Immigrant Integration 2015: Settling In. Paris: OECD Publishing.

Plasser, F., and G. Plasser. 2002. Global Political Campaigning: A Worldwide Analysis of Campaign Professionals and Their Practices. Westport, CT: Praeger.

Rattinger, H., S. Roßteutscher, R. Schmidt-Beck, B. Weßels, and C. Wolf. 2014. Vor- und Nachwahl-Querschnitt (GLES 2013). ZA5702 Datenfile Version 2.0.0. Köln: GESIS Datenarchiv.

Ruedin, D. 2013. Why Aren't They There? The Political Representation of Women, Ethnic Groups and Issue Positions in Legislatures. Colchester: ECPR Press.

Russo, F. 2011. The Constituency as a Focus of Representation: Studying the Italian Case Through the Analysis of Parliamentary Questions. The Journal of Legislative Studies 17 (3): 290–301.

Saalfeld, T. 2005. Germany: Stability and Strategy in a Mixed-Member Proportional System. In The Politics of Electoral Systems, ed. M. Gallagher and P. Mitchell, 209–229. Oxford and New York: Oxford University Press.

Sanders, D., A.F. Heath, S.D. Fisher, and M. Sobolewska. 2014. The Calculus of Ethnic Minority Voting in Britain. Political Studies 62: 230–251.

Schönwälder, K. 2012. Cautious Steps: Minority Representation in Germany. In Immigrant Politics: Race and Representation in Western Europe, ed. T.E. Givens and R. Maxwell, 67–85. Boulder: Lynne Rienner Publishers.

Shugart, M., M.E. Valdini, and K. Suominen. 2005. Looking for Locals: Voter Information Demands and Personal Vote-Earning Attributes of Legislators Under Proportional Representation. American Journal of Political Science 49: 437–449.

Sobolewska, M., E. Fieldhouse, and D. Cutts. 2010. Taking Minorities for Granted? Ethnic Density. Party Campaigning and Targeting Minority Voters in 2010 British General Elections. Parliamentary Affairs 66 (2): 329–344.

Street, A. 2014. Representation Despite Discrimination: Minority Candidates in Germany. Political Research Quarterly 67 (2): 374–385.

Strijbis, O. 2014. Migration Background and Voting Behavior in Switzerland: A Socio-psychological Explanation. Swiss Political Science Review 20 (4): 612–631.

Strömbäck, J. 2009. Selective Professionalisation of Political Campaigning: A Test of the Party-Centred Theory of Professionalised Campaigning in the Context of the 2006 Swedish Election. Political Studies 57 (1): 95–116.

Tajfel, H., and J.C. Turner. 1986. The Social Identity Theory of Intergroup Behavior. In Psychology of Intergroup Relations, ed. S. Worchel and W.G. Austin, 7–24. Chicago: Nelson-Hall.

Tavits, M. 2010. Effect of Local Ties on Electoral Success and Paliamentary Behaviour—The Case of Estonia. Party Politics 16 (2): 215–235.

Teney, C., D. Jacobs, A. Rea, and P. Delwit. 2010. Ethnic Voting in Brussels: Voting Patterns Among Ethnic Minorities in Brussels (Belgium) During the 2006 Local Elections. Acta Politica 45 (3): 273–297.

Wessels, B. 1997. Germany. In Passages to Power. Legislative Recruitment in Advanced Democracies, ed. P. Norris, 76–97. Cambridge: Cambridge University Press.

Wüst, A.M. 2004. Naturalised Citizens as Voters: Behaviour and Impact. German Politics 13 (2): 341–359.

Wüst, A.M. 2014. Immigration into Politics: Immigrant-Origin Candidates and Their Success in the 2013 Bundestag Election. German Politics and Society 32 (3): 1–15.

Wüst, A.M. 2016. Incorporation beyond Cleavages? Parties, Candidates and Germany's Immigrant-Origin Electorate. German Politics 25 (2): 414–432.

Zingher, J.N., and B. Farrer. 2016. The Electoral Effects of the Descriptive Representation of Ethnic Minority Groups in Australia and the UK. Party Politics 22 (6): 691–704.
Acknowledgements
An earlier version of this article was presented at the 76th Annual MPSA Conference 2018 in Chicago. I would like to thank Thomas Saalfeld, Marc Helbling, Ulrich Sieberer, Sebastian Jungkunz and one anonymous reviewer for helpful comments and suggestions. I also thank Joanna MacLeod for proofreading, Julian Hohner for research assistance and gratefully acknowledge the support of the Abgeordnetenwatch website's administrators (http://www.abgeordnetenwatch.de), who kindly provided me with an extract of their database. All remaining errors and omissions remain my sole responsibility.
Electronic supplementary material
Below is the link to the electronic supplementary material.
About this article
Cite this article
Geese, L. Do immigrant-origin candidates attract immigrant-origin voters in party-centred electoral systems? Evidence from Germany. Acta Polit 55, 492–511 (2020). https://doi.org/10.1057/s41269-018-0126-9
Keywords
Voting behaviour

Immigrant-origin candidates

Immigrant-origin voters

Electoral systems

Party-centred electoral systems

Germany