Abstract
The superior productivity performance of outward foreign direct investment (FDI) firms is attributable to both ex ante advantages gained within the home market and ex post learning, which emanates from MNE experiences in host markets. Learning is modeled as a function of firm-level R&D efforts, absorptive capacity, and host-country characteristics. Using a firm-level panel database on all firms in Canada, a large-scale econometric analysis is undertaken to show that the host-country environment is central to MNE learning. We also quantify results in the extant literature on the share of the superior productivity exhibited by FDI firms into that which emanates from the home market, and that which is linked to ex post learning, finding 79% attributable to the selection effect, and 21% to the learning effect. The implications of these results are that, since productivity is endogenous to FDI, firms which are below a threshold level required to be successful internationally ex ante can nevertheless succeed if learning can move these MNEs above the required threshold for success ex post. As such, this research provides insights into strategies and host-country environments which lead to ex post productivity improvements for firms undertaking outward FDI, and hence informs the FDI decision at the firm level.
Résumé
Les performances supérieures en matière de productivité des IDE sortants des entreprises sont attribuables à la fois aux avantages ex ante obtenus sur le marché d'origine et à l'apprentissage ex post, qui émane des expériences des EMN sur les marchés d'accueil. L'apprentissage est modélisé en fonction des efforts de R&D au niveau de l'entreprise, de la capacité d'absorption et des caractéristiques du pays d'accueil. En utilisant une base de données de panel d'entreprises sur toutes les firmes du Canada, une analyse économétrique à grande échelle est effectuée pour montrer que l'environnement du pays d'accueil est au centre de l'apprentissage des EMN. Nous quantifions également les résultats dans la littérature existante sur la part de la productivité supérieure affichée par des entreprises effectuant des IDE qui émane du marché d'origine, et celle qui est liée à l'apprentissage ex post, en trouvant 79% attribuable à l'effet de sélection et 21% à l'effet d'apprentissage. Les implications de ces résultats sont que, puisque la productivité est endogène aux IDE, les entreprises qui se situent en dessous d'un seuil requis pour réussir ex ante au niveau international peuvent néanmoins réussir si l'apprentissage peut faire passer ces EMN au-dessus du seuil requis pour la réussite ex post. En tant que telle, cette recherche fournit des éclairages sur les stratégies et les environnements des pays d'accueil qui conduisent à des améliorations de la productivité ex post pour les entreprises qui entreprennent des IDE sortants, et donc éclaire la décision d'IDE au niveau d'une entreprise.
Resumen
El desempeño superior de la productividad de las empresas de inversión extranjera saliente es atribuible a tanto las ventajas ex ante ganadas en el mercado de origen como el aprendizaje ex post, el cual emana de las experiencias de las empresas multinacionales en mercados anfitriones. El aprendizaje es moldeado en función de los esfuerzos de I + D a nivel de las empresas, la capacidad de absorción, y las características el país anfitrión. Usando una base de datos de panel a nivel de las empresas de todas las empresas en Canadá, un análisis econométrico de gran escala es llevado a cabo para mostrar que el entorno del país anfitrión es central para el aprendizaje de la las empresas multinacionales. También cuantificamos los resultados en la literatura existente en la proporción de la productividad superior demostrada por las empresas de inversión extranjera en lo que emana del mercado interno, y la cual se vincula al aprendizaje posterior, encontrando que el 79% atribuible al efecto de selección, y 21% al efecto de aprendizaje. Las implicaciones de estos resultados son que, desde que la productividad es endógena a la inversión extranjera directa, las empresas que están por debajo del umbral requerido para ser exitosas internacionalmente ex ante pueden sin embargo tener éxitos si el aprendizaje puede mover a estas empresas multinacionales por encima del umbral requerido para el éxito ex post. Como tal, esta inversión provee información sobre las estrategias y los entornos del país anfitrión la cual lleva a mejoras ex post de la productividad para las empresas que llevan a cabo inversión extranjera directa saliente, y por lo tanto informa la decisión de inversión extranjera directa, a nivel de la empresa.
Resumo
O superior desempenho em produtividade de empresas de FDI externo é devido a vantagens ex ante obtidas no mercado doméstico e aprendizagem ex post, que emana de experiências da MNE em mercados hospedeiros. Aprendizado é modelado como uma função de esforços de R&D no nível da empresa, da capacidade de absorção e das características do país anfitrião. Utilizando um banco de dados em painel no nível da empresa de todas as empresas no Canadá, é realizada uma análise econométrica em larga escala para mostrar que o ambiente do país anfitrião é central para o aprendizado de MNE. Também quantificamos resultados na literatura existente sobre a parcela da produtividade superior exibida por empresas de FDI que emana do mercado doméstico, e a que está vinculada à aprendizagem ex post, encontrando 79% atribuíveis ao efeito de seleção, e 21% ao efeito de aprendizagem. As implicações desses resultados são que, como a produtividade é endógena ao FDI, empresas que estão abaixo de um nível mínimo exigido para serem bem-sucedidas internacionalmente ex ante podem, no entanto, ter sucesso se a aprendizagem puder mover essas MNEs acima desse nível necessário para o sucesso ex post. Como tal, esta pesquisa fornece insights sobre estratégias e ambientes do país anfitrião que levam a melhorias de produtividade ex post para empresas que realizam FDI externo e, portanto, aconselha sobre a decisão sobre FDI, no nível da empresa.
摘要
对外直接投资 (FDI) 公司出色的生产力业绩既可归功于本国市场获得的事前优势, 也可归功于跨国公司 (MNE) 在东道国市场的经历所带来的事后学习。学习被建模为企业层面研发努力、吸收能力和所在国特征的函数。使用加拿大所有公司的公司级面板数据库, 大规模的计量经济学分析得以进行, 以显示东道国的环境对MNE学习至关重要。我们还量化了现有文献中关于FDI公司所表现出的卓越生产力所占份额的结果, 这些份额来自本土市场, 以及与事后学习相关, 发现有79%是选择效应, 21 %是学习效应。这些发现的启示是, 由于生产力是FDI的内生因素, 因此, 如果学习能够使这些MNE事后提高到成功所要求的门槛之上, 那么事前在国际上取得成功所需的门槛水平以下的公司仍可以成功。因此, 这项研究提供了对战略和东道国环境的见解, 这些战略和东道国环境可为进行对外FDI的企业提高事后生产率, 从而为企业层面的FDI决策提供依据。
Access options
Buy single article
Instant access to the full article PDF.
US$ 39.95
Tax calculation will be finalised during checkout.
Subscribe to journal
Immediate online access to all issues from 2019. Subscription will auto renew annually.
US$ 119
Tax calculation will be finalised during checkout.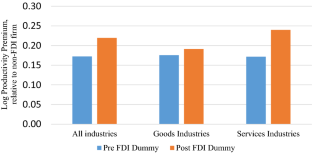 References
Adams, J. D., & Jaffe, A. B. 1996. Bounding the effects of R&D: An investigation using matched establishment-firm data. The Rand Journal of Economics, 27(4): 700–721.

Alvarez, R., & Lopez, R. A. 2005. Exporting and performance: Evidence from chilean plants. Canadian Journal of Economics, 38(4): 1384–1400.

Anand, J., & Kogut, B. 1997. Technological capabilities of countries, firm rivalry and direct investment in the United States. Journal of International Business Studies, 28(3): 445–466.

Andersson, U., Forsgren, M., & Holm, U. 2002. The strategic impact of external networks: Subsidiary performance and competence development in the multinational corporation. Strategic Management Journal, 23(11): 979–996.

Antràs, P., & Helpman, E. 2004. Global sourcing. Journal of Political Economy, 112(3): 552–580.

Brainard, S. L. 1997. An empirical assessment of the proximity-concentration tradeoff between multinational sales and trade. American Economic Review, 87(4): 520–544.

Buckley, P. J., & Casson, M. C. 1976. The future of the multinational enterprise. London: MacMillan.

Cantwell, J. 1990. A survey of theories of international production. In N. Pitelis & R. Sugden (Eds.), The nature of the transnational firm (pp. 16–63). London: Routledge.

Cantwell, J., & Janne, O. 1999. Technological globalisation and innovative centres: The role of corporate technological leadership and locational hierarchy. Research Policy, 28(2–3), 119–144.

Cantwell, J., & Mudambi, R. 2005. MNE competence-creating subsidiary mandates. Strategic Management Journal, 26(12): 1109–1128.

Caves, R. E. 1982. Multinational enterprise and economic analysis. New York: Cambridge University Press.

Doz, Y. L., Santos, J., & Williamson, P. 2001. From global to metanational: How companies win in the knowledge economy. Boston: Harvard Business School Press.

Driffield, N., & Love, J. H. 2007. Linking FDI motivation and host economy productivity effects: Conceptual and empirical analysis. Journal of International Business Studies, 38(3): 460–473.

Dunning, J. H. 1977. Trade, location of economic activity and the MNE: A search for an eclectic approach. In B. Ohlin, P. O. Hesselborn, & P. M. Wijkman (Eds.), The international allocation of economic activity (pp. 395–418). London: Palgrave Macmillan.

Dunning, J. H. 1996. The geographical sources of the competitiveness of firms: Some results of a new survey. Transnational Corporations, 5(3): 1–29.

Gaur, A. S., Ma, X., & Ding, Z. 2018. Home country supportiveness/unfavorableness and outward foreign direct investment from China. Journal of International Business Studies, 49(3): 324–345.

Ghoshal, S. 1987. Global strategy: An organizing framework. Strategic Management Journal, 8(5): 425–440.

Gutierrez-Huerter, O. G., Moon, J., Gold, S., & Chapple, W. 2020. Micro-processes of translation in the transfer of practices from MNE headquarters to foreign subsidiaries: The role of subsidiary translators. Journal of International Business Studies, 51(3): 389–413.

Head, K., & Ries, J. 2003. Heterogeneity and the FDI versus export decision of Japanese manufacturers. Journal of the Japanese and International Economy, 17(4): 448–467.

Hejazi, W., & Ma, J. 2011. Gravity, the English language, and international business. Multinational Business Review, 19(2): 152–167.

Hejazi, W., & Pauly, P. 2003. Motivations for FDI and domestic capital formation. Journal of International Business Studies, 34(3): 282–289.

Hejazi, W., & Safarian, A. E. 1999. Trade, foreign direct investment, and R&D spillovers. Journal of International Business Studies, 30(3): 491–508.

Helpman, E. 2014. Foreign trade and investment: Firm-level perspectives. Economica, 81(321): 1–14.

Helpman, E., Melitz, M. J., & Yeaple, S. R. 2004. Export versus FDI with heterogeneous firms. American Economic Review, 94(1): 300–316.

Hennart, J. F. 1982. A theory of multinational enterprise. Ann Arbor: University of Michigan Press.

Hennart, J. F. 2007. The theoretical rationale for a multinationality–performance relationship. Management International Review, 47(3): 423–452.

Johanson, J., & Vahlne, J. E. 2009. The Uppsala internationalization process model revisited: From liability of foreignness to liability of outsidership. Journal of International Business Studies, 40(9): 1411–1431.

Kafouros, M. I., & Buckley, P. J. 2008. Under what conditions do firms benefit from the research efforts of other organizations? Research Policy, 37(2): 225–239.

Kafouros, M. I., Buckley, P. J., & Clegg, J. 2012. The effects of global knowledge reservoirs on the productivity of multinational enterprises: The role of international depth and breadth. Research Policy, 41(5): 848–861.

Kogut, B., & Sea, J. C. 1991. Technological capabilities and Japanese direct investment in the United States. Review of Economics and Statistics, 73(3): 401–443.

Lin, M., Lucas, H. C., Jr., & Shmueli, G. 2013. Research commentary-too big to fail: Large samples and the p-value problem. Information Systems Research, 24(4): 906–917.

Liu, H., & Tang, J. 2017. Age-productivity profiles of entrants and exits: Evidence from Canadian manufacturing. Structural Change and Economic Dynamics, 40, 26–36.

Lundan, S. M., & Li, J. 2019. Adjusting to and learning from institutional diversity: Toward a capability-building perspective. Journal of International Business Studies, 50(1): 36–47.

Meyer, K. E., Li, C., & Schotter, A. P. J. 2020. Managing the MNE subsidiary: Advancing a multi-level and dynamic research agenda. Journal of International Business Studies, 51, 538–576.

Salomon, R., & Jin, B. 2008. Does knowledge spill to leaders or laggards? Exploring industry heterogeneity in learning by exporting. Journal of International Business Studies, 39(1): 132–150.

Scherer, F. M. 1982. Inter-industry technology flows and productivity growth. The Review of Economics and Statistics, 64(4): 627–634.

Selmier, W. T., & Oh, C. H. 2012. International business complexity and the internationalization of languages. Business Horizons, 55(2): 189–200.

Shaver, J. M., & Flyer, F. 2000. Agglomeration economies, firm heterogeneity, and FDI in the United States. Strategic Management Journal, 21(12): 1175–1193.

Tang, J., & Rao, S. 2003. Are foreign-controlled manufacturing firms less R&D-intensive than Canadian-controlled firms? Canadian Public Policy, 29(1): 111–117.

Tomiura, E. 2007. Foreign outsourcing, exporting, and FDI: A productivity comparison at the firm level. Journal of International Economics, 72(1): 113–127.

Trefler, D. 2004. The long and short of the Canada–US free trade agreement. American Economic Review, 94(4): 870–895.

van Pottelsberghe, B., & Lichtenberg, F. 2001. Does foreign direct investment transfer technology across borders? Review of Economics and Statistics, 83(3): 490–497.

Zoromé, A. 1987. Concept of offshore financial centers: In Search of an operational definition. IMF working paper WP/07/87.
Acknowledgments
We would like to acknowledge the helpful comments and suggestions from seminar participants at the Rotman School of Management, Industry Canada, the annual meetings of the Academy of International Business, and the Canadian Economics Association. We would also like to acknowledge comments from Bernardo Blum, Danny Leung, Larry Shute, Pierre Therrien, Daniel Trefler, three anonymous reviewers, and the JIBS Area Editor, Ilan Vertinsky. The financial support of Government of Canada is acknowledged.
Additional information
Publisher's Note
Springer Nature remains neutral with regard to jurisdictional claims in published maps and institutional affiliations.
Accepted by Ilan Vertinsky, Area Editor, 5 May 2020. This article has been with the authors for five revisions.
Electronic supplementary material
Below is the link to the electronic supplementary material.
About this article
Cite this article
Hejazi, W., Tang, J. & Wang, W. Selection, learning, and productivity at the firm level: Evidence from Canadian outward FDI. J Int Bus Stud 52, 306–320 (2021). https://doi.org/10.1057/s41267-020-00343-9
Received:

Revised:

Accepted:

Published:

Issue Date:
Keywords
foreign direct investment

productivity

organizational learning

MNEs and economic growth

Canada