Abstract
Host-country terrorism poses extreme uncertainty to MNEs' foreign operations. However, little is known about how MNEs respond to host-country terrorist attacks and how they make the related decisions. Drawing on the research on MNEs' responses to exogenous shocks and the inter-firm imitation literature, we argue that MNEs obtain relevant information from peers' actions under terrorist attacks to inform their own responses. Thus, MNEs are more likely to divest under host-country terrorist attacks when peers also divest. Furthermore, the impact of peers' divestments on focal MNEs' divestments is magnified by the temporal consistency in peers' behavioral pattern under terrorist attacks, as temporal consistency reduces inferential difficulties. Empirical evidence based on 93 Fortune US companies and their 8698 foreign subsidiaries over 2005–2015 support our hypotheses. Our study extends the literature on MNEs' responses to host-country exogenous shocks and on inter-firm imitation by demonstrating the social amplification of terrorism threat and the role of temporal consistency in inter-firm imitation under extreme uncertainty. Practically, we stress that MNE executives should always consider their firms' idiosyncratic situations when modeling peer MNEs' actions, and be mindful that they are especially likely to imitate peers' temporally consistent behaviors under extreme uncertainty.
Résumé
Le terrorisme du pays hôte fait peser une incertitude extrême sur les opérations étrangères des EMN. Cependant, on sait peu de choses sur la façon dont les EMN réagissent aux attaques terroristes du pays hôte et comment elles prennent les décisions qui s'y rapportent. À partir de recherches sur les réponses des EMN aux chocs exogènes et de la littérature sur l'imitation inter-firmes, nous soutenons que les EMN obtiennent des informations pertinentes des actions de leurs pairs lors d'attaques terroristes pour éclairer leurs propres réponses. Ainsi, les EMN sont plus susceptibles de désinvestir lors d'attaques terroristes du pays hôte lorsque leurs pairs désinvestissent également. En outre, l'impact des désinvestissements par les pairs sur les désinvestissements des EMN focales est amplifié par la cohérence temporelle du modèle de comportement des pairs lors des attaques terroristes, car la cohérence temporelle réduit les difficultés inférentielles. Des données empiriques basées sur 93 sociétés de Fortune US et leurs 8 698 filiales étrangères sur la période 2005–2015 soutiennent nos hypothèses. Notre étude enrichit les travaux sur les réponses des EMN aux chocs exogènes du pays hôte et sur l'imitation inter-firmes en démontrant l'amplification sociale de la menace terroriste et le rôle de la cohérence temporelle dans l'imitation inter-firmes dans une incertitude extrême. En pratique, nous soulignons que les dirigeants des EMN devraient toujours tenir compte des situations idiosyncratiques de leur entreprise lors de la modélisation des actions des EMN par les pairs et être conscients qu'ils sont particulièrement susceptibles d'imiter les comportements temporellement cohérents de leurs pairs dans une incertitude extrême.
Resumen
El terrorismo de los países anfitriones representa una incertidumbre extrema para las operaciones extranjeras de las empresas multinacionales. Sin embargo, poco se sabe acerca de cómo las empresas multinacionales responden a los ataques terroristas del país anfitrión y cómo toman las decisiones relacionadas. Basándonos en la investigación sobre las respuestas de las empresas multinacionales a los impactos exógenos y la literatura de imitación entre empresas, exponemos que las empresas multinacionales obtienen información relevante de las acciones de sus pares en el marco de ataques terroristas para informar sus propias respuestas. Por consiguiente, es más probable que las empresas multinacionales desinviertieran bajo ataques terroristas del país anfitrión cuando sus pares también se desinvierten. Además, el impacto de las desinversiones de los pares en las desinversiones de las empresas multinacionales focales se ve magnificado por la consistencia temporal en el patrón de comportamiento de los pares bajo ataques terroristas, ya que la consistencia temporal reduce las dificultades inferenciales. La evidencia empírica basada en 93 empresas Fortune US y sus 8.698 filiales extranjeras entre 2005 y 2015 respaldan nuestras hipótesis. Nuestro estudio extiende las literaturas sobre las respuestas de las empresas multinacionales a los impactos exógenas del país anfitrión y sobre la imitación interempresarial demostrando la amplificación social de la amenaza terrorista y el papel de la coherencia temporal en la imitación entre empresas bajo una incertidumbre extrema. Prácticamente, subrayamos que los ejecutivos de las empresas empresas multinacionales siempre deben considerar las situaciones idiosincrásicas de sus empresas al modelar las acciones de las empresas multinacionales de pares y ser conscientes de que son especialmente propensos a imitar los comportamientos temporalmente consistentes de sus pares bajo una incertidumbre extrema.
Resumo
Terrorismo no país anfitrião gera extrema incerteza nas operações estrangeiras das MNEs. No entanto, pouco se sabe a respeito da forma pela qual MNEs respondem a ataques terroristas no país anfitrião e como tomam decisões relacionadas. Com base na pesquisa sobre respostas de MNEs a choques exógenos e na literatura sobre imitação entre empresas, argumentamos que MNEs obtêm informações relevantes de ações de seus pares sob ataques terroristas para escolher suas próprias respostas. Assim, MNEs são mais propensas a desinvestir quando sob ataques terroristas no país anfitrião quando seus pares também desinvestem. Além disso, o impacto dos desinvestimentos de pares em desinvestimentos focais de MNEs é ampliado pela consistência temporal no padrão de comportamento de pares sob ataques terroristas, pois a consistência temporal reduz dificuldades inferenciais. Evidências empíricas baseadas em 93 empresas norte-americanas da Fortune e suas 8.698 subsidiárias estrangeiras entre 2005 e 2015 apoiam nossas hipóteses. Nosso estudo amplia as literaturas sobre respostas de MNEs a choques exógenos no país anfitrião e a imitação entre empresas, demonstrando a amplificação social da ameaça do terrorismo e o papel da consistência temporal na imitação entre empresas sob extrema incerteza. Na prática, enfatizamos que executivos de MNEs devem sempre considerar as situações idiossincráticas de suas empresas ao espelhar-se em ações de MNEs pares e ter em mente que eles provavelmente imitam comportamentos temporalmente consistentes de pares sob extrema incerteza.
摘要
东道国恐怖主义给跨国公司的国外业务带来了极端的不确定性。但是, 我们对关于跨国公司如何应对东道国恐怖主义袭击以及它们是如何做出相关决定的知之甚少。借鉴对跨国公司对外生冲击反应的研究以及企业间模仿的文献, 我们认为, 跨国公司从同行在恐怖袭击下的行动中获取相关信息, 以指导它们自己的应对。因此, 当同行也撤资时, 跨国公司更有可能在东道国恐怖主义袭击下撤资。此外, 由于时间上的一致性减少了推理困难, 同行撤资对跨国公司重点撤资的影响被恐怖袭击下同行行为方式在时间上的一致性放大。基于2005–2015年间93家美国财富公司及其8698家国外子公司的实证证据支持我们的假设。我们的研究通过展示恐怖主义威胁的社会放大以及极端不确定性下企业间模仿中的时间一致性的作用, 拓展了跨国公司对东道国外生冲击的反应以及企业间模仿的文献。实践上, 我们强调,跨国公司高管在对同行跨国公司的行动建模时应始终考虑其公司的特殊情况, 并要注意它们极有可能模仿极端不确定性下同行的时间上一致的行为。
This is a preview of subscription content, log in to check access.
Access options
Buy single article
Instant access to the full article PDF.
US$ 39.95
Price includes VAT for USA
Subscribe to journal
Immediate online access to all issues from 2019. Subscription will auto renew annually.
US$ 199
This is the net price. Taxes to be calculated in checkout.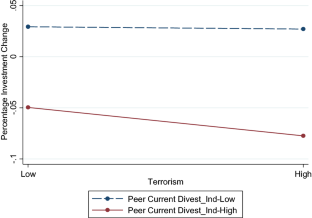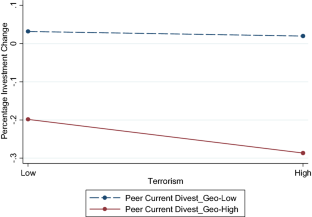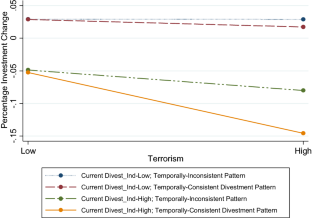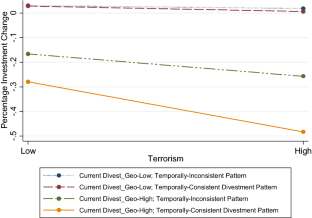 References
Abadie, A., & Gardeazabal, J. 2008. Terrorism and the world economy. European Economic Review, 52(1): 1–27.

Bandura, A. 1986. Social foundations of thought and action. Englewood Cliffs, NJ: Prentice-Hall.

Baum, J. A., Li, S. X., & Usher, J. M. 2000. Making the next move: How experiential and vicarious learning shape the locations of chains' acquisitions. Administrative Science Quarterly, 45(4): 766–801.

Belderbos, R., Olffen, W. V., & Zou, J. 2011. Generic and specific social learning mechanisms in foreign entry location choice. Strategic Management Journal, 32(12): 1309–1330.

Bikhchandani, S., Hirshleifer, D., & Welch, I. 1992. A theory of fads, fashion, custom, and cultural change as informational cascades. Journal of Political Economy, 100(5): 992–1026.

Czinkota, M. R., Knight, G. A., Liesch, P. W., & Steen, J. 2010. Terrorism and international business: A research agenda. Journal of International Business Studies, 41(5): 826–843.

Dai, L., Eden, L., & Beamish, P. W. 2013. Place, space, and geographical exposure: Foreign subsidiary survival in conflict zones. Journal of International Business Studies, 44(6): 554–578.

Dai, L., Eden, L., & Beamish, P. W. 2017. Caught in the crossfire: Dimensions of vulnerability and foreign multinationals' exit from war-afflicted countries. Strategic Management Journal, 38(7): 1478–1498.

Damaraju, N. L., Barney, J. B., & Makhija, A. K. 2015. Real options in divestment alternatives. Strategic Management Journal, 36(5): 728–744.

Dawson, J. F., & Richter, A. W. 2006. Probing three-way interactions in moderated multiple regression: Development and application of a slope difference test. Journal of Applied Psychology, 91(4): 917–926.

Denrell, J. 2003. Vicarious learning, undersampling of failure, and the myths of management. Organization Science, 14(3): 227–243.

Desai, S. 2017. Economic effects of terrorism: Local and city considerations, priorities for research and policy. Geography Compass., 11(11): 1–10.

Enders, W., Sachsida, A., & Sandler, T. 2006. The impact of transnational terrorism on US foreign direct investment. Political Research Quarterly, 59(4): 517–531.

Gaba, V., & Terlaak, A. 2013. Decomposing uncertainty and its effects on imitation in firm exit decisions. Organization Science, 24(6): 1847–1869.

Gimeno, J., Hoskisson, R. E., Beal, B. D., & Wan, W. P. 2005. Explaining the clustering of international expansion moves: A critical test in the US telecommunications industry. Academy of Management Journal, 48(2): 297–319.

Greve, H. R. 1998. Managerial cognition and the mimetic adoption of market positions: What you see is what you do. Strategic Management Journal, 19(10): 967–988.

Gupta, A., & Misangyi, V. F. 2018. Follow the leader (or not): The influence of peer CEOs' characteristics on inter-organizational imitation. Strategic Management Journal, 39(5): 1437–1472.

Haunschild, P. R., & Beckman, C. M. 1998. When do interlocks matter? Alternate sources of information and interlock influence. Administrative Science Quarterly, 43(4): 815–844.

Haunschild, P. R., & Miner, A. S. 1997. Modes of interorganizational imitation: The effects of outcome salience and uncertainty. Administrative Science Quarterly, 42(3): 472–500.

Henisz, W. J., & Delios, A. 2004. Information or influence? The benefits of experience for managing political uncertainty. Strategic Organization, 2(4): 389–421.

Hutzschenreuter, T., & Harhoff, P. 2020. National capital city location and subsidiary portfolio expansion: The negative effect of geographic distance to the capital city at inception on the speed of subsequent investments, Journal of International Business Studies. https://doi.org/10.1057/s41267-020-00305-1.

Institute for Economics & Peace. 2019. Global Terrorism Index 2019: Measuring the Impact of Terrorism. Retrieved January 18, 2020, from http://visionofhumanity.org/reports.

Kasperson, R. E. 1992. The social amplification of risk: Progress in developing an integrative framework. In S. Krimsky & D. Golding (Eds.), Social theories of risk (pp. 153–178). Westport, CT: Praeger.

Kelley, H. H. 1971. Attribution in social interaction. In E. E. Jones et al. (Eds), Attribution: Perceiving the causes of behavior: 1–26. Morristown, NJ: General Learning Press.

Li, S., & Tallman, S. 2011. MNC strategies, exogenous shocks, and performance outcomes. Strategic Management Journal, 32(10): 1119–1127.

Liang, K. Y., & Zeger, S. L. 1986. Longitudinal data analysis using generalized linear models. Biometrika, 73(1): 13–22.

Lieberman, M. B., & Asaba, S. 2006. Why do firms imitate each other? Academy of Management Review, 31(2): 366–385.

Lu, J., Liu, X., Wright, M., & Filatotchev, I. 2014. International experience and FDI location choices of Chinese firms: The moderating effects of home country government support and host country institutions. Journal of International Business Studies, 45(4): 428–449.

Madsen, P. M. 2009. These lives will not be lost in vain: Organizational learning from disaster in US coal mining. Organization Science, 20(5): 861–875.

Mariotti, S., Piscitello, L., & Elia, S. 2010. Spatial agglomeration of multinational enterprises: The role of information externalities and knowledge spillovers. Journal of Economic Geography, 10(4): 519–538.

Meyer, K. E., Li, C., & Schotter, A. P. J. 2020. Managing the MNE subsidiary: Advancing a multi-level and dynamic research agenda. Journal of International Business Studies, https://doi.org/10.1057/s41267-020-00318-w.

Miller, S. R., Thomas, D. E., Eden, L., & Hitt, M. 2008. Knee deep in the big muddy: The survival of emerging market firms in developed markets. Management International Review, 48(6): 645–666.

Neter, J., Kutner, M. H., Nachtsheim, C. J., & Wasserman, W. 1996. Applied linear statistical models. Chicago: Irwin.

Oetzel, J. M., & Oh, C. H. 2014. Learning to carry the cat by the tail: Firm experience, disasters, and multinational subsidiary entry and expansion. Organization Science, 25(3): 732–756.

Oh, C. H., & Oetzel, J. 2011. Multinationals' response to major disasters: How does subsidiary investment vary in response to the type of disaster and the quality of country governance? Strategic Management Journal, 32(6): 658–681.

Oh, C. H., & Oetzel, J. 2017. Once bitten twice shy? Experience managing violent conflict risk and MNC subsidiary-level investment and expansion. Strategic Management Journal, 38(3): 714–731.

Powers, M., & Choi, S. W. 2012. Does transnational terrorism reduce foreign direct investment? Business-related versus non-business-related terrorism. Journal of Peace Research, 49(3): 407–422.

Rao, H., Greve, H. R., & Davis, G. F. 2001. Fool's gold: Social proof in the initiation and abandonment of coverage by Wall Street analysts. Administrative Science Quarterly, 46(3): 502–526.

Rhee, M., Kim, Y. C., & Han, J. 2006. Confidence in imitation: Niche-width strategy in the UK automobile industry. Management Science, 52(4): 501–513.

Rogers, E. 1995. Diffusion of innovations. New York: Free Press.

Strang, D., & Still, M. C. 2006. Does ambiguity promote imitation, or hinder it? An empirical study of benchmarking teams. European Management Review, 3(2): 101–112.

Suder, G. G. 2006. Corporate strategies under international terrorism and adversity. Cheltenham: Edward Elgar.

Tan, D., & Meyer, K. E. 2011. Country-of-origin and industry FDI agglomeration of foreign investors in an emerging economy. Journal of International Business Studies, 42(4): 504–520.

Terlaak, A., & Gong, Y. 2008. Vicarious learning and inferential accuracy in adoption processes. Academy of Management Review, 33(4): 846–868.

Terlaak, A., & King, A. A. 2007. Follow the small? Information-revealing adoption bandwagons when observers expect larger firms to benefit more from adoption. Strategic Management Journal, 28(12): 1167–1185.

The World Bank. 2020. World Development Indicators. Retrieved January 18, 2020, from https://databank.worldbank.org/source/world-development-indicators.

Wadhwa, A., & Kotha, S. 2006. Knowledge creation through external venturing: Evidence from the telecommunications equipment manufacturing industry. Academy of Management Journal, 49(4): 819–835.

Witte, C. T., Burger, M. J., Ianchovichina, E. I., & Pennings, E. 2017. Dodging bullets: The heterogeneous effect of political violence on greenfield FDI. Journal of International Business Studies, 48(7): 862–892.

Xia, J., Tan, J., & Tan, D. 2008. Mimetic entry and bandwagon effect: The rise and decline of international equity joint venture in China. Strategic Management Journal, 29(2): 195–217.
Additional information
Publisher's Note
Springer Nature remains neutral with regard to jurisdictional claims in published maps and institutional affiliations.
Accepted by Ilan Vertinsky, Area Editor, 13 April 2020. This article has been with the authors for five revisions.
Electronic supplementary material
Below is the link to the electronic supplementary material.
About this article
Cite this article
Liu, C., Li, D. Divestment response to host-country terrorist attacks: Inter-firm influence and the role of temporal consistency. J Int Bus Stud (2020). https://doi.org/10.1057/s41267-020-00333-x
Received:

Revised:

Accepted:

Published:
Keywords
multinational enterprises

divestment

terrorism

exogenous shocks

inter-firm influence

temporal consistency