Abstract
The emergence of smart cities is a logical and natural development of traditional agglomerations, a consequence of revolution 4.0., and expansion of information and communication technologies. The aim of this paper is to present the Smart City's Brand Management model and to formulate the recommendations regarding the implementation of the strategy of the smart city's brand. The research on smart city brand management was conducted in the second quarter of 2019, basing on primary and secondary data. During the period, secondary sources were used in the form of data gathered from the official websites of 90 smart cities. Furthermore, the research was conducted in the form of direct and indirect communication with respondents using the phone and online survey techniques addressed to persons responsible for managing the city brand or its promotion. The obtained results confirm that the smart city brand management should rely on building and developing a competitive local identity of a city brand founded on strong distinguished features through the implementation of long-term initiatives together with residents and other stakeholders. The relational and participatory character of the smart city brand management is visible.
Access options
Buy single article
Instant access to the full article PDF.
US$ 39.95
Tax calculation will be finalised during checkout.
Subscribe to journal
Immediate online access to all issues from 2019. Subscription will auto renew annually.
US$ 119
Tax calculation will be finalised during checkout.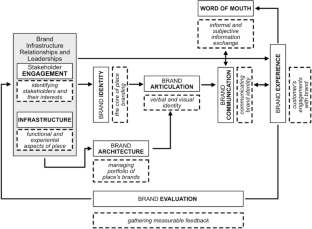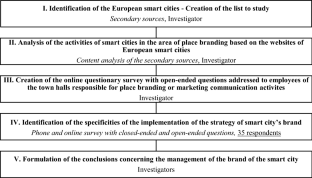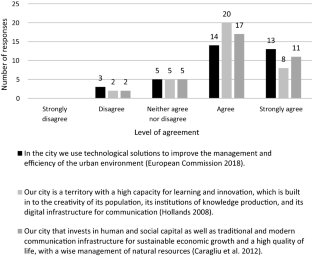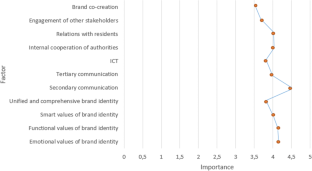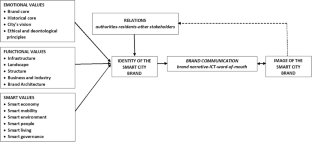 References
Aitken, R., and A. Campelo. 2011. The four Rs of place branding. Journal of Marketing Management 27 (9–10): 913–933.

Albino, V., U. Berardi, and R.M. Dangelico. 2015. Smart cities: Definitions, dimensions, performance, and initiatives. Journal of Urban Technology 22 (1): 3–21.

Ambler, T., C.B. Bhattacharya, J. Edell, K.L. Keller, K.N. Lemon, and V. Mittal. 2002. Relating brandand customer perspectives on marketing management. Journal of Service Research 5 (1): 13–25.

Anthopoulos, L.G., and T.E. Tougountzoglou. 2012. A viability model for digital cities: Economic and acceptability factors. Public Administration and Information Technology 1: 79–96.

Anthopoulos, L., and I.A. Tsoukalas. 2005. The implementation model of a digital city. Journal of E-Government 2 (2): 91–110.

Ashworth, G., and M. Kavaratzis. 2009. Beyond the logo: Brand management for cities. Brand Management 16 (8): 520–531.

Balakrishnan, M.S. 2008. Dubai—A star in the east: A case study in strategic destination branding. Journal of Place Management and Development 1 (1): 62–91.

Balakrishnan, M.S. 2009. Strategic branding of destinations: A framework. European Journal of Marketing 43 (5/6): 611–629.

Björner, E. 2013. International positioning through online city branding: The case of Chengdu. Journal of Place Management and Development 6 (3): 203–226.

Boisen, M., K. Terlouw, P. Groote, and O. Couwenberg. 2018. Reframing place promotion, place marketing, and place branding—moving beyond conceptual confusion. Cities 80: 4–11.

Braun, E., J. Eshuis, and E.H. Klijn. 2014. The effectiveness of place brand communication. Cities 41: 64–70.

Cai, L.A. 2002. Cooperative branding for rural destinations. Annals of Tourism Research 29 (3): 720–742.

Caragliu, A., C. Del Bo, and P. Nijkamp. 2011. Smart cities in Europe. Journal of Urban Technology 18 (2): 65–82.

Carrillo, F.J. (ed.). 2011. Knowledge cities: Approaches, experiences and perspectives. London, New York: Routledge.

Cerda-Bertomeu, M.J., and F.J. Sarabia-Sanchez. 2016. Stakeholders' perceptions of place branding and the role of the public sector: An exploratory analysis. Place Branding and Public Diplomacy 12 (4): 299–313.

Chan, C.S. 2019. Which city theme has the strongest local brand equity for Hong Kong: Green, creative or smart city? Place Branding & Public Diplomacy 15 (1): 12–27.

Chan, C.S., M. Peters, and L.M. Marafa. 2015. Public parks in city branding: Perceptions of visitors vis-à-vis residents in Hong Kong. Urban Forestry & Urban Greening 14 (4): 1157–1165.

de Jong, M. 2018. Explaining city branding practices in China's three mega-city regions: The role of ecological modernization. Journal of Cleaner Production 179: 527–543.

European Commission. 2015. Smart cities, https://ec.europa.eu/info/eu-regional-and-urban-development/topics/cities-and-urban-development/city-initiatives/smart-cities_en#what-are-smart-cities. Accessed 19 May 2019.

Forte, F., L.F. Girard, and P. Nijkamp. 2006. Smart policy, creative strategy and urban development. Studies in Regional Science 35 (4): 947–963.

Gaggiotti, H., P.L. Cheng, and O. Yunak. 2008. City brand management (CBM): The case of Kazakhstan. Place Branding and Public Diplomacy 4 (2): 115–123.

Giffinder, R., C. Fertner, H. Kramar, R. Kalasek, N. Pichler–Milanović, and E. Meijers. 2007. Smart cities: Ranking of European medium-sized cities. Vienna: Centre of Regional Science—Vienna UT, https://www.smartcities.eu/download/smart_cities_final_report.pdf. Accessed 21 May 2019.

Giffinder, R., H. Kramar, G. Haindlmaier, and F. Strohmayer. 2015. EuropeanSmartCities 4.0. Vienna: Centre of Regional Science—Vienna UT, https://www.smart-cities.eu. Accessed 8 May 2019.

Hankinson, G. 2004. Relational network brands: Towards a conceptual model of place brands. Journal of Vacation Marketing 10 (2): 109–121.

Hankinson, G. 2009. Managing destination brands: Establishing a theoretical foundation. Journal of Marketing Management 25 (1–2): 97–115.

Hanna, S., and J. Rowley. 2011. Towards a strategic place brand–management model. Journal of Marketing Management 27: 458–476.

Hanna, S., and J. Rowley. 2013. A practitioner-led strategic place brand-management model. Journal of Marketing Management 29 (15–16): 1782–1815.

Harrison, C., B. Eckman, R. Hamilton, P. Hartswick, J. Kalagnanam, J. Paraszczak, and P. Williams. 2010. Foundations for smarter cities. IBM Journal of Research and Development 54 (4): 1–16.

Hatuka, T., I. Rosen-Zvi, M. Birnhack, E. Toch, and H. Zur. 2018. The political premises of contemporary urban concepts: The global city, the sustainable city, the resilient city, the creative city, and the smart city. Planning Theory and Practice 19 (2): 160–179.

Hollands, R.G. 2008. Will the real smart city please stand up? City: Analysis of Urban Trends, Culture, Theory, Policy, Action 12 (3): 303–320.

Hubbard, P., and T. Hall. 1998. The entrepreneurial city and new urban politics. In The entrepreneurial city: Geographies of politics, regime and representation, ed. P. Hubbard and T. Hall, 1–23. Chinchester: Wiley.

Ishida, T. 2002. Digital city Kyoto. Communications of the ACM 45 (7): 78–81.

Kavaratzis, M. 2004. From city marketing to city branding: Toward a theoretical framework for developing city brands. Place Branding 1 (1): 58–73.

Kavaratzis, M., and G. Ashworth. 2005. City branding: An effective assertion of identity or a transitory marketing trick? Tijdschrift Voor Economische en Sociale Geografie 96 (5): 506–514.

Kavaratzis, M., and M. Hatch. 2013. The dynamics of place brands: An identity-based approach to place branding theory. Marketing Theory 13 (1): 69–86.

Keller, K.L., T. Apéria, and M. Georgson. 2008. Strategic brand management. A european perspective. Harlow: Pearson Education.

Kemp, E., C.Y. Childers, and K.H. Williams. 2012. A tale of a musical city: Fostering self-brand connection among residents of Austin. Texas. Place Branding & Public Diplomacy 8 (2): 147–157.

Klijn, E., J. Eshuis, and E. Braun. 2012. The influence of stakeholder involvement on The effectiveness of place branding. Public Management Review 14 (4): 499–519.

Knox, H. 2010. Cities and organisation: The information city and urban form. Culture and Organization 16 (3): 185–195.

Kolotouchkina, O., and G. Seisdedos. 2018. Place branding strategies in the context of new smart cities: Songdo IBD, Masdar and Skolkovo. Place Branding & Public Diplomacy 14 (2): 115–124.

Komninos, N. 2009. Intelligent cities: Towards interactive and global innovation environments. International Journal of Innovation and Regional Development 1 (4): 337–355.

Kotler, Ph. 1994. Reconceptualizing marketing: An interview with Philip Kotler. European Management Journal 12 (4): 353–361.

Krippendorff, K. 1989. Content analysis. In International encyclopedia of communication, vol. 1, ed. E. Barnouw, G. Gerbner, W. Schramm, T.L. Worth, and L. Gross, 403–407. New York: Oxford University Press.

Lazaroiu, G.C., and M. Roscia. 2012. Definition methodology for the smart cities model. Energy 47 (1): 326–332.

Lindstedt, J. 2015. A deliberately emergent strategy—A key to successful city branding. Journal of Place Management and Development 8 (2): 90–102.

Lombardi, P., S. Giordano, H. Farouh, and W. Yousef. 2012. Modelling the smart city performance, Innovation. The European Journal of Social Science Research 25 (2): 137–149.

Lucarelli, A., and P.O. Berg. 2011. City branding: A state-of-the-art review of the research domain. Journal of Place Management and Development 4 (1): 9–27.

Nam, T. and T.A. Pardo. 2011. Conceptualizing smart city with dimensions of technology, people, and institutions. The Proceedings of the 12th annual international conference on digital government research, June 12–15, College Park, MD, USA, 282–291.

Parks, D., and H. Rohracher. 2019. From sustainable to smart: Re–branding or re–assembling urban energy infrastructure? Geoforum 100: 51–59.

Psomadaki, O.I., C.A. Dimoulas, G.M. Kalliris, and G. Paschalidis. 2019. Digital storytelling and audience engagement in cultural heritage management: A collaborative model based on the Digital City of Thessaloniki. Journal of Cultural Heritage 36: 12–22.

Sairamesh, J., A. Lee, and L. Anania. 2004. Information cities. Communications of the ACM 47 (2): 28–31.

Sharifi, A. 2019. A critical review of selected smart city assessment tools and indicator sets. Journal of Cleaner Production 233 (1): 1269–1283.

Yigitcanlar, T., K. Velibeyoglu, and C. Martinez-Fernandez. 2008. Rising knowledge cities: The role of urban knowledge precincts. Journal of Knowledge Management 12 (5): 8–20.

Yovanof, G.S., and G.N. Hazapis. 2009. An architectural framework and enabling wireless technologies for digital cities & intelligent urban environments. Wireless Personal Communications 49 (3): 445–463.

Wang, K.Y., and C.-M. Wu. 2016. Building an Intelligent government, intelligent city, and intelligent citizenry through ICTs: Smart city innovations in New Taipei City, Taiwan. Public Administration and Information Technology 11: 259–278.

Zavattaro, S.M., and D.L. Fay. 2019. Brand USA: A natural quasi-experiment evaluating the success of a national marketing campaign. Tourism Management 70: 42–48.

Zenker, S., E. Braun, and S. Petersen. 2017. Branding the destination versus the place: The effects of brand complexity and identification for residents and visitors. Tourism Management 58: 15–27.

Zvolska, L., M. Lehner, Y. Voytenko Palgan, O. Mont, and A. Plepys. 2019. Urban sharing in smart cities: The cases of Berlin and London. Local Environment 24 (7): 628–645.
Acknowledgements
The project was financed from the funds of the National Agency for Academic Exchange (NAWA) as part of the Bekker Programme (PPN/BEK/2018/1/00154/DEC/1, Place branding (r)evolution—the management of the smart city's brand).
Ethics declarations
Conflict of interest
The author states that there is no conflict of interest.
Additional information
Publisher's Note
Springer Nature remains neutral with regard to jurisdictional claims in published maps and institutional affiliations.
About this article
Cite this article
Grebosz-Krawczyk, M. Place branding (r)evolution: the management of the smart city's brand. Place Brand Public Dipl 17, 93–104 (2021). https://doi.org/10.1057/s41254-020-00167-2
Revised:

Published:

Issue Date:
Keywords
Smart city

Brand image

Place branding

Model of management of the smart city's brand