Abstract
The U.S. economy suffered in 2007–10 from crises in mortgage foreclosures and in financial markets, as well as a long recession that some have referred to as the Great Recession. The links between these events, or more broadly their causes, extent, and effects are sources of continuing controversy and uncertainty. This paper attempts to disentangle the links between the mortgage foreclosure crisis, the financial crisis, a possible banking crisis, and the Great Recession, at least in terms of timing, and also to provide an alternative view to the conventional wisdom, especially for the links of the crises to the recession and to each other.
This is a preview of subscription content,
to check access.
Access this article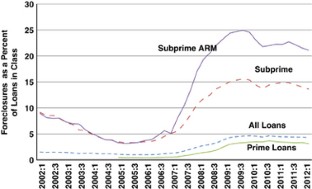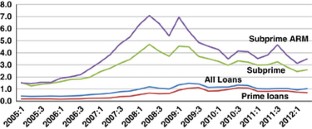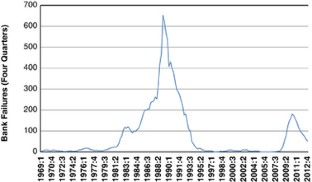 Similar content being viewed by others
References
Bair, Sheila . 2012. Bull by the Horns: Fighting to Save Main Street from Wall Street and Wall Street from Itself. New York: Free Press.

Barofsky, Neil . 2012. Bailout: An Insider Account of How Washington Abandoned Main Street While Rescuing Wall Street. New York: Free Press.

Bernanke, Ben S . 2010. Statement Before the Financial Crisis Enquiry Commission, Washington DC, September 2.

Bordo, Michael. and Joseph G. Haubrich . 2012. "Deep Recessions, Fast Recoveries, and Financial Crises: Evidence from the American Record," Federal Reserve Bank of Cleveland Working Paper, June 12–14.

Dwyer, Gerald P., John Devereux and Scott Baier . 2013. "Growth, Recessions and Banking Crises," paper presented at the Association of Private Enterprise Education Meetings, Maui.

Gorton, Gary . 2012. Misunderstanding Financial Crises: Why We Don't See Them Coming. Oxford University Press.

Indiviglio, Daniel . 2011. "Why Were 12 Out of 13 Major Banks on the Brink?" The Atlantic, www.theatlantic.com/business/archive/2011/01/why-were-12-out-of-13-major-banks-on-the-brink/70421/.

Kindleberger, Charles P . 2000. Manias, Panics, and Crashes: A History of Financial Crises, 4th ed. New York: John Wiley and Sons.

Labaton, Stephen . 2008. "Agencies'04 Rule Lets Banks Pile up New Debt," New York Times, October 2.

National Commission on the Causes of the Financial and Economic Crisis in the United States. 2011. The Financial Crisis Inquiry Report, New York, NY: Public Affairs, January.

Reinhart, Carmen. and Vincent Reinhart . 2010. "Beware Those Who Think the Worst Is Past," Financial Times, August 31.

Reinhart, Carmen. and Kenneth Rogoff . 2009. This Time is Different: Eight Centuries of Financial Folly. Princeton University Press.

Wallison, Peter J . 2011. Dissent from the Majority Report of the Financial Crisis Inquiry Commission, American Enterprise Institute for Public Policy Research, January 14.

Wolf, Martin . 2012. "A Slow Convalescence under Obama," Financial Times, October 24.
Additional information
*John A. Tatom is the President of Thoroughbred Economics, a consultancy in financial economics that serves universities, central banks, financial institutions, and other private clients. From 2005 to March 2012, he was Director of Research at Networks Financial Institute and Associate Professor of Finance at Indiana State University and Fellow, Institute for Applied Economics, Global Health and the Study of Business Enterprise, Johns Hopkins University. Previously he was an adjunct professor in the Economics Department at DePaul University and also, in 2003–04, a Senior Fellow at the Tax Foundation in Washington, DC. Earlier he served in various capacities for UBS, including chief US Economist in the asset allocation and currency group at UBS Asset Management, Executive Director and head of country research and limit control in Zurich, and lead economist for emerging market and developing countries in Zurich. From 1976 to 1995, he was Assistant Vice President and policy adviser in the Research Department of the Federal Reserve Bank of St. Louis. He has taught at several other colleges and universities. He holds a Ph.D. from Texas A&M University.
About this article
Cite this article
Tatom, J. Crises and the Great Recession. Bus Econ 48, 175–181 (2013). https://doi.org/10.1057/be.2013.20
Published:

Issue Date:

DOI: https://doi.org/10.1057/be.2013.20
Keywords