Abstract
Introduction
Bone age estimation is very useful in children undergoing epiphysiodesis or guided growth surgery especially during the years of accelerated growth. It may be noted that no data are available on bone age estimation for Indian children of this age group. Sauvegrain (French) method is a very useful and simple method for bone age assessment during the years of accelerated growth. We decided to check the usefulness and the accuracy of the Sauvegrain method in Indian children.
Materials and methods
A team of two pediatric orthopaedic surgeons and a radiologist scored elbow X-rays of 80 healthy children (40 boys and 40 girls), using the Sauvegrain method twice. Interobserver reliability and intraobserver reproducibility of the Sauvegrain scoring were assessed.
Results
There was a very strong correlation between all observers in both rounds (r = > 0.8) and an excellent reproducibility by the same observer in both rounds (r = 0.955). Chronological and bone age are considered the same if the difference between them is less than 6 months. With this criterion bone and chronological ages matched in > 37% of boys and girls, similar to the study done in French children. In the nonmatching group, more children had delayed bone age compared to their chronological age.
Conclusion
The Sauvegrain method of bone age assessment described for French children was found to be useful in estimating bone age in Indian children. It is especially helpful in the clinical practice for detecting mismatch between the chronological and the radiological age before undertaking guided growth or epiphysiodesis.
Access options
Buy single article
Instant access to the full article PDF.
US$ 39.95
Tax calculation will be finalised during checkout.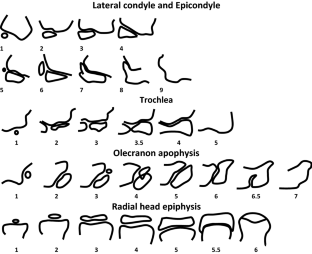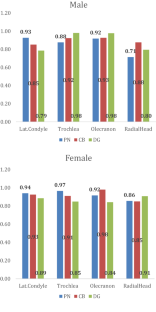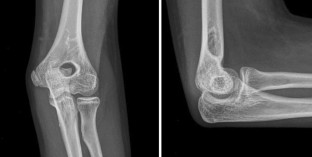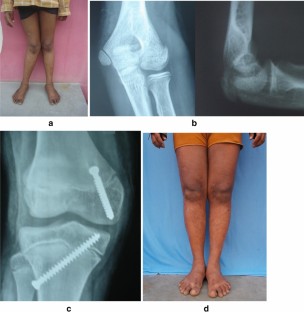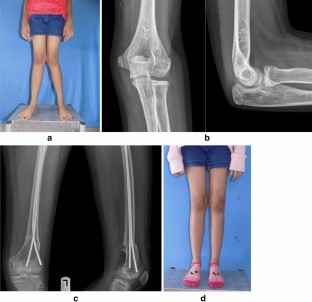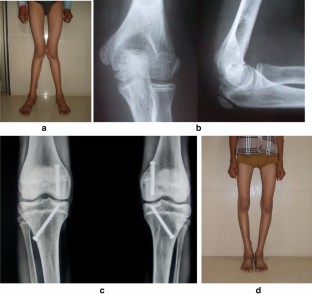 References
1.

Lee, S. C., Shim, J. S., Seo, S. W., Lim, K. S., & Ko, K. R. (2013). The accuracy of current methods in determining the timing of epiphysiodesis. The Bone and Joint Journal, 95B(7), 993–1000. https://doi.org/10.1302/0301-620X.95B7.30803.

2.

Westh, R. N., & Menelaus, M. B. (1981). A Simple Calculation for the Timing of Arrest. The British Editorial Society of Bone & Joint Surgery, 63(1), 117–119.

3.

Anderson, M., Green, W. T., & Messner, M. B. (1963). Predictions of Growth in the Lower Extremities. JBJS, 45(1), 1963.

4.

Moseley, C. F. (1978). A straight line graph for leg length discrepancies. Clinical Orthopaedics and Related Research, 136, 33–40. https://doi.org/10.1097/00003086-197810000-00004.

5.

D. Paley, A. Bhave, J. E. Herzenberg, and J. R. Bowen, Multiplier Method for Predicting Limb-Length Discrepancy Multiplier Method for, 2007.

6.

Zajonz, D., et al. (2017). Treatment of genu valgum in children by means of temporary hemiepiphysiodesis using eight-plates: Short-term findings. BMC Musculoskeletal Disordorder, 18(1), 1–8. https://doi.org/10.1186/s12891-017-1823-7.

7.

Sawiris, Y. A., Abo-Seif, S., & Aly, A. S. (2018). The Using of 'Guided Growth' for Correction of Coronal Deformities around the Knee in Skeletally Immature Children (Systematic review and Metaanalysis). Medical and Clinical Review, 04(03), 1–10. https://doi.org/10.21767/2471-299x.1000073.

8.

Stevens, P. M. (2006). Guided growth: 1933 to the present. Strategies in Trauma and Limb Reconstruction, 1(1), 29–35. https://doi.org/10.1007/s11751-006-0003-3.

9.

P. S. Greulich WW, Radiographic Atlas of Skeletal Development of the Hand and Wrist, 2nd ed. Stanford University PressPalo Alto, 1959.

10.

Fishman, L. S. (1982). Radiographic evaluation of skeletal maturation. A clinically oriented method based on hand-wirst films. Angle Orthodontist, 52(2), 88–112. https://doi.org/10.1043/0003-3219(1982)052<0088:REOSM>2.0.CO;2.

11.

Acheson, R. M. (1957). The Oxford method of assessing skeletal maturity. Clinical Orthopaedics and Related Research, 10, 19–39.

12.

Sauvegrain, B. H., & Nahum, J. H. (1962). Study of bone maturation of the elbow. Annals de Radiologie, 5, 542–550.

13.

Charles, Y. P., Diméglio, A., Canavese, F., & Daures, J. P. (2007). Skeletal age assessment from the olecranon for idiopathic scoliosis at risser grade 0. Journal of Bone and Joint Surgery Series A, 89A(12), 2737–2744. https://doi.org/10.2106/JBJS.G.00124.

14.

A. Dimeglio, Growth in pediatric orthopaedics. Journal of Pediatric Orthopaedics, vol. 21, no. 4, pp. 549–55, 2001, [Online]. Available: https://www.ncbi.nlm.nih.gov/pubmed/11433174.

15.

Heyworth, B. E., et al. (2013). The shorthand bone age assessment: A simpler alternative to current methods. Journal of Pediatric Orthopedics, 33(5), 569–574. https://doi.org/10.1097/BPO.0b013e318293e5f2.

16.

Tanner, J. M., Whitehouse, R. H., Marshall, W. A., & Carter, B. S. (1975). Prediction of adult height from height, bone age, and occurrence of menarche, at ages 4 to 16 with allowance for midparent height. Archives of Disease in Childhood, 50(1), 14–26. https://doi.org/10.1136/adc.50.1.14.

17.

Little, D. G., Nigo, L., & Aiona, M. D. (1996). Deficiencies of current methods for the timing of epiphysiodesis. Journal of Pediatric Orthopedics, 16(2), 173–179. https://doi.org/10.1097/01241398-199603000-00007.

18.

Eastwood, D. M., & Sanghrajka, A. P. (2011). Guided growth: Recent advances in a deep-rooted concept. Journal of Bone and Joint Surgery Series B, 93B(1), 12–18. https://doi.org/10.1302/0301-620X.93B1.25181.

19.

Mohanty, I., & Gebremedhin, T. A. (2018). Maternal autonomy and birth registration in India: Who gets counted? PLoS ONE, 13(3), 1–19. https://doi.org/10.1371/journal.pone.0194095.

20.

Peters, H., & Shrikande, S. M. (1957). Age at menarche in Indian women. Fertility and Sterility, 8(4), 355–361. https://doi.org/10.1016/s0015-0282(16)32765-0.

21.

Khadgawat, R., et al. (2016). Age of onset of puberty in apparently healthy school girls from northern India. Indian Pediatrics, 53(5), 383–387. https://doi.org/10.1007/s13312-016-0857-5.

22.

Pathak, P. K., Tripathi, N., & Subramanian, S. V. (2014). Secular trends in menarcheal age in India-evidence from the Indian Human Development Survey. PLoS ONE. https://doi.org/10.1371/journal.pone.0111027.

23.

Hassel, B., & Farman, A. G. (1995). Skeletal maturation evaluation using cervical vertebrae. American Journal of Orthodontics and Dentofacial Orthopedics, 107(1), 58–66. https://doi.org/10.1016/S0889-5406(95)70157-5.

24.

Cundy, P., Paterson, D., Morris, L., & Foster, B. (1988). Skeletal age estimation in leg length discrepancy. Journal of Pediatric Orthopaedics, 8(5), 513–515. https://doi.org/10.1097/01241398-198809000-00002.

25.

Keny, S. M., et al. (2018). Comparison of two radiological methods in the determination of skeletal maturity in the Indian pediatric population. Journal of Pediatric Orthopaedics Part B, 27(4), 362–365. https://doi.org/10.1097/BPB.0000000000000475.

26.

Mansourvar, M., et al. (2014). The applicability of Greulich and Pyle atlas to assess skeletal age for four ethnic groups. Journal of Forensic and Legal Medicine, 22, 26–29. https://doi.org/10.1016/j.jflm.2013.11.011.

27.

Zafar, A. M., Nadeem, N., Husen, Y., & Ahmad, M. N. (2010). An appraisal of greulich-pyle atlas for skeletal age assessment in Pakistan. The Journal of the Pakistan Medical Association, 60(7), 552–555.

28.

Mughal, A. M., Hassan, N., & Ahmed, A. (2014). The applicability of the Greulich & Pyle Atlas for bone age assessment in primary school-going children of Karachi, Pakistan. Pakistan Journal of Medical Sciences, 30(2), 409–412. https://doi.org/10.12669/pjms.302.4296.

29.

Patil, S. T., Parchand, M. P., Meshram, M. M., & Kamdi, N. Y. (2012). Applicability of Greulich and Pyle skeletal age standards to Indian children. Forensic Science International, 216(1–3), 200.e1–200.e4. https://doi.org/10.1016/j.forsciint.2011.09.022.

30.

Mohammed, R. B., Rao, D. S., Goud, A. S., Sailaja, S., Thetay, A. A. R., & Gopalakrishnan, M. (2015). Is Greulich and Pyle standards of skeletal maturation applicable for age estimation in South Indian Andhra children? Journal of Pharmacy and Bioallied Science, 7(3), 218–225. https://doi.org/10.4103/0975-7406.160031.
Acknowledgements
The authors thank Dr Hitesh Chauhan, Dr Hitesh Shah, Dr Rohini Patel and Dr Hiral Naik for their help in preparation of this manuscript.
Funding
We have not received any funding for this project. We or any of our family members have no commercial associations (for example consultancies, stock ownership, equity interest, patent/licensing arrangements, etc.) that might pose a conflict of interest in connection with the submitted article.
Ethics declarations
Conflict of interest
Authors do not have any conflict of interest.
Ethical standard statement
We have obtained an approval from Institutional Review Board. We have taken appropriate consent from the patients for this study which is in accordance with the 1964 Helsinki declaration and its later amendments or comparable ethical standards.
Additional information
Publisher's Note
Springer Nature remains neutral with regard to jurisdictional claims in published maps and institutional affiliations.
About this article
Cite this article
Naik, P., Ganjwala, D., Bhatt, C. et al. Usefulness of the Sauvegrain Method of Bone Age Assessment in Indian Children. JOIO 55, 116–124 (2021). https://doi.org/10.1007/s43465-020-00189-1
Received:

Accepted:

Published:

Issue Date:
Keywords
Sauvegrain method

Bone age estimation

Bone age

Chronological age

Accelerated phase of puberty

Guided growth

Epiphysiodesis