Abstract
Bone allograft serves as an alternative to overcome the limitation of autograft. Some concerns, such as graft rejection, infection, and low union rate, arise from the use of bone allograft since the graft is a non-living and foreign material. We reported a case of critical-sized bone defect in a skeletally immature patient treated with massive intercalary allograft that not only did it show union but also graft incorporation that allowed for subsequent bone lengthening at the site of the incorporated massive allograft. To our knowledge, there has been a report of lengthening of free-vascularized fibular autograft but not the nonvascularized one. Massive intercalary allograft that incorporates well to the host could be an option to treat critical-sized bone defect.
Access options
Buy single article
Instant access to the full article PDF.
US$ 39.95
Tax calculation will be finalised during checkout.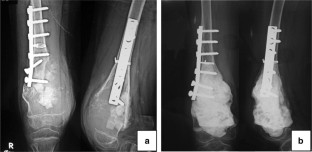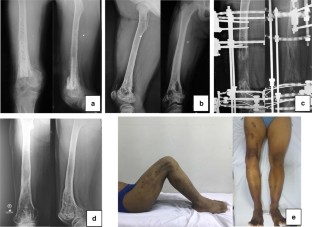 References
1.

Utomo, D. N., Hernugrahanto, K. D., Edward, M., Widhiyanto, L., & Mahyudin, F. (2019). International Journal of Surgery Case Reports Combination of bone marrow aspirate, cancellous bone allograft, and platelet-rich plasma as an alternative solution to critical-sized diaphyseal bone defect: A case series. International Journal of Surgery Case Reports, 58, 178–185.

2.

Wang, W., & Yeung, K. W. K. (2017). Bioactive Materials Bone grafts and biomaterials substitutes for bone defect repair: A review. Bioactive Materials, 2(4), 224–247.

3.

Goldberg, V. M., & Akhavan, S. (2005). Biology of bone grafts. In J. R. L. G. E. Friedlaender (Ed.), Bone Regeneration and Repair: Biology and Clinical Applications (pp. 57–65). Totowa: Humana Press Inc.

4.

Paley, D., Catagni, M. A., Argnani, F., Villa, A., Benedetti, G. B., Cattaneo, R., et al. (1989). Ilizarov treatment of tibialnonunions with bone loss. Clinical Orthopaedics and Related Research, 241, 146–165.

5.

Bullens, P. H. J., Minderhoud, N. M., de Waal Malefijt, M. C., Veth, R. P. H., Buma, P., & Schreuder, H. (2009). Survival of massive allografts in segmental oncological bone defect reconstructions. International Orthopaedics, 33, 757–760.

6.

Zheng, X.-F., Huang, H.-Y., Ding, H.-W., Zhang, Y., & Yin, Q.-S. (2009). Reconstruction of bone defects with massive bone allograft for bone tumor treatment in 78 cases. Journal of Clinical Rehabilitative Tissue Engineering Research, 9(13), 2978–2983.

7.

Jamshidi, K., & Bahrabadi, M. M. A. (2017). Long-term results of osteoarticular allograft reconstruction in children with distal femoral bone tumors. Archives of Bone and Joint Surgery, 5, 296–301.

8.

Delloye, C., Cornu, O., Druez, V., & Barbier, O. (2007). Bone allografts. What they can offer and what they cannot. The Journal of Bone and Joint Surgery B., 89(5), 574–579.

9.

Stevenson, S., Emery, S. E., & Goldberg, V. M. (1996). Factors affecting bone graft incorporation. Clinical Orthopaedics and Related Research, 323, 66–74.

10.

Delloye, C. (2003). How to improve the incorporation of massive allografts? La Chirurgia Degli Organi di Movimento, 88(4), 335–343.

11.

Lindaman, L. (2001). Bone healing in children. Clinics in Podiatric Medicine and Surgery, 18(1), 97–108.

12.

Hvid, I., Horn, J., Huhnstock, S., & Steen, H. (2016). The biology of bone lengthening. Journal of Children's Orthopaedics, 10(6), 487–492.

13.

Frisoni, T., Cevolani, L., Giorgini, A., & Dozza, B. D. D. (2012). Factors affecting outcome of massive intercalary bone allografts in the treatment of tumours of the femur. The Journal of Bone and Joint Surgery, 94-B, 836–841.
Funding
This research did not receive any specific grant from funding agencies in the public, commercial, or not-for-profit sectors so this research was fully funded personally.
Ethics declarations
Conflicting interest
No conflict of interest in this study.
Ethical standard statement
All procedures performed in studies involving human participants were in accordance with the ethical standards of the institutional and/or national research committee and with the 1964 Helsinki declaration and its later amendments or comparable ethical standards.
Informed consent
Informed consent was obtained from the patient for publication of this case report and accompanying images.
About this article
Cite this article
Mahyudin, F., Hernugrahanto, K.D., Andrianus, J. et al. Lengthening of Massive Intercalary Cortical Allograft After Successful Graft Incorporation in Skeletally Immature Bone with Critical-Sized Defect: A Case Report with 6-year Follow-up. JOIO 55, 203–207 (2021). https://doi.org/10.1007/s43465-020-00087-6
Received:

Accepted:

Published:

Issue Date:
Keywords
Massive intercalary allograft

Bone lengthening

Critical-sized defect
MeSH Terms
Massive

Intercalary

Allograft

Lengthening

Critical-sized

Defect