Abstract
Background
Open reduction and internal fixation (ORIF) with transarticular screws to stabilize Lisfranc injuries may increase the risk of arthritis or affect outcomes. Joint-preserving fixation using staples, bridge plating, or Lisfranc screws avoids iatrogenic articular damage. This study analyzes functional outcomes and complications in Lisfranc-injury patients who underwent joint-preserving fixation.
Materials and Methods
We conducted a retrospective review of patients treated for Lisfranc injury at a Level 1 trauma center from July 2008 to October 2015. Patients over 18 years of age, with no concomitant procedures in the lower extremities, were included. Functional outcomes were evaluated through American Orthopaedic Foot and Ankle Society (AOFAS) scores.
Results
Fourteen patients met the inclusion criteria. The average followup time was 57 months (range 22-102 months). AOFAS scores averaged 80.4 (standard deviation [SD] 16) at the time of the latest followup, with time to return to regular activities averaging 34 weeks (SD 25 weeks). Five patients had their hardware removed, and two required subsequent fusion during the followup period. The single complication involved a screw backing out, with subsequent removal.
Conclusions
In this case series, joint-preserving fixation for Lisfranc injuries offered similar AOFAS scores as those reported for ORIF with transarticular screws but with a decreased rate of hardware removal and need for midfoot fusion.
This is a preview of subscription content, log in to check access.
Access options
Buy single article
Instant access to the full article PDF.
US$ 39.95
Price includes VAT for USA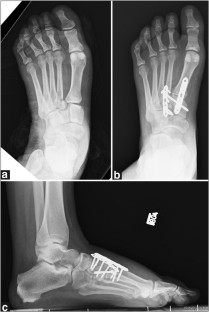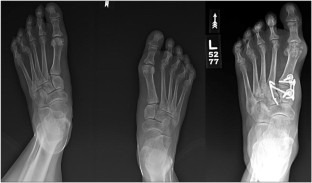 References
1.

Myerson MS, Fisher RT, Burgess AR, Kenzora JE. Fracture dislocations of the tarsometatarsal joints: End results correlated with pathology and treatment. Foot Ankle 1986;6:225-42.

2.

Stern RE, Assal M. Dorsal multiple plating without routine transarticular screws for fixation of Lisfranc injury. Orthopedics 2014;37:815-9.

3.

Holmes GB. Staple fixation of Lisfranc injuries: A new description of a new technique and early clinical results. Tech Foot Ankle Surg 2013;12:196-200.

4.

Alberta FG, Aronow MS, Barrero M, Diaz-Doran V, Sullivan RJ, Adams DJ. Ligamentous Lisfranc joint injuries: A biomechanical comparison of dorsal plate and transarticular screw fixation. Foot Ankle Int 2005;26:462-73.

5.

Gaines RJ, Wright G, Stewart J. Injury to the tarsometatarsal joint complex during fixation of Lisfranc fracture dislocations: An anatomic study. J Trauma 2009;66:1125-8.

6.

Hu SJ, Chang SM, Li XH, Yu GR. Outcome comparison of Lisfranc injuries treated through dorsal plate fixation versus screw fixation. Acta Ortop Bras 2014;22:315-20.

7.

Johnson A, Hill K, Ward J, Ficke J. Anatomy of the Lisfranc ligament. Foot Ankle Spec 2008;1:19-23.

8.

Lau S, Guest C, Hall M, Tacey M, Joseph S, Oppy A. Functional outcomes post lisfranc injury-transarticular screws, dorsal bridge plating or combination treatment? J Orthop Trauma 2017;31:447-52.

9.

Aronow MS. Joint preserving techniques for Lisfranc injury. Tech Orthop 2011;26:43-9.

10.

Panchbhavi VK. Orientation of the "Lisfranc screw". J Orthop and internal fixation. A prospective, randomized study. J Bone Trauma 2012;26:e221-4.

11.

Seybold JD, Coetzee JC. Lisfranc injuries: When to observe, fix, or fuse. Clin Sports Med 2015;34:705-23.

12.

Kuo RS, Tejwani NC, Digiovanni CW, Holt SK, Benirschke SK, Hansen ST Jr., et al. Outcome after open reduction and internal fixation of Lisfranc joint injuries. J Bone Joint Surg Am 2000;82-A:1609-18.

13.

Mulier T, Reynders P, Dereymaeker G, Broos P. Severe Lisfrancs injuries: Primary arthrodesis or ORIF? Foot Ankle Int 2002;23:902-5.

14.

Ebramzadeh E, Knutsen AR, Sangiorgio SN, Brambila M, Harris TG. Biomechanical comparison of syndesmotic injury fixation methods using a cadaveric model. Foot Ankle Int 2013;34:1710-7.

15.

Ly TV, Coetzee JC. Treatment of primarily ligamentous Lisfranc joint injuries: Primary arthrodesis compared with open reduction and internal fixation. A prospective, randomized study. J Bone Joint Surg Am 2006;88:514-20.

16.

Panchbhavi VK. Controversies. Tech Foot Ankle Surg 2012;11:155.

17.

van Koperen PJ, de Jong VM, Luitse JS, Schepers T. Functional outcomes after temporary bridging with locking plates in Lisfranc injuries. J Foot Ankle Surg 2016;55:922-6.

18.

Del Vecchio JJ, Ghioldi M, Raimondi N, De Elias M. Minimally invasive medial plating of low-energy Lisfranc injuries: Preliminary experience with five cases. Adv Orthop 2016;2016:4861260.

19.

Kestner CJ. Open reduction and fixation of unstable Lisfranc injuries using dorsal plates. Tech Foot Ankle Surg 2015;14:181-7.

20.

Qiao Y, Li J, Shen H, Bao H, Jiang M, Liu Y, et al. Comparison of Arthrodesis and Non-fusion to Treat Lisfranc Injuries. Orthop Surg 2017;9:62-8.
Acknowledgments
We would like to thank Sean Bender, MD, for his assistance with the investigation and data curation.
Declaration of patient consent
The authors certify that they have obtained all appropriate patient consent forms. In the form, the patients have given their consent for their images and other clinical information to be reported in the journal. The patients understand that their names and initials will not be published and due efforts will be made to conceal their identity, but anonymity cannot be guaranteed.
Financial support and sponsorship
Nil.
Conflicts of interest
Vinod Panchbhavi is a consultant for Stryker Orthopaedics as well as an editor for Lippincott Williams and Wilkins Publishing.
About this article
Cite this article
Scofield, H.O., Lam, K.C., Stautberg, E.F. et al. Outcomes of Lisfranc Injuries Treated with Joint-Preserving Fixation. JOIO (2020). https://doi.org/10.1007/s43465-020-00070-1
Keywords
American Orthopaedic Foot and Ankle Society

clinical outcomes

dorsal plating

Lisfranc

midfoot