Abstract
Sulfated polysaccharides derived from seaweeds have important biological activities. The aim of this work was to demonstrate the anti-inflammatory effect of a sulfated polysaccharide extracted from the seaweed Digenea simplex (Wulfen) C. Agardh 1822 on 2,4,6-trinitrobenzene sulfonic acid–induced colitis in rats. After inducing colitis, rats were euthanized, and the colon was excised to determine macroscopic lesion scores and wet weight and to histologically evaluate and quantify glutathione, malondialdehyde, myeloperoxidase, nitrate/nitrite, and cytokines. The polysaccharide, composed of β-d-galactose and 3,6-α-l-anhydrogalactose residues, reduced wet weight as well as macroscopic and microscopic lesion scores. It also reduced myeloperoxidase activity; reduced proinflammatory cytokines, malondialdehyde, and nitrate/nitrite levels; and preserved glutathione consumption in the colon. According to these results, we can infer that the sulfated polysaccharide derived from D. simplex has an anti-inflammatory effect on induced colitis in vivo.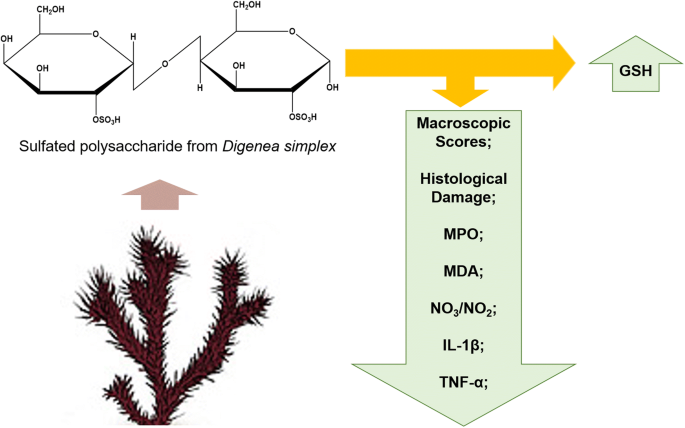 This is a preview of subscription content, log in to check access.
Access options
Buy single article
Instant access to the full article PDF.
US$ 39.95
Price includes VAT for USA
Subscribe to journal
Immediate online access to all issues from 2019. Subscription will auto renew annually.
US$ 100
This is the net price. Taxes to be calculated in checkout.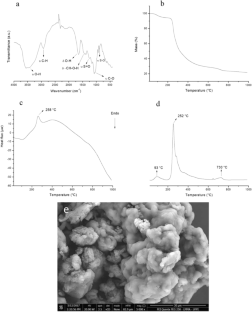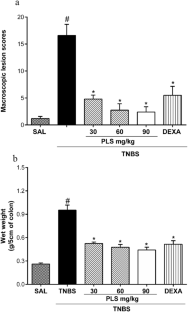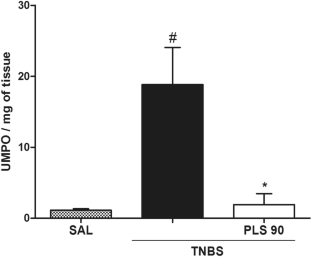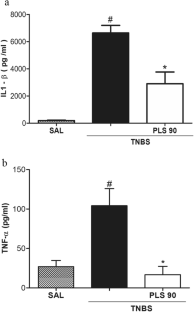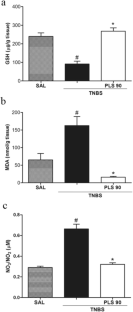 References
Aktan F (2004) iNOS-mediated nitric oxide production and its regulation. Life Sci 75:639–653. https://doi.org/10.1016/j.lfs.2003.10.042

Algieri F, Rodriguez-Nogales A, Garrido-Mesa J, Camuesco D, Vezza T, Garrido-Mesa N, Utrilla P, Rodriguez-Cabezas ME, Pischel I, Galvez J (2016) Intestinal anti-inflammatory activity of calcium pyruvate in the TNBS model of rat colitis: comparison with ethyl pyruvate. Biochem Pharmacol 103:53–63. https://doi.org/10.1016/j.bcp.2015.12.022

Appleyard CB, Wallace JL (1995) Reactivation of hapten-induced colitis and its prevention by anti-inflammatory drugs. Am J Phys 269:119–125. https://doi.org/10.1152/ajpgi.1995.269.1.G119

Batista JA, Dias EGN, Brito TV, Prudêncio RS, Silva RO, Ribeiro RA, Souza MH, de Paula RC, Feitosa JP, Chaves LS, Melo MR, Freitas AL, Medeiros JV, Barbosa AL (2014) Polysaccharide isolated from Agardhiella ramosissima: chemical structure and anti-inflammation activity. Carbohydr Polym 99:59–67. https://doi.org/10.1016/j.carbpol.2013.08.071

Bezerra FF, Lima GC, Sousa NA, Sousa WM, Costa LEC, Costa DSD, Barros FCN, Medeiros JVR, Freitas ALP (2018) Antidiarrheal activity of a novel sulfated polysaccharide from the red seaweed Gracilaria cervicornis. J Ethnopharmacol 224:27–35. https://doi.org/10.1016/j.jep.2018.05.033

Borrelli F, Fasolino I, Romano B, Capasso R, Maiello F, Coppola D, Orlando P, Battista G, Pagano E, Di Marzo V, Izzo AA (2013) Beneficial effect of the nonpsychotropic plant cannabinoid cannabigerol on experimental inflammatory bowel disease. Biochem Pharmacol 85:1306–1316. https://doi.org/10.1016/j.bcp.2013.01.017

Bradley PP, Christensen RD, Rothstein G (1982) Cellular and extracellular myeloperoxidase in pyogenic inflammation. Blood 60:618–622

Brito TV, Neto JP, Prudêncio RS, Batista JA, Júnior JS, Silva RO, Franco AX, Aragão KS, Soares PM, Souza MH, Chaves LS, Freitas AL, Medeiros JV, Barbosa AL (2014) Sulfated-polysaccharide fraction extracted from red algae Gracilaria birdiae ameliorates trinitrobenzenesulfonic acid-induced colitis in rats. J Pharm Pharmacol 66:1161–1170. https://doi.org/10.1111/jphp.12231

Brito TV, Barros FC, Silva RO, Dias Júnior GJ, Simião Júnior JC, Franco ÁX, Soares PMG, Chaves LS, Abreu CMWS, de Paula RCM, Souza MHLP, Freitas ALP, Barbosa ALR (2016) Sulfated polysaccharide from the marine algae Hypnea musciformis inhibits TNBS-induced intestinal damage in rats. Carbohydr Polym 151:957–964. https://doi.org/10.1016/j.carbpol.2016.06.047

Brito TV, Júnior GJD, da Cruz Júnior JS, Silva RO, da Silva Monteiro CE, Franco AX, Vasconcelos DFP, de Oliveira JS, da Silva Costa DV, Carneiro TB, Gomes Duarte AS, de Souza MHLP, Soares PMG, Barbosa ALDR (2020) Gabapentin attenuates intestinal inflammation: role of PPAR-gamma receptor. Eur J Pharmacol 873:172974. https://doi.org/10.1016/j.ejphar.2020.172974

Chen Y, Xie MY, Nie SP, Li C, Wang YX (2008) Purification, composition analysis and antioxidant activity of a polysaccharide from the fruiting bodies of Ganoderma atrum. Food Chem 107:231–241. https://doi.org/10.1016/j.foodchem.2007.08.021

Cirillo C, Sarnelli G, Turco F, Mango A, Grosso M, Aprea G, Masone S, Cuomo R (2011) Proinflammatory stimuli activates human-derived enteroglial cells and induces autocrine nitric oxide production. Neurogastroenterol Motil 23:372–382. https://doi.org/10.1111/j.1365-2982.2011.01748.x

Cunha L, Grenha A (2016) Sulfated seaweed polysaccharides as multifunctional materials in drug delivery applications. Mar Drugs. https://doi.org/10.3390/md14030042

Cuzzocrea S, Mazzon E, Serraino I, Dugo L, Centorrino T, Ciccolo A, Sautebin L, Caputi AP (2001) Celecoxib, a selective cyclooxygenase-2 inhibitor reduces the severity of experimental colitis induced by dinitrobenzene sulfonic acid in rats. Eur J Pharmacol 43:191–102. https://doi.org/10.1016/S0014-2999(01)01403-0

De Medina FS, Gálvez J, Romero JA, Zarzuelo A (2002) Effect of quercetrin on the early stages of hapten induced colonic inflammation in the rat. Life Sci 70:3097–3108. https://doi.org/10.1016/S0024-3205(02)01568-0

Fernandez PV, Arata PX, Ciancia M (2014) Polysaccharides from Codium species: chemical structure and biological activity. Their role as components of the cell wall. Adv Bot Res 71:253–278. https://doi.org/10.1016/B978-0-12-408062-1.00009-3

Green LC, Wagner DA, Glogowski J, Skipper PL, Wishnok JS, Tannenbaum SR (1982) Analysis of nitrate, nitrite, and [15N] nitrate in biological fluids. Anal Biochem 126:131–138. https://doi.org/10.1016/0003-2697(82)90118-X

Guo X, Wang WP, Ko JK, Cho CH (1999) Involvement of neutrophils and free radicals in the potentiating effects of passive cigarette smoking on inflammatory bowel disease in rats. Gastroenterology 117:884–892

Kazłowska K, Hsu T, Hou CC, Yang WC, Tsai GJ (2010) Anti-inflammatory properties of phenolic compounds and crude extract from Porphyra dentate. J Ethnophamacol 128:123–130. https://doi.org/10.1016/j.jep.2009.12.037

Kouakou K, Schepetkin IA, Yapi A (2013) Immunomodulatory activity of polysaccharides isolated from Alchornea cordifolia. J Ethnopharmacol 146:232–242. https://doi.org/10.1016/j.jep.2012.12.037

Mihara M, Uchiyama MA (1978) Determination of malonaldehyde precursor in tissues by thiobarbituric acid test. Anal Biochem 86:271–278. https://doi.org/10.1016/0003-2697(78)90342-1

Monteleone G, Caruso R, Pallone F (2014) Targets for new immunomodulation strategies in inflammatory bowel disease. Autoimmun Rev 13:11–14. https://doi.org/10.1016/j.autrev.2013.06.003

Morris GP, Beck PL, Herridge MS, Depew WT, Szewczuk MR, Wallace JL (1989) Hapten-induced model of chronic inflammation and ulceration in the rat colon. Gastroenterology 96:795–803

Moussa L, Bézirard V, Salvador-Cartier C, Bacquié V, Lencina C, Lévêque M, Braniste V, Ménard S, Théodorou V, Houdeau E (2012) A low dose of fermented soy germ alleviates gut barrier injury, hyperalgesia and faecal protease activity in a rat model of inflammatory bowel disease. PlosOne 7:e49547. https://doi.org/10.1371/journal.pone.0049547

Nishitani Y, Zhang L, Yoshida M, Azuma T, Kanazawa K, Hashimoto T, Mizuno M (2013) Intestinal anti-inflammatory activity of lentinan: influence on IL-8 and TNFR1 expression in intestinal epithelial cells. PlosOne 8:e62441. https://doi.org/10.1371/journal.pone.0062441

Pereira JG, Mesquita JX, Aragão KS, Franco AX, Souza MH, Brito TV, Dias JM, Silva RO, Medeiros JV, Oliveira JS, Abreu CM, de Paula RC, Barbosa AL, Freitas AL (2014) Polysaccharides isolated from Digenea simplex inhibit inflammatory and nociceptive responses. Carbohtdr Polym 108:17–25. https://doi.org/10.1016/j.carbpol.2014.01.105

Poza AM, Fernándezac C, Gauna MC, Parodia ER (2018) Biochemical properties and culture optimization of Leathesia marina (Phaeophyceae). Algal Res 33:379–388. https://doi.org/10.1016/j.algal.2018.06.015

Premanathan M, Radhakrishnan S, Kulangiappar K, Singaravelu G, Thirumalaiarasu V, Sivakumar T, Kathiresan K (2012) Antioxidant & anticancer activities of isatin (1H-indole-2, 3-dione), isolated from the flowers of Couroupita guianensis Aubl. Indian J Med Res 136:822–826

Rodrigues CL, Brito TV, Simião CJJ, Dias Júnior JG, Magalhãres DA, Sousa SG, Silva RO, Silva FRP, Vasconcelos DFP, Véras LMC, Leite JRSA, Martins DS, Martins CS, Oliveira JS, Barbosa ALDR (2018) Epiisopiloturine, an imidazole alkaloid, reverses inflammation and lipid peroxidation parameters in the Crohn disease model induced by trinitrobenzenosulfonic acid in Wistar rats. Biomed Pharmacother 102:278–285. https://doi.org/10.1016/j.biopha.2018.03.090

Rosenbaum JT, Boney RS (1991) Use of a soluble interleukin-1 receptor to inhibit ocular inflammation. Curr Eye Res 10:1137–1139. https://doi.org/10.3109/02713689109024131

Sedlak J, Lindsay RH (1968) Estimation of total, protein-bound, and nonprotein sulfhydryl groups in tissue with Ellman's reagent. Anal Biochem 25:192–205. https://doi.org/10.1016/0003-2697(68)90092-4

Sousa NA, Barros FCN, Araújo TSL, Costa DS, Souza LK, Sousa FB, Leódido AC, Pacífico DM, de Araújo S, Bezerra FF, Freitas AL, Medeiros JV (2016a) The efficacy of a sulphated polysaccharide fraction from Hypnea musciformis against diarrhea in rodents. Int J Biol Macromol 86:865–875. https://doi.org/10.1016/j.ijbiomac.2016.02.028

Sousa WM, Silva RO, Bezerra FF, Bingana RD, Barros FCN, Costa LEC, Sombra VG, Soares PMG, Feitosa JPA, de Paula RCM, Souza MHLP, Barbosa ALR, Freitas ALP (2016b) Sulfated polysaccharide fraction from marine algae Solieria filiformis: structural characterization, gastroprotective and antioxidant effects. Carbohydr Polym 152:140–148. https://doi.org/10.1016/j.carbpol.2016.06.111

Souza PO, Ferreira LR, Pires NRX, Filho PJS, Duarte FA, Pereira CMP, Mesko MF (2012) Algae of economic importance that accumulate cadmium and lead: a review. Rev Bras Farmacogn 22:825–837. https://doi.org/10.1590/S0102-695X2012005000076

Sternlicht MD, Werb Z (2001) How matrix metalloproteinases regulate cell behavior. Annu Rev Cell Dev Biol 17:463–516. https://doi.org/10.1146/annurev.cellbio.17.1.463

Takano R, Shiomoto K, Kamei K, Hara S, Hirase S (2003) Occurrence of carrageenan structure in an agar from the red seaweed Digenea simplex (Wulfen) C.Agardh (Rhodomelaceae, Ceramiales) with a short review of carrageenan–agarocolloid hybrid in the Florideophycidae. Bot Mar 46:142–150. https://doi.org/10.1515/BOT.2003.015

Tavares-Murta BM, de Resende AD, Cunha FQ, Murta EFC (2008) Local profile of cytokines and nitric oxide in patients with bacterial vaginosis and cervical intraepithelial neoplasia. Eur J Obstet Gynecol Reprod Biol 138:93–99. https://doi.org/10.1016/j.ejogrb.2007.06.015

Ueno H, Mori T, Fujinaga T (2011) Topical formulations and wound healing applications of chitosan. Adv Drug Deliv Rev 52:105–115. https://doi.org/10.1016/S0169-409X(01)00189-2

Vo TS, Kim SK (2013) Fucoidans as a natural bioactive ingredient for functional foods. J Funct Foods 5:16–27. https://doi.org/10.1016/j.jff.2012.08.007

Wang J, Zhang Q, Zhang Z, Li Z (2008) Antioxidant activity of sulfated polysaccharide fractions extracted from Laminaria japonica. Int J Biol Macromol 42:127–132. https://doi.org/10.1016/j.ijbiomac.2007.10.003

Wang S, Hu Y, Uzoejinwa BB, Cao B, He Z, Wang Q, Xu S (2017) Pyrolysis mechanisms of typical seaweed polysaccharides. J Anal Appl Pyrolisis 124:373–383. https://doi.org/10.1016/j.jaap.2016.12.005

Witaicenis A, Seito LN, Di Stasi LC (2010) Intestinal anti-inflammatory activity of esculetin and 4-methylesculetin in the trinitrobenzenesulphonic acid model of rat colitis. Chem Biol Interact 186:211–218. https://doi.org/10.1016/j.cbi.2010.03.045

Witaicenis A, Luchini AC, Hiruma-Lima CA, Felisbino SL, Garrido-Mesa N, Utrilla P, Gálvez J, Di Stasi LC (2012) Suppression of TNBS-induced colitis in rats by 4-methylesculetin, a natural coumarin: comparison with prednisolone and sulphasalazine. Chem Biol Interact 195:76–85. https://doi.org/10.1016/j.cbi.2011.11.004

Yamamoto-Furusho JK (2007) Innovative therapeutics for inflammatory bowel disease. World J Gastroenterol 13:1893–1896. https://doi.org/10.3748/wjg.v13.i13.1893
Acknowledgments
We thank the Federal University of Piauí for the support and structure provided.
Funding
The authors gratefully acknowledge the financial support from the National Counsel of Technological and Scientific Development (CNPq, Brazil) and Research Foundation from the State of Piauí (FAPEPI).
Ethics declarations
Conflict of Interest
The authors declare that they have no conflict of interest.
Ethics Approval
This research has been approved under no. 023/15 in 2015 by the Ethics Committee of the Federal University of Piauí, Brazil.
About this article
Cite this article
Monturil, H.P.H.R., de Brito, T.V., da Cruz Júnior, J.S. et al. Sulfated Polysaccharide from Digenea simplex Decreases Intestinal Inflammation in Rats. Rev. Bras. Farmacogn. 30, 388–396 (2020). https://doi.org/10.1007/s43450-020-00073-x
Received:

Accepted:

Published:

Issue Date:
Keywords
Colitis

Inflammation

Myeloperoxidase

Polysaccharide

Seaweed

Trinitrobenzene sulfonic acid