Abstract
Propolis is a natural, non-toxic resin produced by honey bees that has been used for hundreds of years for its biological activities, such as antimicrobial, anti-inflammatory, anesthetic, cytostatic, and cariostatic properties. Currently, it is used in food, pharmaceutical, and cosmetic industries. The aim of this work was to evaluate the antioxidant activity, sun protection factor, and photostability of different hydroalcoholic extracts of green propolis. All extracts prepared presented high absorption in the UVB region. The extract of 70% green propolis (high temperature) was incorporated into Gel Permulen TR-1. This new formulation presented a higher value of sun protection factor. Besides that, the formulation developed with Gel Permulen TR-1 and the hydroalcoholic extract of 70% green propolis (high temperature) showed good photostability and it was safe to be applied on the skin according the HET-CAM test. These results indicated the potential of hydroalcoholic extracts of 70% green propolis (high temperature) for use in sunscreen.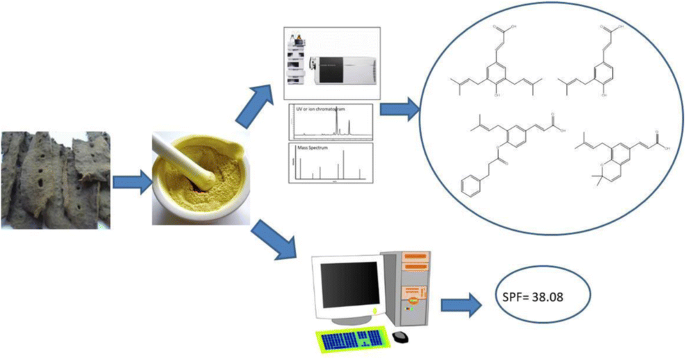 This is a preview of subscription content, log in to check access.
Access options
Buy single article
Instant access to the full article PDF.
US$ 39.95
Price includes VAT for USA
Subscribe to journal
Immediate online access to all issues from 2019. Subscription will auto renew annually.
US$ 100
This is the net price. Taxes to be calculated in checkout.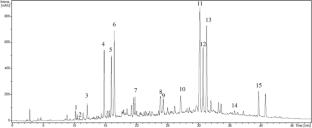 References
Abalaka ME, Adeyemo SO, Daniyan SY (2011) Evaluation of the antimicrobial potentials of leaf extracts of Khayasenegalensis. J Pharm Res Opinion 1(2):48–51

Arruda C, Ribeiro VP, Almeida MO, Mejia JAA, Casoti R, Bastos J (2020) Effect of light, oxygen and temperature on the stability of artepillin C and p-coumaric acid from Brazilian green própolis. J Pharm Biomed Anal 178:112922. https://doi.org/10.1016/j.jpba.2019.112922

Bonoli M, Verardo V, Marconi E, Caboni MF (2004) Antioxidant phenols in barley (Hordeum vulgare L.) flour: comparative spectrophotometric study among extraction methods of free and bound phenolic compounds. J Agric Food Chem 52:5195–5200. https://doi.org/10.1021/jf040075c

Borges EC, Da Silva LC, De Alencar SM, De Aguiar CL (2014) Caracterização química de extratos etanólicos de própolis com atividade inibitória do crescimento de estafilococos isolados de mastite bovina. Rev Bras Tecnol Agroindustr 8:1040–1153. https://doi.org/10.3895/S1981-36862014000100001

Castro ML, Do Nascimento AM, Ikegaki M, Costa-Neto M, Alencar SM, Rosalen PL (2009) Identification of a bioactive compound isolated from Brazilian propolis type 6. Bioorg Med Chem 17:5332–5335. https://doi.org/10.1016/j.bmc.2009.04.066

Chang C, Yang M, Wen H, Chern JC (2002) Estimation of total flavonoid content in propolis by two complementary colorimetric methods. J Food Drug Anal 10:178–182

Coelho J, Falcão SI, Vale N, Almeida-Muradian LB, Vilas-Boas M (2017) Phenolic composition and antioxidant activity assessment of southeastern and south Brazilian propolis. J Apic Res 56:21–31. https://doi.org/10.1080/00218839.2016.1277602

Almeida WAdaS, dos Santos A A, Penido RG, da G Correa HS, do Nascimento AM, Andrade AL, Santos VR, Cazati T, Amparo TR, De Souza GHB, Freitas KM, Dos Santos ODH, Sousa LRD, Dos Santos VMR (2019) Photoprotective activity and increase of SPF in sunscreen formulation using lyophilized red propolis extracts from Alagoas. Rev Bras Farmacogn 29:373–380. https://doi.org/10.1016/j.bjp.2019.02.003

Ghisalberti EL (1979) Propolis: a review. J Bee World 60:59–84. https://doi.org/10.1080/0005772X.1979.11097738

Gonçalves MC, Dos Santos VMR, Taylor JG, Perasoli FB, Dos Santos ODH, Rabelo ACS, Junior RJV, Costa DC, Cazati T (2019) Preparation and caractherization of a quercetin-tetraethyl ether-based photorptective nanoemulsion. Quim Nova 42:365–370. https://doi.org/10.21577/0100-4042.20170345

Gregoris E, Fabris S, Bertelle M, Grassato L, Stevanato R (2011) Propolis as potential cosmeceutical sunscreen agent for its combined photoprotective and antioxida properties. Int J Pharm 405:97–101. https://doi.org/10.1016/j.ijpharm.2010.11.052

Li X, Wu X, Huang L (2009) Correlation between antioxidant activities and phenolic contents of radix Angelicae sinensis (Danggui). Molecules 12:5349–5361. https://doi.org/10.3390/molecules14125349

Luepke NP (1985) Hen's egg chorioallantoic membrane test for irritation potential. Food Chem Toxicol 23:287–291. https://doi.org/10.1016/0278-6915(85)90030-4

Machado CS, Mokochinski JB, Lira TO, Oliveira FCE, Cardoso MV, Ferreira RG, Torres YR (2016) Comparative study of chemical composition and biological activity of yellow, green, brown, and red Brazilian propolis. Evid-Based Comp Altern Med. https://doi.org/10.1155/2016/6057650

Mansur JS, Breder MVR, Mansur MCA, Azulay RD (1986) Determinação do fator de proteção solar por espectrofotometria. An Bras Dermatol 61:121–124

Mansur MCPR, Leitão SG, Coutinho CC, Vermelho AB, Silva RS, Presgrave OAF, Leitão AC, Leitão GG, Junior ER, Santos EP (2016) In vitro and in vivo evaluation of efficacy and safety of photoprotective formulations containing antioxidant extracts. Rev Bras Farmacogn 26:251–258. https://doi.org/10.1016/j.bjp.2015.11.006

MAPA (2001) Instrução Normativa n.3, de 19 de janeiro de 2001. Regulamentos técnicos de identidade e qualidade de apitoxina, cera de abelha, geléia real, geléia real liofilizada, pólenapícola, própolis e extrato de própolis. Ministério da Agricultura Pecuária e do Abastecimento. Diário Oficial da União, Brasília, 23 Jan. 2001a. Seção I, 18-23

Nascimento CS, Nunes LCC, De Lima AAN, Junior SG, Neto PJR (2009) Incremento do FPS em formulação de protetor solar utilizando extratos de própolis verde e vermelha. Rev Bras Farm 90:334–339

Scherer R, Godoy HT (2009) Antioxidant activity index (AAI) by the 2,2-diphenyl-1-picrylhydrazyl method. Food Chem 112:654–658

Seibert JB, Bautista-Silva JP, Amparo TR, Petit A, Pervier P, Almeida JC, Azevedo MC, Silveira BM, Brandão GC, de Souza GHB, Teixeira LFM, Dos Santos ODH (2019) Development of propolis nanoemulsion with antioxidant and antimicrobial activity for use as a potential natural preservative. Food Chem 287:61–67. https://doi.org/10.1016/j.foodchem.2019.02.078

Sousa CMM, Silva HR, Vieira-Jr GM, Ayres MCC, Costa CLS, Araújo DS, Cavalcante LCD, Barros EDS, Araújo PBM, Brandão MS, Chaves MH (2007) Fenóis totais e atividade antioxidante de cinco plantas medicinais. Quim Nova 2:351–355. https://doi.org/10.1590/S0100-40422007000200021

Takshak S, Agrawal SB (2019) Defense potential of secondary metabolites in medicinal plants under UV-B stress. J Photochem Photobiol B 193:51–88. https://doi.org/10.1016/j.jphotobiol.2019.02.002
Acknowledgments
The authors would like to thank the Departamento de Química and Escola de Farmácia da Universidade Federal de Ouro Preto and Núcleo de Pesquisa de Produtos Naturais e Sintéticos da Universidade de São Paulo, Ribeirão Preto.
Funding
This study was financially supported by PROPP/UFOP (No. 23109.004080/2019-88).
Ethics declarations
Conflict of Interest
The authors declare that they have no conflict of interest.
Electronic Supplementary Material
About this article
Cite this article
Almeida, W.A.d., Sousa, L.R.D., dos Santos Antunes, A. et al. Green Propolis: In Vitro Photoprotective and Photostability Studies of Single and Incorporated Extracts in a Sunscreen Formulation. Rev. Bras. Farmacogn. 30, 436–443 (2020). https://doi.org/10.1007/s43450-020-00071-z
Received:

Accepted:

Published:

Issue Date:
Keywords
Extracts

Formulation

Sun protection factor

Photostability

Antioxidant activity

Phenolic