Abstract
Introduction
The aim of this study was to explore patients' knowledge and perspectives in Istanbul, Turkey about the pharmaceutical regulatory review and reimbursement processes with respect to patients' access to new medicines.
Methods
For the purpose of this study a tailored made paper-based questionnaire, Patient Perspective Questionnaire (PPQ), was developed and subsequently piloted in the target population. A total of 350 patients were recruited consecutively into the study from hospital outpatient clinics, general practice, community pharmacies, patient organisations in 28 different districts of Istanbul receiving treatment for chronic conditions. In addition, 22 patients were randomly selected from the cohort for face-to-face interviews in order to obtain further insights about the relevance of the PPQ, and to help with formalising a set of recommendations for the involvement of patients in both processes. Data processing and analyses were carried out using SPSS version 23 statistical software.
Results
Overall 210 (60% response rate) completed the PPQ (51% males) with the mean age of 56, median of 54 and range of 18–75. Most patients in this study (84%) seemed to know that medicines had to be approved by the government. However, 81% of patients were not aware of the regulatory review process with 73% being unaware of approval timelines. Furthermore, 78 (37%) patients described the Turkish approval process to be of a lower standard compared to that of the US and EU. However, 147 (70%) of patients believed that there are novel alternative medicines for their disease available in other developed countries. Similarly, 126 (60%) patients thought that new medicines only become available in Turkey after their availability in the other developed countries. In contrast, patients in this cohort were more aware of the reimbursement system in Turkey where the majority expressed their satisfaction and 34% described access to new medicines to be adequate. In addition, the majority of patients (75%) recognised that the government is the main payer, even though insufficient information is provided about new medicines. Patients stated that they do not have any role in the decision-making process for the approval or reimbursement of new medicines and therefore most of them indicated that they wish to be more involved in reimbursement (60%) as well as in the approval process (58%).
Discussion
Faster access to medicines, improved health and pharmaceutical care as well as lower prices were considered by the study patients as the improvement priorities. Further, they were able to offer academic collaboration and active patient involvement in both processes as possible solutions.
Access options
Buy single article
Instant access to the full article PDF.
US$ 39.95
Tax calculation will be finalised during checkout.
Subscribe to journal
Immediate online access to all issues from 2019. Subscription will auto renew annually.
US$ 119
Tax calculation will be finalised during checkout.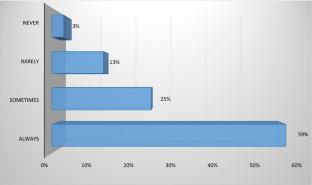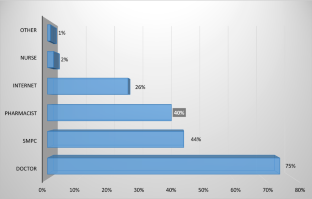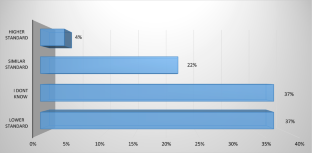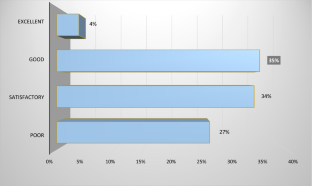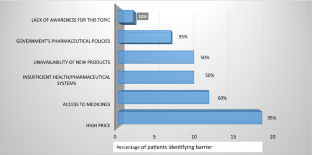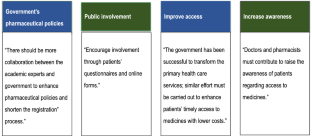 References
1.

Access to Medicine Foundation. Access to Medicine Index—Methodology Report 2015. www.accesstomedicineindex.org. Accessed 19 Feb 2019.

2.

European Federation of Pharmaceutical Industries and Associations. Ensuring patient access to innovative medicines. 2010. www.efpia.eu/topics/industryeconomy/access-to-medicines. Accessed 19 Feb 2019.

3.

Akadagi PD. Health Transformation Program in Turkey and Primary Health Care Services (2002–2008). Ankara: Republic of Turkey Ministry of Health; 2008.

4.

Tarmur S. Turkey Pharmaceutical Sector Vision 2023 Report. AIFD: Istanbul; 2011.

5.

World Health Organization. Promoting rational use of medicines: Core components. WHO Policy Perspectives on Medicine. 2002. Geneva: WHO.

6.

Maxwell S. Rational prescribing: The Principles of drug selection. Clin Med. 2009;9:481–5.

7.

Hoos A, Anderson J, Boutin M, et al. Partnering with patients in the development and lifecycle of medicines: A call for action. Ther Innov Reg Sci. 2015;49:1–11.

8.

The Organization for Economic Cooperation and Development. Health policies and data. 2015. https://www.oecd.org/health/health-systems/oecdhealth-statistics-2015-frequently-requested-data.htm. Accessed 19 Feb 2019.

9.

Health care activities: consultation with doctors (page 99–100). In: Health at a Glance - OECD indicators. OECD, 2015.

10.

Noordman J, van Dijk L, Friele R. Patient organisations and the reimbursement process for medicines: an exploratory study in eight European countries. BMC Health Serv Res. 2010;10(45):22.

11.

Ünal B, Ergör G, Dinç Horasan G, Kalaça S, Sözmen K. Chronic diseases and risk factors survey in Turkey. Ankara. 2013. https://sbu.saglik.gov.tr/ekutuphane/kitaplar/khrfai.pdf.

12.

Niles R. Survey sample sizes and margin of error. 2006. https://www.robertniles.com/stats/margin.html. Accessed 19 Feb 2019.

13.

Erikson E. Stages of social emotional development. https://childdevelopmentinfo.com/child-development/erickson/#.XQgJQY97mvI. Accessed 19 Feb 2019.

14.

Mashaki Ceyhan E. Thesis: Evaluation of the regulatory review system in Turkey and the development of a new model for improving the approval process. https://orca.cf.ac.uk/103274/1/2017emelmashakiphd.pdf. Accessed 19 Feb 2019.

15.

Verbakel N, Van Melle M, Langelaan M, Verheij T, Wagner C, Zwart D. Exploring patient safety culture in primary care. Int J Qual Health Care. 2014;26:585–91.

16.

Scott T, Mannion R, Davies H, Marshall M. The quantitative measurement of organizational culture in health care: A review of the available instruments. Health Serv Res. 2003;28:923–45.

17.

Anderson M, McCleary K. From passengers to co-pilots: Patient roles expand. Sci Transl Med. 2015;7:1–3.
Acknowledgements
The authors gratefully acknowledge the support of Evrim Yurtlu, Dr. İlhan Taşköprü, Ayşe Bağışgil, and Ramazan Seçkin.
Funding
This research did not receive any specific grant from funding agencies in the public, commercial, or not-for-profit sectors.
Ethics declarations
Conflict of interest
The authors declared no potential conflicts of interest with respect to the research, authorship, and/or publication of this article.
Additional information
Publisher's Note
Springer Nature remains neutral with regard to jurisdictional claims in published maps and institutional affiliations.
About this article
Cite this article
Mashaki Ceyhan, E., Walker, S. & Salek, S. Patients' Perspectives of the Pharmaceutical Regulatory and Reimbursement Systems in Istanbul, Turkey. Ther Innov Regul Sci 54, 1086–1096 (2020). https://doi.org/10.1007/s43441-020-00124-4
Received:

Accepted:

Published:

Issue Date:
Keywords
Turkish regulatory review

Reimbursement

Patients' access to medicines