Abstract
Background
Clinical research sites conduct trials with diverse complexities, timelines, and ever-changing workloads. Though the principal investigator (PI) is ultimately responsible for the content and conduct of trials, they rely heavily on site staff to successfully enroll and complete studies following good clinical practice (GCP) Guidelines. The mainstays of the site workforce are the clinical research coordinators (CRCs) to whom the trials are assigned. These CRCs work on many studies concurrently. Managing study assignments and workload is a difficult task that requires knowledge of the trial complexity, expected enrollment, and many other factors affecting performance.
Methods
Traditional methods for allocating workload to site staff quantitate trial complexity and estimate work hours by factoring in the number of trial participants. However, this does not account for the effects of associated workload or variability in staff attributes. It also neglects other factors that affect performance and assumes maximum enrollment and completion of the trial by all participants. This article introduces a novel approach that determines the effects of protocol complexity on CRC productivity without effort tracking. These metrics permit an assessment of how the CRC's performance is affected by the number of studies assigned.
Results
By understanding the effects of workload allocation on CRC productivity and capacity, the site manager can use an algorithmic approach toward improving performance. The process takes into account factors that are both within and outside the control of the site manager.
Conclusion
Sites may benefit from analytics that measures how CRCs adapt to the effects of study complexity on cumulative workloads over time. Optimizing productivity also means conforming to GCP Guidelines and avoiding staff burnout. As studies become increasingly difficult, site managers need tools to manage complexity and balance workloads among staff.
Access options
Buy single article
Instant access to the full article PDF.
US$ 39.95
Tax calculation will be finalised during checkout.
Subscribe to journal
Immediate online access to all issues from 2019. Subscription will auto renew annually.
US$ 119
Tax calculation will be finalised during checkout.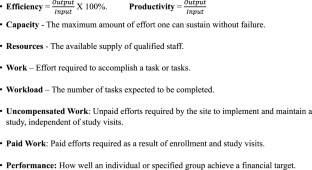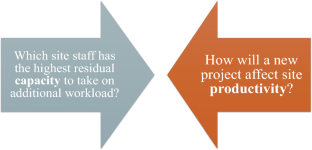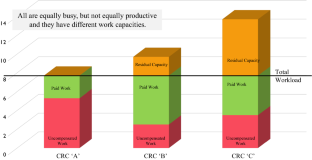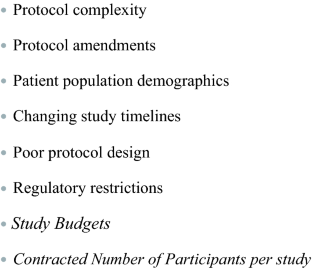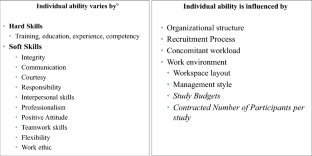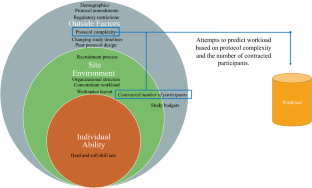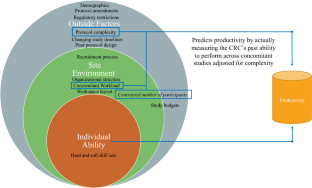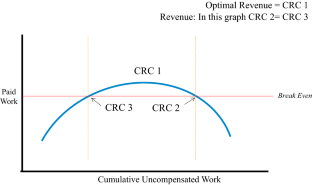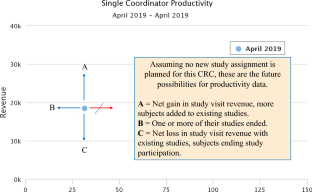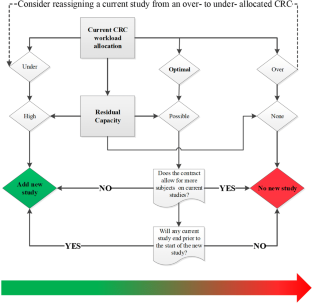 References
1.

International Council of Harmonization (ICH) E6 (R2). Guideline for Good Clinical Practice, Section 4.2.

2.

Patent Pending: Quantified Efficiency Methodology, Morin, David Joseph.

3.

Productivity and Productivity Calculations for Business. Published 17 Apr 2015. http://www.shmula.com/process-measures-productivity-and-productivity/319/.

4.

Rawat GG, Gupta A, Juneja C. Productivity measurement of manufacturing system. Mater Today Proc. 2018;5(1):1483–9.

5.

James P, et al. Effort tracking metrics provide data for optimal budgeting and workload management in therapeutic cancer clinical trials. J Natl Compr Cancer Netw (JNCCN). 2011;9(12):1343–52.

6.

Hartigan M, Doyle K. Effort tracking—is it worth the effort? In: Paper presented at PMI® Global Congress 2007—EMEA, Budapest Hungary, Newtown Square: Project Management Institute.

7.

Morin DJ. Use of proxy variables to determine the impact of protocol complexity on productivity. Ther Innov Regul Sci. 2018;53(1):52–58. Republished 1 Jan 2019.

8.

Morin DJ, Gilbert K. Determining optimal performance at the clinical research site using the Tool for Operational Protocol Scoring (TOPS©). Clin Res. 2015;June:52–57 for reprints contact: david.morin@siteoptex.com. (TOPS©) copyright by Karen L. Gilbert.

9.

Robles Marcel M. Executive perceptions of the top 10 skills needed in today's workplace. Bus Commun Q. 2012;75(4):453–65.

10.

Riess H. The science of empathy. J Patient Exp. 2017;4(2):74–7.

11.

Gwede CK, Johnsson DJ, Roberts C, Cantor AB. Burnout in clinical research coordinators in the United States. Oncol Nurs Forum. 2005;32(6):1123–30.
Funding
No financial support for the research, authorship, and publication of this article was declared.
Special Note
This article does not address the performance issue regarding having a CRC who is optimally allocated but is not productive. That scenario is the subject of future article exploring the root cause of failure.
Ethics declarations
Declaration of Conflicting Interests
The author is the Founder, CEO, and principal owner of Trike®, LLC, developer of SiteOptex® Software, Quantified Efficiency Methodology, Patent Pending.
Additional information
Publisher's Note
Springer Nature remains neutral with regard to jurisdictional claims in published maps and institutional affiliations.
About this article
Cite this article
Morin, D.J. Harmonizing Protocol Complexity with Resource Management and Capacity Planning at Clinical Research Sites. Ther Innov Regul Sci 54, 978–987 (2020). https://doi.org/10.1007/s43441-020-00120-8
Received:

Accepted:

Published:

Issue Date:
Keywords
Complexity

Workload

Capacity

Productivity

Resources