Abstract
Adverse drug reaction (ADR) relief system in Japan is comprehensively described in this article. Particularly, review process during ADR relief evaluation is focused from clinical perspective. The significance of clinical review process and roles of a physician medical reviewer in the ADR relief system in Japan are also discussed. The current ADR Relief Service in Japan requires criteria for compensation eligibility including the "proper" use of the medication associated with the adverse event, and reasonably plausible association between the drug and the adverse event. The criteria are primarily reviewed at the ADR relief department of Pharmaceuticals and Medical Devices Agency (PMDA). In this article, after introducing framework of the ADR relief system in Japan including review processes at PMDA, actual process of the ADR relief assessment is described. In more details, we explain appropriate indication and appropriate usage in the ADR relief evaluation and unexpected/unwritten ADR in the Japanese package insert. Also described are time period for the payment, causality assessment between ADRs and the death, and pitfalls during the evaluation of the ADR relief system in Japan. In the last part, current issues and future directions are referred.
This is a preview of subscription content, log in to check access.
Access options
Buy single article
Instant access to the full article PDF.
US$ 39.95
Price includes VAT for USA
Subscribe to journal
Immediate online access to all issues from 2019. Subscription will auto renew annually.
US$ 189
This is the net price. Taxes to be calculated in checkout.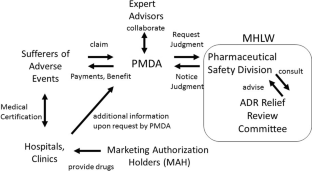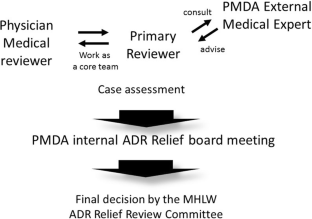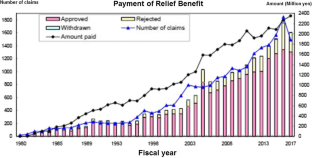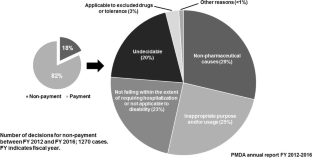 Acknowledgments
The authors would like to thank all the staff members in the ADR Relief Department.
Ethics declarations
Conflict of interest
The authors have no conflicts of interest to declare.
Additional information
Publisher's Note
Springer Nature remains neutral with regard to jurisdictional claims in published maps and institutional affiliations.
About this article
Cite this article
Watanabe, M., Nishikawa, H., Miyasaka, N. et al. Adverse Drug Reaction Relief System in Japan: From Clinical Perspective. Ther Innov Regul Sci 54, 731–737 (2020). https://doi.org/10.1007/s43441-019-00003-7
Received:

Accepted:

Published:

Issue Date:
Keywords
ADR relief system

ADR causality assessment

Physician medical reviewer

Pharmaceuticals and Medical Devices Agency

ADR relief department