Abstract
To balance the output stability and maximum efficiency of a system, an efficiency optimization method based on adaptive frequency control is proposed. In this paper, load transmission is carried out using a DC–DC converter at the receiving end. When the load changes, controlling the rectified output voltage is carried out to realize the maximum efficiency point tracking. Meanwhile, the duty cycle of the rear stage DC–DC converter is changed to keep the output voltage constant. The sampled rectified voltage is compared with the estimated value and the resulting error data are sent to the system transmitter through ASK modulation wireless communication. Then the transmitter demodulation communication information through PID algorithm control is used to achieve the frequency of the adaptive adjustment. The feasibility of the proposed method has been verified by the simulation and experimental results. When the output voltage is 5 V, the constant voltage accuracy is within ± 1%, the maximum efficiency is up to 79.2%, and the dynamic response time is only 160 ms.
This is a preview of subscription content, log in to check access.
Access options
Buy single article
Instant access to the full article PDF.
US$ 39.95
Price includes VAT for USA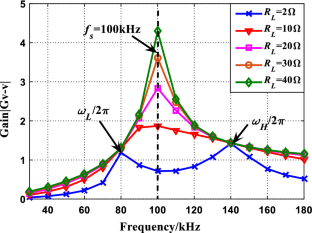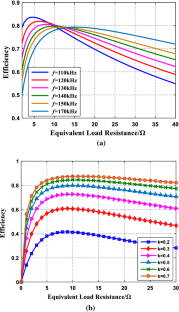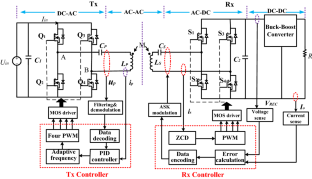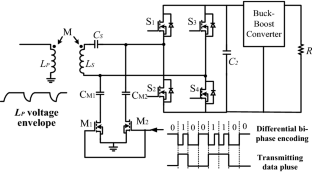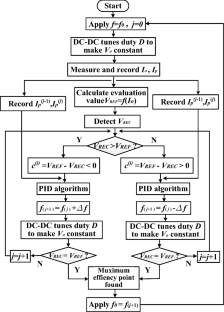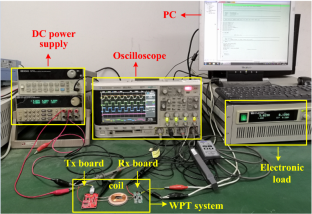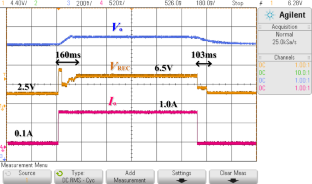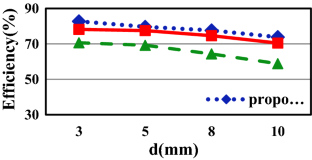 References
1.

Berger, A., et al.: A wireless charging system applying phase shift and amplitude control to maximize efficiency and extractable power. IEEE Trans Power Electron 30(11), 6338–6348 (2015)

2.

Li, H., et al.: A maximum efficiency point tracking control scheme for wireless power transfer systems using magnetic resonant coupling. IEEE Trans Power Electron 30(7), 3998–4008 (2015)

3.

Patil, D., Sirico, M., Gu, L., Fahimi, B.: Maximum efficiency tracking in wireless power transfer for battery charger: phase shift and frequency control 2016. IEEE Energy Conversion Congress and Exposition(ECCE) Milwaukee, WI, pp 1–8 (2016)

4.

Fu, M., Yin, H., Zhu, X., Ma, C.: Analysis and tracking of optimal load in wireless power transfer systems. IEEE Trans Power Electron 30(7), 3952–3963 (2015)

5.

Zhong, W.X., Hui, S.Y.R.: Maximum energy efficiency tracking for wireless power transfer systems. IEEE Trans Power Electron 30(7), 4025–4034 (2015)

6.

Ahn, D., Kim, S., Moon, J., Cho, I.K.: Wireless power transfer with automatic feedback control of load resistance transformation. IEEE Trans Power Electron 31(11), 7876–7886 (2016)

7.

Yeo, T.-D., Kwon, D.-S., Khang, S.-T., Yu, J.-W.: Design of maximum efficiency tracking control scheme for closed loop wireless power charging system employing series resonant tank. IEEE Trans Power Electron 32(1), 471–478 (2017)

8.

Zhang, Y.: Radio frequency power source design for wireless power transfer system 2018. IEEE Wireless Power Transfer Conference (WPTC), Montreal, QC, Canada, pp 1–4. https://doi.org/10.1109/WPT.2018.8639140

9.

Chen-yang, X., Chao-wei, L., Juan, Z.: Analysis of power transfer characteristic of capacitive power transfer system and inductively coupled power transfer system 2011. International Conference on Mechatronic Science, Electric Engineering and Computer (MEC), Jilin, pp 1281–1285. https://doi.org/10.1109/MEC.2011.6025703
About this article
Cite this article
Wu, Q., Wang, L., Ju, D. et al. Design of efficient optimized wireless power transfer system. J. Power Electron. (2020). https://doi.org/10.1007/s43236-020-00103-w
Received:

Revised:

Accepted:

Published:
Keywords
Adaptive frequency control

Maximum efficiency point tracking (MEPT)

DC–DC converter

Wireless power transfer (WPT)