Zusammenfassung
Die Kasuistik beschreibt den Fall eines 44 Jahre alten männlichen Patienten mit chronischer VKB-Insuffizienz (VKB: vorderes Kreuzband), welcher an Schmerzen und einem Extensionsdefizit litt. Die Bildgebung zeigte eine posterolateral betonte Gonarthrose sowie einen stark erhöhten posterioren tibialen Slope von 22°. Nach Arthroskopie und Durchführung einer infratuberositär schließenden Osteotomie der Tibia konnte das Extensionsdefizit behoben und die Schmerzen reduziert werden.
Abstract
This article describes the case of a 44-year-old man with chronic anterior cruciate ligament insufficiency, who suffered from pain and an extension deficit. Radiologic imaging showed posterolateral tibial osteoarthritis and an increased posterior tibial slope of 22°. After arthroscopy and an anterior closing wedge osteotomy, the extension deficit and pain were reduced.
This is a preview of subscription content, log in to check access.
Access options
Buy single article
Instant access to the full article PDF.
US$ 39.95
Price includes VAT for USA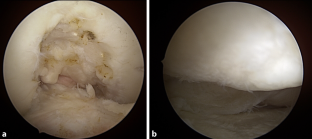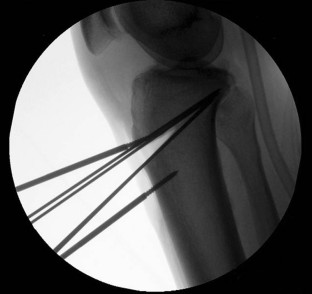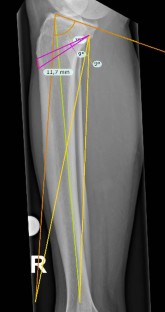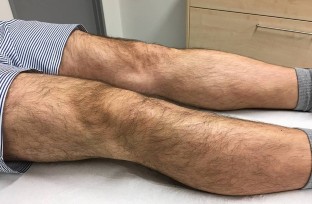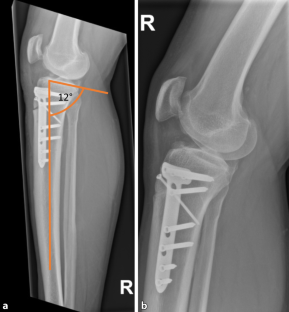 Literatur
1.

Agneskirchner JD, Hurschler C, Stukenborg-Colsman C et al (2004) Effect of high tibial flexion osteotomy on cartilage pressure and joint kinematics: a biomechanical study in human cadaveric knees. Winner of the AGA-DonJoy Award 2004. Arch Orthop Trauma Surg 124:575–584

2.

Brandon ML, Haynes PT, Bonamo JR et al (2006) The association between posterior-inferior tibial slope and anterior cruciate ligament insufficiency. Arthroscopy 22:894–899

3.

Haddad B, Konan S, Mannan K et al (2012) Evaluation of the posterior tibial slope on MR images in different population groups using the tibial proximal anatomical axis. Acta Orthop Belg 78:757–763

4.

Hees T, Petersen W (2018) Anterior closing-wedge osteotomy for posterior slope correction. Arthrosc Tech 7:e1079–e1087

5.

Kim SE, Pozzi A, Kowaleski MP et al (2008) Tibial osteotomies for cranial cruciate ligament insufficiency in dogs. Vet Surg 37:111–125

6.

Petersen W, Hees T, Harrer J (2019) Korrektur knöcherner Deformitäten bei vorderer Instabilität: "Slope" und "Varus thrust". Knie J 1:7–16

7.

Rahnemai-Azar AA, Abebe ES, Johnson P et al (2017) Increased lateral tibial slope predicts high-grade rotatory knee laxity pre-operatively in ACL reconstruction. Knee Surg Sports Traumatol Arthrosc 25:1170–1176

8.

Rodner CM, Adams DJ, Diaz-Doran V et al (2006) Medial opening wedge tibial osteotomy and the sagittal plane: the effect of increasing tibial slope on tibiofemoral contact pressure. Am J Sports Med 34:1431–1441

9.

Shelburne KB, Kim HJ, Sterett WI et al (2011) Effect of posterior tibial slope on knee biomechanics during functional activity. J Orthop Res 29:223–231
Ethics declarations
Interessenkonflikt
A. Deichsel, E. Herbst, M. Raschke, T. Briese, J. Glasbrenner, C. Domnick und C. Kittl geben an, dass kein Interessenkonflikt besteht.
Für diesen Beitrag wurden von den Autoren keine Studien an Menschen oder Tieren durchgeführt. Für die aufgeführten Studien gelten die jeweils dort angegebenen ethischen Richtlinien. Für Bildmaterial oder anderweitige Angaben innerhalb des Manuskripts, über die Patienten zu identifizieren sind, liegt von ihnen und/oder ihren gesetzlichen Vertretern eine schriftliche Einwilligung vor.
Additional information
Redaktion
T. Diermeier, München
S. Hinterwimmer, München
About this article
Cite this article
Deichsel, A., Herbst, E., Raschke, M. et al. Korrektur eines erhöhten posterioren tibialen Slope bei einem Patienten mit chronischer Insuffizienz des vorderen Kreuzbandes. Knie J. (2020). https://doi.org/10.1007/s43205-020-00064-x
Schlüsselwörter
Instabilität

Anteriore Tibiale Translation

Vorderes Kreuzband

Arthroskopie

Posteriorer tibialer Slope

Osteotomie

Hohe Tibiaosteotomie
Keywords
Instability

Anterior tibial translation

Anterior cruciate ligament

Arthroscopy

Posterior tibial slope

Osteotomy

High tibial osteotomy