Abstract
Solanum aethiopicum is used in ethnomedicine for the treatment of overweight, constipation and anaemia. This study evaluated the ameliorative effect of aqueous leaf extract of S. aethiopicum on phenylhydrazine-induced anaemia in rats. Acute toxicity was determined in male and female rats (n = 5/group/sex) by oral administration of single dose of up to 5000 mg/kg of the S. aethiopicum extract. The experimental rats were randomly grouped into five (5) groups of 6 rats each. Group (i) served as normal control, group (ii) negative control, group (iii) standard drug-5 mg/kg ferrous sulphate, groups (iv) and (v), 200 and 400 mg/kg of S. aethiopicum extract respectively. Phenylhydrazine (PHZ) was administered intraperitoneally at the dose of 50 mg/kg body weight for two consecutive days to groups (ii–v). After 14 days, the rats were sacrificed; blood, liver and kidney were collected. The haematological, lipid profile, liver and kidney function parameters were determined and the histopathology of the liver and kidney were examined. In acute toxicity study, no signs of toxicity or death were recorded. The study shows an observable significant (P < 0.05) increase in packed cell volume, haemoglobin and red blood cell counts at 400 mg/kg S. aethiopicum extract in both the male and female rats when compared to other groups. Solanum aethiopicum extract at the dose of 400 mg/kg reduced aspartate aminotransferase (AST), alanine transaminase (ALT), alkaline phosphatase (ALP), urea, creatinine and chloride. The results of this study lent credence to the use of S. aethiopicum leaf as an anti-anaemic tonic with a wide margin of safety and hepato/reno-protective potentials.
This is a preview of subscription content, log in to check access.
Access options
Buy single article
Instant access to the full article PDF.
US$ 39.95
Tax calculation will be finalised during checkout.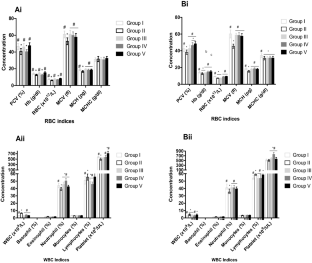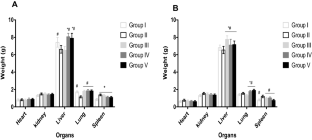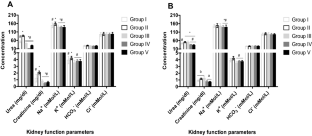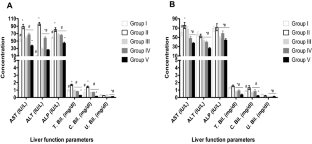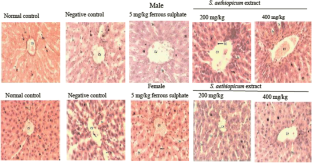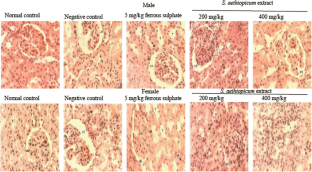 References
1.

Petrovska BB (2012) Historical review of medicinal plants' usage. Pharmacogn Rev 6:1

2.

Sushruta K, Satyanarayana S, Srinivas S, Sekhar JR (2006) Evaluation of the blood-glucose reducing effects of aqueous extracts of the selected umbelliferous fruits used in culinary practices. Trop J Pharm Res 5:613–617

3.

Fasuyi AO (2006) Nutritional potentials of some tropical vegetable leaf meals. Chemical characterization and functional properties. Afr J Biotechnol 5:49–53

4.

Kumar A, Iavarasan RI, Jayachandran T, Decaraman M, Aravindhan P, Padmanabhan N, Krishnan MRV (2009) Investigation on a tropical plant Syzygium cumini from Kattuppalayam, Erode District, Tamil Nadu, South India. Pak J Nutr 8:83–85

5.

Edeoga HO, Okwu DE, Mbaebie BO (2005) Phytochemical constituents of some Nigeria medicinal plants. Afr J Biotechnol 4:685–688

6.

Ugbogu AE, Akubugwo EI, Ude VC, Gilbert J, Ekeanyanwu B (2019) Toxicological evaluation of phytochemical characterized aqueous extract of wild dried Lentinus squarrosulus (Mont.) mushroom in rats. Toxicol Res 35:181–190

7.

Kanfer EJ, Nicol BA (1997) Haemoglobin concentration and erythrocyte sedimentation rate in primary care patients. J R Soc Med 90:16–18

8.

WHO (2017) The Global Prevalence of Anaemia in 2011. World Health Organization, Geneva, p 2015

9.

McLean E, Cogswell M, Egli I, Wojdyla D, de Benoist B (1993) Worldwide prevalence of anaemia, WHO vitamin and mineral nutrition information system, 1993–2005. Public Health Nutr 12:444–454

10.

WHO (2008) Worldwide prevalence of anaemia 1993–2005: WHO global database on anaemia

11.

Crawley J (2004) Reducing the burden of anemia in infants and young children in malaria-endemic countries of Africa: from evidence to action. Am J Trop Med Hyg 71:25–34

12.

de Benoist B, McLean E, Egli I, Cogswell M (2008) Worldwide prevalence of anaemia 1993–2005—WHO Global Database on Anaemia. WHO-CDC 2008:48

13.

Berger J (2007) Phenylhydrazine haematotoxicity. J Appl Biomed 5:125–130

14.

Lee HW, Kim H, Ryuk JA, Kil KJ, Ko BS (2014) Hemopoietic effect of extracts from constituent herbal medicines of Samul-tang on phenylhydrazine-induced hemolytic anemia in rats. Int J Clin Exp Pathol 7:6179

15.

Siraki AG, Klotz LO, Kehrer JP (2018) Free radicals and reactive oxygen species. Compr Toxicol 1:262–294

16.

Anosike CA, Abonyi O, Ubaka C (2011) Does the African garden egg offer protection against experimentally induced ulcers? Asian Pac J Trop Med 4:163–166

17.

Oboh G, Ekperigin MM, Kazeem MI (2005) Nutritional and haemolytic properties of eggplants (Solanum macrocarpon) leaves. J Food Compos Anal 18:153–160

18.

Komlaga G, Sam GH, Dickson RA, Mensah MLK, Fleischer TC (2014) Pharmacognostic studies and antioxidant properties of the leaves of Solanum macrocarpon. J Pharm Sci Res 6:1–4

19.

Anosike CA, Obidoa O, Ezeanyika LU (2012) The anti-inflammatory activity of garden egg (Solanum aethiopicum) on egg albumin-induced oedema and granuloma tissue formation in rats. Asian Pac J Trop Med 5:62–66

20.

Edijala JK, Asagba SO, Eriyamremu GE, Atomatofa U (2005) Comparative effect of garden egg fruit, oat and apple on serum lipid profile in rats fed a high cholesterol diet. Pak J Nutr 4:245–249

21.

Harizal SN, Mansor SM, Hasnan J, Tharakan JKJ, Abdullah J (2010) Acute toxicity study of the standardized methanolic extract of Mitragyna speciosa Korth in rodent. J Ethnopharmacol 131:404–409

22.

Nurul SAS, Hazilawati H, Mohd RS, Mohd FHR, Noordin MM, Norhaizan E (2018) Subacute oral toxicity assessment of ethanol extract of Mariposa christia vespertilionis leaves in male Sprague Dawley rats. Toxicol. Res. 34:85–95

23.

National Research Council (NRC) (2010) Guide for the care and use of laboratory animals. National Academies Press, Washington

24.

Organization for economic cooperation and development (OECD) (2001) Guideline 423: acute oral toxicity—acute toxic class method. 470 adopted by the council on 17th, December 2001

25.

Roque M, Danna C, Gatti C, Veuthey T (2008) Hematological and morphological analysis of the erythropoietic regenerative response in phenylhydrazine-induced hemolytic anemia in mice. Scand J Lab Anim Sci 35:181–190

26.

Organization for economic cooperation and development (OECD) (1995) Guideline 407: repeated-dose 28-day oral toxicity study in rodents. 468 adopted by the council on 27th, July 1995

27.

Bain BJ, Bates I, Laffan MA (2016) Dacie and Lewis practical haematology. Elsevier, Amsterdam

28.

Seneff S, Wainwright G, Mascitelli L (2011) Nutrition and Alzheimer's disease: the detrimental role of a high carbohydrate diet. Eur J Int Med 22:134–140

29.

Michałowicz J, Duda W (2007) Phenols–sources and toxicity. Pol J Environ Stud 16:347–362

30.

Pandey S, Ganeshpurkar A, Bansal D, Dubey N (2016) Hematopoietic effect of Amaranthus cruentus extract on phenylhydrazine-induced toxicity in rats. J Diet Suppl 13:607–615

31.

Olajire AA, Azeez L (2012) Effects of Solanum macrocarpon (African eggplant) on haematological parameters of Wistar rats exposed to urban air pollution. Adv Environ Res 1:109–123

32.

Aduwamai UH, Abimbola MM, Ahmed ZH (2018) Effect of Solanum nigrum methanol leaf extract on phenylhydrazine induced anemia in rats. Jordan J Biol Sci 11:65–71

33.

Fukushima T, Horike H, Fujiki S, Kitada S, Sasaki T, Kashihara N (2009) Zinc deficiency anemia and effects of zinc therapy in maintenance hemodialysis patients. Ther Apher Dial 13:213–219

34.

Han CT, Kim MJ, Moon SH, Jeon YR, Hwang JS, Nam C, Park CW, Lee SH, Na JB, Park CS, Park HW, Lee JM, Jang HS, Park SH, Han KG, Choi YW, Lee HY, Kang JK (2015) Acute and 28-day subacute toxicity studies of hexane extracts of the roots of Lithospermum erythrorhizon in Sprague–Dawley rats. Toxicol Res 31:403–414

35.

Onyeabo C, Achi NK, Ekeleme-Egedigwe CA, Ebere CU, Okoro CK (2017) Haematological and biochemical studies on Justicia carnea leaves extract in phenylhydrazine induced-anemia in albino rats. Acta Sci Pol Technol Aliment 16:217–230

36.

Dornfest BS, Lapin DM, Naughton BA, Adu S, Korn L, Gordon AS (1986) Phenylhydrazine-induced leukocytosis in the rat. J Leukoc Biol 39:37–48

37.

Asare GA, Gyan B, Bugyei K, Adjei S, Mahama R, Addo P, Otu-Nyarko L, Wiredu E, Knyarko A (2012) Toxicity potentials of the nutraceutical Moringa oleifera at supra-supplementation levels. J Ethnopharmacol 139:265–272

38.

Teo S, Stirling D, Thomas S, Hoberman A, Kiorpes A, Khetani V (2002) A 90-day oral gavage toxicity study of d-methylphenidate and d, l-methylphenidate in Sprague–Dawley rats. Toxicology 179:183–196

39.

Michael B, Yano B, Sellers RS, Perry R, Morton D, Roome N, Johnson JK, Schafer K (2007) Evaluation of organ weights for rodent and non-rodent toxicity studies: a review of regulatory guidelines and a survey of current practices. Toxicol Pathol 35:742–750

40.

Ugbogu EA, Akubugwo EI, Ude VC, Emmanuel O, Nduka OO, Ibeh C, Onyero O (2019) Safety evaluation of aqueous extract of Termitomyces robustus (Agaricomycetes) in Wistar rats. Int J Med Mushroom 21:193–201

41.

Enechi OC, Ozougwu VEO (2014) Effects of ethanol extract of Mucuna pruriens leaves on the lipid profile and serum electrolytes of rats. J Pharm Biol Sci 9:18–23

42.

Bagdade JD, Helve E, Taskinen MR (1991) Effects of continuous insulin infusion therapy on lipoprotein surface and core lipid composition in insulin-dependent diabetes mellitus. Metabolism 40:445–449

43.

Gaamoussi F, Israili ZH, Lyoussi B (2010) Hypoglycemic and hypolipidemic effects of an aqueous extract of Chamaerops humilis leaves in obese, hyperglycemic and hyperlipidemic Meriones shawi rats. Pak J Pharm Sci 23:212–219

44.

Sharmila BG, Kumar G, Rajasekara PM (2007) Cholesterol lowering activity of the aqueous fruit extract of Trichosanthes dioica Roxb. in normal and streptozotocin diabetic rats. J Clin Diagn Res 1:561–569

45.

Wong JM, De Souza R, Kendall CW, Emam A, Jenkins DJ (2006) Colonic health: fermentation and short chain fatty acids. J Clin Gastroenterol 40:235–243

46.

Ogunka-Nnoka CU, Onyegeme-Okerenta BM, Omeje HC (2018) Effects of ethanol extract of S. aethiopicum stalks on lipid profile and haematological parameters of Wistar albino rats. Int J Sci Res Methods Hum 10:215–229

47.

Olson H, Betton G, Robinson D, Thomas K, Monro A, Kolaja G, Lilly P, Sanders J, Sipes G, Bracken W, Dorato M (2000) Concordance of the toxicity of pharmaceuticals in humans and in animals. Regul Toxicol Pharmacol 32:56–67

48.

Kong BH, Tan NH, Fung SY, Pailoor J (2016) Sub-acute toxicity study of tiger milk mushroom Lignosus tigris Chon S. Tan Cultivar E. sclerotium in Sprague Dawley rats. Front Pharmacol 7:246

49.

Adeyemi OT, Osilesi O, Adebawo OO, Onajobi FD, Oyedemi SO, Afolayan AJ (2015) Alkaline phosphatase (ALP), aspartate aminotransferase (AST) and alanine aminotransferase (ALT) activities in selected tissues of rats fed on processed atlantic horse mackerel (Trachurus trachurus). Adv Biosci Biotechnol 6:139

50.

Kawada N, Seki S, Inoue M, Kuroki T (1998) Effect of antioxidants, resveratrol, quercetin, and N-acetylcysteine, on the functions of cultured rat hepatic stellate cells and Kupffer cells. Hepatology 27:1265–1274
Ethics declarations
Conflict of interest
Authors declare that they have no conflict of interest and that they are responsible for the manuscript content.
About this article
Cite this article
Ekweogu, C.N., Ude, V.C., Nwankpa, P. et al. Ameliorative effect of aqueous leaf extract of Solanum aethiopicum on phenylhydrazine-induced anaemia and toxicity in rats. Toxicol Res. 36, 227–238 (2020). https://doi.org/10.1007/s43188-019-00021-5
Received:

Revised:

Accepted:

Published:

Issue Date:
Keywords
Solanum aethiopicum

Toxicity

Anaemia

Liver and kidney

Haematology