Abstract
The Quaternary period played a vital role in the creation of new ecological and vegetation zones, which shaped the diversification and distribution of species. The present study aimed to document, for the first time, phylogeography of three reported subspecies/populations of swamp deer, Rucervus duvaucelii duvaucelii (northern), R. d. ranjitsinhi (eastern) and R. d. branderi (central), using a fragment of the mitochondrial cyt b gene and the Y chromosome DBY-7. Inferred phylogenetic relationships revealed the presence of three genetically distinct lineages using both historic and contemporary samples. Sequence divergence between the northern and eastern populations was less (1.5%) than between the northern and central populations (1.8%). Molecular dating based on the cyt b gene suggests that swamp deer split into two (northern-eastern and central) major clades from the common ancestor before 1.3 Million years ago. Demography based on Bayesian skyline plot suggested a slight decline in one population (R. d. duvaucelii) but a stable population size in the other two populations (R. d. ranjitsinhi and R. d. branderi). The observed shallow split of the northern population into the Jhilmil Tal Wildlife Conservation Reserve and Dudhwa National Park subpopulations may have been due to extreme climatic fluctuations during the Quaternary period (Holocene) and the subsequent increased human footprint. We also review and discuss the significance of past climatic and vegetation changes due to human settlement and of paleoenvironmental and biogeographic events that may have facilitated the diversification and distribution of habitat-specific swamp deer into small patches across the Indian subcontinent and of the congeneric species, R. schomburgki, from the southeastern area in Thailand with related conservation implications.
Access options
Buy single article
Instant access to the full article PDF.
US$ 39.95
Tax calculation will be finalised during checkout.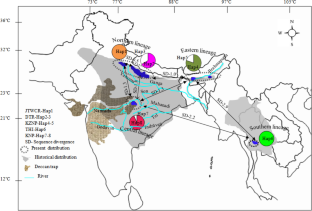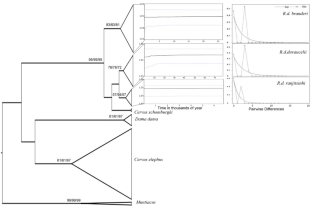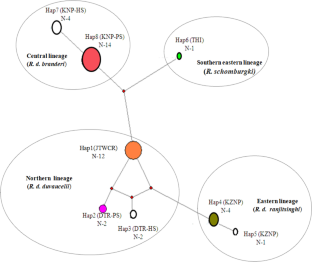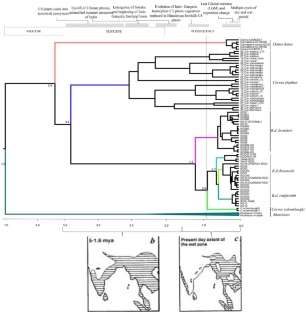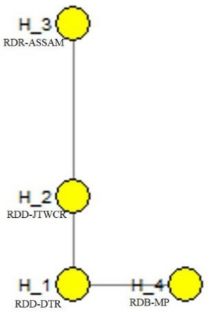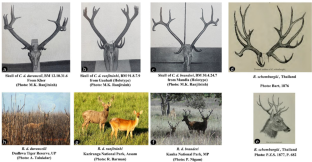 Availability of data and material
All required information is available within the manuscript. Sequence data submitted to GenBank (CYTB–MW279546-MW279582; DBY7–MW263300-MW263303).
References
Balakrishnan NC, Monfort SL, Gaur A, Singh L, Sorenson MD (2003) Phylogeography and conservation genetics of Eld's deer (Cervus eldi). Mol Ecol 12:1–10

Bart SVFZS (1876) On Cervus schomburgki (Blyth). Proc Sci Meet Zool Soc Lond 44(1):304–308. https://doi.org/10.1111/j.1096-3642.1876.tb02568.x

Berger A (1984) Accuracy and frequency stability of the Earth's orbital elements during the Quaternary. In: Berger A, Imbrie J, Hays JGK, Saltzmann B (eds) Milankovitch and climate, part 1. Reidel, Dordrecht

Blanford WT (1880) The Fauna of British India including Ceylon and Burma, Mammalia. Taylor & Francis, London

Blinkhorn J, Parker AG, Ditchfield P, Haslam M, Petraglia M (2012) Uncovering a landscape buried by the super-eruption of Toba, 74,000 years ago: a multi-proxy environmental reconstruction of landscape heterogeneity in the Jurreru Valley, south India. Quat Int 258:135–147

Bouckaert R, Heled J, Khnert D, Vaughan T, Wu CH, Xie D, Suchard MA, Rambaut A, Drummond AJ (2014) BEAST 2: a software platform for bayesian evolutionary analysis. PLoS Comput Biol 10:1–6

Brown WM, Matthew George J, Wilson AC (1979) Rapid evolution of animal mitochondrial DNA. Proc Natl Acad Sci USA 76:1967–1971

Cerling TE, Ehleringer JR, Harris JM (1998) Carbon dioxide starvation, the development of C4 ecosystems, and mammalian evolution. Philos Trans R Soc Lond B Biol Sci 353:159–170

Chan Y-C, Roos C, Inoue-Murayama M, Inoue E, Shih C-C, Vigilant L (2012) A comparative analysis of Y chromosome and mtDNA phylogenies of the Hylobates gibbons. BMC Evol Biol 12:150

Choudhury A (1997) Checklist of the mammals of Assam, 2nd edn. Gibbon Books & Assam Science Technology & Environment Council, Guwahati

Choudhury A (2003) The mammals of Arunachal Pradesh. Regency Publications, New Delhi

Choudhury A (2004) Kaziranga: wildlife in Assam. Rupa & Co., New Delhi

Clift P, Plumb R (2008) The Asian monsoon: causes, history and effects. Cambridge University Press, Cambridge

Cuvier G (1823) Recherches sur les ossemens fossiles de quadrupèdes. Nouvelle é: Dufour & d'Ocagne, Amsterdam

Duckworth JW, Kumar NS, Pokharel CP, Sagar Baral H, Timmins R (2015) Rucervus duvaucelii. The IUCN Red List of Threatened Species. e.T4257A22167675

Excoffier L, Laval G, Schneider S (2005) Arlequin (version 3.0): an integrated software package for population genetics data analysis. Evol Bioinform 1:47–50

Felsenstein J (1978) Cases in which parsimony or compatibility methods will be positively misleading. Syst Biol 27:401–410

Fu YX (1997) Statistical tests of neutrality of mutations against population growth, hitchhiking and background selection. Genetics 147:915–925

Fu YX, Li WH (1993) Statistical tests of neutrality of mutations. Genetics 133:693–709

Gilbert C, Ropiquet A, Hassanin A (2006) Mitochondrial and nuclear phylogenies of Cervidae (Mammalia, Ruminantia): systematics, morphology and biogeography. Mol Phylogenet Evol 40:101–117

Groves C (1982) Geographic variation in the barasingha or swamp deer (Cervus duvaucelii). J Bombay Nat Hist Soc 79:620–629

Gupta AK, Anderson DM, Pandey DN, Singhvi AK (2006) Adaptation and human migration, and evidence of agriculture coincident with changes in the Indian summer monsoon during the Holocene. Curr Sci 90:1082–1090

Hall T (1999) BioEdit: a user-friendly biological sequence alignment editor and analysis program for Windows 95/98/NT. Nucleic Acids Symp Ser 41:95–98

Hellborg L, Ellegren H (2003) Y chromosome conserved anchored tagged sequences (YCATS) for the analysis of mammalian male-specific. Mol Ecol 12:283–291

Hensaw J (1994) The swamp deer in suklaphanta wildlife reserve. Nepal Oryx 28:199–206

Hudson RR, Kreitman M, Aguadé M (1987) A test of neutral molecular evolution based on nucleotide data. Genetics 116:153–159

Huffman (2006) Rucervus duvaucelii, Barasingha, Swamp deer. http://www.ultimateungulate.com/Artiodactyla/Rucervus_duvaucelii.html. Accessed 20 Nov 2006

Ikeda S, Osawa K, Akamatsu Y (2009) Sediment and nutrients transport in watershed and their impact on coastal environment. Proc Jpn Acad Ser B Phys Biol Sci 85:374–390

Janis CM, Scott KM (1987) The interrelationships of higher ruminant families with special emphasis on the members of the cervoidea. Am Mus Novit 2893:1–85

Johns GC, Avise JC (1998) A Comparative summary of genetic distances in the vertebrates from the mitochondrial cytochrome b gene. Mol Phylogenet Evol 15:1481–1490

Kale V, Joshi V, Hire P (2004) Palaeohy-drological reconstructions based on analysis of a palaeochannel and Toba-ash associated alluvial sediments in the Deccan Trap region, India. J Geol Soc 64:481–489

Kangas V-M, Rytkönen S, Kvist L, Käpylä T, Nygrén T, Aspi J (2016) Geographic cline in the shape of the moose mandible: indications of an adaptive trend. J Mamm Evol 24:233–241. https://doi.org/10.1007/s10914-016-9344-y

Karanth KP (2003) Evolution of disjunct distributions among wet-zone species of the Indian subcontinent: testing various hypotheses using a phylogenetic approach. Curr Sci 85:1276–1283

Kuroki Y, Toyoda A, Noguchi H, Taylor TD, Itoh T, Kim DS, Kim DW, Choi SH, Kim IC, Choi HH et al (2006) Comparative analysis of chimpanzee and human Y chromosomes unveils complex evolutionary pathway. Nat Genet 38:158–167

Kurup GU (1974) Mammals of Assam and the Mammal-Geography of India. In: Mani MS (ed) Ecology and Biogeography in India. Monographiae Biologicae, vol 23. Springer, Dordrecht. https://doi.org/10.1007/978-94-010-2331-3_18

Librado P, Rozas J (2009) DnaSP v5: a software for comprehensive analysis of DNA polymorphism data. Bioinformatics 25:1451–1452

Lovejoy NR, De Araújo MLG (2000) Molecular systematics, biogeography and population structure of Neotropical freshwater needle shes of the genus Potamorrhaphis. Mol Ecol 9:259–268

Ludt CJ, Schroeder W, Rottmann O, Kuehn R (2004) Mitochondrial DNA phylogeography of red deer (Cervus elaphus). Mol Phylogenet Evol 31:1064–1083

Lydekker R (1890) The new natural history. Printed by order of the Trustees of the British Museum (Natural History) London

Lydekker R (1907) The game animals of India, Burma, Malaya, and Tibet, being a new and revised edition of 'The great and small game of India, Burma, and Tibet. Rowland Ward, Limited, London

Martin C (1977) Status and ecology of the Barasingha (Cervus duvauceli branderi) in Kanha National Park (India). J Bombay Nat Hist Soc 74:60–132

Massicot P (2005) Animla Info-Barasingha. http://www.animalinfo.org/species/artiperi/cervduva. Accessed 20 Nov 2006

McDevitt AD, Edwards CJ, O'Toole P, O'Sullivan P, O'Reilly C, Carden RF (2009) Genetic structure of, and hybridisation between, red (Cervus elaphus) and sika (Cervus nippon) deer in Ireland. Mamm Biol 74:263–273

Meijaard E, Groves C (2004) Morphometrical relationships between Southeast Asian deer (Cervidae, tribe Cervini): evolutionary and biogeographic implications. J Zool 263:179–196

Meyer A (1993) Evolution of mitochondrial DNA in fishes. In: Hochachka M (ed) Biochemistry and molecular biology of fishes. Elsevier, Amsterdam

Milá B, Girman DJ, Kimura M, Smith TB (2000) Genetic evidence for the effect of a postglacial population expansion on the phylogeography of a North American songbird. Proc Biol Sci 267:1033–1040

Morgan ME, Kingston JD, Marino BD (1994) Carbon isotopic evidence for the emergence of C4 plants in the neogene from Pakistan and Kenya. Nature 367:162–165

Morrison-Scott TCS (1951) Checklist of palaeractic and Indian mammals. British Museum, London

Nishida S, Goto M, Pastene LA, Kanda N, Koike H (2007) Phylogenetic relationships among CetaceansRevealed by Y-chromosome sequences. Zool Sci 24:723–732. https://doi.org/10.2108/zsj.24.723

Nylander JAA (2004) Mr Modeltest v2. Program Distributed by the Author Evolutionary Biology Centre. Uppsala University, Uppsala

Pandey AK, Pandey P, Singh GD, Juya N (2014) Climate footprints in the late quaternary-holocene landforms of Dun valley, NW Himalaya, India. Curr Sci 106:245–253

Perez-Espona S, Perez-Barberıa F, Goodall-Copestake W, Jiggins C, Gordon I, Pemberton J (2009) Genetic diversity and population structure of Scottish Highland red deer (Cervus elaphus) populations: a mitochondrial survey. Heredity 102:199–210

Pitra C, Fickel J, Meijaard E, Groves PC (2004) Evolution and phylogeny of old world deer. Mol Phylogenet Evol 33:880–895

Pocock R (1943) The larger deer of British India. J Bombay Nat Hist Soc 43:553–572

Prakash RK, Nayak RK, Pandey R, Shukla U et al (2012) Habitat viability analysis for the proposed reintroduction site for the hard-ground Barasingha (Cervus duvauceli branderi) in the Bori Wildlife Sanctuary, Satpura Tiger Reserve (Madhya Pradesh). Report by State Forest Research Institute, Jabalpur (M.P.), India

Prater S (1948) The book of Indian animals, 3rd edn. Oxford University Press, Oxford

Qureshi Q, Sawarkar VB, Mathur PK (1995) Ecology and Management of swamp deer (Cervus duvauceli) in Dudhwa Tiger Reserve UP (India). Wildlife Institute of Indian, Dehradun

Qureshi Q, Sawarkar V, Rahmani A, Mathur P (2004) Swamp Deer or Barasingha (Cervus duvauceli Cuvier, 1823). Wildlife Institute of Indian, Dehradun

Rambaut A (2009) FigTree, ver. 1.3.1. [Online]. Institute of Evolutionary Biology. University of Edinburgh. http://tree.bio.ed.ac.uk/. Accessed Oct 2014

Rambaut A, Drummond A (2014) Tracer v1.6. http://tree.bio.ed.ac.uk/software/tracer/. Accessed Oct 2014

Ramos-onsins SE, Rozas J (2020) Statistical properties of new neutrality tests against population growth. Mol Biol Evol 19:2092–2100. https://doi.org/10.1093/molbev/msl052

Randi E, Pierpaoli M, Danilkin A (1998) Mitochondrial DNA polymorphism in populations of Siberian and European roe deer (Capreolus pygargus and C. capreolus). Heredity 80:429–437

Rocha-Olivares A, Rosenblatt RH, Vetter RD (1999) Molecular evolution, systematics, and zoogeography of the rockfish subgenus Sebastomus (Sebastes, Scorpaenidae) based on mitochondrial cytochrome b and control region sequences. Mol Phylogenet Evol 11:441–458

Roos C, Zinner D, Kubatko LS, Schwarz C, Yang M, Meyer D, Nash SD, Xing J, Batzer M, Brameier M et al (2011) Nuclear versus mitochondrial DNA: evidence for hybridization in colobine monkeys. BMC Evol Biol 11:77

Saitou N, Nei M (1987) The neighbor-joining method: a new method for reconstructing phylogenetic trees. Mol Biol Evol 4:406–425

Sankaran R (1989) Status of the swamp deer (Cervus duvauceli duvauceli) in the Dudwa National Park, Uttar Pradesh, India. J Bombay Nat Hist Soc 87:250–259

Schaff D (1978) Population size and structure and habitat relations of the Barasingha (Cervus d. duvauceli) in Suklaphanta wildlife reserve. Michigan, USA

Schaller G (1967) The deer and the tiger. University of Chicago Press, Chicago

Singh CP, Chauhan JS, Parihar JS, Singh RP, Shukla R (2015) Using environmental niche modeling to find suitable habitats for the Hard-ground Barasingha in Madhya Pradesh, India. JoTT 7(11):7761–7769. https://doi.org/10.11609/JoTT.o3899.7761-9

Tajima F (1989) Statistical method for testing the neutral mutation hypothesis by DNA polymorphism. Genetics 595:585–595

Tamura K, Stecher G, Peterson D, Filipski A, Kumar S (2013) MEGA6: molecular evolutionary genetics analysis version 6.0. Mol Biol Evol 30:2725–2729

Tobe SS, Kitchener AC, Linacre AMT (2010) Reconstructing mammalian phylogenies: a detailed comparison of the cytochrome b and cytochrome oxidase subunit i mitochondrial genes. PLoS One 5:e14156. https://doi.org/10.1371/journal.pone.0014156

Toews DPL, Brelsford A (2012) The biogeography of mitochondrial and nuclear discordance in animals. Mol Ecol 21:907–3930

Valdiya KS (2002) Emergence and evolution of Himalaya: reconstructing history in the light of recent studies. Prog Phys Geogr 26:360–399

Verma S, Singh L (2003) Novel universal primers establish identity of an enormous number of animal species for forensic application. Mol Ecol Notes 3:28–31

Xue D, Wang H, Zhang T, Liu J (2014) Population genetic structure and demographic history of atrina pectinata based on mitochondrial DNA and microsatellite markers. PLoS One 9(5):e95436. https://doi.org/10.1371/journal.pone.0095436
Acknowledgements
The authors are grateful to the Director, Dean and Research Coordinator of the Wildlife Institute of India, Dehradun, for strong support and facilitation. Our sincere thanks are due to the Bombay Natural History Society, Mumbai, India for providing historical samples. The authors acknowledge the support provided by the Nodal Officer and all the researchers and staff of the Wildlife Forensic Cell of the Wildlife Institute of India for conducting this study.
Funding
This was a grant-in-aid project of the Wildlife Institute of India.
Ethics declarations
Conflict of interest
The authors declare no conflicts of interest.
Ethics approval
All samples were collected non-invasively from the repository of the Wildlife Institute of India from which ethical permission was procured. No animal or human participation was involved in this study.
Consent to participate
All authors approved this manuscript and no data have been used for which copyright is needed.
Consent for publication
All authors give consent to publish this manuscript and no data have been used for which copyright is needed.
Additional information
Publisher's Note
Springer Nature remains neutral with regard to jurisdictional claims in published maps and institutional affiliations
Handling editor: Pamela Burger.
Supplementary Information
Below is the link to the electronic supplementary material.
About this article
Cite this article
Kumar, V.P., Joshi, B.D., Sharma, R. et al. Understanding the diversification pattern of three subspecies of swamp deer (Rucervus duvaucelii) during the Pleistocene–Holocene based on mitochondrial and Y chromosome markers. Mamm Biol (2021). https://doi.org/10.1007/s42991-021-00104-7
Received:

Accepted:

Published:
Keywords
Subspecies

mtDNA

Genetic diversity

Divergence time

Reintroduction

Conservation