Abstract
Human-generated noise can deleteriously affect many animals. Echolocating bats, which crucially depend on sound for their activity, might therefore serve as bioindicators to quantify the ecological effects of sound pollution. While the influence of sound pollution on animal behaviour has been widely studied, the impact of music is almost unknown. We tested whether music, broadcast loudly, affects bats' foraging and drinking behaviour. The study was done at two waterbodies, where bats drink and forage in the Negev Desert, Israel, during summertime, when water availability is limited: both sites, one isolated natural pond and one artificial waterbody, frequently host recreational parties and concerts. We broadcast music whose frequency range did not overlap with that of bat echolocation calls, and acoustically assessed bat activity before and after the music broadcast. At the remote waterbody, used by bats as a drinking site, the number of bat passes did not vary between treatments. However, after music was broadcast, bats performed significantly more unsuccessful drinking attempts. At the artificial waterbody—a foraging site—activity decreased significantly after music was broadcast. Additionally, music had a cumulative effect on bats, since overall activity significantly decreased over the experimental period. Noise may affect bats by narrowing their attention or distracting them from their primary task. Broadcasting loud music near remote waterbodies is, therefore, significantly hazardous for bats and other wildlife.
Access options
Buy single article
Instant access to the full article PDF.
US$ 39.95
Tax calculation will be finalised during checkout.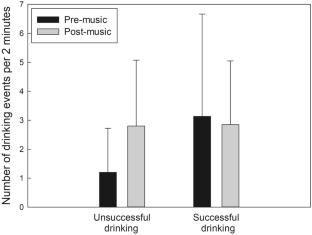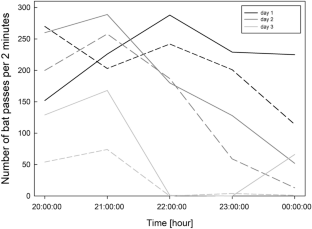 References
Barber JR, Crooks KR, Fristrup KM (2010) The costs of chronic noise exposure for terrestrial organisms. Trends in Ecology & Evolution 25(3):180–189

Barton BT, Hodge ME, Speights CJ, Autrey AM, Lashley MA, Klink VP (2018) Testing the AC/DC hypothesis: Rock and roll is noise pollution and weakens a trophic cascade. Ecol Evol 8:7649–7656

Berthinussen A, Altringham J (2012) The effect of a major road on bat activity and diversity. J Appl Ecol 49:82–89

Bunkley JP, Barber JR (2015) Noise reduces foraging efficiency in pallid bats (Antrozous pallidus). Ethology 121:1116–1121

Bunkley JP, McClure CJ, Kleist NJ, Francis CD, Barber JR (2015) Anthropogenic noise alters bat activity levels and echolocation calls. GECCO 3:62–71

Chan AAY-H, Blumstein DT (2011) Attention, noise, and implications for wildlife conservation and management. Appl Anim Behav Sci 131:1–7

Chan AAY-H, Giraldo-Perez P, Smith S, Blumstein DT (2010) Anthropogenic noise affects risk assessment and attention: the distracted prey hypothesis. Biol lett 6:458–461

Dukas R, Kamil AC (2001) Limited attention: the constraint underlying search image. Behav Ecol 12:192–199

Fenton MB (1970) A technique for monitoring bat activity with results obtained from different environments in southern Ontario. Canadian Journal of Zoology 48(4):847–851

Fenton MB (2013) Questions, ideas and tools: lessons from bat echolocation. Animal Behaviour 85(5):869–879

Finch D, Schofield H, Mathews F (2020) Traffic noise playback reduces the activity and feeding behaviour of free-living bats. Environ Pollut 114405.

Hackett TD, Holderied MW, Korine C (2017) Echolocation call description of 15 species of Middle-Eastern desert dwelling insectivorous bats. Bioacoustics 26:217–235

Hage SR, Metzner W (2013) Potential effects of anthropogenic noise on echolocation behavior in horseshoe bats. Commun Integr Biol 6:e24753

Hage SR, Jiang T, Berquist SW, Feng J, Metzner W (2013) Ambient noise induces independent shifts in call frequency and amplitude within the Lombard effect in echolocating bats. Proc Natl Acad Sci 110:4063–4068

Jiang T, Guo X, Lin A, Wu H, Sun C, Feng J, Kanwal JS (2019) Bats increase vocal amplitude and decrease vocal complexity to mitigate noise interference during social communication. Anim Cogn 22:199–212

Kelkar N, Dey S, Deshpande K, Choudhary SK, Dey S, Morisaka T (2018) Foraging and feeding ecology of Platanista: an integrative review. Mammal Rev 48:194–208

Kerth G, Melber M (2009) Species-specific barrier effects of a motorway on the habitat use of two threatened forest-living bat species. Biol Conserv 142:270–279

Korine C, Pinshow B (2004) Guild structure, foraging space use, and distribution in a community of insectivorous bats in the Negev Desert. J Zool 262:187–196

Korine C, Adams R, Russo D, Fisher-Phelps M, Jacobs D (2016) Bats and water: anthropogenic alterations threaten global bat populations. Bats in the Anthropocene: conservation of bats in a changing world. Springer, Champaign, pp 215–241

Kounitsky P, Rydell J, Amichai E, Boonman A, Eitan O, Weiss AJ, Yovel Y (2015) Bats adjust their mouth gape to zoom their biosonar field of view. Proc Natl Acad Sci 112:6724–6729

Le Roux DS, Waas JR (2012) Do long-tailed bats alter their evening activity in response to aircraft noise? Acta Chiropterol 14:111–120

Luo J, Siemers BM, Koselj K (2015) How anthropogenic noise affects foraging. Glob Change Biol 21:3278–3289

Malcom J (1986) Socio-ecology of Bat-eared foxes (Otocyon megalotis). J Zool 208:457–469

McComb K, Shannon G, Sayialel KN, Moss C (2014) Elephants can determine ethnicity, gender, and age from acoustic cues in human voices. Proc Natl Acad Sci 111:5433–5438

Parnell J, Sommer R (2018) Setting noise objectives for outdoor music festivals in rural locations. In: Proceedings of ACOUSTICS, Adelaide, Australia

Purser J, Radford AN (2011) Acoustic noise induces attention shifts and reduces foraging performance in three-spined sticklebacks (Gasterosteus aculeatus). PLoS ONE 6(2):e17478

Rossier J, Haeberli C, Schenk F (2000) Auditory cues support place navigation in rats when associated with a visual cue. Behav Brain Res 117:209–214

Russo D, Jones G (2015) Bats as bioindicators: an introduction. Mamm Biol 80:157–158

Russo D, Cistrone L, Jones G (2012) Sensory ecology of water detection by bats: a field experiment. PLoS ONE 7:e48144

Russo D, Ancillotto L, Cistrone L, Korine C (2016) The buzz of drinking on the wing in echolocating bats. Ethology 122:226–235

Russo D, Cistrone L, Libralato N, Korine C, Jones G, Ancillotto L (2017) Adverse effects of artificial illumination on bat drinking activity. Animal Conservation 20(6):492–501

Russo D, Ancillotto L, Cistrone L, Libralato N, Domer A, Cohen S, Korine C (2019) Effects of artificial illumination on drinking bats: a field test in forest and desert habitats. Anim Conserv 22:124–133

Schaub A, Ostwald J, Siemers BM (2009) Foraging bats avoid noise. J Exp Biol 212:3036–3036

Shannon G, McKenna MF, Angeloni LM, Crooks KR, Fristrup KM, Brown E, Warner KA, Nelson MD, White C, Briggs J (2016) A synthesis of two decades of research documenting the effects of noise on wildlife. Biol Rev 91:982–1005

Shirley M, Armitage V, Barden T, Gough M, Lurz P, Oatway D, South A, Rushton S (2001) Assessing the impact of a music festival on the emergence behaviour of a breeding colony of Daubenton's bats (Myotis daubentonii). J Zool 254:367–373

Siemers BM, Schaub A (2011) Hunting at the highway: traffic noise reduces foraging efficiency in acoustic predators. Proc R Soc B Biol Sci 278:1646–1652

Team RC (2013) R: A language and environment for statistical computing. RC Team, Vienna, Australia

Tressler J, Smotherman MS (2009) Context-dependent effects of noise on echolocation pulse characteristics in free-tailed bats. J Comp Physiol 195:923–934

Ulanovsky N, Fenton MB, Tsoar A, Korine C (2004) Dynamics of jamming avoidance in echolocating bats. Proc R Soc B Biol Sci 271:1467–1475

Vaughan N, Jones G, Harris S (1997) Habitat use by bats (Chiroptera) assessed by means of a broad-band acoustic method. J Appl Ecol 34:716–730

Yom-Tov Y, Makin D, Shalmon B (1992) The biology of Pipistrellus bodenheimeri (Microchiroptera) in the Dead Sea area of Israel. Zeitschrift für Säugetierkunde 57(2):65–69
Acknowledgments
We would like to thank Yael Lehnardt for her assistance with the set-up of the experiment and the equipment, and Marva Korine for creating the playlist. The study was supported by the Blaustein Center for Scientific Cooperation to DR, the Office of the president at BGU; the SIDEER, Department of Zoology at Tel Aviv University and the Zoological Society of Israel. This is paper number 1092 of the MDDE.
Additional information
Publisher's Note
Springer Nature remains neutral with regard to jurisdictional claims in published maps and institutional affiliations.
Handling editor: Yoshiyuki Henning.
About this article
Cite this article
Domer, A., Korine, C., Slack, M. et al. Adverse effects of noise pollution on foraging and drinking behaviour of insectivorous desert bats. Mamm Biol (2021). https://doi.org/10.1007/s42991-021-00101-w
Received:

Accepted:

Published:
Keywords
Chiroptera

Desert

Foraging

Noise pollution

Ultrasound

Water