Metabolic Adaptations to Exercise Training
Abstract
The health benefits of exercise have attracted substantial attention, because regular exercise can strengthen muscles and improve endurance. Physical activity is an integral part of an overall healthy lifestyle, which helps protect against chronic diseases, such as obesity, insulin resistance and type 2 diabetes. In consideration of the differences in duration, intensity, and type of activity of exercise, it is likely to involve different signaling pathways and bring different benefits in different tissues. Here we review our growing knowledge of exercise training adaptations and regulation in cellular processes related to energy metabolism, aging and autophagy, and many important findings remain to be discovered.
Keywords
Exercise 
Energy metabolism 
Aging 
Epigenetic 
Autophagy 
Gut microbiota 
Introduction
Sedentary lifestyles increase all causes of multiple adverse health outcomes and regular exercise is necessary for physical fitness and good health. Exercise training reduces the risk of heart disease, cancer, high blood pressure, diabetes and other diseases. It also improves your appearance and delay the aging process. Moreover, physiological systems possess acute and chronic adaptations to exercise dependent on volume and intensity [34, 42]. Energy for acute exercise is derived from a small amount of ATP and CP stored in muscle cells. Once the ATP-CP store is exhausted, the muscles resort to the rapid breakdown of stored glycogen-glucose for ATP regeneration via the glycolytic pathway. Strenuous exercise could result in lactic acid accumulation, decrease of mucle calcium-binding capacity, increase of heart rate/cardiac output and muscle damage [46]. Increase of oxygen consumption induced by acute exercise leads to increase in the production of reactive oxygen and nitrogen species (RONS) that is associated with muscle fatigue or damage [3]. In addition, A study by Petriz et al. [42] with proteomic analysis showed that protein carbonylation and enzymes related to energy metabolism were significantly reduced in the soleus muscle after the acute bout. Aerobic exercise elicits many adaptations in the involved skeletal muscles and in the metabolic and cardiorespiratory systems. Endurance training leads to an increase in left ventricular muscle mass and dilatation, an increase of blood flow to active muscles, an increase of VO2peak, aerobic capacity and extract oxygen capacity [10, 24]. Additionally, proteomic analysis shows that regular exercise increases mitochondrial content and enzymes involved in oxidative phosphorylation and fatty acid utilization [10, 30] and reduces glycolytic proteins (e.g., cytoplasmic alpha-enolase) and creatine kinase carbonylation in muscle [42]. However, despite numerous research efforts in this field, the underlying molecular mechanisms of exercise-induced benefits for organisms are still not fully understood. In the past 10 years, we have been mainly investigated the molecular mechanisms of exercise- induced insulin sensitivity in major insulin-target tissues, predominantly skeletal muscle. This review summarized the current knowledge of exercise metabolism from our laboratory and others. We aim to provide mechanistic insight for basic studies and clinical treatment of metabolic diseases such as type 2 diabetes, obesity and myopathies.
Energy Metabolism for Skeletal Muscle During Exercise
Skeletal muscle, a dynamic tissue with considerable plasticity, is able to rapidly adapt to drastic changes in energy demands during exercise, through fine-tuning of the balance between catabolic and anabolic processes. Glucose and lipid are the mainly fuels that support contracting skeletal muscle during continuous exercise lasting longer than several minutes, while amino acids have only a minor contribution [
18
,
59
]. Exercise rapidly increases glucose uptake to sustain the energy expenditure by increased ATP turnover in an intensity-dependent manner in contracting skeletal muscle [
33
]. Compared to the limited stores of carbohydrate, endogenous lipid stores represent a potentially unlimited and plentiful fuel for skeletal muscle metabolism during aerobic exercise [
22
]. Given that glucose and lipid are the mainly fuels for energy demand, better understanding their regulatory mechanisms of metabolism during exercise is particularly important. Exercise plays pleiotropic roles in multiple organ systems. Therefore, it is unlikely that a single targeting pathway could recapitulate the pleiotropic effects of exercise. As promising candidates, AMP-activated protein kinase (AMPK) and mechanistic target of rapamycin (mTOR) are used to state the beneficial responses of exercise [
11
,
28
,
37
,
41
,
45
,
52
]. And we summarized the signaling pathways between AMPK, mTOR and Sestrins in glucose and lipid metabolism after exercise in Fig. 
1
.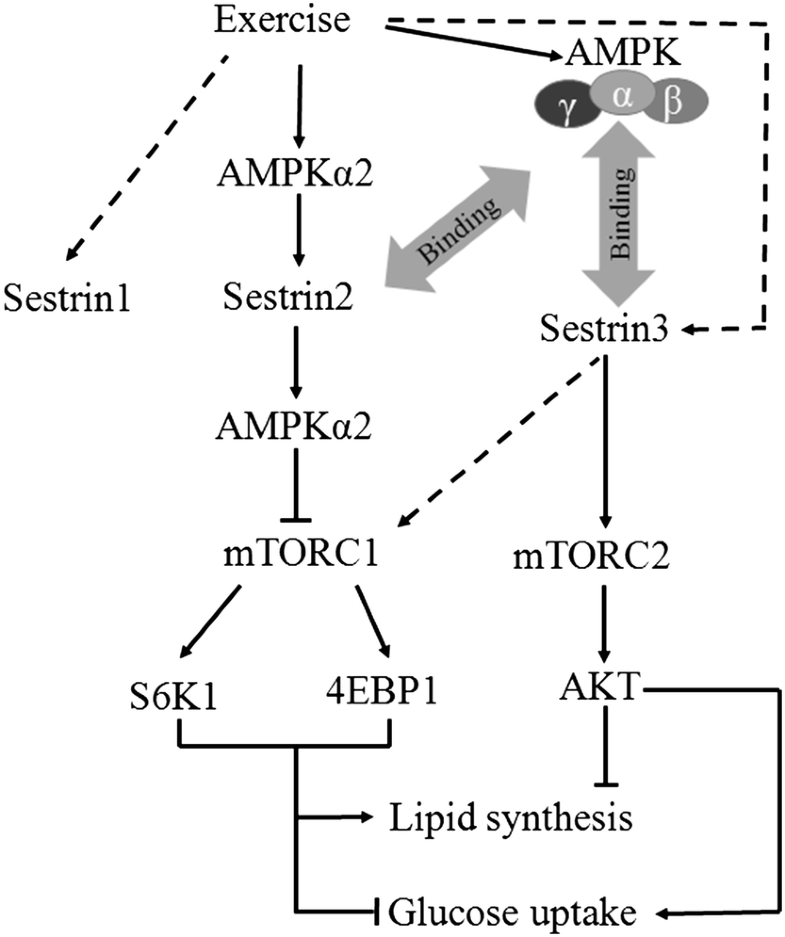 Metabolic Regulation During Exercise: The Role of AMPK
AMPK, a heterotrimeric complex, comprises a catalytic subunit (α), a scaffolding subunit (β) and a regulatory subunit (γ). As we know, AMPK is activated by rising AMP/ATP and ADP/ATP ratios under conditions of energy stress, such as nutrient deprivation and physical exercise [27]. Aerobic exercise and acute exercise both activate AMPK in the skeletal muscle of both human and rodents [43]. Once activated, AMPK regulates multiple signaling pathways, and then affects the glucose and lipid metabolism. GLUT4, a key glucose transporter isoform, is responsible for glucose transport in skeletal muscle following insulin or exercise stimulation [41]. Previous evidences indicate that aerobic exercise enhanced glucose oxidation and glucose uptake through increasing GLUT4 transcription in skeletal muscle [11]. We observed that GLUT4 gene and protein expression significantly increased after aerobic exercise in wild type mice, while decreased in AMPKα2−/− mice [37]. Our finding showed that the exercise-related benefits on GLUT4 was completely reversed when AMPKα2 is knocked out, suggesting that exercise promoted GLUT4 transcription in an AMPKα2- dependent manner in mouse skeletal muscle [37]. And we also found that exercise reversed high-fat-diet (HFD)-induced insulin resistance and decreased intramyocellular lipid accumulation through AMPK signaling [28]. Moreover, acute activation of AMPK increased glucose transport and fatty acid oxidation, but decreased glycogen synthase activity and protein synthesis [22]. Additionally, activation of AMPK by AICAR, a pharmacological activator of AMPK, increased insulin sensitivity in skeletal muscles thereby increasing glucose transport [48]. As mentioned above, AMPK is necessary for glucose and lipid metabolism in exercising skeletal muscle, and may be used as a possible therapeutic target for the treatment of type 2 diabetes and obesity.
Metabolic Regulation During Exercise: The Role of mTOR
mTOR, a highly conserved serine/threonine kinase, controls a diverse array of physiological processes including cell growth, cell survival, cell differentiation, immune function, diabetes, and aging [55]. mTOR complex 1 (mTORC1) and complex 2 (mTORC2), two distinct complexes of mTOR, are characterized by the presence of raptor and rictor, and exert different functions, respectively [20]. As a master controller of anabolic metabolism, mTORC1 has been shown to promote protein synthesis mainly through phosphorylation of p70 S6 kinase (S6K1) and eukaryotic translation initiation factor 4E-binding protein 1 (4EBP1), and increase lipid synthesis through SREBP1/2 [23]. Unlike mTORC1, the function and regulation mechanism of mTORC2 are less understood. Here we focus on the regulation of mTOR to glucose and lipid metabolism processes. A regulatory feedback loop exists between mTORC1 and mTORC2, and also between them and glucose/lipid content. The postprandial-induced insulin activates Akt through mTORC2 [49]. mTORC2 increases glycogen synthesis, whereas it decreases gluconeogenesis through AKT [16]. mTORC1 is indirectly activated by Akt through phosphorylating TSC1/2, which then phosphorylates IRS-1, leading a negative feedback regulation of the insulin signaling. mTORC1 promotes lipogenesis and inhibits lipolysis and β-oxidation by SREBP [12, 28, 44]. Consistent with those findings, our data showed that down-regulation of mTOR/S6K1 signaling inhibited SREBP-1c cleavage, and then increased the lipogenesis in C2C12 myotubes [28]. Moreover, we found that knockdown of S6K1 increased the insulin-dependent pAkt-S473 and significantly decreased pIRS1-S636/639; palmitate-induced activation of Akt resulted in concomitant increase in mTORC1 activity in C2C12 myotubes [28]. As reported previously [45, 52], we also found that AMPK/mTOR/S6K1 signaling axis exerted an important role in mediating exercise-induced insulin sensitization and fatty acid oxidation in the skeletal muscle of C57BL/6 mice [28].
Metabolic Regulation During Exercise: The Role of Sestrins
Sestrins are highly conserved stress-inducible proteins, including Sesn1, Sesn2 and Sesn3 in mammals [7]. Sestrins knock-out mice display many metabolic dysfunctions as follows: (1) Sesn2 deficiency aggravates obesity-induced mTORC1-S6K activation, glucose intolerance, insulin resistance and hepatosteatosis in liver and adipose tissue; (2) Spontaneous insulin resistance was observed in Sesn2−/−/Sesn3−/− (DKO) mice [25]. Those abnormal metabolic phenotypes caused by Sestrins loss were reversed after AMPK activation. These findings indicate that both Sesn2 and Sesn3 are necessary for blood glucose and lipid homeostasis and Sestrins regulate the metabolic homeostasis through inhibition of mTORC1 in an AMPK-dependent manner. Considering this finding, compound C pharmacological or shRNA-mediated inhibition of AMPK aggravated the inhibition of mTORC1 by Sestrins [6], confirming that AMPK is the key downstream molecule of Sestrins. However, a recent study showed that Sestrins suppressed mTORC1 in AMPK-null mouse embryonic fibroblasts [39], suggesting that AMPK may not be the only target of Sestrins in the mTORC1 pathway. Our data showed that AMPK binds to Sesn2/Sesn3, and mediates the effect of exercise to increase insulin-sensitivity [39]. In addition, we reported that Sesn2 induced autophagy and attenuated insulin resistance caused by palmitate through activating the AMPK signaling in C2C12 myotubes. These findings indicated that Sestrins/AMPK/mTOR is a crucial signaling pathway in regulating glucose and lipid metabolism, and more efforts are warranted to explore the exact role of Sestrins in AMPK signaling, especially in exercise condition.
Potential Mechanisms of Exercise-Induced Metabolic Health
Conclusions
Metabolic adaptation to exercise training is complicated. That differs in duration, intensity, and type of exercise. And it may involve different signaling pathways and exert multiple benefits. Given the benefits of exercise on numerous tissues, now, more than ever, we need to keep the momentum of exercise research going in order to improve our health and wellness.
Notes
Acknowledgements
The study was funded by grants from the National Natural Science Foundation of China (NSFC) 31571220 (LF), 81501071(SJL) and 31671237 (YMN). The authors would like to thank Xiaolei Liu, Hairui Yuan and Huige Li for their works cited in this review.
Copyright information
© Beijing Sport University 2019