Abstract
Widespread conversion of the biodiversity rich habitats into land for cultivation and human habitation has resulted in extensive habitat loss for wildlife including leopard. In order to prioritize investments and assess conservation intervention and effectiveness reliable estimates of population density are required. We carried out camera-trapping and line-transect surveys to estimate the predator and prey densities in moist-temperate forest of Dachigam National Park, north-western Himalaya. Density estimate for leopard (Panthera pardus) obtained from programme CAPTURE was 2.8 ± SE 1.18/100 km2 and the SECR density obtained from software SPACECAP was 0.744 ± SE 0.18/100 km2. Density estimate obtained using software DISTANCE for the two principal prey species was 5.11 ± 0.51/km2 and 16.32 ± 1.87/km2 for hangul (Cervus hanglu ssp. hanglu) and langur (Semnopithecus ajax), respectively. The leopard density estimates, which are a first record from the study area, turned out to be the lowest in the country. The low densities of prey represent an alarming status of the species as well as of forest ecosystems of the study area. Our baseline estimates for the leopard and prey species will help future research, conservation and management strategies.
This is a preview of subscription content, log in to check access.
Access options
Buy single article
Instant access to the full article PDF.
US$ 39.95
Price includes VAT for USA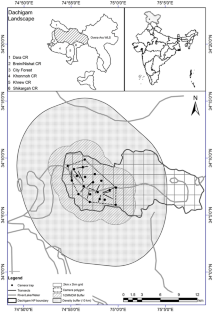 References
Ahmad K, Nigam P, Habib B, Mir MS, Rais Z, Shah M, Malik NA (2013) Reappearance of the wild pig Sus scrofa cristatus in Dachigam National Park, Kashmir. JBNHS, India, p 110

Athreya V, Odden M, Linnell JDC, Krishnaswamy J, Karanth U (2013) Big cats in our backyards: persistence of large carnivores in a human dominated landscape in India. PLoS One 8:e57872. https://doi.org/10.1371/journal.pone.0057872

Balme GA, Slotow R, Hunter LTB (2009a) Impact of conservation interventions on the dynamics and persistence of a persecuted leopard (Panthera pardus) population. Biol Cons 142:2681–2690. https://doi.org/10.1016/j.biocon.2009.06.020

Balme GA, Hunter LTB, Slotow R (2009b) Evaluating methods for counting cryptic carnivores. J Wildl Manag 73:433–441

Bertram BCB (1999) Leopard. In: Macdonald DW (ed) The encyclopedia of mammals. Andromeda Oxford Limited, Oxford, pp 44–48

Bhatnagar YV, Ahmad R, Kyarong SS, Ranjitsinh MK, Seth CM, Lone IA, Easa PS, Kaul R, Raghunath R (2009) Endangered markhor Capra falconeri in India: through war and insurgency. Oryx 43:407–411

Borah J, Sharma T, Das D, Rabha N, Kakati N, Basumatary A, Ahmed MF, Vattakaven J (2013) Abundance and density estimates for common leopard Panthera pardus and clouded leopard Neofelis nebulosa in Manas National Park, Assam, India. Oryx 48:149–155

Borchers DL, Efford MG (2008) Spatially explicit maximum likelihood methods for capture–recapture studies. Biometrics 64:377–385

Braczkowski AR, Balme GA, Dickman A, Fattebert J, Johnson P, Dickerson T, Macdonald DW, Hunter L (2016) Scent lure effect on camera-trap based leopard density estimates. PLoS One 11:e0151033. https://doi.org/10.1371/journal.pone.0151033

Brook SM, Thakur M, Ranjitsinh MK, Donnithorne-Tait D, Ahmad K (2017) Cervus hanglu ssp. hanglu. The IUCN Red List of Threatened Species 2017. e.T113259123A113281791. Accessed 28 Jan 2019

Buckland ST, Anderson DR, Burnham KP, Laake JL (1993) Distance sampling: estimating abundance of biological populations. Chapman and Hall, London

Burnham KP, Anderson DR, Laake JL (1980) Estimation of density from line-transect sampling of biological populations. Wildl Monogr 72:1–202

Carbone C, Gittleman JL (2002) A common rule for the scaling of carnivore density. Science 295:2273–2276. https://doi.org/10.1126/science.1067994

Carbone C, Christie S, Conforti K, Coulson T, Franklin N, Ginsberg JR, Griffiths M, Holden J, Kawanishi K, Kinnaird M, Laidlaw AL, Macdonald DW, Martyr D, Mcdougal C, Nath L, O'brien T, Seidensticker J, Smith DJL, Sunquist M, Tilson R, Shahruddin WNW (2001) The use of photographic rates to estimate densities of tigers and other cryptic mammals. Anim Conserv 4:75–79

Champion HG, Seth SK (1968) A review survey of the forest types of India. Government of India Publication, Delhi

Charoo SA, Naqash RY, Sathyakumar S (2011) Monitoring of Hangul in Dachigam landscape: March 2011. Technical report Dehradun, Department of Wildlife Protection, JandK Govt. and Wildlife Institute of India

Datta A, Anand MO, Naniwadekar R (2008) Empty forests: large carnivore and prey abundance in Namdapha National Park, north-east India. Biol Conserv 141:1429–1435

Gopalaswamy AM, Royle JA, Hines JE, Singh P, Jathanna D, Kumar NS, Karanth KU (2012) Program SPACECAP: software for estimating animal density using spatially explicit capture-recapture models. Meth Ecol Evol 3:1067–1072

Gray TNE, Prum S (2012) Leopard density in Post-conflict landscape, Cambodia: evidence from spatially explicit capture-recapture. J Wildl Manage 76:163–169

Hanson T, Brooks TM, da Fonseca GAB, Hoffmann M, Lamoreux JF, Machlis G, Mittermeier CG, Mittermeier RA, Pilgrim JD (2009) Warfare in biodiversity hotspots. Conserv Biol 23:578–587

Harihar A (2005) Population, food habits and prey densities of tiger in Chilla Range, Rajaji National Park, Uttaranchal, India. MSc. Dissertation, Saurashtra University

Harihar A, Pandav B, Goyal SP (2009) Density of leopards (Panthera pardus) in the Chilla Range of Rajaji National Park, Uttarakhand, India. Mammalia 73:68–71

Harihar A, Pandav B, Goyal SP (2011) Responses of leopard Panthera pardus to the recovery of a tiger Panthera tigris population. J Appl Ecol 48:806–814

Hayward MW, Henschel P, O'Brien P, Hofmeyr M, Balme G, Kerley GIH (2006) Prey preferences of the leopard (Panthera pardus). J Zool 270:298–313

Henschel P, Ray J (2003) Leopards in African rainforests: survey and monitoring techniques. Wildlife Conservation Society. http://www.savingwildplaces.com/swp-globalcarnivore, p 50

Henschel P, Hunter LTB, Coad L, Abernethy KA, Muhlenberg M (2011) Leopard prey choice in the Congo Basin rainforest suggests exploitative competition with human bushmeat hunters. J Zool 285(1):11–20. https://doi.org/10.1111/j.1469-7998.2011.00826.x

Hunter L, Balme G, Walker C, Pretorius K, Rosenberg K (2003) The landscape ecology of leopards (Panthera pardus) in northern KwaZulu-Natal, South Africa: a preliminary project report. Ecol J 5:5–10

Jacobson AP, Gerngross P, Lemeris JR Jr, Schoonover RF, Anco C, Breitenmoser-Wursten C, Durant SM, Farhadinia MS, Henschel P, Kamler JF, Laguardia A, Rostro-Garcıa S, Stein AB, Dollar L (2016) Leopard (Panthera pardus) status, distribution and the research efforts across its range. PeerJ 4:e1974. https://doi.org/10.7717/peerj.1974

Jhala YV, Gopal R, Qureshi Q (2008) Status of tigers, co-predators, and prey in India. National Tiger Conservation Authority and Wildlife Institute of India, Dehra Dun, TR08/001, pp 1–164

Jhala YV, Qureshi Q, Gopal R (2015) The status of tigers, co-predators and prey in India 2014. National Tiger Conservation Authority, New Delhi and Wildlife Institute of India, Dehradun. TR2015/021

Kalle R, Ramesh T, Qureshi Q, Sankar K (2011) Density of tiger and leopard in a tropical deciduous forest of Mudumalai Tiger Reserve, southern India, as estimated using photographic capture-recapture sampling. Acta Theriol 56:335–342

Karanth KU, Nichols JD (1998) Estimation of tiger densities in India using photographic captures and recaptures. Ecology 79:2852–2862

Karanth KU, Nichols JD (2002) Monitoring tigers and their prey: a manual for researchers, managers and conservationists in tropical Asia. Centre for Wildlife Studies, Bangalore

Karanth KU, Nichols JD, Kumar NS, Link WA, Hines JE (2004) Tigers and their prey: predicting carnivore densities from prey abundance. PNAS USA 101:4854–4858. https://doi.org/10.1073/pnas.0306210101

Khan U, Lovari S, Shah SA, Ferretti F (2018) Predator, prey and humans in a mountainous area: loss of biological diversity leads to trouble. Biodivers Conserv 27:2795–2813. https://doi.org/10.1007/s10531-018-1570-6

Laake JL, Buckland ST, Anderson DR, Burnham KP (1998) DISTANCE: user's guide. Colorado State University, Fort Collins

Mir ZR (2016) Monitoring prey dynamics and diet fluctuation of leopard (Panthera pardus) in Dachigam National Park, Srinagar, Jammu and Kashmir. Ph.D. dissertation submitted to Saurashtra University, Rajkot, Gujarat, p 253

Mizutani F, Jewell P (1998) Home-range and movements of leopards (Panthera pardus) on a livestock ranch in Kenya. J Zool 244:269–286

Myers N (1976) The Leopard Panthera pardus in Africa. IUCN Monograph No. 5. Morges, Switzerland

Naqash RY, Sharma LK (2011) Management Plan (2011–2016) Dachigam National Park. Department of Wildlife Protection, Govt. of Jammu and Kashmir, India

Noss AJ, Gardner B, Maffei L, Cuellar E, Montano R, Romero-Munoz A, Sollman R, O'Connell AF (2012) Comparison of density estimation methods for mammal populations with camera traps in the Kaa-lya del Gran Chaco landscape. Anim Conserv 15:527–535

Nowell K, Jackson P (1996) Wild cats: status survey and conservation action plan. IUCN/SSC Cat Specialist Group, Gland

O'Brien TG, Kinnaird MF, Wibisono HT (2003) Crouching tigers, hidden prey: sumatran tiger and prey populations in a tropical forest landscape. Anim Conserv 6:131–139. https://doi.org/10.1017/S1367943003003172

Odden M, Athreya V, Rattan S, Linnell JDC (2014) Adaptable neighbours: movement patterns of GPS-collared leopards in human dominated landscapes in India. PLoS One 9:e112044. https://doi.org/10.1371/journal.pone.0112044

Otis DL, Burnham KP, White GC, Anderson DR (1978) Statistical inference from capture data on closed animal populations. Wildl Monogr 62:1–135

Packer C, Brink H, Kissui BM, Maliti H, Kushnir H, Caro T (2010) Effects of trophy hunting on lion and leopard populations in Tanzania. Conserv Biol 25:142–153. https://doi.org/10.1111/j.1523-1739.2010.01576.x

R Core Team (2017) R: a language and environment for statistical computing. R Foundation for Statistical Computing, Vienna, Austria. https://www.R-project.org/. Accessed 30 May 2017

Ramesh T, Snehalatha V, Sankar K, Qureshi Q (2009) Food habits and prey selection of tiger and leopard in Mudumalai Tiger Reserve, Tamil Nadu, India. J Sci Trans Environ Technov 2:170–181

Raza RH, Chauhan DS, Pasha MKS, Sinha S (2012) Illuminating the blind spot: a study on illegal trade in Leopard parts in India (2001–2010). TRAFFIC India/WWF India, New Delhi

Rexstad E, Burnham KP (1992) User's guide for interactive program CAPTURE: Abundance estimation of closed animal populations. Colorado Cooperative Fish and Wildlife Research Unit, Colorado State University, Fort Collins

Rodgers WA, Panwar HS, Mathur VB (2000) Planning a wildlife protected area network in India. Executive Summary. Wildlife Institute of India, Dehradun

Royle JA, Dorazio RM (2008) Hierarchical modeling and inference in ecology: the analysis of data from populations, metapopulations and communities. Academic Press, Bullington

Royle JA, Karanth KU, Gopalaswamy AM, Kumar NS (2009a) Bayesian inference in camera trapping studies for a class of spatial capture-recapture models. Ecology 90:3233–3244

Royle JA, Nichols JD, Karanth KU (2009b) A hierarchical model for estimating density in camera-trap studies. J Appl Ecol 46:118–127

Selvan KM (2013) Ecology of sympatric large carnivores in Pakke Tiger Reserve, Arunanchal Pradesh. Ph.D. Thesis submitted to Saurashtra University, Rajkot, Gujarat

Selvan KM, Veeraswami GG, Lyngdoh S, Habib B, Hussain SA (2013) Prey selection and food habits of three sympatric large carnivores in a tropical lowland forest of the eastern biodiversity hotspot. Mamm Biol 78:296–303

Shehzad W, Nawaz A, Pompanon F, Coissac E, Riaz T, Shah SA, Taberlet P (2014) Forest without prey: livestock sustain a leopard Panthera pardus population in Pakistan. Oryx 49:248–253

Singh G, Kachroo P (1978) Plant community characteristics in Dachigam Sanctuary. Natraj Publishers, Publications Division, Dehradun

Sollmann R, Furtado MM, Gardner B, Hofer H, Jacomo ATA, Torres NM, Silveira L (2011) Improving density estimates for elusive carnivores: accounting for sex-specific detection and movements using spatial capture–recapture models for jaguars in central Brazil. Biol Conserv 144:1017–1024

Stanley TR, Burnham KP (1999) A closure test for time-specific capture–recapture data. Environ Ecol Stat 6:197–209

Stein A, Athreya V, Balme G, Henschel P, Karanth U, Miquelle D (2016) Panthera pardus. The IUCN red list of threatened species. 2016:e.T15954A102421779. https://doi.org/10.2305/IUCN.UK.2016-1.RLTS.T15954A50659089.en

Thapa TB (2011) Habitat suitability evaluation for leopard (Panthera pardus) using remote sensing and GIS in and around Chitwan National Park, Nepal. Ph.D. dissertation submitted to Saurashtra University, Rajkot, Gujarat, p 228

Thapa K, Shrestha R, Karki J, Thapa GJ, Subedi N, Pradhan NMB, Dhakal M, Khanal P, Kelly MJ (2014) Leopard Panthera pardus fusca density in the seasonally dry, sub-tropical forest in the bhabhar of terai arc, Nepal. Adv Ecol. https://doi.org/10.1155/2014/286949

Tobler MW, Powell G (2013) Estimating jaguar densities with camera traps: problems with current designs and recommendations for future studies. Biol Cons 159:109–118. https://doi.org/10.1016/j.biocon.2012.12.009

Wang SW (2010) Estimating population densities and biomass ofungulates in the temperate ecosystem of Bhutan. Oryx 44:376–382. https://doi.org/10.1017/s0030605310000487

Wang SA, Macdonald DW (2009) The use of camera traps for estimating tiger and leopard populations in the high altitude mountains of Bhutan. Biol Conserv 142:606–613

Williams BK, Nichols JD, Conroy MJ (2002) Analysis and management of animal populations. Academic Press, San Diego
Acknowledgements
This work was part of larger study on the ecological aspects of the leopard in the Kashmir Valley and was supported and funded by the Department of Science and Technology, Govt. of India. We are thankful to the Department of Wildlife Protection, Govt. of Jammu and Kashmir for granting us necessary permissions to conduct this research in the protected area. We also thank the Director and Dean of the Wildlife Institute of India for motivation and support. Thanks are due to the field assistants who assisted us in data collection.
About this article
Cite this article
Noor, A., Mir, Z.R., Veeraswami, G.G. et al. Density of leopard in a moist-temperate forest of western Himalaya, India. Trop Ecol (2020). https://doi.org/10.1007/s42965-020-00090-w
Received:

Revised:

Accepted:

Published:
Keywords
Apex predator

Camera trapping

Dachigam National Park

Kashmir