Abstract
Trueperella pyogenes (T. pyogenes) is a common opportunistic pathogen of many livestock and play an important regulation role during multibacterial infection and interaction with the host by its primary virulence factor pyolysin (PLO). The purpose of this study was to investigate the regulation role of PLO which serve as a combinational pathogen with lipopolysaccharide (LPS) during endometritis. In this study, the expression of bioactive recombinant PLO (rPLO) in a prokaryotic expression system and its purification are described. Moreover, we observed that rPLO inhibited the innate immune response triggered by LPS and that methyl-β-cyclodextrin (MBCD) abrogated this inhibitory effect in goat endometrium stromal cells (gESCs). Additionally, we show from pharmacological and genetic studies that rPLO-induced autophagy represses gene expression by inhibiting NLRP3 inflammasome activation. Importantly, this study reported that ATF6 serves as a primary regulator of the cellular inflammatory reaction to rPLO. Overall, these observations suggest that T. pyogenes PLO could create an immunosuppressive environment for other pathogens invasion by regulating cellular signaling pathways.
Access options
Buy single article
Instant access to the full article PDF.
US$ 39.95
Tax calculation will be finalised during checkout.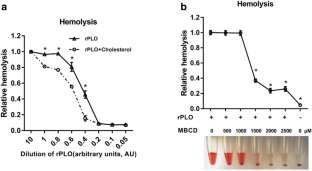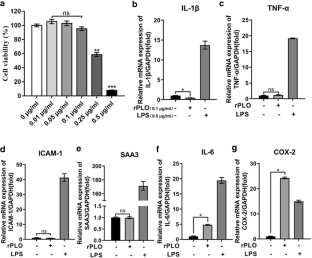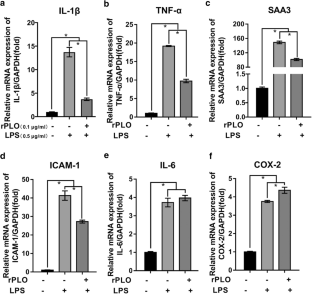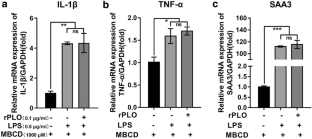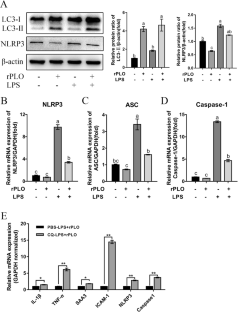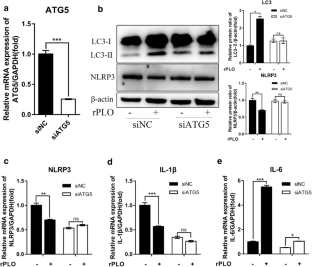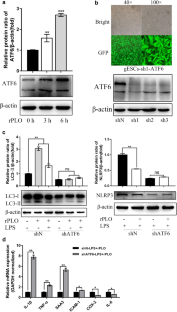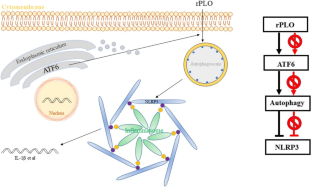 Acknowledgments
We sincerely thank Professor Wei Liu and Associate Professor Keqiong Tang for providing help when we designed the study.
Funding
This study was supported by National Natural Science Foundation of China, Grant Number: 31772817.
Ethics declarations
Conflict of interest
The authors declare that they have no conflict of interest.
Additional information
Publisher's note
Springer Nature remains neutral with regard to jurisdictional claims in published maps and institutional affiliations.
Responsible Editor: Cristiano Gallina Moreira
Supplementary information
Construction of the recombinant vector and purification of the fusion protein. A. The gene fragment encoding mature T. pyogenes PLO was cloned by PCR. B. The PLO gene fragment was connected to the prokaryotic expression vector pET-32a (+). Lane 1 shows PLO gene amplification from recombinant vector pET-32a-PLO. Lane 2 shows the positive control with the T. pyogenes genome as the PCR template. Lane 3 shows the negative control. C. Purified protein was authenticated by Coomassie brilliant blue staining (DOCX 370 kb)
About this article
Cite this article
Qi, M., Liu, J., Jiang, Q. et al. Trueperella pyogenes pyolysin inhibits lipopolysaccharide-induced inflammatory response in endometrium stromal cells via autophagy- and ATF6-dependent mechanism. Braz J Microbiol (2021). https://doi.org/10.1007/s42770-021-00422-5
Received:

Accepted:

Published:
Keywords
Pyolysin

LPS

Costimulation

Autophagy

ATF6