Abstract
The present study aimed to clarify the effects of three manure crops in orchards on nutrients and fungal community diversity and composition of the soil in the Loess Plateau. The high-throughput sequencing technology was used to analyze the fungal community diversity and composition in an apple orchard intercropping three types of green manure in the Loess Plateau of China. At the same time, soil nutrients are also determined. Intercropping with the green manures Medicago sativa, Trifolium repens, and Dactylis glomerata decreased content of soil available potassium. Trifolium repens increased the content of soil water by 5.71%, and D. glomerata increased the soil pH. Medicago sativa and T. repens increased the soil fungal richness of apple orchard. The dominated soil fungi included Ascomycota, Basidiomycota, Mortierellomycota, and Chytridiomycota. The relative abundance of Glomeromycota in the treatments in which green manure was intercropped was higher than that of the clean cultivated treatment by 234.37–550.0%. Green manure intercropping increased the accumulation of specific genera, such as Petriella, Pseudogymnoascus, and Tetracladium, which can inhibit pathogenic fungi in the soil and promote the decomposition of plant leaves. The intercropping with three green manure crops reduced the content of available potassium in the soil, changed the water content, soil pH, and fungal communities of apple orchards in the Loess Plateau, and aided in the optimization of soil fungal community composition to nutrients uptake and pathogen inhibition.
Graphical abstract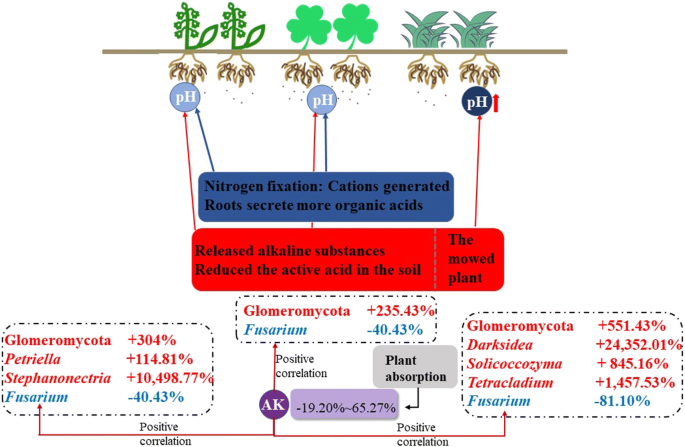 Access options
Buy single article
Instant access to the full article PDF.
US$ 39.95
Tax calculation will be finalised during checkout.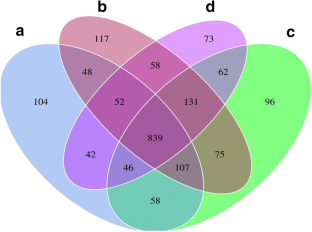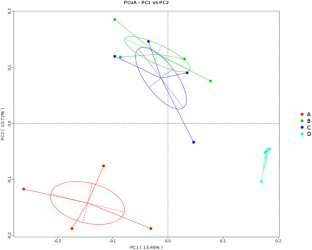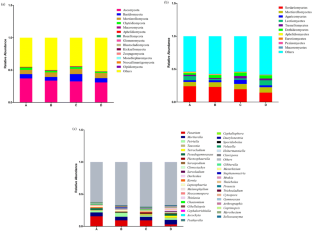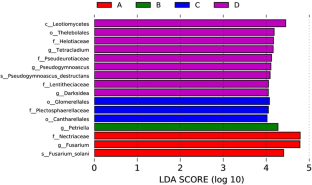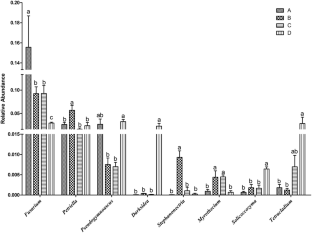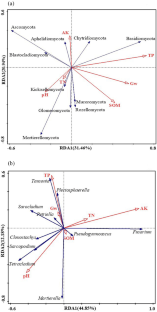 References
Abadie C, Edel V, Alabouvette C (1998) Soil suppressiveness to Fusarium wilt, influence of a cover-plant on density and diversity of Fusarium populations. Soil Biol Biochem 30(5):643–649. https://doi.org/10.1016/S0038-0717(97)00154-5

Abujabhah IS, Bound SA, Doyle R, Bowman JP (2016) Effects of biochar and compost amendments on soil physico-chemical properties and the total community within a temperate agricultural soil. Appl Soil Ecol 98:243–253. https://doi.org/10.1016/j.apsoil.2015.10.021

Astier M, Maass JM, Etchevers-Barra JD, Pena JJ, de Leon GF (2006) Short-term green manure and tillage management effects on maize yield and soil quality in an Andisol. Soil Tillage Res 88(1–2):153–159. https://doi.org/10.1016/j.still.2005.05.003

Brunetto G, Ventura M, Scandellari F, Ceretta CA, Kaminski J, de Melo GW, Tagliavini M (2011) Nutrient release during the decomposition of mowed perennial ryegrass and white clover and its contribution to nitrogen nutrition of grapevine. Nutr Cycl Agroecosyst 90(3):299–308. https://doi.org/10.1007/s10705-011-9430-8

Cao Q, Wang ZK, Shen YY (2019) Seasonal variation of soil moisture content in apple orchard and grass intercropping system in Longdong. Arid Zone Res 36(1):77–84. https://doi.org/10.13866/j.azr.2019.01.09

Cavael U, Diehl K, Lentzsch P (2020) Assessment of growth suppression in apple production with replant soils. Ecol Indic 109:105046. https://doi.org/10.1016/j.ecolind.2019.105846

Chen Y, Wen X, Sun Y, Zhang J, Wu W, Liao Y (2014) Mulching practices altered soil bacterial community structure and improved orchard productivity and apple quality after five growing seasons. Sci Hortic 172:248–257. https://doi.org/10.1016/j.scienta.2014.04.010

Czarnes S, Hallett PD, Bengough AG, Young IM (2000) Root and microbial-derived mucilages affect soil structure and water transport. Eur J Soil Sci 51(3):435–443. https://doi.org/10.1046/j.1365-2389.2000.00327.x

Danon M, Chen Y, Hadar Y (2010) Ascomycete communities associated with suppression of Sclerotium rolfsii in compost. Fungal Ecol 3(1):20–30. https://doi.org/10.1016/j.funeco.2009.05.003

Deakin G, Tilston EL, Bennett J, Passey T, Harrison N, Fernández-Fernández F, Xu X (2018) Spatial structuring of soil microbial communities in commercial apple orchards. Appl Soil Ecol 130:1–12. https://doi.org/10.1016/j.apsoil.2018.05.015

Edgar RC (2013) UPARSE, highly accurate OTU sequences from microbial amplicon reads. Nat Methods 10:996–998. https://doi.org/10.1038/NMETH.2604

Edgar RC, Haas BJ, Clemente JC, Quince C, Knight R (2011) UCHIME improves sensitivity and speed of chimera detection. Bioinformatics 27:2194–2200. https://doi.org/10.1093/bioinformatics/btr381

Edwards J, Johnson C, Santos-Medellín C, Lurie E, Sundaresan V (2015) Structure, variation, and assembly of the root-associated microbiomes of rice. Proc Natl Acad Sci U S A 112(8):E911–E920. https://doi.org/10.1073/pnas.1414592112

Ferree DC, Warrington IJ (2003) Apples botany, production and uses. CABI Publishing, London

Franke-Whittle IH, Manici LM, Insam H, Stres B (2015) Rhizosphere bacteria and fungi associated with plant growth in soils of three replanted apple orchards. Plant Soil 395(1–2):317–333. https://doi.org/10.1007/s11104-015-2562-x

Fu RM (1989) The invention of the new apple variety Qinguan. Shanxi J Agric Sci 4:38

Gao XF (2017) Root exudates of dominant plants and the effects of their main components on soil microorganisms in Stipa breviflora desert steppe. Inner Mongolia Agricultural University, Huhehaote

Garbeva P, van Veen JA, van Elsas JD (2004) Microbial diversity in soil, selection of microbial populations by plant and soil type and implications for disease suppressiveness. Annu Rev Phytopathol 42:243–270. https://doi.org/10.1146/annurev.phyto.42.012604.135455

Guissou T, Babana AH, Sanon KB, Ba AM (2016) Effects of arbuscular mycorrhizae on growth and mineral nutrition of greenhouse propagated fruit trees from diverse geographic provenances. Biotechnol Agron Soc Environ 20(3):417–426

Guo GN, Yan ZL, Zhang HT, Zhang SN, Liu ZZ (2009) Current situation of production of early and mid season apple cultivars in China and progress in China and progress in breeding for early and mid season apple cultivars. J Fruit Sci 26(6):871–877

Haas BJ, Gevers D, Earl AM, Feldgarden M, Ward DV, Giannoukos G, Ciulla D, Tabbaa D, Highlander SK, Sodergren E (2011) Chimeric 16S rRNA sequence formation and detection in Sanger and 454-pyrosequenced PCR amplicons. Genome Res 21(3):494–504. https://doi.org/10.1101/gr.112730.110

Haynes RJ (1983) Soil acidification induced by leguminous crops. Grass Forage Sci 38(1):1–11

Huang SW, Jin JY (1995) Research progress in soil potassium form and its phytoavailability. Soil Fertil 5:23–29

Isobe K, Tsuboki Y (1998) Relationship between the amount of root exudate and the infection rate of arbuscular mycorrhizal fungi in gramineous and leguminous crops. Plant Prod Sci 1(1):37–38. https://doi.org/10.1626/pps.1.37

Isobe K, Tateishi A, Nomura K, Inoue H, Tsuboki Y (2001) Flavonoids in the extract and exudate of the roots of leguminous crops. Plant Prod Sci 4(4):278–279. https://doi.org/10.1626/pps.4.278

Jiao S, Liu Z, Lin Y, Yang J, Chen W, Wei G (2016) Bacterial communities in oil contaminated soils, biogeography and co-occurrence patterns. Soil Biol Biochem 98:64–73. https://doi.org/10.1016/j.soilbio.2016.04.005

Klaubauf S, Inselsbacher E, Zechmeister-Boltenstern S, Wanek W, Gottsberger R, Strauss J, Gorfer M (2010) Molecular diversity of fungal communities in agricultural soils from Lower Austria. Fungal Divers 44(1):65–75. https://doi.org/10.1007/s13225-010-0053-1

Krishna H, Das B, Attri BL, Grover M, Ahmed N (2010) Suppression of Botryosphaeria canker of apple by arbuscular mycorrhizal fungi. Crop Prot 29(9):1049–1054. https://doi.org/10.1016/j.cropro.2010.05.005

Li J, Zhang DB, Wang Z, Yao PW, Zhao N, Cao QH, Yu CW, Cao WD, Gao YJ (2012) Effect of fertilizer and green manure incorporation methods on the growth and water use efficiency of winter wheat. Agric Res Arid Areas 30(3):136–142

Li Q, Yang SP, Cui GL, Huang JG, Li LY, Cheng YY (2017) Microbial biomass, enzyme activity and composition of the fungal community in rhizospheric soil cropped with Artemisia annua for several years. Acta Pratacul Sin 26(1):34–42. https://doi.org/10.11686/cyxb2016091

Liu D, Liu G, Chen L, Wang J, Zhang L (2018a) Soil pH determines fungal diversity along an elevation gradient in Southwestern China. Sci China Life Sci 61(6):718–726. https://doi.org/10.1007/s11427-017-9200-1

Liu J, Xie WY, Zhang QM, Xu SJ (2018b) Leaf decomposition and nutrient release characteristics of different plant species in the Loess Hilly region. Acta Pratacul Sin 27(9):25–33. https://doi.org/10.11686/cyxb2017442

Longa CMO, Nicola L, Antonielli L, Mescalchin E, Zanzotti R, Turco E, Pertot I (2017) Soil microbiota respond to green manure in organic vineyards. J Appl Microbiol 123(6):1547–1560. https://doi.org/10.1111/jam.13606

Luo BR, Li CC, Zhu YR, Yang JF, Gao SL (2019) Effects of three green manures on soil pH and exchangeable cation content in tea garden. Subtrop Agric Res 15(02):121–126. https://doi.org/10.13321/j.cnki.subtrop.agric.res.2019.02.009

Lv LX, Wang W, Wang XR, Zhang LX, Li AM, Gao M, Zhang LS, Li BR, Han MY (2018) Release of nutrients during the decomposition of green manure in different levels of the soil in an apple orchard in Weibei highland. J Fruit Sci 35(5):586–595. https://doi.org/10.13925/j.cnki.gsxb.20170465

Ma SC (2020) Composition of root exudates of forage grass and crops and their allelopathy effects. Gansu Agricultural University, Lanzhou

Maher BA, Mutch TJ, Cunningham D (2009) Magnetic and geochemical characteristics of Gobi Desert surface sediments: implications for provenance of the Chinese Loess Plateau. Geology 37(3):279–282. https://doi.org/10.1130/G25293A.1

Marsh AG, Maxson RE, Manahan DT (2001) High macromolecular synthesis with low metabolic cost in Antarctic sea urchin embryos. Science 291(5510):1950–1952

Martin M (2011) Cutadapt removes adapter sequences from high-throughput sequencing reads. Embnet J 17(1):10–12. https://doi.org/10.14806/ej.17.1.200

Mazzola M (1998) Elucidation of the microbial complex having a causal role in the development of apple replant disease in Washington. Phytopathology 88(9):930–938. https://doi.org/10.1094/PHYTO.1998.88.9.930

Meyer JR, Linderman RG (1986) Selective influence on populations of rhizosphere or rhizoplane bacteria and actinomycetes by mycorrhizas formed by Glomus fasciculatum. Soil Biol Biochem 18:191–196. https://doi.org/10.1016/0038-0717(86)90026-X

Munnecke DE (1984) Establishment of microorganisms in fumigated avocado soil to attempt to prevent reinvasion of the soils by phytophthora-cinnamomi. Trans Br Mycol Soc 83:287–294. https://doi.org/10.1016/S0007-1536(84)80149-7

Nguyen NH, Song Z, Bates ST, Branco S, Tedersoo L, Menke J, Schilling JS, Kennedy PG (2016) FUNGuild, an open annotation tool for parsing fungal community datasets by ecological guild. Fungal Ecol 20:241–248. https://doi.org/10.1016/j.funeco.2015.06.006

Orgiazzi A, Lumini E, Nilsson RH, Girlanda M, Vizzini A, Bonfante P, Bianciotto V (2012) Unravelling soil fungal communities from different mediterranean land-use backgrounds. PLoS One 7(4):e34847. https://doi.org/10.1371/journal.pone.0034847

Perez-Alvarez EP, Luis Perez-Sotes J, Garcia-Escudero E, Peregrina F (2013) Cover crop short-term effects on soil NO3--N availability, nitrogen nutritional status, yield, and must quality in a calcareous vineyard of the AOC Rioja, Spain. Commun Soil Sci Plant Anal 44(1–4):711–721. https://doi.org/10.1080/00103624.2013.748122

Perez-Alvarez EP, Garcia-Escudero E, Peregrina F (2015) Soil nutrient availability under cover crops, effects on vines, must, and wine in a tempranillo vineyard. Am J Enol Vitic 66(3):311–320. https://doi.org/10.5344/ajev.2015.14092

Qian X, Gu J, Pan HJ, Zhang KY, Sun W, Wang XJ, Gao H (2015) Effects of living mulches on the soil nutrient contents, enzyme activities, and bacterial community diversities of apple orchard soils. Eur J Soil Biol 70:23–30. https://doi.org/10.1016/j.ejsobi.2015.06.005

Qian YL, Liang ZT, Cao Q, Yang XL, Shen YY, Wang XZ (2018) Effects of grass-planting on soil bacterial community composition of apple orchard in Longdong arid region. Chin J Ecol 37(10):3010–3017. https://doi.org/10.13292/j.1000-4890.201810.021

Qin J, Li Y, Cai Z, Li S, Zhu J, Zhang F, Liang S, Zhang W, Guan Y, Shen D (2012) A metagenome-wide association study of gut microbiota in type 2 diabetes. Nature 490(7418):55–60. https://doi.org/10.1038/nature11450

Ramos ME, Benítez E, García PA, Robles AB (2010) Cover crops under different managements vs. frequent tillage in almond orchards in semiarid conditions: effects on soil quality. Appl Soil Ecol 44(1):6–14. https://doi.org/10.1016/j.apsoil.2009.08.005

Rutto KL, Mizutani F, Moon DG, Cho YS, Kadoya K (2003) Seasonal fluctuations in mycorrhizal spore populations and infection rates of vineyard soils planted with five legume cover crops. J Jpn Soc Horticultural Sci 72(4):262–267. https://doi.org/10.1109/SSDM.1998.688117

Sánchez EE, Giayetto A, Cichón L, Fernández D, Aruani MC, Curetti M (2007) Cover crops influence soil properties and tree performance in an organic apple (Malus domesticaBorkh) orchard in northern Patagonia. Plant Soil 292:193–203. https://doi.org/10.1007/s11104-007-9215-7

Schussler A, Gehrig H, Schwarzott D, Walker C (2001) Analysis of partial Glomales SSU rRNA gene sequences, implications for primer design and phylogeny. Mycol Res 105:5–15. https://doi.org/10.1017/S0953756200003725

Semchenko M, Leff JW, Lozano YM, Saar S, Davison J, Wilkinson A, Jackson BG, Pritchard WJ, De Long JR, Oakley S, Mason KE, Ostle NJ, Baggs EM, Johnson D, Fierer N, Bardgett RD (2018) Fungal diversity regulates plant-soil feedbacks in temperate grassland. Sci Adv 4(11):eaau4578. https://doi.org/10.1126/sciadv.aau4578

Shen RF, Zhao XQ (2015) Role of soil microbes in the acquisition of nutrients by plants. Acta Ecol Sin 35(20):6584–6591. https://doi.org/10.5846/stxb201506051140

Smith SE, Read DJ (2008) Mycorrhizal symbiosis, 3rd edn. Academic press, Londong

Srivastava AK, Huchche AD, Ram L, Singh S (2007) Yield prediction in intercropped versus monocropped citrus orchards. Sci Hortic 114(1):67–70. https://doi.org/10.1016/j.scienta.2007.05.005

Sun Q, Wu HL, Chen F, Kang JH (2020) Characteristics of soil nutrients and fungal community composition in crop rhizosphere under different rotation patterns. Huan Jing Ke Xue 41(10):4682–4689. https://doi.org/10.13227/j.hjkx.202001031

Supaphon P, Phongpaichit S, Rukachaisirikul V, Sakayaroj J (2013) Antimicrobial potential of endophytic fungi derived from three seagrass species, cymodocea serrulata, halophila ovalis and thalassia hemprichii. PLoS One 8(8):e72520. https://doi.org/10.1371/journal.pone.0072520

Sweet RM, Schreiner RP (2010) Alleyway cover crops have little influence on pinot noir grapevines (Vitis vinifera L.) in two western Oregon vineyards. Am J Enol Vitic 61(2):240–252. https://doi.org/10.1109/MVHI.2010.54

Tewoldemedhin YT, Mazzola M, Botha WJ, Spies CFJ, McLeod A (2011) Characterization of fungi (Fusarium and Rhizoctonia) and oomycetes (Phytophthora and Pythium) associated with apple orchards in South Africa. Eur J Plant Pathol 130(2):215–229. https://doi.org/10.1007/s10658-011-9747-9

Tian Y, Zhang X, Liu J, Gao L (2011) Effects of summer cover crop and residue management on cucumber growth in intensive Chinese production systems: soil nutrients, microbial properties and nematodes. Plant Soil 339(1–2):299–315. https://doi.org/10.1007/s11104-010-0579-8

USDA (2018) Fresh apples, grapes, and pears: world markets and trade. United States Department of Agriculture Publishing PhysicsWeb. https://downloads.usda.library.cornell.edu/usda-esmis/files/1z40ks800/f7623p438/cf95jn34d/fruit_-_circular.pdf. Accessed 5 Jul 2020

USDA (2019) Fresh deciduous fruit: world markets and trade (apples, grapes & pears). United States Department of Agriculture Publishing PhysicsWeb. https://apps.fas.usda.gov/psdonline/circulars/fruit.pdf. Accessed 5 Jul 2020

Wang Y, Shao M, Liu Z, Zhang C (2015a) Characteristics of dried soil layers under apple orchards of different ages and their applications in soil water managements on the loess plateau of China. Pedosphere 25(4):546–554. https://doi.org/10.1016/S1002-0160(15)30035-7

Wang Y, Weng B, Ye J, Zhong Z, Huang Y (2015b) Carbon sequestration in a nectarine orchard as affected by green manure in China. Eur J Hortic Sci 80(5):208–215. https://doi.org/10.17660/eJHS.2015/80.5.2

Wang J, Huang J, Zhao X, Wu P, Horwath WR, Li H, Jing Z, Chen X (2016) Simulated study on effects of ground managements on soil water and available nutrients in jujube orchards. Land Degrad Dev 27(1):35–42. https://doi.org/10.1002/ldr.2334

Wang ST, Wang YN, Cao KQ (2018a) Occurrence of and research progress in important apple diseases in China in recent years. Plant Prot 44(5):13–25+50. https://doi.org/10.16688/j.zwbh.2018300

Wang XY, Guo YE, Feng X, Shi Y, Duan TY (2018b) Effect of arbuscular mycorrhiza and a grass endophyte on the drought tolerance of perennial ryegrass. Pratacult Sci 35(2):380–390

Wang L, Zhang K, Zhang CG, Feng YZ, Wu GF (2019) Dynamics and stabilization of the rumen microbiome in yearling Tibetan sheep. Appl Microbiol Microbiome 9:19620. https://doi.org/10.1038/s41598-019-56206-3

Whitelaw-Weckert MA, Rahman L, Hutton RJ, Coombes N (2007) Permanent swards increase soil microbial counts in two Australian vineyards. Appl Soil Ecol 36(2–3):224–232. https://doi.org/10.1016/j.apsoil.2007.03.003

Xu GH, Bao SD, Shi RH (1991) Research on the potassium supply of soils IV. Utilization of soil interlayer potassium by graminaceous and leguminous crops. J Nanjing Agric Univ 14(2):47–52

Yan ZC, Li YD, Cheng WJ, Gao P, Guo YE, Duan TY (2018) Effects of AM fungi and grass endophyte on the growth of ryegrass under different salt concentrations. Grassland Turf 38(1):63–70. https://doi.org/10.13817/j.cnki.cyycp.2018.01.010

Yim B, Nitt H, Wrede A, Jacquiod S, Sørensen SJ, Winkelmann T, Smalla K (2017) Effects of soil pre-treatment with basamid® granules, Brassica juncea, Raphanus sativus, and Tagetes patula on bacterial and fungal communities at two apple replant disease sites. Front Microbiol 8:1604. https://doi.org/10.3389/fmicb.2017.01604

Zhang X (2015) Mechanism with leaf traits in alfalfa responding to drought stress. Dissertation, Lanzhou University

Zhang XM (2017) Productivity, water and nitrogen use under spring wheat-forage crops rotation in the Longdong loess plateau. Dissertation, Lanzhou University

Zhang LL (2018) Species diversity and drought resistance of dark septate endophytes in the rhizospheres of different plants in Anxi extreme ari desert. Dissertation, Hebei University

Zhang WT, Liu GZ, Zhang M, Dong ST, Chen JQ, Liu WL, Yang XY, Yin ZH (2017) Effects of controlled-release potassium fertilizers on the yield of maize, potassium use efficiency and soil available potassium. J Soil Water Conserv 31(4):241–247. https://doi.org/10.13870/j.cnki.stbcxb.2017.04.038

Zhang Q, Yu EJ, Lin HB, Zhang AH, Chen ZG, Zhu Q, Cao WD, Zhu DY (2019) Soil aggregate characteristics in topsoil layer under continuity planting same green manure crop. South China J Agric Sci 32(1):148–153. https://doi.org/10.16213/j.cnki.scjas.2019.1.024

Zhong Z, Huang X, Feng D, Xing S, Weng B (2018) Long-term effects of legume mulching on soil chemical properties and bacterial community composition and structure. Agric Ecosyst Environ 268:24–33. https://doi.org/10.1016/j.agee.2018.09.001

Zhou ZB, Li PJ (2003) Ecological distribution of soil microorganism in artificial greenbelt in hinterland of Takilimakan Desert and their relations with soil factors. Chin J Appl Ecol 14(8):1246–1250

Zhou Y, Zhu H, Fu S, Yao Q (2017) Variation in soil microbial community structure associated with different legume species is greater than that associated with different grass species. Front Microbiol 8:1007. https://doi.org/10.3389/fmicb.2017.01007

Zhou WF, Zhu YY, Zhang XF (2019) Determination of organic matter content in soil. Henan Sci 37(2):270–274

Zhu Y, Saltzgiver M (2020) A systematic analysis of apple root resistance traits to Pythium ultimum infection and the underpinned molecular regulations of defense activation. Hortic Res 7(1):62. https://doi.org/10.1038/s41438-020-0286-4
Funding
This research was supported by China Modern Agriculture Research System (CARS-22 Green Manure).
Ethics declarations
Conflict of Interest
The authors declare no competing interests.
Additional information
Publisher's note
Springer Nature remains neutral with regard to jurisdictional claims in published maps and institutional affiliations.
Highlights
• Three green manure crops decreased soil K content in apple orchard.
• Green manure increased or had no effects on soil water content and soil pH.
• Green manure increased the relative abundance of Glomeromycota and the accumulation of specific genera.
• Green manure is beneficial to favorer the establishment of abundant and diverse soil fungal communities.
About this article
Cite this article
Ding, T., Yan, Z., Zhang, W. et al. Green Manure Crops Affected Soil Chemical Properties and Fungal Diversity and Community of Apple Orchard in the Loess Plateau of China. J Soil Sci Plant Nutr (2021). https://doi.org/10.1007/s42729-021-00424-0
Received:

Accepted:

Published:
Keywords
Orchard-green manure

Soil fungi

High-throughput sequencing

Diversity

Fungal community composition