Abstract
The final disposal of sewage sludge (SS) in agricultural areas is considered economically and environmentally viable, but few studies on the effects of sludge stabilization processes on SS fertilizing potential are available. The present study evaluated two forms of SS stabilization on the shoot biomass, yield, and concentration of nutrients in the soil and plants in three successive maize croppings. The raw sludge was chemically stabilized (CSS) and composted (TSS) through the addition of calcium oxide and co-composting with plant residues, respectively. Five rates of each type of SS (0, 10, 20, 30, and 40 t ha−1 dry weight) were applied to the soil in a family farm of NE Brazil. A mineral fertilization treatment was used to assess the SS fertilizer potential. Changes in soil chemical characteristics (pH, organic matter, and nutrient available contents), plant mineral composition, and maize biomass and yield were assessed at each crop cultivation. Applying sewage sludge to the soil elevated the soil organic matter and the availability of N, P, Fe, Mn, Zn, and Cu, reflecting in higher accumulation of these nutrients by plants. The CSS was more efficient in increasing soil pH than SS composting. In the first harvest, maize yield in CSS was 34% higher than that obtained with mineral fertilization. The two types of sludges had different effects on soil characteristics, plant mineral composition, and maize yield. The CSS residual effect on soil pH can dismiss soil liming. Composted sludge maintained higher soil organic matter levels in the soil with the successive croppings and promoted higher soil N concentrations in the first two croppings. Both sludges increased and maintained adequate available P concentrations in the soil throughout the successive crops. The results support SS's efficiency in providing nutrients to plants, improving soil properties, and boosting crop productivity in low-input agriculture systems.
Access options
Buy single article
Instant access to the full article PDF.
US$ 39.95
Tax calculation will be finalised during checkout.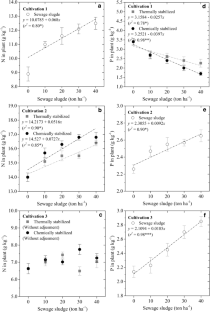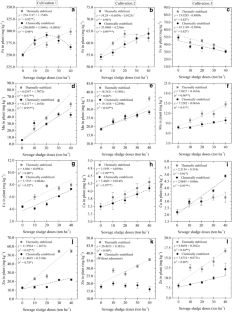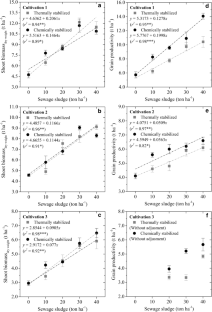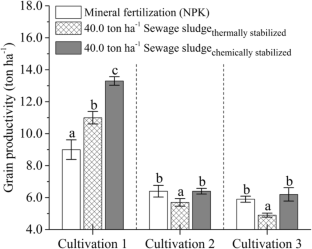 References
Anjos, ARM, Mattiazzo, ME (2000). Metais pesados em plantas de milho cultivadas em Latossolos repetidamente tratados com biossólido. Sci Agric, 57:769–776. (in Portuguese)

Bai Y, Zang C, Gu M, Shao H, Guan Y, Wang X, Zhou X, Shan Y, Feng K (2017) Sewage sludge as an initial fertility driver for rapid improvement of mudflat salt-soils. Sci Total Environ 578:47–55. https://doi.org/10.1016/j.scitotenv.2016.06.083

Borjesson G, Katterer T (2018) Soil fertility effects of repeated application of sewage sludge in two 30-year-old field experiments. Nutr Cycl Agroecosys 112:369–385. https://doi.org/10.1007/s10705-019-09988-x

Bourioug M, Alaoui-Sehmer L, Laffray X, Benbrahim M, Aleya L, Alaoui-Sossé B (2015) Sewage sludge fertilization in larch seedlings: effects on trace metal accumulation and growth performance. Ecol Eng 77:216–224. https://doi.org/10.1016/j.ecoleng.2015.01.031

Brasil (2017) Atlas Esgotos Despoluição De Bacias Hidrográficas. Brasília, p 56 (in Portuguese)

Černe M, Palčić I, Pasković I, Major N, Romić M, Filipović V, Igrc MD, Perčin A, Ban SG, Zorko B, Vodenik B, Cindro DG, Milačič R, Heath DJ, Ban D (2019) The effect of stabilization on the utilization of municipal sewage sludge as a soil amendment. Waste Manag 94:27–38. https://doi.org/10.1016/j.wasman.2019.05.032

Conab - Companhia Nacional de Abastecimento (2018). Boletim de Monitoramento Agrícola 2018. https://www.conab.gov.br/info-agro/safras/graos/monitoramento-agricola (acessed 21.07.19). (in Portuguese)

Conama - Conselho Nacional de Meio Ambiente (2006). Resolução n. 375 de 2006. http://www.fundagresorg.br/biossolido/images/downloads/res_conama37506 (acessed 10.05.17). (in Portuguese)

Embrapa - Empresa Brasileira de Pesquisa Agropecuária (2007) Manual de análises químicas de solos, plantas e fertilizantes, 1st edn. Embrapa, Rio de Janeiro, p 42 (in Portuguese)

Embrapa - Empresa Brasileira de Pesquisa Agropecuária (2011) Manual de métodos de análise de solo, 2st edn. Embrapa, Rio de Janeiro (in Portuguese)

Fernandes, F.; Andreoli, C. V. Manual técnico para utilização agrícola do lodo de esgoto no estado do Paraná. Curitiba: SANEPAR, 1997. 96p. (in Portuguese)

Florentino AL, Ferraz AV, Gonçalves JLM, Asensio V, Muraoka T, Dias CTS, Nogueira TAZ, Capra GF, Abreu-Junior CH (2019) Long-term effects of residual sewage sludge application in tropical soils under Eucalyptus plantations. J Clean Prod 220:177–187. https://doi.org/10.1016/j.jclepro.2019.02.065

Gomes SBV, Nascimento CWA, Biondi CM (2007) Produtividade e composição mineral de plantas de milho em solo adubado com lodo de esgoto. Rev Bras Eng Agric Ambient 11:459–465. https://doi.org/10.1590/S1415-43662007000500002. (in Portuguese)

Idrovo-Novillo J, Gavilanes-Terána I, Bustamante MA, Paredes C (2018) Composting as a method to recycle renewable plant resources back to the ornamental plant industry: agronomic and economic assessment of composts. Process Saf Environ 116:388–395. https://doi.org/10.1016/j.psep.2018.03.012

Iocoli GA, Zabaloy MC, Pasdevicelli G, Gómez MA (2019) Use of biogas digestates obtained by anaerobic digestion and co-digestion as fertilizers: characterization, soil biological activity and growth dynamic of Lactuca sativa. L Sci Total Environ 647:11–19. https://doi.org/10.1016/j.scitotenv.2018.07.444

IUSS Working Group WRB, 2015. World reference base for soil resources (2014): international soil classification systems for naming soils and creating legends for soil maps. http://www.fao.org/3/i3794en/I3794en.pdf (accessed 5 Nov 2020)

Junio GRZ, Sampaio RA, Nascimento AL, Santos GB, Santos LDT, Fernandes LA (2013) Produtividade de milho adubado com composto de lodo de esgoto e fosfato natural de Gafsa. Rev Bras Eng Agric Ambient 17:706–712. https://doi.org/10.1590/S1415-43662013000700003. (in Portuguese)

Kayikcioglu HH, Delibacak S (2018) Changes in soil health and crops yield in response to the short-term application of sewage sludge to typic xerofluvent soil in Turkey. Appl Ecol Env Res 16:4893–4917. https://doi.org/10.15666/aeer/1604_48934917

Kchaou R, Baccar R, Bouzid J, Rejeb S (2018) Agricultural use of sewage sludge under sub-humid Mediterranean conditions: effect on growth, yield, and metal content of a forage plant. Arab J Geosci 11:746. https://doi.org/10.1007/s12517-018-4103-4

Khanmohammadi Z, Afyuni M, Mosaddeghi MR (2016) Effect of sewage sludge and its biochar on chemical properties of two calcareous soils and maize shoot yield. Arch Agron Soil Sci 63:198–212. https://doi.org/10.1080/03650340.2016.1210787

Kirchmann H, Borjesson G, Katterer Y, Cohen Y (2017) From agricultural use of sewage sludge to nutrient extraction: a soil science outlook. Ambio 46:143–154. https://doi.org/10.1007/s13280-016-0816-3

Kołodziej B, Antonkiewicz J, Stachyra M, Bielińska EJ, Wiśniewski J, Luchowska K, Kwiatkowski C (2015) Use of sewage sludge in bioenergy production-a case study on the effects on sorghum biomass production. Eur J Agron 69:63–74. https://doi.org/10.1016/j.eja.2015.06.004

Koutroubas SD, Antoniadis V, Damalas CA, Fotiadis S (2020) Sewage sludge influences nitrogen uptake, translocation, and use efficiency in sunflower. J Soil Sci Plant Nutr 20:1912–1922. https://doi.org/10.1007/s42729-020-00262-6

Liu S, Meng J, Jiang L, Yang X (2017) Rice husk biochar impacts soil phosphorous availability, phosphatase activities and bacterial community characteristics in three different soil types. Appl Soil Ecol 116:12–22. https://doi.org/10.1016/j.apsoil.2017.03.020

Lloret L, Pascual JA, Brodie EL, Bouskill NJ, Insam H, Juárez MF, Goberna M (2016) Sewage sludge addition modifies soil microbial communities and plant performance depending on the sludge stabilization process. Appl Soil Ecol 101:37–46. https://doi.org/10.1016/j.apsoil.2016.01.002

Matos AT, Diniz ICC, Matos MP, Borges AC, Pereira AA (2015) Degradation rate of anaerobically digested sewage sludge in soil. J Water Sanit Hyg Dev 138:10–21. https://doi.org/10.2166/washdev.2017.138

Melo W, Delarica D, Guedes A, Lavezzo L, Donha R, Araújo A, Melo G, Macedo F (2018) Ten years of application of sewage sludge on tropical soil. A balance sheet on agricultural crops and environmental quality. Sci Total Environ 643:1493–1501. https://doi.org/10.1016/j.scitotenv.2018.06.254

Mohamed B, Mounia K, Aziz A, Ahmed H, Rachid B, Lotfi A (2018) Sewage sludge used as organic manure in Moroccan sunflower culture: effects on certain soil properties, growth and yield components. Sci Total Environ 627:681–688. https://doi.org/10.1016/j.scitotenv.2018.01.258

Moretti SML, Bertoncini EI, Abreu-junior CH (2015) Composting sewage sludge with green wastefrom tree pruning. Sci Agr 72:432–439. https://doi.org/10.1590/0103-9016-2014-0341

Moretti SML, Bertoncini EI, Vitti AC, Alleoni LRF, Abreu-Junior CH (2016) Concentration of Cu, Zn, Cr, Ni, Cd, and Pb in soil, sugarcane leaf and juice: residual effect of sewage sludge and organic compost application. Environ Monit Assess 188:163. https://doi.org/10.1007/s10661-016-5170-1

Murray R, Tien YC, Scott A, Topp E (2019) The impact of municipal sewage sludge stabilization processes on the abundance, field persistence, and transmission of antibiotic resistant bacteria and antibiotic resistance genes to vegetables at harvest. Sci Total Environ 651:1680–1687. https://doi.org/10.1016/j.scitotenv.2018.10.030

Nascimento CWA, Oliveira AB, Ribeiro MR, Melo EEC (2006) Distribution and availability of zinc and copper in benchmark soils of Brazil. Comm Soil Sci Plant Anal 37:109–125

Odlare M, Arthurson V, Pell M, Svensson K, Nehrenheim E, Abubaker J (2011) Land application of organic waste effects on the soil ecosystem. Appl Energ 88:2210–2218. https://doi.org/10.1016/j.apenergy.2010.12.043

Ogendo JO, Nyalala S, Nakitare KJ, Nakhone L, Musandu AAO, Ochieng J, Kimaru L (2018) Efficacy of fecal fertilizers on growth, nutrient uptake and yield of maize. Afr J Food Agric Nutr Dev 18:13743–13760. https://doi.org/10.18697/ajfand.83.18015

Rigby H, Clarke BO, Pritchard DL, Meehan B, Beshah F, Smith SR (2016) A critical review of nitrogen mineralisation in biosolids-amended soil, the associated fertilizer value for crop production and potential for emissions to the environment. Sci Total Environ 541:1310–1338. https://doi.org/10.1016/j.scitotenv.2015.08.089

Rodrigues MN, Sampaio RA, Junio GRZ, Oliveira ALG (2017) Nutrients and heavy metals in maize crop fertilized with rock phosphate and bio. REVENG 25:50–62. https://doi.org/10.13083/reveng.v25i1.685

Silva RCF, Silva FBV, Biondi CM, Nascimento CWA, Oliveira ECA (2019) Assessing the content of micronutrients in soils and sugarcane in different pedogeological contexts of Northeastern Brazil. Rev Bras Ci Solo 43(0180228):2019

Tomócsik A, Makádi M, Orosz V, Aranyos T, Demeter I, Mészáros J, Fuleky G (2016) Effect of sewage sludge compost treatment on crop yield. AGROFOR Int J 1:2. https://doi.org/10.7251/AGRENG1602005T

Witter E, Lopez-Real J (1988) Nitrogen losses during the composting of sewage sludge, and the effectiveness of clay soil, zeolite, and compost in adsorbing the volatilized ammonia. Biol Wastes 23:279–294. https://doi.org/10.1016/0269-7483(88)90016-X

Yang L, Yang Y, Feng Z, Zheng Y (2016) Effect of maize sowing area changes on agricultural water consumption from 2000 to 2010 in the West Liaohe Plain, China. J Integr Agr 15:1407–1416. https://doi.org/10.1016/S2095-3119(15)61185-6

Zhang L, Zeng G, Dong H, Chen Y, Zhang J, Yan Zhu Y, Yuan Y, Xie Y, Huang Z (2017) The impact of silver nanoparticles on the co-composting of sewage sludge and agricultural waste: evolutions of organic matter and nitrogen. Bioresour Technol 230:132–139. https://doi.org/10.1016/j.biortech.2017.01.032

Zuo W, Gu C, Zhang W, Xu K, Wang Y, Bai Y, Shan Y, Dai Q (2019) Sewage sludge amendment improved soil properties and sweet sorghum yield and quality in a newly reclaimed mudflat land. Sci Total Environ 654:541–549. https://doi.org/10.1016/j.scitotenv.2018.11.127
Ethics declarations
Conflict of Interest
The authors declare no competing interests.
Additional information
Publisher's note
Springer Nature remains neutral with regard to jurisdictional claims in published maps and institutional affiliations.
About this article
Cite this article
da Silva, W.R., do Nascimento, C.W.A., da Silva, F.B.V. et al. Effects of Sewage Sludge Stabilization Processes on Soil Fertility, Mineral Composition, and Grain Yield of Maize in Successive Cropping. J Soil Sci Plant Nutr (2021). https://doi.org/10.1007/s42729-021-00423-1
Received:

Accepted:

Published:
Keywords
Biosolid

Soil fertility

Environmental quality