Abstract
The use of biochar to increase the soil carbon sequestration is a vital tool to reduce greenhouse gas emissions. Biochar was added to pearl millet (Pennisetum glaucum L.) to investigated its role in carbon sequestration and increasing the plant productivity. In these 2-year filed studies, biochar was added to a saline sodic soil at five rates: 0, 5 (BC5), 10 (BC10), 15 (BC15), and 20 (BC20) ton ha−1. Biochar raised the soil organic carbon and improved the availability and uptake of N, P, and K compared with the non-amended soil. BC5, BC10, BC15, and BC20 increased the forage yield by 36, 45, 27, and 18%, respectively, above the control in the first year and by 45, 65, 35, and 25%, respectively, in the second year. Biochar significantly minimized the proline, phenolic compounds, Na+, and Cl− in the leaf tissue of pearl millet. BC20 increased CO2 emissions by 15, 13, and 10%, respectively, compared with the control in the first, second, and third cuts. Biochar had a positive effect on increasing CO2 emissions from saline sodic soils. The total amount of organic-C sequestered by the pearl millet was 6.00–9.45 ton C ha−1 per season, while the total CO2 emissions were 1.62–1.82 ton of organic-C ha−1 per season. The application of biochar enhanced the nutrient availability and uptake; moreover, it mitigated the salinity effects in the leaves tissues. Carbon sequestration by pearl millet amended with biochar is an effective strategy to mitigate gas emissions from saline sodic soils.
Access options
Buy single article
Instant access to the full article PDF.
US$ 39.95
Tax calculation will be finalised during checkout.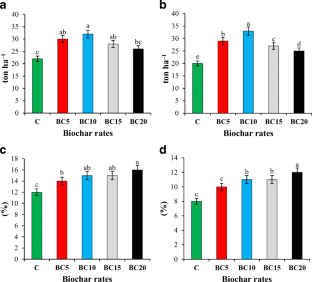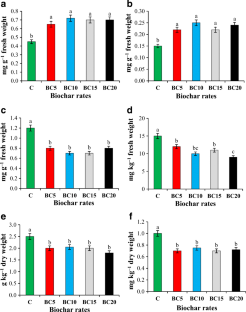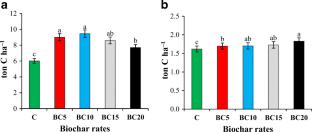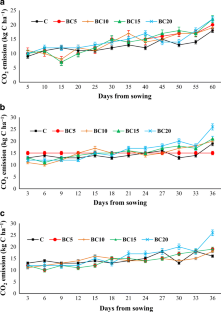 References
Abou-Zaid EA, Eissa MA (2019) Thompson seedless grapevines growth and quality as affected by glutamic acid, vitamin b, and algae. J Soil Sci Plant Nutr 19:725–733. https://doi.org/10.1007/s42729-019-00072-5

Acosta-Motos JR, Ortuño MF, Bernal-Vicente A, Diaz-Vivancos P, Sanchez-Blanco MJ, Hernandez JA (2017) Plant responses to salt stress: adaptive mechanisms. Agronomy 7:18. https://doi.org/10.3390/agronomy7010018

Akça YA, Samsunlu E (2012) The effect of salt stress on growth, chlorophyll content, proline and nutrient accumulation, and K/Na ratio in walnut. Pak J Bot 44(5):1513–1520

Albassam BA (2001) Effect of nitrate nutrition on growth and nitrogen assimilation of pearl millet exposed to sodium chloride stress. J Plant Nutr 24:1325–1335. https://doi.org/10.1081/PLN-100106984

Ali S, Rizwan M, Qayyum MF, Ok YS, Ibrahim M, Riaz M, Arif MS, Hafeez F, Al-Wabel MI, Shahzad AN (2017) Biochar soil amendment on alleviation of drought and salt stress in plants: a critical review. Environ Sci Pollut Res 24:12700–12712. https://doi.org/10.1007/s11356-017-8904-x

Almaroai YA, Eissa MA (2020) Effect of biochar on yield and quality of tomato grown on a metal-contaminated soil. Sci Hortic 265:109210. https://doi.org/10.1016/j.scienta.2020.109210

Al-Sayed H, Hegab SA, Youssef M, Khalafalla M, Almaroai YA, Ding Z, Eissa MA (2020) Evaluation of quality and growth of roselle (Hibiscus sabdariffa L.) as affected by bio-fertilizers. J Plant Nutr 43(7):1025–1035. https://doi.org/10.1080/01904167.2020.1711938

Ashraf M, McNeilly T (1987) Salinity effects on five cultivars/ lines of pearl millet (Pennisetum americanum [L.] Leeke). Plant Soil 103:13–19. https://doi.org/10.1007/BF02370662

Ball DF (1964) Loss-on-ignition as an estimate of organic matter and organic carbon in non-calcareous soils. J Soil Sci 15:84–92. https://doi.org/10.1111/j.1365-2389.1964.tb00247.x

Bastes LS, Walden RP, Teare ID (1973) Rapid determination of free proline for water stress studies. Plant Soil 39(1):205–207. https://doi.org/10.1007/BF00018060

Bono A, Alvarez R, Buschiazzo D, Cantet R (2008) Tillage effects on soil carbon balance in a semiarid agroecosystem. Soil Sci Soc Am J 72:1140–1149. https://doi.org/10.2136/sssaj2007.0250

Burt R (2004) Soil survey laboratory methods manual. Soil Survey Investigations Report No. 42, Version 4.0, Natural Resources Conservation Service, United States Department of Agriculture

Chhabra R (2004) Classification of salt-affected soils. Arid Land Res Manag 19(1):61–79. https://doi.org/10.1080/15324980590887344

Daliakopoulos IN, Tsanis IK, Koutroulis A, Kourgialas NN, Varouchakis AE, Karatzas GP, Ritsema CJ (2016) The threat of soil salinity: a European scale review. Sci Total Environ 573:727–739. https://doi.org/10.1016/j.scitotenv.2016.08.177

Ding Z, Zhou Z, Lin X, Zhao F, Wang B, Lin F, Ge Y, Eissa MA (2020) Biochar impacts on NH3-volatilization kinetics and growth of sweet basil (Ocimum basilicum L.) under saline conditions. Indust Crops Produc 157: 112903. https://doi.org/10.1016/j.indcrop.2020.112903

Doganlar ZB, Demir K, Basak H, Gul I (2010) Effects of salt stress on pigment and total soluble protein contents of three different tomato cultivars. African J Agric Res 5(15):2056–2065. https://doi.org/10.5897/AJAR10.258

Eissa MA (2019) Effect of compost and biochar on heavy metals phytostabilization by the halophytic plant old man saltbush [Atriplex nummularia Lindl]. Soil Sediment Contam 28(2):135–147. https://doi.org/10.1080/15320383.2018.1551325

Eissa MA, Abeed AH (2019) Growth and biochemical changes in quail bush (Atriplex lentiformis (Torr.) S.Wats) under Cd stress. Environ Sci Pollution Res 26(1):628–635. https://doi.org/10.1007/s11356-018-3627-1

Eissa MA, Ahmed EM (2016) Nitrogen and phosphorus fertilization for some plants grown on metal-contaminated soils. Soil Sediment Contam Int J 25(4):431–442

Eissa MA, Roshdy NK (2018) Nitrogen fertilization: effect on Cd-phytoextraction by the halophytic plant quail bush [Atriplex lentiformis (Torr.) S. Wats]. S Afr J Bot 115:126–131. https://doi.org/10.1007/s11356-018-3627-1

El-Mahdy MT, Youssef M, Eissa MA (2018) Impact of in vitro cold stress on two banana genotypes based on physio-biochemical evaluation. S Afr J Bot 119:219–225

Fidel RB, Laird DA, Parkin TB (2019) Effect of biochar on soil greenhouse gas emissions at the laboratory and field scales. Soil Syst 3(1):1–8. https://doi.org/10.3390/soilsystems3010008

Giri B, Varma A, (2019) Microorganisms in saline environments: strategies and functions. Springer

Gorovtsov AV, Minkina TM, Mandzhieva SS, Perelomov LV, Soja G, Zamulina IV, Rajput VD, Sushkova SN, Mohan D, Yao J (2020) The mechanisms of biochar interactions with microorganisms in soil. Environ Geochem Health 4:1–24. https://doi.org/10.1007/s10653-019-00412-5

He Y, Zhou X, Jiang L, Li M, Du Z, Zhou G, Shao J, Wang X, Xu Z, Hosseini BS (2016) Effects of biochar application on soil greenhouse gas fluxes: a meta-analysis. GCB Bioenergy 9(4):743–755. https://doi.org/10.1111/gcbb.12376

Houshmand S, Arzani A, Maibody SAM, Feizi M (2005) Evaluation of salt-tolerant genotypes of durum wheat derived from in vitro and field experiments. Field Crops Res 91:345–354. https://doi.org/10.1016/j.fcr.2004.08.004

Howell TA, Yazar A, Schneider AD, Dusek DA, Copeland S (1995) Yield and water use efficiency of maize in response to LEPA irrigation. Transactions of the ASAE 38:1737–1747

Huang M, Zhang Z, Zhai Y, Lu P, Zhu C (2019) Effect of straw biochar on soil properties and wheat production under saline water irrigation. Agronomy 9(8):1–12. https://doi.org/10.3390/agronomy9080457

Jackson RB, Canadell J, Ehleringer JR, Mooney HA, Sala OA, Schulze ED (1996) A global analysis of root distributions for terrestrial biomes. Oecologia 108:389–411

Kang WY, Li CF, Liu XY (2010) Antioxidant phenolic compounds and flavonoids of Mitragyna rotundifolia (Roxb.) Kuntze in vitro. Med Chem Res 19:1222–1232. https://doi.org/10.1007/s00044-009-9265-x

Krishnamurthy L, Serraj R, Nath Rai K, Tom Hash C, Dakheel AJ (2007) Identification of pearl millet [Pennisetum glaucum (L.) R. Br.] lines tolerant to soil salinity. Euphytica 158 (1-2):179–188

Lehmann S, Joseph S (2009) Biochar for environmental management: Science and Technology. Earthscan, London, UK

Lehmann J, Rillig MC, Thies J, Masiello CA, Hockaday WC, Crowley D (2011) Biochar effects on soil biota–a review. Soil Biol Biochem 43:1812–1836. https://doi.org/10.1016/j.soilbio.2011.04.022

Lichtenthaler HK (1987) Chlorophylls and carotenoids: the pigments of photosynthetic biomembranes. Method Enzymol 148:350–382. https://doi.org/10.1016/0076-6879(87)48036-1

Liu S, Zhang Y, Zong Y, Hu Z, Wu S, Zhou J, Jin Y, Zou J (2016) Response of soil carbon dioxide fluxes, soil organic carbon and microbial biomass carbon to biochar amendment: a meta-analysis. GCB Bioenergy 8:392–406. https://doi.org/10.1111/gcbb.12265

Mahmoud E, Ibrahim M, Ali N, Ali H (2020) Effect of biochar and compost amendments on soil biochemical properties and dry weight of canola plant grown in soil contaminated with heavy metals. Comm Soil Sci Plant Anal 51(12):1561–1571. https://doi.org/10.1080/00103624.2020.1763395

Majumder S, Neogi S, Dutta T, Powel MA, Banik P (2019) The impact of biochar on soil carbon sequestration: meta-analytical approach to evaluating environmental and economic advantages. J Environ Manag 250:109466. https://doi.org/10.1016/j.jenvman.2019.109466

Maucieri C, Zhang Y, McDaniel MD, Borin M, Adams MA (2017) Short-term effects of biochar and salinity on soil greenhouse gas emissions from a semi-arid Australian soil after re-wetting. Geoderma 307:267–276. https://doi.org/10.1016/j.geoderma.2017.07.028

Minhas P.S., Dagar J.C. (2016) Use of tree plantations in water-table drawdown and combating soil salinity. In: Dagar J., Minhas P. (eds) Agroforestry for the management of waterlogged saline soils and poor-quality waters. Advances in Agroforestry, vol 13. Springer, New Delhi. https://doi.org/10.1007/978-81-322-2659-8_3

Müller T, Höper H (2004) Soil organic matter turnover as a function of the soil clay content: consequences for model applications. Soil Biol Biochem 36(6):877–888. https://doi.org/10.1016/j.soilbio.2003.12.015

Muscolo A, Panuccio MR, Sidari M (2003) Effects of salinity on growth, carbohydrate metabolism and nutritive properties of kikuyu grass (Pennisetum clandestinum Hochst). Plant Sci 104:1103–1110. https://doi.org/10.1016/S0168-9452(03)00119-5

Pampuro N, Caffaro F, Cavallo E (2020) Farmers attitudes toward on-farm adoption of soil organic matter in piedmont region, Italy. Agriculture 10(1):14. https://doi.org/10.3390/agriculture10010014

Parkinson JA, Allen SE (1975) A wet oxidation procedure suitable for the determination of nitrogen and mineral nutrients in biological material. Comm Soil Sci Plant Anal 6:1–11. https://doi.org/10.1080/00103627509366539

Paustian K, Lehmann J, Ogle S, Reay D, Robertson GP, Smith P (2016) Climate smart soils. Nature 532(7597):49–57. https://doi.org/10.1038/nature17174

Qiu Z, Guo J, Zhu A, Zhang L, Zhang M (2014) Exogenous jasmonic acid can enhance tolerance of wheat seedlings to salt stress. Ecotoxicol Environ Saf 104:202–208. https://doi.org/10.1016/j.ecoenv.2014.03.014

Rady MM, Semida WM, Hemida KA, Abdelhamid MT (2016) The effect of compost on growth and yield of Phaseolus vulgaris plants grown under saline soil. Int J Recl Org Waste Agric 5(4):311–321. https://doi.org/10.1007/s40093-016-0141-7

Rai K, Gowda C, Reddy B, Sehgal S (2008) Adaptation and potential uses of sorghum and pearl millet in alternative and health foods. Compr Rev Food Sci Food Saf 7(4):320–396. https://doi.org/10.1111/j.1541-4337.2008.00049.x

Raychev T, Popandova S, Jozefaciuk G, Hajnos M, Sokolowska Z (2001) Physicochemical reclamation of saline soils using coal powder. Int Agrophys 15:51–54

Rekaby SA, Awad M, Hegab SA, Eissa MA (2020) Effect of some organic amendments on barley plants under saline condition. J Plant Nutr 43(12):1840–1851. https://doi.org/10.1080/01904167.2020.1750645

Schiedung H, Bauke S, Bornemann L, Welp G, Borchard N, Amelung W (2016) A simple method for in-situ assessment of soil respiration using alkali absorption. Appl Soil Ecol 106:33–36

Shrivastava P, Kumar R (2015) Soil salinity: a serious environmental issue and plant growth promoting bacteria as one of the tools for its alleviation. Saudi J of Biol Sci 22(2):123–131. https://doi.org/10.1016/j.sjbs.2014.12.001

Wei C, Ren S, Yang P, Wang Y, He X, Xu Z, Wei R, Wang S, Chi S, Zhang M (2021) Effects of irrigation methods and salinity on CO2 emissions from farmland soil during growth and fallow periods. Sci Total Environ 752:141639. https://doi.org/10.1016/j.scitotenv.2020.141639

Xiao X, Chen B, Chen Z, Zhu L, Schnoor JL (2018) Insight into multiple and multilevel structures of biochars and their potential environmental applications: a critical review. Environ Sci Technol 52:5027–5047. https://doi.org/10.1021/acs.est.7b06487

Yang XY, Chang K, Kim YJ, Zhang J, Yoo G (2019) Effects of different biochar amendments on carbon loss and leachate characterization from an agricultural soil. Chemosphere 226:625–635. https://doi.org/10.1016/j.chemosphere.2019.03.085

Zaklouta M, Hilali M, Nefzaoui A, Haylani M (2011) Animal nutrition and product quality laboratory manual. ICARDA, Aleppo, Syria

Zimmerman AR, Gao B, Ahn M (2011) Positive and negative carbon mineralization priming effects among a variety of biochar-amended soils. Soil Biol Bioch 43:1169–1117. https://doi.org/10.1016/j.soilbio.2011.02.005
Funding
The authors are thankful to Taif University Researchers Supporting Project number (TURSP-2020/65), Taif University, Saudi Arabia, for the financial support and research facilities.
Ethics declarations
Conflict of Interest
The authors declare that they have no conflict of interest.
Additional information
Publisher's note
Springer Nature remains neutral with regard to jurisdictional claims in published maps and institutional affiliations.
About this article
Cite this article
Ali, E.F., Al-Yasi, H.M., Kheir, A.M.S. et al. Effect of Biochar on CO2 Sequestration and Productivity of Pearl Millet Plants Grown in Saline Sodic Soils. J Soil Sci Plant Nutr (2021). https://doi.org/10.1007/s42729-021-00409-z
Received:

Accepted:

Published:
Keywords
Alkaline soils

Pennistum glaucum
CO2 emission

Nutrient uptake

Biochemical changes