Abstract
The enhanced photosynthetic production and growth-related aspects in higher plants were reported under increasing atmospheric ammonia (NH3); however, the combined effect of elevated NH3 concentration and nitrogen (N) application rates on crop growth, growth-related aspects, and yield is poorly understood. The present study evaluated the effects of elevated NH3 concentration and N status on corn growth and grain yield in six open-top chambers (OTCs) experiments. Corn was grown for 90 days in soil-filled pots with two N application rates (with and without N (+N and −N)) and two NH3 concentrations (0 nl l−1 and 1000 nl l−1) in OTCs. Results showed that plant height, total biomass, shoot biomass, shoot/root ratio, grain yield, and 100-grain yield of corn plants were increased with decreasing application of N in the soil in the elevated NH3 treatment. Shoots biomass and grain yield were increased by 49% and 13% respectively under elevated NH3 concentration compared with ambient concentration of NH3, averaged across years and N levels. The effect of elevated level of NH3 on development and plant growth depends on the soil N status. Under N-sufficient condition, plant growth and grain yield were negatively affected, whereas in N-deprived condition, biomass production and grain yield were enhanced, because of the stimulated photosynthetic rates. Moreover, corn plants may receive more benefits from NH3 enrichment under the low supply of N nutrient and when atmospheric NH3 can act as an N supplement source.
This is a preview of subscription content, log in to check access.
Access options
Buy single article
Instant access to the full article PDF.
US$ 39.95
Price includes VAT for USA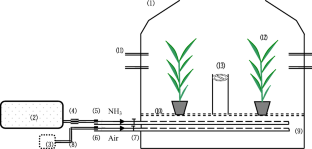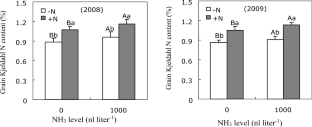 References
Affendi NM, Mansor N, Samiri SS (2020) Addition of chemical and natural urease inhibitors in reducing ammonia and nitrous oxide losses. J Soil Sci Plant Nutr 20(1):253–258

Alfaro M, Salazar F, Hube S, Ramírez L, Mora M (2018) Ammonia and nitrous oxide emissions as affected by nitrification and urease inhibitors. J Soil Sci Plant Nutr 18(2):479–486

Castro A, Stulen I, De Kok LJ (2005) Impact of atmospheric NH3 deposition on plant growth and functioning: a case study in Brassica oleracea L. In: Omasa K, Nouchi I, De Kok LJ (eds) Plant responses to air pollution and global changes. Springer-Verlag, Tokyo, pp 13–20

Castro A, Stulen I, Posthumus FS, De Kok LJ (2006) Changes in growth and nutrient uptake in Brassica oleracea L. exposed to atmospheric ammonia. Ann Bot 97:121–131

Chen X, Li S (2013) Effects of enhanced atmospheric ammonia on physiological characteristics of maize (Zea mays L.). J Sci Food Agric 93(12):3094–3099

Chen XL, Wu PT, Zhao XN, Li J, Li SQ (2010) Effects of elevated ammonia concentration and nitrogen status on the growth and yield of winter wheat. Agron J 102:1–7

Chen X, Wu P, Zhao X, Li S (2012) Effects of atmospheric ammonia enrichment and nitrogen status on the growth of maize. Soil Sci Plant Nutr 58(1):32–40

Clement JMAM, Loorbach J, Meijer J, Van Hasselt PR (1997) The impact of atmospheric ammonia and temperature on growth and nitrogen metabolism in winter wheat. Plant Physiol Bioch 34:159–164

Denmead OT, Freney JR, Dunin FX (2008) Gas exchange between plant canopies and the atmosphere: case-studies for ammonia. Atmos Environ 42:3394–3406

Dueck TA (1990) Effect of ammonia and sulphur dioxide on the survival and growth of Calluna vulgaris (L.) Hull seedlings. Func Ecolo 4:109–116

Erisman JW, Schaap M (2004) The need for ammonia abatement with respect to secondary PM reductions in Europe. Environ Pollut 129(1):159–163

Fangmeier A, Hadwiger A, Vander EJ (1994) Effects of atmospheric ammonia on vegetation-a review. Environ Pollut 86:43–82

Gessler A, Rennenberg H (1998) Atmospheric ammonia: mechanisms of uptake and impacts on N metabolism of plants. In: De Kok LJ, Stulen I (eds) Responses of plant metabolism to air pollution and global change. Backhuys Publishers, Leiden, pp 81–94

Glass ADM, Siddiqi MY (1995) Nitrogen absorption by plant roots. In: Srivastava HS, Singh RP (eds) Nitrogen nutrition in higher plants. Associated Publishing Company, New Delhi, pp 21–56

Hao XY, Chang C, Janzen HH, Clayton G, Hill BR (2006) Sorption of atmospheric ammonia by soil and perennial grass downwind from two large cattle feedlots. J Environ Qual 35:1960–1965

Harper LA, Denmead OT, Sharpe RR (2000) Identifying sources and sinks of scalars in a corn canopy with inverse Lagrangian dispersion analysis II. Ammonia. Agric For Meteorol 104:75–83

Huang X, Song Y, Li M, Li J, Huo Q, Cai X, Zhu T, Hu M, Zhang H (2012) A high-resolution ammonia emission inventory in China. Global Biogeochem Cy 26(1)

Husted S, Schjoerring JK (1996) Ammonia fluxes between oilseed rape plants and the atmosphere in response to changes in leaf temperature, light intensity and air humidity. Plant Physiol 112:67–74

Krupa SV (2003) Effects of atmospheric ammonia (NH3) on terrestrial vegetation: a review. Environ Pollut 124:179–221

Li SQ, Zhao L, Shao MA, Zhang XC, Shangguan ZP (2004) Ammonia exchange between plant canopy and the atmosphere-a review. Acta Bot Boreal Occident Sin 24:2154–2162

Li J, Li SQ, Liu Y, Chen XL (2009) Effects of increased ammonia on root/shoot ratio, grain yield and nitrogen use efficiency of two wheat varieties with various N supply. Plant Soil Environ 55(7):273–280

Liu L, Greaver TL (2009) A review of nitrogen enrichment effects on three biogenic GHGs: the CO2 sink may be largely offset by stimulated N2O and CH4 emission. Ecol Lett 12(10):1103–1117

Pérez-Soba M, Stulen I, Van der Eerden LJM (1994) Effects of atmospheric ammonia on the nitrogen metabolism of scots pine (Pinus sylvestris). Environ Pollut 72:103–115

Raven JA (1999) Acquisition of nitrogen by the shoots of land plants: its occurrence and implications for acid-base regulation. New Phytol 109:1–20

Rogers HH, Aneja PV (1979) Uptake of atmospheric ammonia by selected plant species. Environ Exp Bot 20:251–257

Rojas-Downing MM, Nejadhashemi AP, Harrigan T, Woznicki SA (2017) Climate change and livestock: impacts, adaptation, and mitigation. Clim Risk Manag 16:145–163

Shen J, Liu X, Zhang Y, Fangmeier A, Goulding K, Zhang F (2011) Atmospheric ammonia and particulate ammonium from agricultural sources in the North China plain. Atmos Environ 45(28):5033–5041

Tian H, Lu C, Ciais P, Michalak AM, Canadell JG, Saikawa E, Huntzinger DN, Gurney KR, Sitch S, Zhang B, Yang J (2016) The terrestrial biosphere as a net source of greenhouse gases to the atmosphere. Nature 531(7593):225–228

Tisdale SL, Nelson WL, Beaton JD, Havlin JL (1993) Soil fertility and fertilizers. Macmillan Publishing Company, New York

Van der Eerden LJM, Pérez-Soba M (1992) Physiological responses of Pinus sylvestris to atmospheric ammonia. Trees 6:48–53

Van Dijk HFG, De Louw MHJ, Roelofs JGM, Verburgh JJ (1990) Impact of artificial ammonium-enriched rainwater on soils and young coniferous trees in a greenhouse. Part II-effects on the trees. Environ Pollut 63:41–59

Van Hove LWA, Heeres P, Bossen ME (2003) The annual variation in stomatal ammonia compensation point of rye grass (Lolium perenne L.) leaves in an intensively managed grassland. Atmos Environ 36:2965–2977

Warner JX, Dickerson RR, Wei Z, Strow LL, Wang Y, Liang Q (2017) Increased atmospheric ammonia over the world's major agricultural areas detected from space. Geophy Res Lett 44(6):2875–2884

Wilson EJ (1992) Foliar uptake and release of inorganic nitrogen compounds in Pinus sylvestris (L.) and Picea abies (L.) karst. New Phytol 120:407–416

Xu R, Tian H, Pan S, Prior SA, Feng Y, Batchelor WD, Chen J, Yang J (2019) Global ammonia emissions from synthetic nitrogen fertilizer applications in agricultural systems: empirical and process-based estimates and uncertainty. Glob Chang Biol 25(1):314–326

Yin W, Chen G, Feng F, Guo Y, Hu F, Chen G, Zhao C, Yu A, Chai Q (2017) Straw retention combined with plastic mulching improves compensation of intercropped maize in arid environment. Field Crop Res 204:42–51

Zhang LX, Qiang H, Li SQ, Chen XL (2010) Effects of enhanced atmospheric ammonia on photosynthetic characteristics of two maize (Zea mays L.) cultivars with various nitrogen supply across long-term growth period and their diurnal change patterns. Photosynthetica 48:389–399
Funding
This research was supported by the National Natural Science Foundation of China (No. 31871562, 31871580, 31571614, and 31601257).
Ethics declarations
Conflict of Interest
The authors declare that they have no conflict of interest.
Additional information
Publisher's Note
Springer Nature remains neutral with regard to jurisdictional claims in published maps and institutional affiliations.
About this article
Cite this article
Chen, X., Ren, X., Hussain, S. et al. Effects of Elevated Ammonia Concentration on Corn Growth and Grain Yield Under Different Nitrogen Application Rates. J Soil Sci Plant Nutr (2020). https://doi.org/10.1007/s42729-020-00267-1
Received:

Accepted:

Published:
Keywords
Open-top chambers (OTCs)

NH3 enrichment

N levels

Growth

Grain yield

Corn