Abstract
Climatic changes, even transient events such as heatwaves, can markedly affect crop-insect interactions. Some insects might be favored or hampered in their development, but less clearcut interactions owing to changes in their needs or in agroecosystem resource availability, including in uncultivated surrounding areas, may mediate insect-crop interactions. In Tanzania, sudden and transient devastation of vegetable fields by crickets — which are usually considered as minor pests — raised this question. In this study, we sought to gain insight into whether sudden increased temperature and alternative food availability could affect the pest status of Gryllidae spp. Feeding damage on cabbage plants was measured under three temperatures in mesocosoms in climatic chambers. Tomato fruits were provided as an alternative food source. We demonstrated that Gryllidae spp. were able to feed on young cabbage, and that the damage level increased with temperature when no alternative food was available. Unexpectedly, the presence of alternative food increases feeding on the young cabbages. This case study highlighted how increased temperature could drive increased pest damage, raising concerns about climatic events that may substantially affect plant production in Africa through the interacting effects with insect herbivory.
Access options
Buy single article
Instant access to the full article PDF.
US$ 39.95
Tax calculation will be finalised during checkout.
Subscribe to journal
Immediate online access to all issues from 2019. Subscription will auto renew annually.
US$ 79
Tax calculation will be finalised during checkout.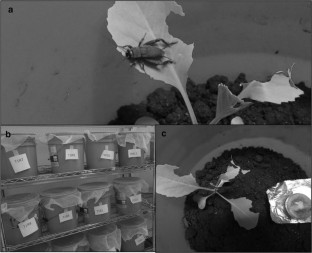 References
Abate T, Ampofo JKO (1996) Insect pests of beans in Africa: their ecology and management. Annu Rev Entomol 41(1):45–73

Adamo SA, Lovett MM (2011) Some like it hot: the effects of climate change on reproduction, immune function and disease resistance in the cricket Gryllus texensis. J Exp Biol 214(12):1997–2004

Bale JS, Masters GJ, Hodkinson ID, Awmack C, Bezemer TM, Brown VK et al (2002) Herbivory in global climate change research: direct effects of rising temperature on insect herbivores. Glob Chang Biol 8(1):1–16

Barrion AT, Litsinger JA (1980) Euscyrtus concinnus (Orthoptera: Gryllidae) - a new rice pest in the Philippines. Int Rice Res Newslett 5(5):19

Blank RH & Olson MH (1980) An assessment of the damaging stages of Teleogryllus commodus (Orthoptera: Gryllidae). Proceedings of the 2nd Australasian Conference on Grassland Invertebrate Ecology, Palmerston North, New Zealand. 121–123

Carmona DM, Menalled FD, Landis DA (1999) Gryllus pennsylvanicus (Orthoptera: Gryllidae): laboratory weed seed predation and within field activity-density. J Econ Entomol 92(4):825–829

DeLucia EH, Nabity PD, Zavala JA, Berenbaum MR (2012) Climate change: resetting plant-insect interactions. Plant Physiol 160(4):1677–1685

De Mendiburu F (2014) Agricolae: statistical procedures for agricultural research. R Package Version 1:1–6

Estay SA, Lima M, Labra FA (2009) Predicting insect pest status under climate change scenarios: combining experimental data and population dynamics modelling. J Appl Entomol 133(7):491–499

He ZQ, Wang XY, Liu YQ, Li K (2017) Seasonal and geographical adaption of two field crickets in China (Orthoptera: Grylloidea: Gryllidae: Gryllinae: Teleogryllus). Zootaxa 4338(2):374–384

Ichihara M, Uchida S, Fujii S, Yamashita M, Sawada H, Inagaki H (2014) Weed seedling herbivory by field cricket Teleogryllus emma (Orthoptera: Gryllidae) in relation to the depth of seedling emergence. Weed Biol Manag 14(2):99–105

Jaramillo J, Muchugu E, Vega FE, Davis A, Borgemeister C, Chabi-Olaye A (2011) Some like it hot: the influence and implications of climate change on coffee berry borer (Hypothenemus hampei) and coffee production in East Africa. PLoS One 6(9):e24528

Kiritani K (2007) The impact of global warming and land-use change on the pest status of rice and fruit bugs (Heteroptera) in Japan. Glob Chang Biol 13(8):1586–1595

Lachenicht MW, Clusella-Trullas S, Boardman L, Le Roux C, Terblanche JS (2010) Effects of acclimation temperature on thermal tolerance, locomotion performance and respiratory metabolism in Acheta domesticus L. (Orthoptera: Gryllidae). J Insect Physiol 56(7):822–830

Lehmann P, Ammunét T, Barton M, Battisti A, Eigenbrode SD, Jepsen JU, Kalinkat G, Neuvonen S, Niemela P, Trblanche JS, Økland B, Björkman C (2020) Complex responses of global insect pests to climate warming. Front Ecol Environ 18(3):141–150

Lelieveld J, Proestos Y, Hadjinicolaou P, Tanarhte M, Tyrlis E, Zittis G (2016) Strongly increasing heat extremes in the Middle East and North Africa (MENA) in the 21st century. Clim Chang 137(1–2):245–260

Müller C, Cramer W, Hare WL, Lotze-Campen H (2011) Climate change risks for African agriculture. Proc Natl Acad Sci 108(11):4313–4315

Muthoni FK, Odongo VO, Ochieng J, Mugalavai EM, Mourice SK, Hoesche-Zeledon I, Mwila M, Bekunda M (2018) Long-term spatial-temporal trends and variability of rainfall over eastern and southern Africa. Theor Appl Climatol 137:1869–1882

Perkins SE (2015) A review on the scientific understanding of heatwaves—their measurement, driving mechanisms, and changes at the global scale. Atmos Res 164:242–267

Development Core Team R (2012) R: a language and environment for statistical computing. R Foundation for Statistical Computing, Vienna, Austria

Rosenzweig C, Iglesias A, Yang XB, Epstein PR, Chivian E (2001) Climate change and extreme weather events; implications for food production, plant diseases, and pests. Global Change Human Health 2(2):90–104

Russo S, Marchese AF, Sillmann J, Immé G (2016) When will unusual heat waves become normal in a warming Africa? Environ Res Lett 11(5):054016

Simpson GB (1993) An improved soil insect rating for seedling sunflowers. Aust J Exp Agric 33(7):931–933

Slansky FJR, Wheeler GS (1991) Food consumption and utilization responses to dietary dilution with cellulose and water by velvetbean caterpillars, Anticarsia gemmatalis. Physiol Entomol 16(1):99–116

USAID (2018) Climate change in Tanzania: Country risk profile. https://www.climatelinks.org/sites/default/files/asset/document/20180629_USAID-ATLAS_Climate-Risk-Profile-Tanzania.pdf
Acknowledgements
We thank Z. Q. He (East China Normal University) and J. Haran (CIRAD) for their help in cricket genus identification and E. Shem and N. Mlowe (The World Vegetable Center ESA, Arusha) for technical assistance during experiments.
Funding
This research was backed by the GlooFoods (Transitions for global food security) program supervised by INRA and CIRAD within the AUTOMAR project. The authors are also grateful to long-term strategic donors to the World Vegetable Center: Republic of China (Taiwan), UK aid from the UK government, Australian Center for International Agricultural Research (ACIAR), Germany, Thailand, the Philippines, Korea, and Japan.
Ethics declarations
Conflict of interest
The authors declare that they have no conflict of interest.
Additional information
Publisher's note
Springer Nature remains neutral with regard to jurisdictional claims in published maps and institutional affiliations.
The original version of this article was revised: the given name and the family name of the first author were transposed.
About this article
Cite this article
Chailleux, A., Mwashimaha, R. & Nordey, T. Can heat and resource availability affect the pest status of African crickets?. Int J Trop Insect Sci 41, 891–894 (2021). https://doi.org/10.1007/s42690-020-00189-6
Received:

Accepted:

Published:

Issue Date:
Keywords
Gryllidae

Cabbage

Climate change

Global warming