Abstract
Habrobracon hebetor (Say) (Hymenoptera: Braconidae) is an important ectoparasitoid for biological control of several lepidopteran insect pests. The present research evaluated plant-herbivore-parasitoid interactions with H. hebetor and Ectomyelois ceratoniae (Zeller) on five commercial cultivars of pomegranate (Punica granatum L.), including Esfahani-Daneghermez and Malase-Danesyah (relatively resistant), Gabri and Tafti (moderately susceptible) and Shahvare-Danesefid (relatively susceptible) under controlled conditions as follows: 30 ± 1 °C, 60 ± 5% RH with a photoperiod of 14:10 (L:D) h. Significant differences were observed in the demographical parameters of H. hebetor on different pomegranate cultivars. The shortest immature development time of parasitoid wasp was detected on Shahvare-Danesefid cultivar, and the longest period was on Malase-Danesyah and Esfahani-Daneghermez cultivars. Fecundity rate was the highest on Tafti and Shahvare-Danesefid cultivars and the lowest on Malase-Danesyah. Furthermore, there were no significant differences among pomegranate cultivars in the gross reproductive rate (GRR) and net reproductive rate (R0) parameters of H. hebetor. The highest value of intrinsic rate of increase (r) was observed on Shahvare-Danesefid (0.249 d−1), and the lowest was on Malase-Danesyah (0.196 d−1). Significant positive or negative relationships were observed between the life history parameters of H. hebetor and the biochemical traits of pomegranate cultivars. Shahvare-Danesefid cultivar was found to be a more appropriate host than other cultivars to develop H. hebetor. These results may provide fundamental data to further understand pomegranate-carob moth-parasitoid wasp relationships. Most importantly, our findings indicated that dynamic variations in the quality of host plant affected the performance and multitrophic communications behavior of H. hebetor.
This is a preview of subscription content, log in to check access.
Access options
Buy single article
Instant access to the full article PDF.
US$ 39.95
Price includes VAT for USA
Subscribe to journal
Immediate online access to all issues from 2019. Subscription will auto renew annually.
US$ 99
This is the net price. Taxes to be calculated in checkout.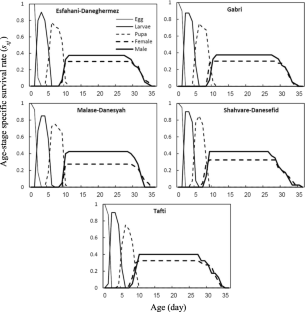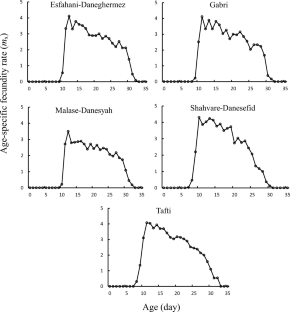 References
Abedi Z, Golizadeh A, Hassanpour M, Soufbaf M (2020) Effect of pomegranate cultivars with varying levels of resistance to Ectomyelois ceratoniae on life history parameters of the parasitoid Venturia canescens. BioControl. https://doi.org/10.1007/s10526-020-10017-y

Abedi Z, Golizadeh A, Soufbaf M, Hassanpour M, Jafari Nodoushan A, Akhavan HR (2019) Relationship between performance of carob moth, Ectomyelois ceratoniae Zeller (Lepidoptera: Pyralidae) and phytochemical metabolites in various pomegranate cultivars. Front Physiol 10:1425

Abedi Z, Saber M, Gharekhani GH, Mehrvar A, Kamita G (2014) Lethal and sublethal effects of azadirachtin and cypermethrin on Habrobracon hebetor (Hymenoptera: Braconidae). J Econ Entomol 107:638–645

Alighourchi HR, Barzegar M, Sahari MA, Abbasi S (2013) Effect of sonication on anthocyanins, total phenolic content, and antioxidant capacity of pomegranate juices. Int Food Res J 20:1703–1709

Al-Maliky SK, Al-Izzi MAJ (1986) Parasites of Ectomyelois ceratoniae with biological studies on Apanteles sp. Group Ultor in Iraq Entomophaga 31:313–319

Alrubeai HF (1987) Growth and development of Ectomyelois ceratoniae (Lepidoptera: Pyralidae). J Stored Prod Res 23:133–135

Amadou L, Baoua I, Ba MN, Muniappan R (2019) Development of an optimum diet for mass rearing of the rice moth, Corcyra cephalonica (Lepidoptera: Pyralidae), and production of the parasitoid, Habrobracon hebetor (Hymenoptera: Braconidae), for the control of pearl millet head miner. J Insect Sci 19:1–5

Ba MN, Baoua IB, Kaboré A, Amadou L, Oumarou N, Dabire-Binso C, Sanon A (2014) Augmentative on-farm delivery methods for the parasitoid Habrobracon hebetor Say (Hymenoptera: Braconidae) to control the millet head miner Heliocheilus albipunctella (de Joannis) (Lepidoptera: Noctuidae) in Burkina Faso and Niger. BioControl 59:689–696

Bemani M, Izadi H, Mahdian K, Khani A, Samih MA (2012) Study on the physiology of diapause, cold hardiness and supercooling point of overwintering pupae of the pistachio fruit hull borer, Arimania comaroffi. J Insect Physiol 58:897–902

Brower JH, Smith L, Vail PV, Flinn PW (1996) Biological control. In: Subramanyam B, Hagstrum DW (eds) Integrated management of insects in stored products. Marcel Dekker, New York, pp 223–286

Chi H (2016) TWOSEX-MSChart: a computer program for the age-stage, two-sex life table analysis. (URL:http// 140.120.197.173/Ecology/Download/ TWOSEX-MSchart.zip)

Chi H, Su HY (2006) Age-stage, two-sex life tables of Aphidius gifuensis (Ashmead) (Hymenoptera: Braconidae) and its host Myzus persicae (Sulzer) (Homoptera: Aphididae) with mathematical proof of the relationship between female fecundity and the net reproductive rate. Environ Entomol 35:10–21

Dhouibi MH, Nouha H, Dalia S, Houda T (2016) Biocontrol of the carob moth Ectomyelois Ceratoniae (Lepidoptera, Pyralidae) in pomegranate and citrus orchards in Tunisia. Int J Agric Innov Res 4:849–856

Ghimire MN, Phillips TW (2010) Suitability of different lepidopteran host species for development of Bracon hebetor (Hymenoptera: Braconidae). Environ Entomol 39:449–458

Ghorbanian M, Fathipour Y, Talebi AA, Reddy VPG (2019) Different pepper cultivars affect performance of second (Myzus persicae) and third (Diaeretiella rapae) trophic levels. J Asia Pac Entomol 22:194–202

Golizadeh A, Kamali K, Fathipour Y, Abbasipour H (2008) Life table and temperature-dependent development of Diadegma anurum (Hymenoptera: Ichneumonidae) on its host Plutella xylostella (Lepidoptera: Plutellidae). Environ Entomol 37:38–44

Gols R, Wagenaar R, Bukovinszky T, Van Dam NM, Dicke M, Bullock JM (2008) Genetic variation in defense chemistry in wild cabbages affects herbivores and their endoparasitoids. Ecology 89:1616–1626

Gothilf S (1969) Natural enemies of the carob moth, Ectomyelois ceratoniae. Entomophaga 14:195–202

Gothilf S (1978) Establishment of the imported parasite Pentalitomastix plethoricus (Hym.: Encyrtidae), on Ectomyelois ceratoniae (Lep.: Phycitidae in Israel). Entomophaga 23:299–302

Harvey JA, Gols R, Wagenaar R, Bezemer TM (2007) Development of an insect herbivore and its pupal parasitoid reflect differences in direct plant defense. J Chem Ecol 33:1556–1569

Harvey JA, van Dam NM, Gols R (2003) Interactions over four trophic levels: food plant quality affects development of a hyperparasitoid as mediated through an herbivore and its primary parasitoid. J Anim Ecol 72:520–531

Hosseini SA, Goldansaz SH, Fotoukkiaii SM, Menken SBJ, Groot AT (2017) Seasonal pattern of infestation by the carob moth Ectomyelois ceratoniae in pomegranate cultivars. Crop Prot 102:19–24

Jia Z, Tang M, Wu J (1999) The determination of flavonoid contents in mulberry and their scavenging effects on superoxide radicals. Food Chem 64:555–559

Karami A, Fathipour Y, Talebi AA, Reddy GVP (2018) Parasitism capacity and searching efficiency of Diaeretiella rapae parasitizing Brevicoryne brassicae on susceptible and resistant canola cultivars. J Asia Pac Entomol 21:1095–1101

Kauffman WC, Flanders RV (1985) Effects of variably resistant soybean and lima bean cultivars on Pediobius foveolatus (Hymenoptera: Eulophidae), a parasitoid of the Mexican bean beetle, Epilachna varivestis (Coleoptera: Coccinellidae). Environ Entomol 14:678–682

Kishani-Farahani H, Goldansaz SH, Sabahi Q (2012) A survey on the overwintering larval parasitoids of Ectomyelois ceratoniae in three regions in Iran. Crop Prot 36:52–57

Madahi KH, Sahragard A, Hosseini R (2019) Different squash cultivars mediate performance of Aphis gossypii and its predator (Aphidoletes aphidimyza): towards developing an IPM strategy. J Asia Pac Entomol 22:750–757

Magro SR, Parra JRP (2001) Biology of ectoparasitoid Bracon hebetor say (Hymenoptera: Braconidae) on seven lepidopteran species. Sci Agric 58:693–698

Nay J, Perring TM (2005) Impact of ant predation and heat on carob moth (Lepidoptera: Pyralidae) mortality in California date gardens. J Econ Entomol 98:725–731

Nikooei M, Fathipour Y, Jalali Javaran M, Soufbaf M (2015) How different genetically manipulated Brassica genotypes affect life table parameters of Plutella xylostella (Lepidoptera: Plutellidae). J Econ Entomol 108:515–524

Nikooei M, Fathipour Y, Jalali Javaran M, Soufbaf M (2017) Genetically manipulated Brassica genotypes affect demography and performance of Diadegma semiclausum parasitizing Plutella xylostella. J Appl Entomol 141:161–171

Nobakht Z, Karimzadeh J, Shakaram J, Jafari S (2015) Identification of parasitoids of Apomyelois ceratoniaev (Zeller) (Lepidoptera, Pyralidae) on pomegranate in Isfahan province. J Entomol Zool Stud 3:287–289

Ode PJ (2006) Plant chemistry and natural enemy fitness: effects on hervivore and natural enemy interactions. Annu Rev Entomol 51:163–185

Orr DB, Boethel DJ, Jones WA (1985) Biology of Telenomus chloropus (Hymenoptera: Scelionidae) from eggs of Nezara viridula (Hemiptera: Pentatomidae) reared on resistant and susceptible soybean genotypes. Can Entomol 117:1137–1142

Poorjavad N, Goldansaz SH, Hosseininaveh V, Nozari J, Dehghaniy H, Enkegaard A (2011) Fertility life table parameters of different strains of Trichogramma spp. collected from eggs of the carob moth Ectomyelois ceratoniae. Entomol Sci 14:245–253

Price PW, Bouton CE, Gross P, Mcpheron BA, Thompson JN, Weise AE (1980) Interaction among three trophic levels: influence of plants on interactions between insect herbivores and natural enemies. Annu Rev Ecol Syst 11:41–65

Ramzi S, Sahragard A, Zibaee A (2014) Effects of Citrullus colocynthis agglutinin on intermediary metabolism of Ectomyelois ceratoniae Zeller (Lepidoptera: Pyralidae). J Asia Pac Entomol 17:273–279

Reed DK, Webster JA, Jones BG, Burd JD (1991) Tritrophic relationships of Russian wheat aphid (Homoptera: Aphididae), a hymenopterous parasitoid (McIntosh), and resistant and susceptible small grains. Biol Control 1:35–41

SAS Institute (2002) The SAS system for windows. SAS Institute, Cary

Sobhani M, Goldansaz SH, Hatami B, Hosseini SA (2015) A field screening of pomegranate cultivars for resistance to the carob moth, Ectomyelois ceratoniae, and compatibility with its larval parasitoids. Int J Pest Manage 61:346–352

Soufbaf M, Fathipour Y, Zalucki MP, Hui C (2012) Importance of primary metabolites in canola in mediating interactions between a specialist leaf-feeding insect and its specialist solitary endoparasitoid. Arthropod-Plant Inte 6:241–250

Southwood TRE, Henderson PA (2000) Ecological methods. Blackwell, Oxford

SPSS Inc (2007) SPSS base 16.0 user's guide. SPSS incorporation, Chicago

Stary P (1988) Aphelinidae. In: Minks AK, Harrewijn P (eds) Aphids 507-their biology, natural enemies and control, vol 2B. Elsevier Science Publishers, Amsterdam, pp 185–188

Tanner H, Brunner HR (1979) Getraenke analytik. Verlag heller chemie-und verwaltungsgesellschaft mbH, Schwaebisch Hall

Tezcan F, Gültekin-Özgüven M, Diken T, Özçelik B, Erim FB (2009) Antioxidant activity and total phenolic, organic acid and sugar content in commercial pomegranate juices. Food Chem 115:873–877

Urbaneja A, Chueca P, Monto H, Pascual-Ruiz S, Dembilio O, Vanaclocha P, Abad-Moyano R, Pina T, Castanera P (2009) Chemical alternatives to Malathion for controlling Ceratitis capitata (Diptera: Tephritidae), and their side effects on natural enemies in Spanish citrus. Orchards. J Econ Entomol 102:144–151

Wang SY, Chi H, Liu TX (2015) Demography and parasitic effectiveness of Aphelinus asychis reared from Sitobion avenae as a biological control agent of Myzus persicae reared on chili pepper and cabbage. Biol Control 92:111–119

Wrolstad RE, Durst RW, Lee J (2005) Tracking color and pigment changes in anthocyanin products. Trends Food Sci Tech 16:423–428
Acknowledgments
This research was funded by University of Mohaghegh Ardabili and Iran National Science Foundation (INSF), which is greatly appreciated.
Ethics declarations
This study was funded by University of Mohaghegh Ardabili and Iran National Science Foundation (INSF). No conflict exists and all authors (Zahra Abedi, Ali Golizadeh, Mahdi Hassanpour and Mahmoud Soufbaf) declare that they have no conflict of interest. This article does not contain any studies with human participants or animals performed by any of the authors.
Additional information
Publisher's note
Springer Nature remains neutral with regard to jurisdictional claims in published maps and institutional affiliations.
About this article
Cite this article
Abedi, Z., Golizadeh, A., Hassanpour, M. et al. Performance of Habrobracon hebetor (Say) (Hymenoptera: Braconidae) parasitizing Ectomyelois ceratoniae (Zeller) (Lepidoptera: Pyralidae) on different pomegranate cultivars. Int J Trop Insect Sci (2020). https://doi.org/10.1007/s42690-020-00179-8
Received:

Accepted:

Published:
Keywords
Ectoparasitoid

Carob moth

Pomegranate cultivars

Tritrophic interactions