Abstract
In this study, the effect of four temperatures (23,27, 31, and 35 °C) were evaluated on the development and predatory potential of Exochomus nigripennis (Erichson) (Col.: Coccinellidae) fed on Gossyparia spuria (Modeer) (Hem.: Eriococcidae) under laboratory conditions (60 ± 5% RH, and a photoperiod of 16:8 (L:D) h). The longest developmental time of total immature stages was at 23 °C (49.0 days) and the shortest was at 35 °C (22.5 days). Also, the mortality of immature stages significantly decreased as the temperature was increased from 23 to 31 °C, and then increased at 35 °C. The larvae reared at 31 and 35 °C consumed more prey than those reared at the other rearing temperatures. In contrast, larvae reared at 23 °C ate less prey than those reared at the others. Adults who came from larvae reared at 31 °C were heavier than those reared at the other temperatures. Based on the linear model, the low-temperature threshold for egg incubation, total larval stage and pupal stage was 10.54, 13.91 and 8.34 °C, respectively. In this model, the amounts of thermal requirement for egg incubation, total larval stage and pupal stage was 90.09, 270.27 and 101.01 °C, respectively. The nonlinear estimates were higher than the linear estimates. Overall, the results of the development of immature stages together to the predation rate and the adult weight would have led to the conclusion that 31 °C was favorable to E. nigripennis. Also, our findings support this hypothesis that the development of ectothermic animals like insects is closely linked to environmental temperature.
Access options
Buy single article
Instant access to the full article PDF.
US$ 39.95
Tax calculation will be finalised during checkout.
Subscribe to journal
Immediate online access to all issues from 2019. Subscription will auto renew annually.
US$ 79
Tax calculation will be finalised during checkout.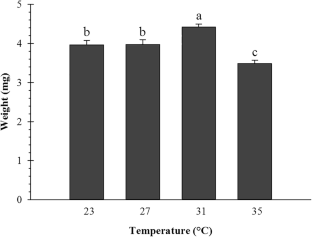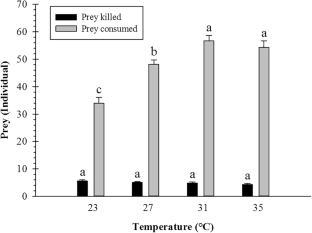 References
Alrubeai HF (2017) Biological control of insect pests in Iraq: an overview of parasitoids and predators research development. Acad J Entomol 10:10–18

Auad AM, Santos JC, Fonseca MG (2014) Effects of temperature on development and survival of Harmonia axyridis (Coleoptera: Coccinellidae) and Chrysoperla externa (Neuroptera: Chrysopidae) fed on Rhopalosiphum padi (Hemiptera: Aphididae). Fla Entomol 97: 1353–1363

Benelli M, Leather SR, Francati S, Marchetti E, Dindo ML (2015) Effect of two temperatures on biological traits and susceptibility to a pyrethroid insecticide in an exotic and native coccinellid species. Bull Insectology 68:23–29

Biranvand A, Nedvěd O, Shakarami J, Fekrat L, Hamidi E, Volf M, Hanley GA (2017) The ladybeetle community (Coleoptera: Coccinellidae) in north east of Iran. Balt J Coleopterol 17:49–67

Borzoui E, Bandani AR, Goldansaz SH, Talaei-Hassanlouei R (2018) Dietary protein and carbohydrate levels affect performance and digestive physiology of Plodia interpunctella (Lepidoptera: Pyralidae). J Econ Entomol 111:942–949

Chen H, Solangi GS, Zhao C, Yang L, Guo J, Wan F, Zhou Z (2019) Physiological metabolic responses of Ophraella communa to high temperature stress. Front Physiol 10:1053

Colinet H, Sinclair BJ, Vernon P, Renault D (2015) Insects in fluctuating thermal environments. Annu Rev Entomol 60:123–140

Dziedzicka A (1961) Studies on morphology and biology of Gossyparia spuria (Mod.) (Homoptera, Coccoidea). Fragm faun 9: 203–219 (in Polish with English abstract)

El-Shafie HAF (2012) Review: list of arthropod pests and their natural enemies identified worldwide on date palm, Phoenix dactylifera L. Agric Biol J N Am 3:516–524

Govindasamy M, Khursheed S (2018) A new host and distribution record for the black coccinellid, Stethorus aptus Kapur (Coccinellidae: Coleoptera). Egypt J Biol Pest Co 28:53

Hasanpour M, Talebi AA, Rakhshani E, Ameri–Siahouei, A. (2009) Identification of natural enemies of citrus psylla, Diaphorina citri Kuwayama (Hem., Psyllidae) in Hormozgan province. J Entomol Res 3:185–195

Hayat A, Khan MR (2013) Biodiversity and species composition of ladybird beetles (Coccinellidae; Coleoptera) from Mirpur division of Azad Jammu & Kashmir, Pakistan. Sarhad J Agric 30:341–350

Hong BM, Binh TTT, Hang VTT (2013) Effect of temperature on the life cycle and predatory capacity of ladybird beetle Micraspis discolor Fabricius (Coleoptera: Coccinellidae). Acad J Biol 35:37–42

Jalali MA, Tirry L, Arbab A, De Clercq P (2010) Temperature–dependent development of the two–spotted ladybeetle, Adalia bipunctata, on the green peach aphid, Myzus persicae, and a factitious food under constant temperatures. J Insect Sci 10:124

Jalali MM, Mehrnejad MR, Kontodimas DC (2014) Temperature–dependent development of the five psyllophagous ladybird predators of Agonoscena pistaciae (Hemiptera: Psyllidae). Ann Entomol Soc Am 107:445–452

Jalalizand A, Modaresi M, Razmjoo M (2011) Study on biology and reproductive methodes of European elm scale and the fauna of Elm pests in Esfahan. Int Conf Life Sci Tech 3: 65–68

Japoshvili G, Kaydan MB (2018) Parasitoid complex of Gossyparia spuria (Modeer) (Hemiptera: Acanthococcidae) from eastern Anatolia with new records for the Turkish fauna. Ann Agrar Sci 16:32–33

Johnson CA, Coutinho RM, Berlin E, Dolphin KE, Heyer J, Kim B, Leung A, Sabellon JL, Amarasekare P (2016) Effects of temperature and resource variation on insect population dynamics: the bordered plant bug as a case study. Funct Ecol 30:1122–1131

Kenis M, Hurley BP, Hajek AE, Cock MJW (2017) Classical biological control of insect pests of trees: facts and figures. Biol Invasions 19:3401–3417

Khan J, ul Haq E, Rehman A (2016) Effect of temperature on the biology of Harmonia dimidiata FAB. (Coleoptera: coccinellidae) reared on Scizaphus graminum (ROND.) aphid. J Biodivers Environ Sci 8:1–8

Kindlmann P, Yasuda H, Kajita Y, Sato S, Dixon AFG (2015) Predator efficiency reconsidered for a ladybird–aphid system. Front Ecol Evol 3:27

Kontodimas DC, Eliopoulos PA, Stathas GJ, Economou LP (2004) Comparative temperature–dependent development of Nephus includens (Kirsch) and Nephus bisignatus (Boheman) (Coleoptera: Coccinellidae) preying on Planococcus citri (Risso) (Homoptera: Pseudococcidae): evaluation of a linear and various nonlinear models using specific criteria. Environ Entomol 33:1–11

Kotkar HM, Sarate PJ, Tamhane VA, Gupta VS, Giri AP (2009) Responses of midgut amylases of Helicoverpa armigera to feeding on various host plants. J Insect Physiol 55:663–670

Kozar F, Kaydan MB, Benedicty ZK, Szita E (2013) Acanthococcidae and related families of the Palaearctic region. Plant Protection Institute, Centre of Agricultural Research, Hungarian Academy of Science, Budapest, Hungary

Lakhal MA, Ghezali D, Nedvěd O, Doumandji S (2018) Checklist of ladybirds of Algeria with two new recorded species (Coleoptera, Coccinellidae). ZooKeys 774:41–52

Lemoine NP, Burkepile DE, Parker JD (2014) Variable effects of temperature on insect herbivory. PeerJ 2:e376

Lin WT, Pennings SC (2018) Predator–prey interactions in a ladybeetle–aphid system depend on spatial scale. Ecol Evol 8:6537–6546

Mehrnejad MR, Jalali MA, Mirzaei R (2011) Abundance and biological parameters of psyllophagous coccinellids in pistachio orchards. J Appl Entomol 135:673–681

Mohammadzadeh M, Izadi H (2018) Different diets affecting biology, physiology and cold tolerance of Trogoderma granarium Everts (Coleoptera: Dermestidae). J Stored Prod Res 76:58–65

Nedvĕd O, Honĕk A (2012) Life history and development. In: Hodvĕk I, van Emden HE, Honĕk A (eds) Ecology and behavior of the ladybird beetles (Coccinellidae). Willey–Blackwell, John Wiley and Sons, Ltd, Chichester, pp 54–109

Nouri-Ganbalani G, Borzoui E, Shahnavazi M, Nouri A (2018) Induction of resistance against Plutella xylostella (L.) (Lep.: Plutellidae) by jasmonic acid and mealy cabbage aphid feeding in Brassica napus L. Front Physiol 9:859

Papachristos DP, Katsarou I, Michaelakis A, Papanikolaou NE (2015) Influence of different species of aphid prey on the immature survival and development of four species of Aphidophagous coccinellids (Coleoptera: Coccinellidae). Eur J Entomol 112:440–445

Qin Z, Wu J, Qiu B, Ali S, Cuthbertson AGS (2019) The impact of Cryptolaemus montrouzieri Mulsant (Coleoptera: Coccinellidae) on control of Dysmicoccus neobrevipes Beardsley (Hemiptera: Pseudococcidae). Insects 10:131

Riddick EW (2017) Identification of conditions for successful aphid control by ladybirds in greenhouses. Insects 8:38

Rounagh-Ardakani H, Samih MA, Ravan S, Mokhtari A (2019) Different preys affecting biology and life table parameters of Exochomus nigripennis (Erichson) (Col.: Coccinellidae): prospects for augmentative biological control of sucking pests. Int J Trop Insect Sci. https://doi.org/10.1007/s42690-019-00046-1

Roy M, Brodeur J, Cloutier C (2002) Relationship between temperature and developmental rate of Stethorus punctillum (Coleoptera: Coccinellidae) and its prey Tetranychus mcdanieli (Acarina: Tetranychidae). Environ Entomol 31:177–187

Stamp NE, Yang Y, Osier TL (1997) Response of an insect predator to prey fed multiple allelochemicals under representative thermal regimes. Ecology 78:203–214

Vucic-Pestic O, Ehnes RB, Rall BC, Brose U (2011) Warming up the system: higher predator feeding rates but lower energetic efficiencies. Glob Chang Biol 17:1301–1310

Zarghami S, Kocheili F, Mossadegh MS, Allahyari H, Rasekh A (2014) Effect of temperature on population growth and life table parameters of Nephus arcuatus (Coleoptera: Coccinellidae). Eur J Entomol 111:199–206
Acknowledgments
The authors thank the Zabol University (Zabol, Iran), for cooperation by support for the experiment.
Ethics declarations
The authors declare that they have no compliance with ethical standards.
Additional information
Publisher's note
Springer Nature remains neutral with regard to jurisdictional claims in published maps and institutional affiliations.
About this article
Cite this article
Rounagh-Ardakani, H., Samih, M.A., Ravan, S. et al. Effect of temperature on the development and predatory potential of Exochomus nigripennis (Erichson) (Col.: Coccinellidae) fed on Gossyparia spuria (Modeer) (Hem.: Eriococcidae). Int J Trop Insect Sci 40, 723–728 (2020). https://doi.org/10.1007/s42690-020-00122-x
Received:

Accepted:

Published:

Issue Date:
Keywords
Adult's weight

Linear model

Ikemoto and Takai model

The European elm scale

Ladybird