Abstract
Small cities across North America are experiencing rapid changes, but methodological obstacles hamper researchers' ability to analyze them. This research note explores some of the methodological challenges faced by researchers and offers solutions. Using Charlottetown, Prince Edward Island, as a case study, we show that a major challenge lies in choosing meaningful geographic units for small city neighborhoods; we evaluate the benefits and drawbacks of several geographical options. Another major challenge is that the boundaries of existing units change between census years, demanding an approach to reconstruct them and allow for analyses over time. We propose two feasible solutions for re-creating neighborhood geographic units over time: "moving forward" and "going backward." Both involve selecting units from a particular census year to serve as a fixed point of reference for the re-creation of boundaries across multiple census years. We conclude by cautioning that studying changes in small cities over longer time periods in Canada is not feasible because of the extensive and complex boundary changes that have occurred between census years. Nonetheless, we offer an approach for looking at shorter time periods.
Résumé
Les petites villes d'Amérique du Nord connaissent des changements rapides, mais des obstacles méthodologiques entravent la capacité des chercheurs à les analyser. Cette note de recherche explore certains des défis méthodologiques rencontrés par les chercheurs et propose des solutions. En utilisant Charlottetown, à l'Île-du-Prince-Édouard, comme étude de cas, nous montrons qu'un défi majeur réside dans le choix d'unités géographiques significatives pour les quartiers de petites villes, et nous évaluons les avantages et les inconvénients de plusieurs options géographiques. Un autre défi majeur est que les limites des unités existantes changent entre les années de recensement, exigeant une approche spécifique pour les reconstruire et permettre des analyses temporelles dans le temps. Nous proposons deux solutions réalisables pour recréer des unités géographiques de quartier au fil du temps: «aller de l'avant» et «reculer». Les deux impliquent la sélection d'unités d'une année de recensement particulière pour servir de point de référence fixe pour la recréation des limites sur plusieurs années de recensement. Nous concluons en mettant en garde les chercheurs qu'il n'est pas possible d'étudier les changements dans les petites villes au Canada sur de longues périodes en raison des changements de limites vastes et complexes qui se sont produits entre les recensement. Néanmoins, nous proposons une approche pour examiner des périodes plus courtes.
Access options
Buy single article
Instant access to the full article PDF.
US$ 39.95
Tax calculation will be finalised during checkout.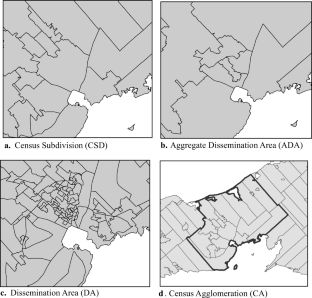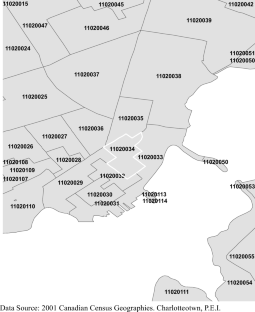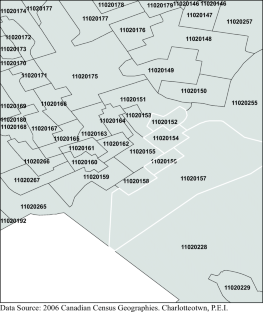 References
Allen, J., & Taylor, Z. (2018). A new tool for neighbourhood change research: the Canadian longitudinal census tract database, 1971–2016. The Canadian Geographer, 62(4), 575–588.

Amrhein, C. G. (1995). Searching for the elusive aggregation effect: evidence from statistical simulations. Environment and Planning A, 27(1), 105–119.

Baldacchino, G. (2006). Settling in Charlottetown and PEI: recent settlers speak. Our Diverse Cities, 2, 106–111.

Barrieau, N., & Savoie, D. J. (2006). Creative class and economic development: the case of Atlantic Canada's urban centers. Canadian Institute for Research on Public Policy and Public Administration. https://www.idjs.ca/images/publications/pdf/creativeclassenglish_oct06.pdf. Accessed 7 August 2019.

Everitt, J. C., & Gill, A. (1993). The social geography of small towns. In L. S. Bourne & D. F. Ley (Eds.), The changing social geography of Canadian cities (pp. 252–264). Montreal and Kingston: McGill-Queen's University Press.

Gehlke, C. E., & Biehl, K. (1934). Certain effects of grouping upon the size of the correlation coefficient in census tract material. Journal of the American Statistical Association, 29(185A), 169–170.

Hulchanski, J. D. (2010). The three cities within Toronto: income polarization among Toronto's neighbourhoods, 1970–2005. Toronto: Cities Centre, University of Toronto http://www.urbancentre.utoronto.ca/pdfs/curp/tnrn/Three-Cities-Within-Toronto-2010-Final.pdf. Accessed 7 August 2019.

Kaida, L., Ramos, H., Singh, D., Pritchard, P., Wijesingha, R. (2020). Can rust belt or three cities explain the sociospatial changes in Atlantic Canadian Cities? City & Community, 19(1), 191–216.

Ley, D. (1986). Alternative explanations for inner-city gentrification: a Canadian assessment. Annals of the Association of American Geographers, 76(4), 521–535.

Maaranen, R. (2015). Primer on postal code and census geography. Neighbourhood Change Research Partnership. http://neighbourhoodchange.ca/documents/2017/03/primer-postal-code-census-geography.pdf. Accessed 7 August 2019.

MacKinnon, R., & Nelson, R. (2005). Urban and economic change in Kamloops: postindustrial adjustments in a staples economy. In W. F. Garrett-Petts (Ed.), The small cities book: on the cultural future of small cities (pp. 23–47). Vancouver: New Star Books.

Prouse, V., Ramos, H., Grant, J.L. & Radice, M. (2014). How and when scale matters: the modifiable areal unit problem and income inequality in Halifax. Canadian Journal of Urban Research, 23(1), 61–82.

Skaburskis, A. (2012). Gentrification and Toronto's changing household characteristics and income distribution. Journal of Planning Education and Research, 32(2), 191–203.

Statistics Canada. (2001). Geographic units: enumeration areas (EA). Ottawa: Statistics Canada.

Statistics Canada. (2007). Charlottetown, Prince Edward Island (Code105) (table). 2006 community profiles. 2006 Census. Statistics Canada (cat. No. 92–591-XWE). Ottawa: Statistics Canada.

Statistics Canada. (2016). The aggregate dissemination area (ADA): a new census dissemination geographic area. Ottawa: Statistics Canada.

Statistics Canada. (2017). Focus on geography series, 2016 census. Statistics Canada (cat. No. 98–404-x2016001. Ottawa: Statistics Canada.

Statistics Canada. (2018). Dictionary, census of population, 2016. Ottawa: Statistics Canada.
Acknowledgments
The analysis presented in this paper was conducted at the McMaster University Research Data Centre, part of the Canadian Research Data Centre Network (CRDCN). This research was supported by the Social Sciences and Humanities Research Council of Canada as part of the Perceptions of Change Project (http://perceptionsofchange.ca). We would also like to thank Sai Chua (Choi) for her comments on earlier drafts.
Funding
This study was funded by the Social Sciences and Humanities Research Council of Canada (grant number 435–2015-0787).
Ethics declarations
Conflict of Interest
The authors declare that they have no conflict of interest.
Ethical Approval
This article does not contain any studies with human participants or animals performed by any of the authors.
Informed Consent
Not applicable.
About this article
Cite this article
Kaida, L., Ramos, H., Singh, D. et al. How to Capture Neighborhood Change in Small Cities. Can. Stud. Popul. 47, 195–205 (2020). https://doi.org/10.1007/s42650-020-00026-8
Received:

Accepted:

Published:

Issue Date:
Keywords
Neighborhood change

Small cities

Geographic unit

Dissemination area

Aggregated dissemination areas

Census tracts