Abstract
The Chinese economy has performed high growth rate of economy in a period of enlargement of global economies. However, the prosperity of Chinese economy depends on the sustainability of the global economies. In the 2010s, the innovation of ICT has brought about structural changes of economies and societies in a large scale. The development of ICT can afford to proceed efficiently large amounts of information in a short time. Internet services such as SNS develop many profitable businesses by utilizing information of users. China aims to continue growth of economy by strategical introduction of digital industrial revolution. This paper discusses that this digital revolution requires evolution of Chinese society as well as economy. Since digital revolution of industries diversifies the connection between markets and individuals, monopolized utilization of information and knowledge will detour efforts to achieve the goal of sustainability. As the relative influence of governments on markets decreases, voluntary contributions of the stakeholders become main forces for the regional vitalization. Residents participation is necessary to revitalize regional communities.
This is a preview of subscription content, log in to check access.
Access options
Buy single article
Instant access to the full article PDF.
US$ 39.95
Price includes VAT for USA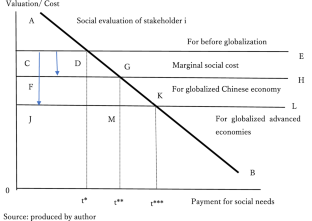 Notes
1.

2.

Nishimura, provides key note speech, "New normal and new economy: a new growth engine for China," in IJEPS (2020). This research surveys rapidly proceeding digitalization in China but does not investigate completely the problem that the digital economies could be sustainable. As sustainability should be one of the central targets in the new normal economy, this paper focuses on this problem and constructs theoretical framework to discuss it profoundly.

3.

Tanaka [13] argues to reconstruct theories of organization by classifying stakeholders into three groups: inside, outside and external stakeholders.

4.

5.

6.

Xie [17] explores the bottom-up solutions using personal network for regional environmental issues.

7.

Long and Gao [3] explore the issues of shrinking cities in many Chinse urban and rural regions and demonstrate empirically that transforming industries change regional societies fundamentally.

8.

Rifkin [5] argues that innovation of ICT changes greatly the price structure of products.

9.

10.

Global Sustainable Investment Alliance [2].

11.

Using this model, Tanaka [7] demonstrates that PRI pursuits the sustainability of global society.

12.

The argument in this paragraph is based on pages 1–2 in Chapter 1, [9]" An Experimental Approach for the Sustainable Regional Governance: Regional Environmental Diagnosis of Hachioji City 2013–15.".

13.

Li, Wang and Yu[3]state the outline of the project as follows. "Qinghe Experiment, integrated with academic research and social governance, and social development, is a social science experiment in Qinghe, Beijing conducted by sociologists. The earliest Qinghe Experiment was initiated by the older generation sociologists such as Yang Kaidao and Xu Shilian in 1928 to mainly deal with rural construction but was later suspended for historical reasons. The Department of Sociology of Tsinghua University reactivated the new Qinghe Experiment in 2014. Great changes have been made to Qinghe which has become an urban community and a rural urban fringe area consisting of 29 community neighborhood committees. It is featured by extremely complex community type and can be regarded as a microcosm of the evolution of urban and rural communities in China."
References
1.

Arrow, K. J. (1973). Social responsibility and economic efficiency. Public Policy,21, 303–317.

2.

Global Sustainable Investment Alliance (2019). Global Sustainable Investment Review 2018, pp 1–29. www.gsi-alliance.org/wp-content/uploads/2019/06/GSIR_ Review2018F. pdf, Accessed 30 November, 2019.

3.

Q. Li, T. Wang, J. Yu (2020). Innovations on Community Governance: Tsinghua University Qinghe Experiment, Keizaigaku Ronsan; The Journal of Economics, 60(5.6), Chuo University, in printing.

4.

Y. Long, S. Gao (eds. )(2019).Shrinking Cities in China: The Other Fact of Urbanization, Springer Nature Singapore.

5.

Rifkin, J. (2014). The zero marginal cost society: the internet of things, the collaborative commons, and the eclipse of capitalism. New York: St. Martin's Press.

6.

Tanaka, H. (2004). Kigyo no Syakaiteki Sekinin no Keizai Riron (Japanese; Theoretical Analysis for Corporate Social Responsibility). Chikyuu Kankyu Report (Japanese; Global Environmental Policy in Japan),9, 1–9.

7.

H. Tanaka (2016a), The Sustainability Theorem in the ESG Mechanism.Long Finance and London Accord, pp,1–29. https://www.longfinance.net/programmes/http://www.sustainable-futures/london-accord/reports/the-sustainability-theorem-in-the-esg-mechanism/. Accessed 30 Nov 2019

8.

H. Tanaka (ed.) Global Community Governance, Research Papers No 5, The institute of Economic Research, Chuo University, (2016b)

9.

H. Tanaka (ed.) Economy, Society and Community Governance, Research Papers No 6, The institute of Economic Research, Chuo University, (2017a)

10.

H. Tanaka (2017b). Sustainability of Global Communities and Regional Risk Governance. Asia-Pac. J Reg Sci 1, pp.639–653. https://www.springer.com/journal/41685.

11.

H. Tanaka (2018) Mechanism of sustainability and structure of stakeholders in regions. Financial Forum 7(1):1–12. https://ojs.piscomed.com/index.php/FF

12.

H. Tanaka (2019a) Rehabilitation of the decentralization in the centralizing process of global communities. J Global Issues Solut 19(3):pp1–18. https://www.bwwsociety.org/journal/main/

13.

H. Tanaka (2019b) Innovation on the digital economies and sustainability of the global communities. Ann Soc Sci Manag Stud Juniper 4(2):1–10.https://juniperpublishers.com/asm/

14.

H. Tanaka (2019c) Sustainable governance of marine stakeholders. Oceanogr Fish Open Access J, Juniper 11(1):1–4. https://juniperpublishers.com/ofoaj/editorialboard.php

15.

Tirole, J. (2001). Corporate governance. Econometrica,68(1), 1–35.

16.

UNEP FI and UN Global Compact. (2016), Principles of Responsible investment Annual Report 2018. https://www.unpri.org/annual-report-2018/, https://d8g8t13e9vf2o.cloudfront.net/Uploads/g/f/c/priannualreport_605237.pdf. Accessed 30 Nov 2019.

17.

Xie, L. (2009). Environmental activism in China. London: Routledge.
About this article
Cite this article
Tanaka, H. Chinese sustainable framework in the digitalized global communities. IJEPS (2020). https://doi.org/10.1007/s42495-020-00039-w
Received:

Accepted:

Published:
Keywords
Chinese economy and society

Decentralization

Digital industrial revolution

Sustainable scheme

Resident participation
JEL