Abstract
In this study, mineralogical and microanalysis characterization, as well as diagnostic leaching and cyanidation tests, were performed to gain a better understanding of the refractory nature of the arsenical zone of a Carlin-type gold deposit and also to evaluate possible treatment routes to maximize gold recovery. The results obtained showed that only 56% of the ore's gold content is amenable to direct cyanidation. The majority of the remaining gold was found as submicroscopic gold and in association with sulfide minerals, such as orpiment, pyrite, and sphalerite. It was also found that despite the abundance of silicate and carbonate minerals in the arsenical zone, they do not play a key role in the refractory nature of the ore, and gold can be liberated from such minerals by appropriate grinding. The analyses further revealed that orpiment dissolves readily during cyanidation, and this dissolution retards the kinetics of gold extraction. Pyrite and sphalerite were generally found to occur in fine network texture and in association with quartz. Flotation of such auriferous sulfides may be difficult due to their oxidized surface. Fine grinding (−20 μm) was found to be partially effective in improving gold extraction.
This is a preview of subscription content, log in to check access.
Access options
Buy single article
Instant access to the full article PDF.
US$ 39.95
Price includes VAT for USA
Subscribe to journal
Immediate online access to all issues from 2019. Subscription will auto renew annually.
US$ 148
This is the net price. Taxes to be calculated in checkout.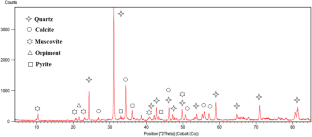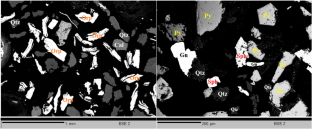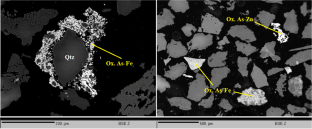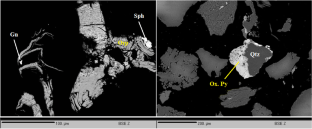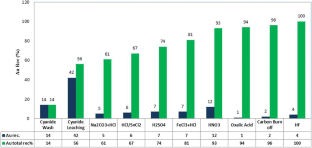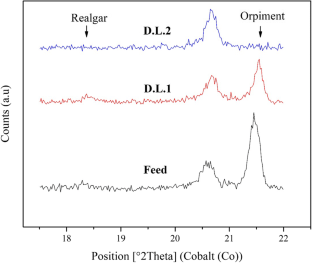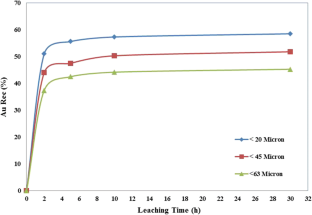 References
1.

Arehart GB (1996) Characteristics and origin of sediment-hosted disseminated gold deposits: a review. Ore Geol Rev 11(6):383–403

2.

Asadi HH et al (2000) Petrography, mineralogy and geochemistry of the Zarshuran Carlin-like gold deposit, Northwest Iran. Mineral Deposita 35(7):656–671

3.

Hofstra AH (2000) Characteristics and models for Carlin-type gold deposits. Rev Econ Geol 13:163–220

4.

Large RR, Bull SW, Maslennikov VV (2011) A carbonaceous sedimentary source-rock model for Carlin-type and orogenic gold deposits. Econ Geol 106(3):331–358

5.

Zhou YJ, Wang K (2003) Gold in the Jinya Carlin-type deposit: characterization and implications. J Miner Mater Charact Eng 2(02):83

6.

Sturmer DM (2016) Carlin-type gold deposit development as an analogue for unconventional hydrocarbon field development. In AAPG Pacific Section and Rocky Mountain Section Joint Meeting 4 Oct 2016, Las Vegas, NV

7.

Bowell RJ et al (1999) The occurrence of gold at the Getchell mine, Nevada. J Geochem Explor 67(1):127–143

8.

Yang H-Y et al (2013) Research status of carbonaceous matter in carbonaceous gold ores and bio-oxidation pretreatment. Trans Nonferrous Metals Soc China 23(11):3405–3411

9.

Afenya PM (1991) Treatment of carbonaceous refractory gold ores. Miner Eng 4(7):1043–1055

10.

Mehrabi B, Yardley BWD, Cann JR (1999) Sediment-hosted disseminated gold mineralisation at Zarshuran, NW Iran. Mineralium Deposita 34(7):673–696

11.

Zarshuran Gold mines and Mineral Industries Development Company (2017) Zarshouran.ir

12.

Bidari E, Aghazadeh V (2018) Alkaline leaching pretreatment and cyanidation of arsenical gold ore from the Carlin-type Zarshuran deposit. Can Metall Q 2018:1–11

13.

Bidari E, Aghazadeh V (2018) Pyrite from Zarshuran Carlin-type gold deposit: characterization, alkaline oxidation pretreatment, and cyanidation. Hydrometallurgy 179:222–231

14.

Aazami M, Lapidus GT, Azadeh A (2014) The effect of solution parameters on the thiosulfate leaching of Zarshouran refractory gold ore. Int J Miner Process. 131(0):43–50

15.

Lorenzen L (1995) Some guidelines to the design of a diagnostic leaching experiment. Miner Eng 8(3):247–256

16.

Marsden OJ, House CI (2009) The Chemistry of Gold Extraction, second edn. SME, Littleton, CO

17.

Anderson CG (2016) Alkaline sulfide gold leaching kinetics. Miner Eng 92:248–256

18.

Darban AK et al (2011) Electrochemical study of orpiment (As2S3) dissolution in a NaOH solution. Hydrometallurgy 105(3):296–303

19.

Lehner S, Savage K (2008) The effect of As, Co, and Ni impurities on pyrite oxidation kinetics: batch and flow-through reactor experiments with synthetic pyrite. Geochim Cosmochim Acta 72(7):1788–1800

20.

Lehner S et al (2007) The effect of As, Co, and Ni impurities on pyrite oxidation kinetics: an electrochemical study of synthetic pyrite. Geochim Cosmochim Acta 71(10):2491–2509

21.

Sitando O et al (2018) A review of factors affecting gold leaching in non-ammoniacal thiosulfate solutions including degradation and in-situ generation of thiosulfate. Hydrometallurgy 178:151–175

22.

Bidari E, Aghazadeh V (2018) Pyrite oxidation in the presence of calcite and dolomite: alkaline leaching, chemical modeling and surface characterization. Trans Nonferrous Metals Soc China 28(7):1433–1443

23.

Alp İ, Celep O, Deveci H (2010) Alkaline sulfide pretreatment of an antimonial refractory Au-Ag ore for improved cyanidation. JOM 62(11):41–44

24.

Alp İ et al (2014) Influence of potassium hydroxide pretreatment on the extraction of gold and silver from a refractory ore. Hydrometallurgy 146:64–71

25.

Celep O, Alp İ, Deveci H (2011) Improved gold and silver extraction from a refractory antimony ore by pretreatment with alkaline sulphide leach. Hydrometallurgy 105(3–4):234–239

26.

Celep O, Serbest V (2015) Characterization of an iron oxy/hydroxide (gossan type) bearing refractory gold and silver ore by diagnostic leaching. Trans Nonferrous Metals Soc China 25(4):1286–1297
Ethics declarations
Conflict of interest
On behalf of all authors, the corresponding author states that there is no conflict of interest.
Additional information
Publisher's Note
Springer Nature remains neutral with regard to jurisdictional claims in published maps and institutional affiliations.
About this article
Cite this article
Bidari, E., Aazami, M. & Aghazadeh, V. Process Mineralogical Study of the Arsenical Zone from a Carlin-type Gold Deposit. Mining, Metallurgy & Exploration 37, 1307–1315 (2020). https://doi.org/10.1007/s42461-020-00221-w
Received:

Accepted:

Published:

Issue Date:
Keywords
Zarshuran

Refractory gold ore

Characterization

Diagnostic leaching

Cyanide leaching